Here's a great collection of easy STEAM science and art activities for children featuring a range of art and science projects.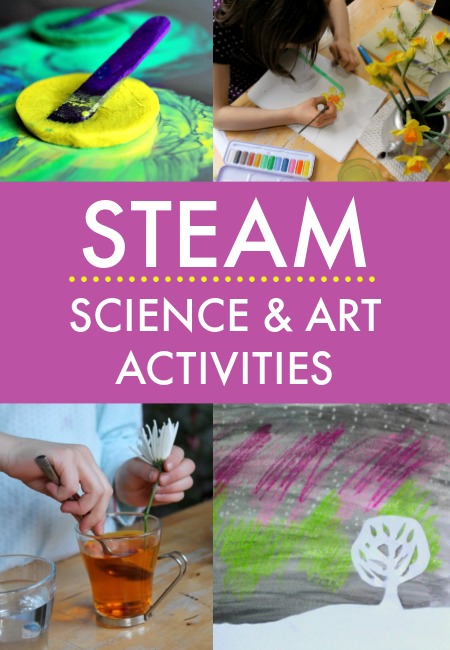 Easy STEAM art and science activities for children
Enjoy these easy lessons plans that incorporate science and art to give your children great hands-on and creative STEAM lessons.
STEAM lessons are Science, Technology, Engineering, and/or Math lessons that combine the important element of Art, giving children a cross-curricula learning opportunity.
This article is one of our easy science activities for children resources.
Table of Contents

– Ready-made science curriculum
– Mushroom spore prints
– Forces and spinning tops
– Watercolour paint experiments
– Gravity painting
– Bridge building challenge
– Candy paint
– Colour changing flowers
– Daffodil dissection and botanical drawings
– Northern Lights art
– Pipette painting
– Salt and glue painting
– Frozen paint
– Homemade watercolour paint
– Nature colour wheels
– Pointillism and seeing colour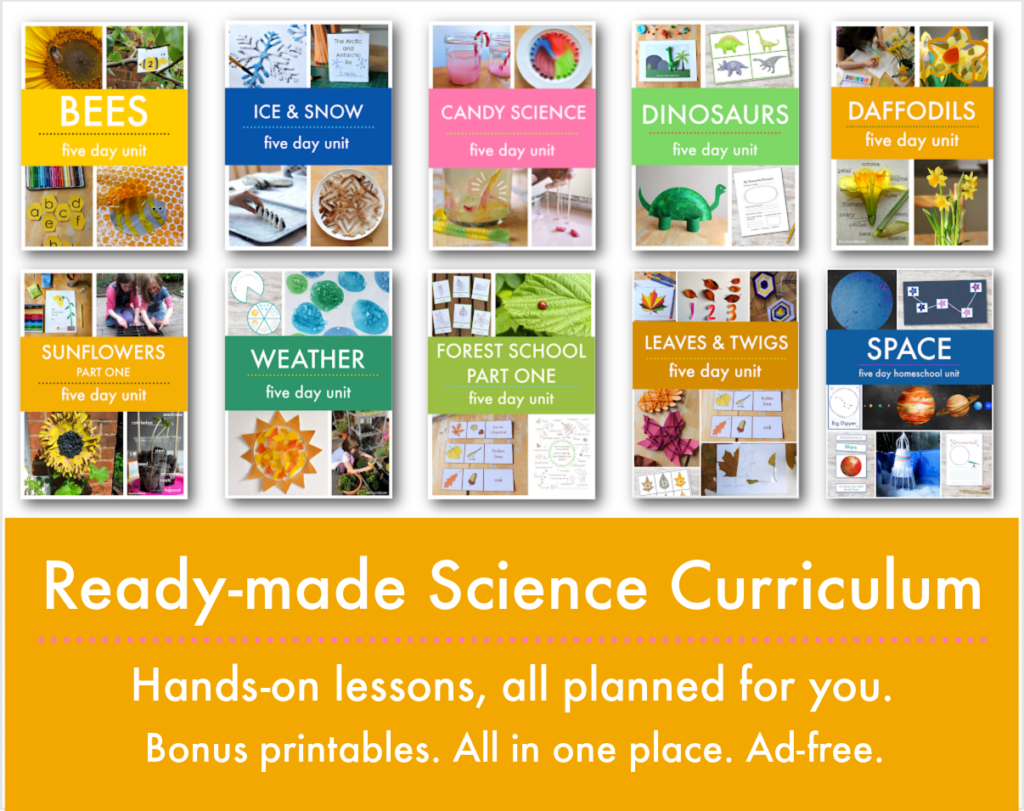 Ready-made science curriculum for children
The easiest way for you to teach your children is by using the ready-made units in NurtureStore's Play Academy. Each unit gives you one activity per day that all your children can do together. Every thing is in one place, clearly laid out and with bonus printables to make your teaching even easier.
You can choose from over 50 ready-made units including our science curriculum pathway which includes units on Space, Dinosaurs, Leaves & Twigs, Forest School, Sunflowers, Bees, Cats, Weather, Candy Science Experiments, Daffodils and Ice & Snow. See more and choose your first ready-made teaching unit here.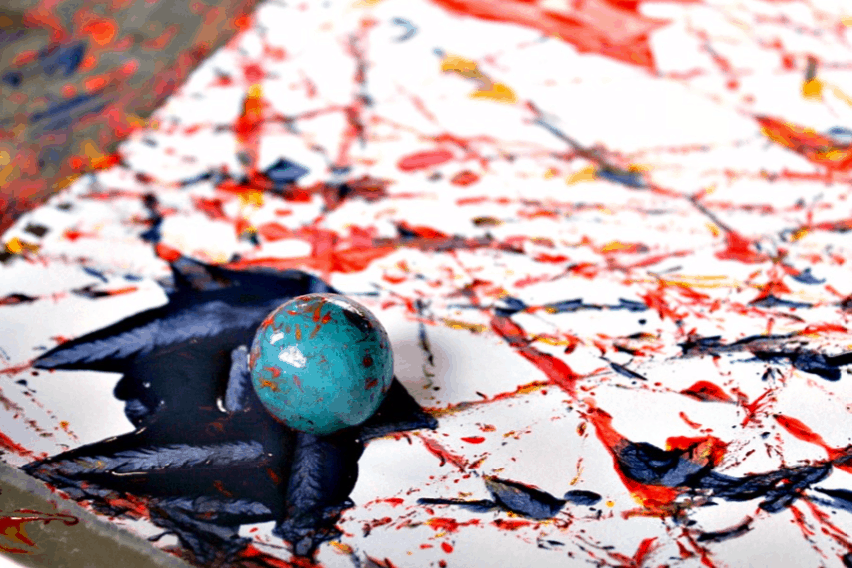 STEAM lessons that include science and art
How to make mushroom spore print pictures
Learn about the structure of fungi and use them to create art as we make spore prints from mushrooms. A fun and fascinating nature art and science project!
Easy forces science lesson plan with free spinning tops printable
Here's an easy science lesson plan about forces. Children can make a simple spinning top design and use it for a forces experiment to see the effect of forces, gravity, and friction.
5 easy watercolour painting experiments
Join in with this easy watercolour painting lesson for children to explore five simple watercolour techniques. This is an easy STEAM lesson that combines art and science. It encourages children to explore process art, and to think like a creative scientist and a scientific creative. It's the perfect beginner lesson in watercolours for children.
Art and science lesson :: gravity painting project
In this art and science lesson we are using gravity to paint pictures.
Gingerbread man science lesson STEM bridge building challenge
Combine engineering, design and gingerbread in this STEM bridge building challenge!
How to make candy paint using Skittles®
Here's a fun STEAM lesson that combines science and art and shows you how you can make candy paint using Skittles®.
Colour changing flowers experiment
This classic children's science project is easy to set up and amazing to watch – try the colour changing flowers experiment.
Daffodil dissection and botanical drawing
In this nature science lesson we'll learn about the parts of a flower through a daffodil dissection experiment.
Northern lights art for kids
Let's learn about the Aurora Borealis and try this technique to make Northern Lights art for kids.
Process art painting with pipettes
Painting with pipettes is a fun process art project that combines sensory play, art and science.
Salt, glue and watercolor paint process art activity
Try this salt, glue and watercolor paint process art activity for a super science and art project with gorgeous results.
Sensory play ice painting with frozen paint
Experiment with painting with frozen paint.
How to make homemade watercolor paints recipe
It's very easy and inexpensive to make your own watercolor paints. Here's are several ideas for homemade watercolor paint recipes and links to famous art examples that use paint made from natural ingredients.
Nature colour wheel activity with printable colour wheel
This nature colour wheel activity is a great way to combine the colour theory of an art lesson with the careful investigation of a science lesson in your outdoor classroom. It comes with a free printable colour wheel too.
Pointillism colour mixing art lesson
Let's learn about the painting technique pointillism, how our eyes 'read' colours, and create art inspired by the famous French artist, Georges Seurat.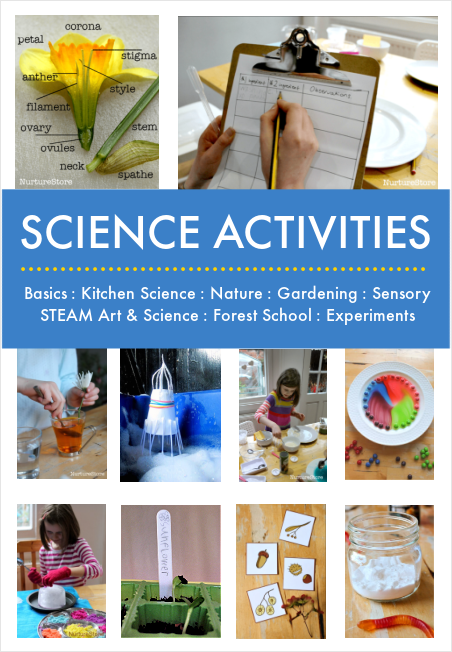 More science activities for children
Use NurtureStore's extensive resources to find more great science activities for your children:
Main index of science activities for children