Here's how to grow crystals using alum – sparkly science for kids using simple household materials.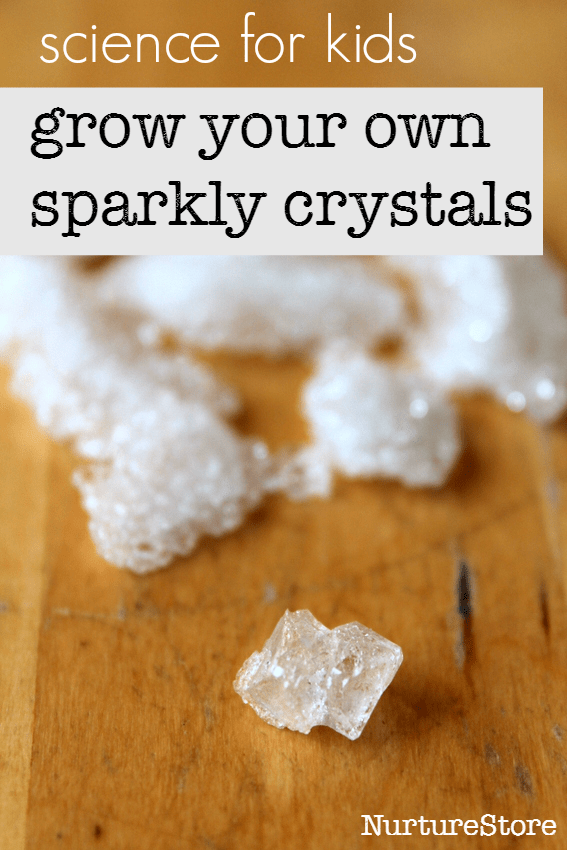 How to grow crystals using alum :: science for kids
This is an easy experiment for children to try and gives great, sparkly results – so it's lots of fun, and you're likely to get lots of 'wow's and 'cool's! It takes a few days to a few weeks, depending how big you want your crystals to grow, but there is something to see after the first night, so it's interesting for kids to follow the progress of their gems. And you can do the whole thing with some simple ingredients.
For the experiment you will need:
:: alum, which is available in the spice section of a food store, or can be bought online (try Amazon)
:: two jars
:: a spoon
:: hot water
:: a lollipop/popsicle stick/pencil
:: some plastic twine/fishing line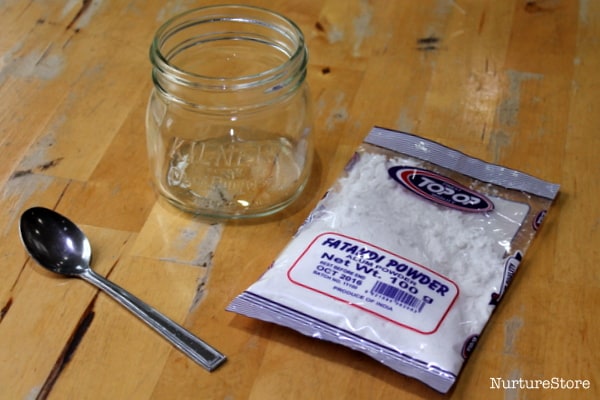 What is alum?
Alum is a sulphate salt. It has been used for centuries in water purification, it's used in pickling – to keep your pickles crisp and crunchy! – and in deodorants. It's safe for children to handle, but takes yucky, so don't eat any. It will grow very pretty crystals, quickly and easily, making it a great substance for this experiment.
Fill one of your jars with a couple of cups of hot water. Then stir in some teaspoons of alum and notice how it dissolves in the warm water. Keep adding a little more alum at a time until the water is saturated and your alum no longer dissolves.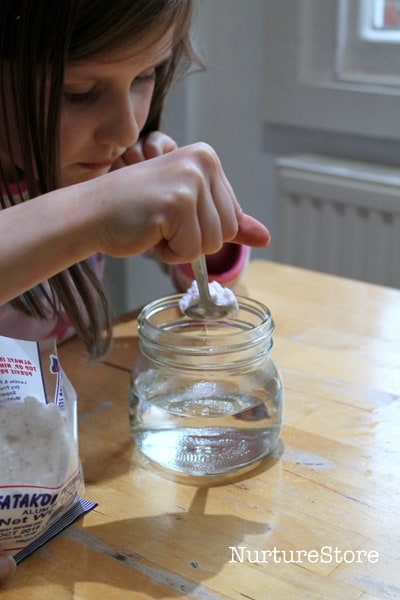 Then leave your solution over night. We placed a tissue on top of our jar to keep the water clean.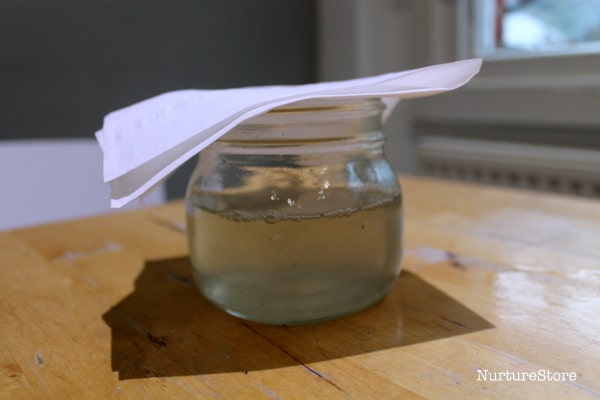 You can record the progress of your crystal experiment in a science journal. You can include sketches of what you see, photographs, and descriptions of the changes you notice.
Include some of your key vocabulary: alum, sulphate, dissolve, solution, saturated, crystal
Ask questions and make predictions:
:: why do we use hot water, not cold?
:: why do we stir the alum in the water?
:: how many teaspoons of alum can you dissolve in the water before it becomes saturated?
:: how long do you think it will take to grow a crystal?
:: how big a crystal do you think you can grow?
:: how does the crystal appear? what makes it grow bigger?
Think like the scientist you are
Scientists ask questions and ponder predictions even if they don't know the answer (yet). So encourage your young scientists to try to think of what the answers might be to their questions – and then carefully observe the actual results and compare that to what they predicted. If things don't turn out the way they predicted, they haven't got anything wrong – they're learning, like scientists do in all experiments.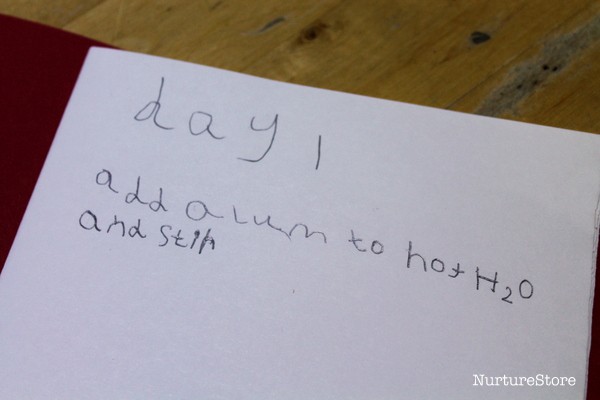 Check your alum solution the next morning – you'll have little crystals at the bottom of your jar!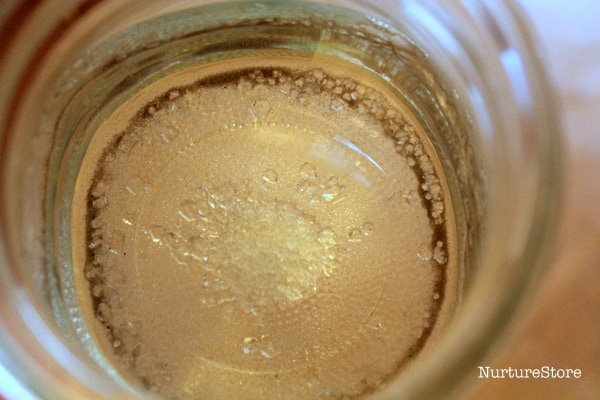 Carefully pour your alum solution into your second jar. Try not to disturb any of the crystals, and only pour the water solution into the second jar, without any of your crystals.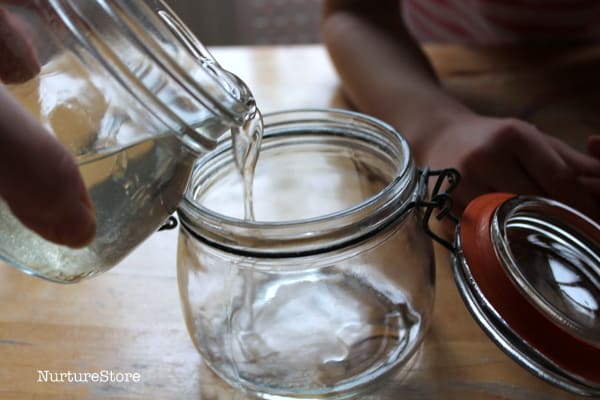 Take a good look at your alum crystals, and take a photograph or make a sketch for your science journal. Choose the biggest and best crystal and use this as the 'baby' that you are going to grow into a big, sparkly gem.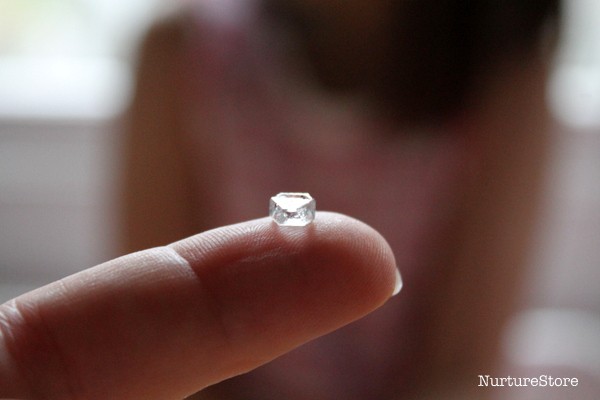 You're going to suspend this baby crystal in the second jar of alum solution. Take a length of plastic twine or fishing line and tie one end around your crystal. We used the twine from a bead bracelet. You could use cotton thread, but you'll find your alum grows up along the thread, so if you want to grow one big, single crystal, use a plastic or nylon thread.
Tie the other end of your twine to a lollipop/popsicle stick, or a pencil, and use that to suspend your crystal in the alum solution in your second jar. You might need to adjust the thread a little, so the crystal is in the water but not touching the bottom or sides.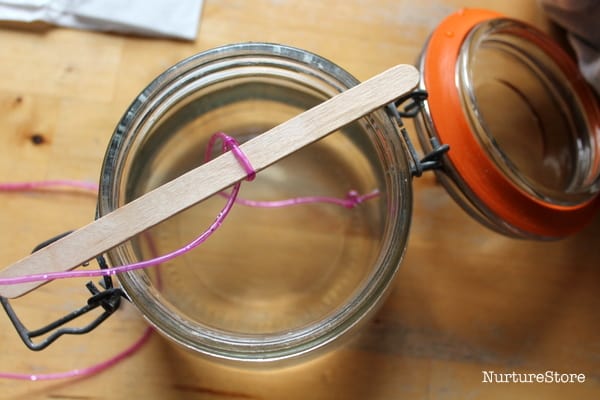 Keep observing your crystal for a few days, noting its growth in your science journal. To grow the biggest crystal possible, keep removing any other little 'seed' crystals which appear in the bottom of your jar, as they will compete with your chosen crystal, stopping it from growing as big as it could.
You will need to loosen the knot in your twine as your crystal grows, or it will grow around the twine and get stuck. You might also like to rotate your crystal in the knot so it grows into the shape you want.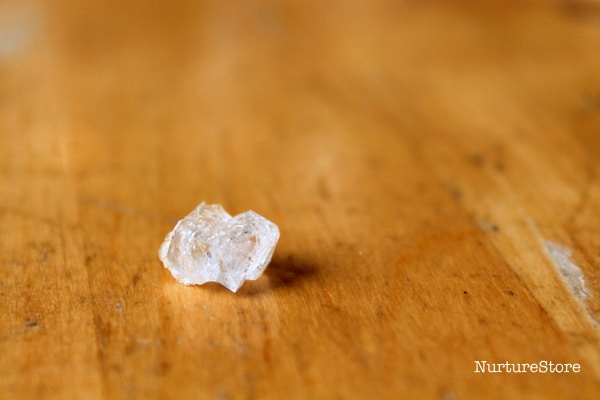 After a few days or weeks, you might have a big, sparkly alum crystal. Remember to take photo or make a sketch of it for your journal. My daughter thought it looked like a diamond and plans to use it as a jewellery charm.
If you don't empty out all the seed crystals from the bottom of your jar, your main crystal won't grow to it's maximum size, but you will end up with lots of extra – pretty and sparkly – clusters of crystals around the base of your jar. So, it's up to you whether yo want to grow one, big-as-possible gem, or you'd like to also have lots of twinkly crystals too.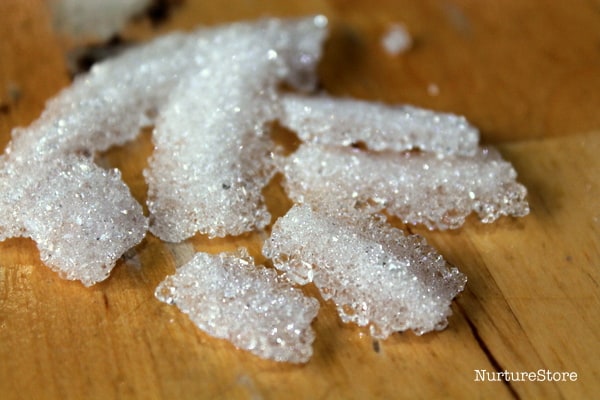 Fizz, Pop, Bang! Playful Science and Math Activities
Fizz, Pop, Bang! Playful Science and Math Activities is designed to bring hands-on fun and enjoyment to math and science. It is packed with powerful learning opportunities in math and science, shared through ideas that incorporate art, play, sensory learning and discovery, for a whole-brain approach.
It includes 40 educational projects and 20 printables including a set of build-your-own 3D shape blocks, engineering challenge cards and a range of math games. If you like our crystal experiment, you'll love the ideas in Fizz, Pop, Bang!