Here's a simple blackberry picking guide for children, along with a blackberry nature journal printable you can use to learn all about these delicious, seasonal fruits.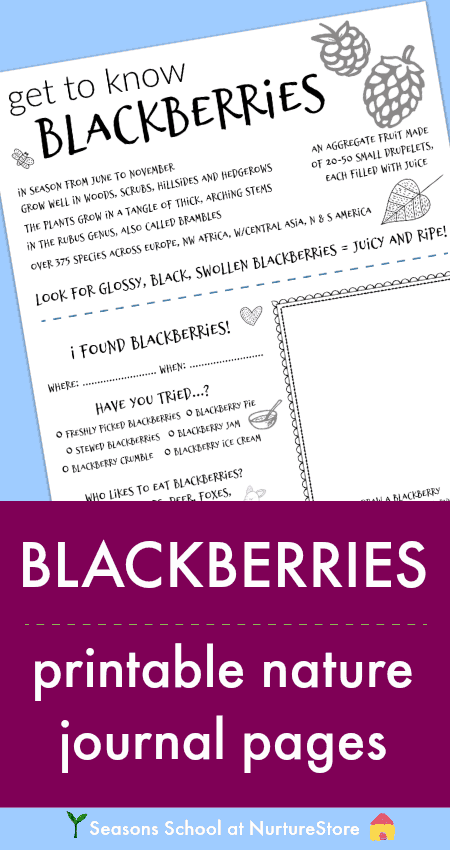 Blackberry picking guide for children
Foraging for blackberries is a rite of passage for seasonal-living children around the world. The fruits are abundant and easily identifiable, making blackberries are great wild food to learn about.
Use these notes and my printable nature journal pages to host a blackberry lesson in your forest school or garden classroom.
In this lesson you can:
:: learn about blackberries and how to identify them
:: try a five senses blackberry investigation
:: printable a free nature journal page all about blackberries
:: join the Seasons School mailing list for regular free forest school and garden classroom teaching materials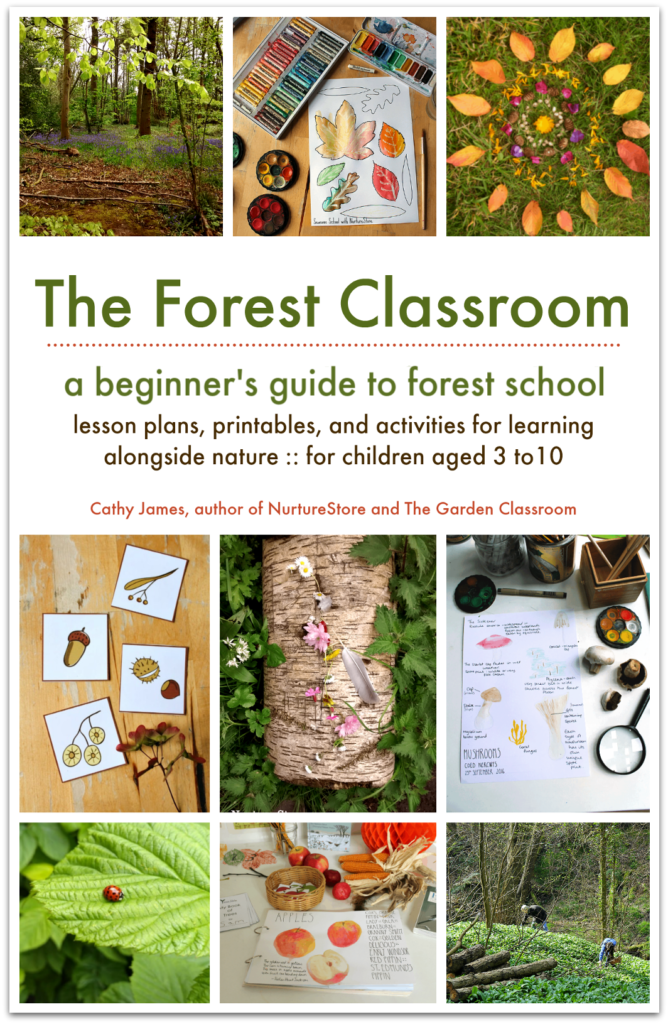 Ready-made forest school lesson plans
Have you got your copy of The Forest Classroom yet? It is the perfect beginner's guide to running a successful forest school. Download your forest school guide here.
A forest classroom is a place of adventure, discovery, and imagination. It can also be a wonderful place to learn about math and science, explore art and crafts, and develop language and social skills.
The Forest Classroom is a practical guide which will show you how to engage your children in fun and educational forest-school activities.
These ready-made forest school lesson plans are suitable for forest school leaders, teachers, childcarers and parents with children aged 4 to 10, to learn in a forest, school nature area, local park or your own backyard.
Get your copy of The Forest Classroom here and you'll be ready to head straight outdoors and enjoy teaching, using our ready-made lesson plans.
---
How to identify blackberries
Blackberries aren't always black and they're not really a berry, but they are easy to identify and grow abundantly.
The blackberry is an edible fruit produced by plants in the Rubus genus. They're often known as bramble.
Blackberries are an aggregate fruit made up of 20-50 small drupelets, each filled with juice.
They are red before they ripen, turning black when they are ripe.
The plants grow in a tangle of thick, arching stems which are covered in prickles.
Be sure to correctly identify blackberries before picking and eating any, using a good identification book to check if you are at all unsure.
When can you pick blackberries?
In the UK and US blackberry season is from June until November. The local climate will affect when berries are ripe, so keep a look out in your area so you don't miss them when they are at their best.
Choose the berries that look glossy, black and swollen – they're the juiciest ones! And do leave some on the plant for other people and animals to share too.
Watch out for the prickles when you are gathering them. It's a good idea to wear trousers and long-sleeve tops to go foraging.
Where is the best place to pick blackberries?
There are over 375 blackberry species across Europe, North West Africa, Western and Central Asia, and North and South America.
They grow well in woods, scrubs, hillsides and hedgerows, so look out for them there.
If you can't find blackberries where you live, ask your neighbours – especially older people who have lived int he neighbourhood since they were children.
If you can't find any in the wild, you can still enjoy blackberries by buying them from the farmers' market or find them fresh or frozen in the grocery store.
Are blackberries edible?
They are, and humans have been enjoying these juicy black fruits for thousands of years.
Caterpillars, deer, foxes, bears, badgers, and some birds also like to eat blackberries.
You can eat them freshly picked or you can cook them. They are great in jams jellies, pies, crumbles, ice cream and in candy sweets. You'll find a selection of recipe links below.
Native Americans, Greeks and other European peoples used blackberries as medicine to treat sore throats and upset stomachs. The leaves can be made into a tea. The berries are high in vitamin C, anti-bacterial, anti-inflammatory, and anti-viral.
You can also use blackberry fruits to make a dye, which has been used to colour fabric and hair. You could try making your own watercolour paints from some of the berries you pick.
Five senses blackberry lesson for children
A simple way to explore blackberries with your children is to investigate them with your five senses.
This is a good way to connect your children with seasonal food, perhaps introducing them to something they haven't tasted before. It also encourages children to express their opinions and listen respectfully to those of others, and is a great way to encourage language skills.
Go on a nature walk to gather some blackberries, or buy them from the market, and then sit together and explore them.
:: what do the blackberries look like?
:: what do the blackberries feel like?
:: what do the blackberries sound like? You can use some of the leaves here, or give the berries a squeeze and listen carefully.
:: what do the blackberries smell like? Again, a gentle squeeze can release the fragrance.
:: what do the blackberries taste like? The best bit of the lesson!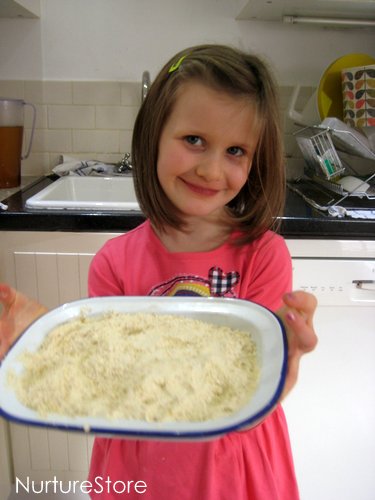 Easy blackberry recipes for children to make
Blackberries can be eaten raw or cookes, and pair perfectly with apples.
An easyway to cook them at forest school is to stew them in a pan over the campfire. They only need to cook for a few minutes. You can add honey or sugar to taste, and cinnamon if you like. You could serve the cooked blackberries with ice cream, cream or custard.
You can also make a simple crumble topping to go on your stewed blackberries. Rub 3oz butter into 6oz flour, with a 1oz of butter and 3 tablespoons of oats sprinkled in – maybe some cinnamon too. Place the crumble over the blackberries in a dish and bake at Gas 4 for around half and hour.
Or try these blackberry recipes:
:: apple and blackberry hand pies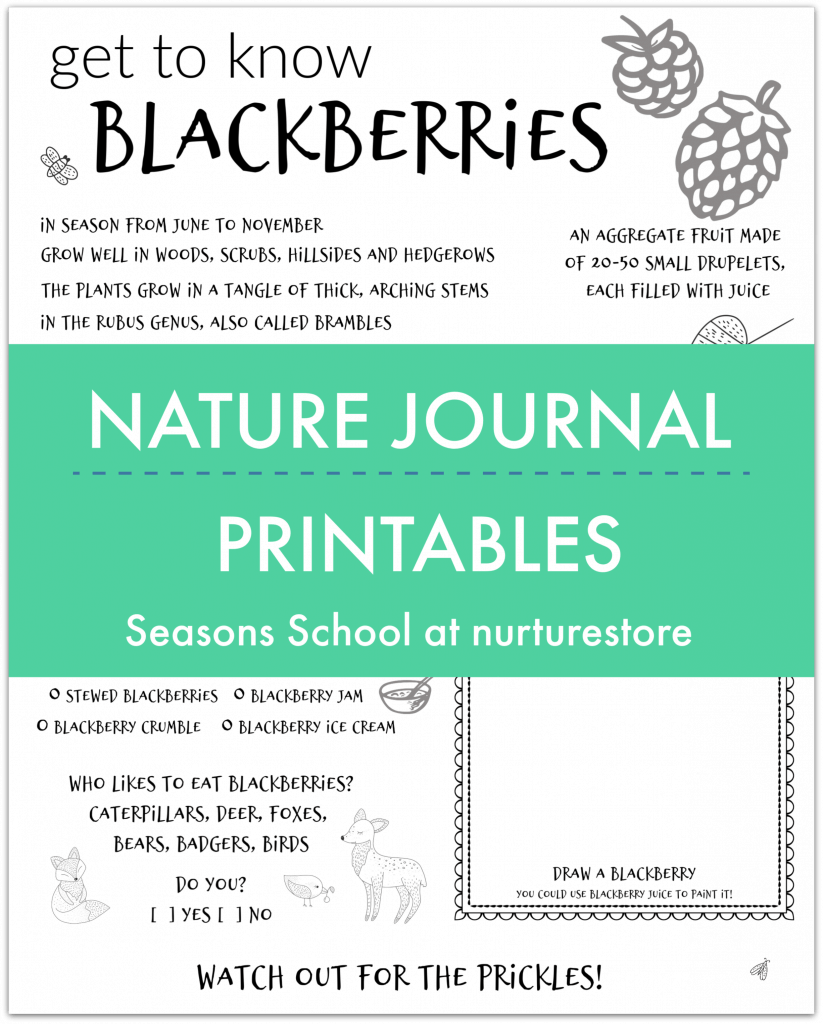 Printable blackberry nature journal page
You can use my blackberry nature journal page (see below for details on how to print it) to learn more about these fruits.
:: read key facts about blackberries
:: draw a picture of a blackberry – perhaps using blackberry juice to colour it in
:: answer questions about blackberries
:: add the printable to your nature journal. See my ultimate guide to nature journalling here.
More forest school teaching resources
You might also like my Forest Treasure Hunt printable.
And you can download my complete Seasons School curriculum here.
How to print the blackberry journal page
To print the blackberry journal page, simply sign-up for my Forest School and Garden Classroom Resources below which will give you full access to all my free nature printables.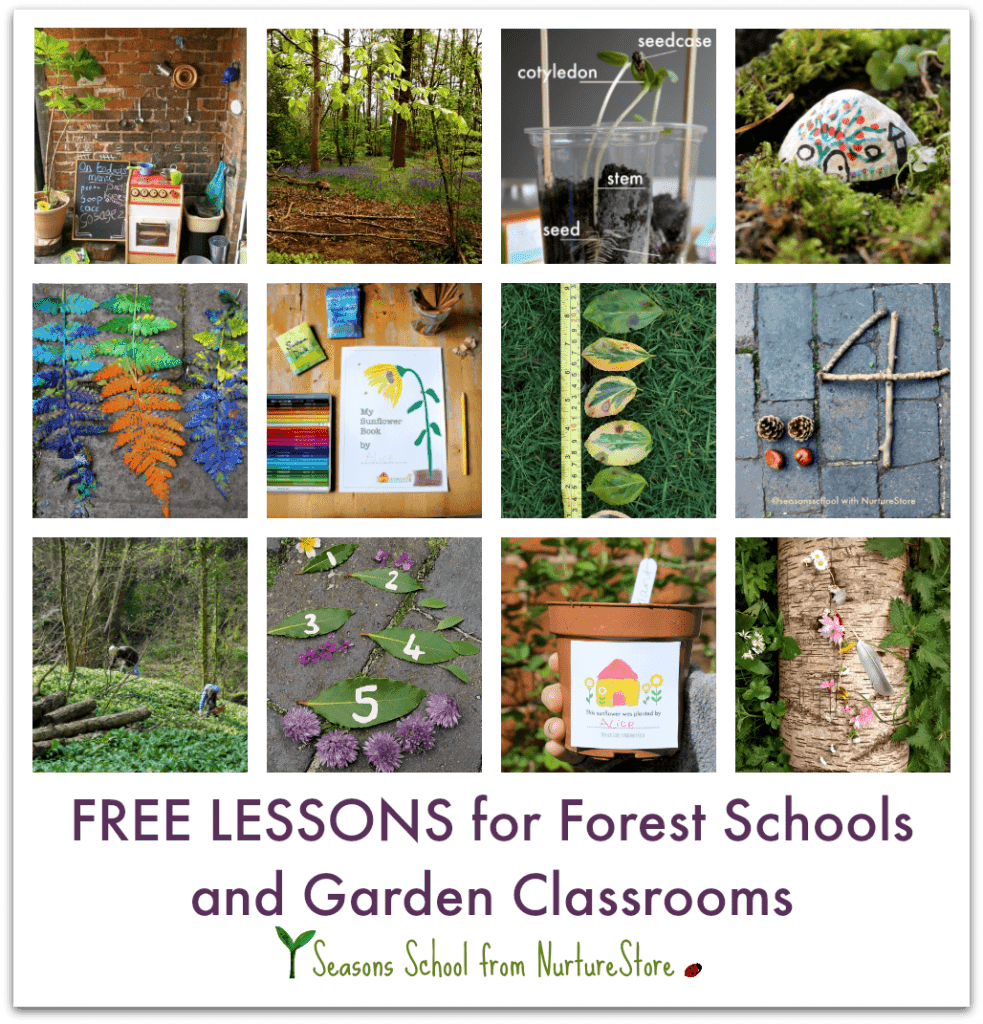 Free Forest School and Garden Classroom resources!
Join my weekly email service and I'll send you FREE printables, lesson plans, and activity ideas that you can use with your children in your forest school and garden classroom.
Seasons School is NurtureStore's year-round program of living and learning with nature. Our activities and resources focus on hands-on, nature-based learning that connects children with the natural environment.
If you're looking for nature study lessons, arts and craft projects, campfire recipes, foraging ideas, outdoor math and literacy activities, outdoor games, and ways to explore forests, gardens, and outdoor spaces - think of NurtureStore as your forest fairy godmother!
Whether you're in a forest school or outdoor classroom, running a school gardening club, bringing nature lessons into your class, home educating with nature, or wanting to connect with the great outdoors at the weekend, you will love the Seasons School ideas.
Pop your email address into the box below and I'll send you your free resources.
---
By subscribing, you consent to our use of your personal data as per our Privacy Policy, which includes agreeing to receiving interest-based email from us.
---