Learn how to forage for foods in season in spring, how to identify wild garlic, and try this deliciously easy recipe for wild garlic pesto. Includes a free printable wild garlic nature journal page.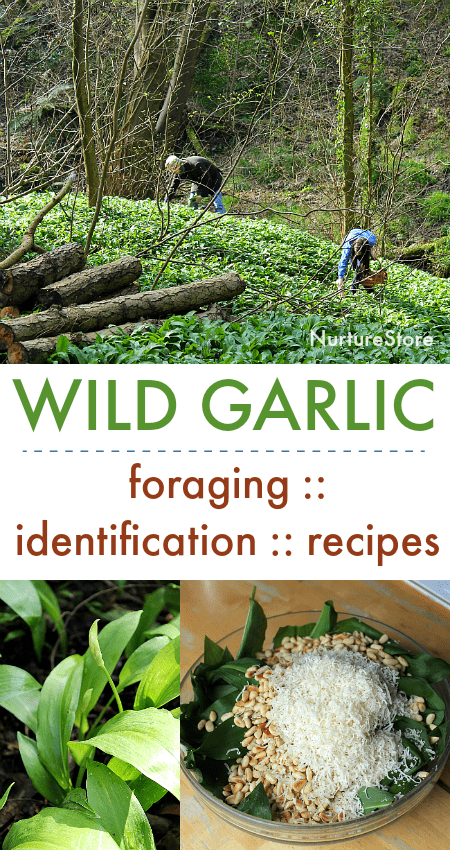 Wild Garlic Pesto Recipe
Foraging 101
Foraging means to gather food from the wild: from woodland, hedgerows, fields, and rivers. It's the way we used to get much of our food, and a great way for us now to connect with nature and our ancestors. Also: free food!
Before you head out foraging it's important to know what to look for and what rules you need to follow.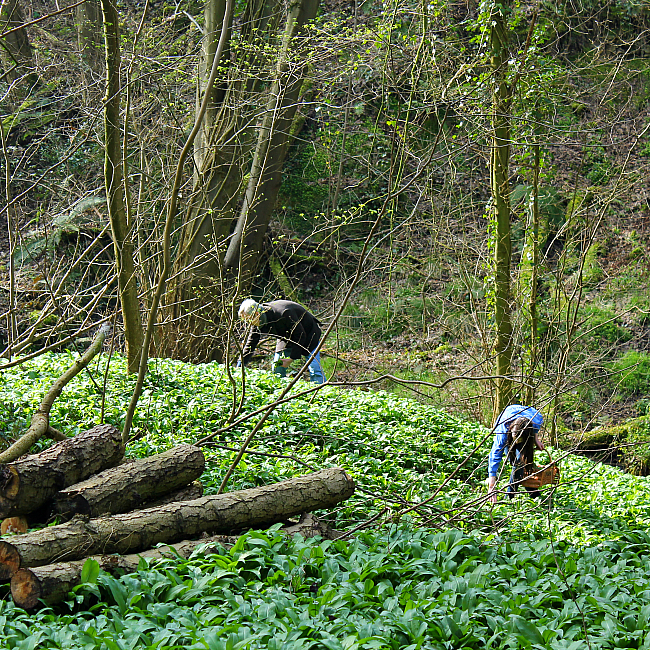 Get permission
Check with the land owner that it's OK to forage on the land, and only pick for personal use.
Only pick what you know
Some plants are easily mistaken for harmful plants, so only pick plants that you know are edible. Don't take plants that are rare or protected.
Gather respectfully
Always leave enough of the plant so that it can still grow healthily. Leave plenty of the plant for birds and other wild animals to eat too. Only take the amount that you intend to eat. Be sure not to damage any surrounding plants or habitats when you forage.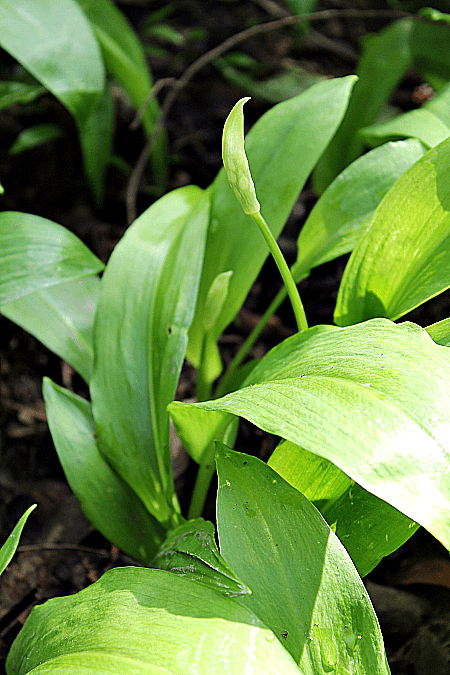 Plants that are options for spring foraging include:
:: wood sorrel – which has a lovely lemon taste and makes a great creamy sauce for chicken and fish
:: dandelions
:: nettles
:: Douglas fir tips
:: elder flowers
:: lilac
:: wild garlic

How to Find Wild Garlic
The Latin name for wild garlic is Allium ursinum. Ursa means bear, and it's sometimes called bear's garlic – and bears do like to eat it when they come out of hibernation in the spring! It's also known as ramsons, bear leek and buckrams. What do you call it where you live?
It grows in shaded woodland and hedgerows and is in season from February to June. The younger leaves are the best to eat, as it can get bitter later in the season, making it perfect for early spring foraging.
It's a short/medium perennial, growing to around 50cm in height. Its leaves are a broad elliptical shape, ending in a point. It has white flowers, with five petals in a star-like spray. It smells strongly of garlic and both leaves and stems can be eaten.
Take care not to confuse garlic with lily of the valley, autumn crocus, or meadow saffron, none of which are edible Follow your nose: only wild garlic has that distinctive garlic smell.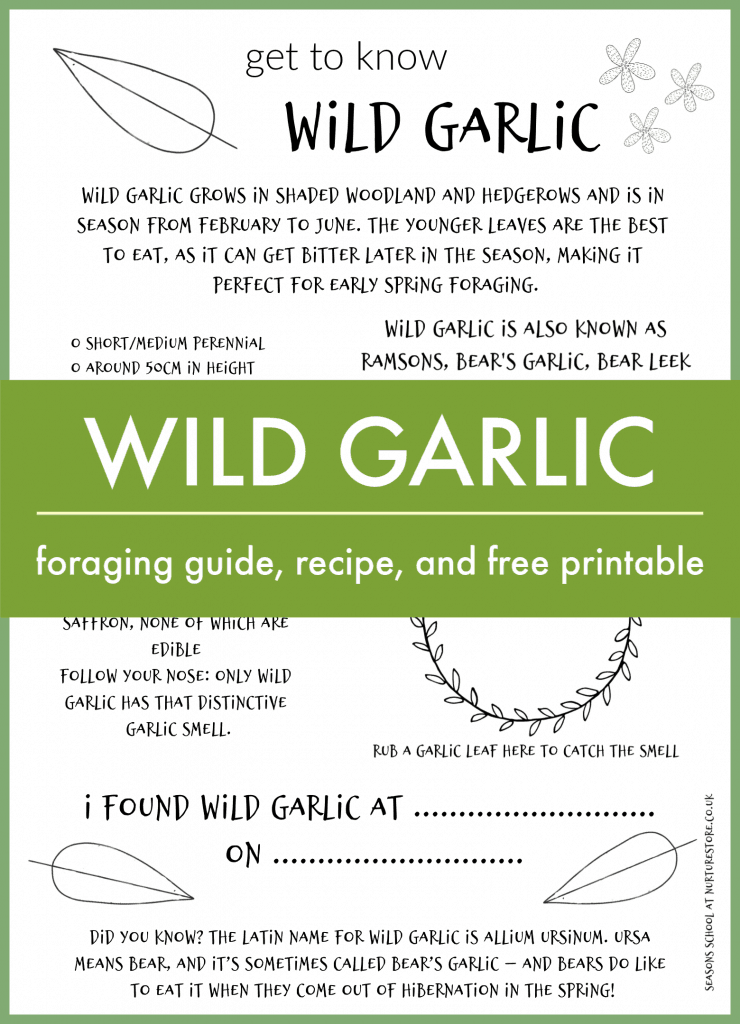 Printable wild garlic nature journal page
You can use my wild garlic nature journal page (see below for details on how to print it) to learn more about this spring food.
:: read key facts about wild garlic
:: capture the scent of wild garlic
:: follow the ID guide to forage for garlic
:: add the printable to your nature journal. See my ultimate guide to nature journalling here.
How to print the wild garlic journal page
To print the blackberry journal page, simply sign-up for my Forest School and Garden Classroom Resources below which will give you full access to all my free nature printables.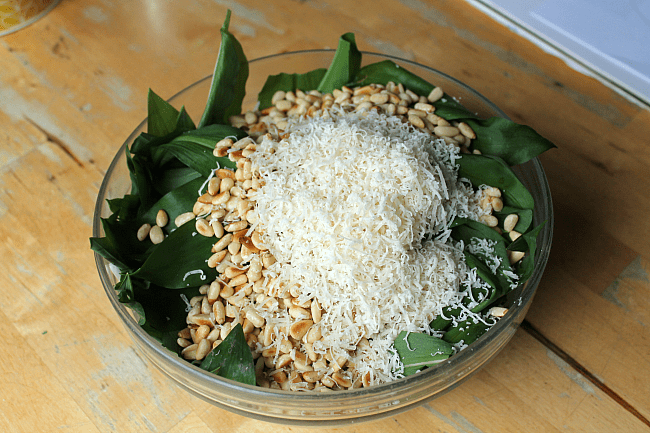 Wild Garlic Pesto Recipe
Our favourite thing to do with wild garlic is to make pesto. My husband loves it! And my girls love it spread on sourdough toast to make garlic bread. Here's an easy recipe to make some:
2 big handfuls (around 100g) of wild garlic, leaves and stems
70g of pinenuts – lightly toasted brings out their flavour
2 – 4 tablespoons of extra virgin olive oil
30g of parmesan cheese (optional)
salt and pepper, and maybe a squeeze of lemon juice, to taste
Simply blitz everything together in a food processor or pestle and mortar.
You can store the pesto in a jar with a little layer of olive oil on the top. Keep it in the fridge and it will last for several weeks.
You can use it:
:: swirled through pasta or risotto
:: spread on bread or toast
:: on a tortilla wrap to make pinwheel roll-ups
:: alongside spring lamb and salmon
:: layered in lasagne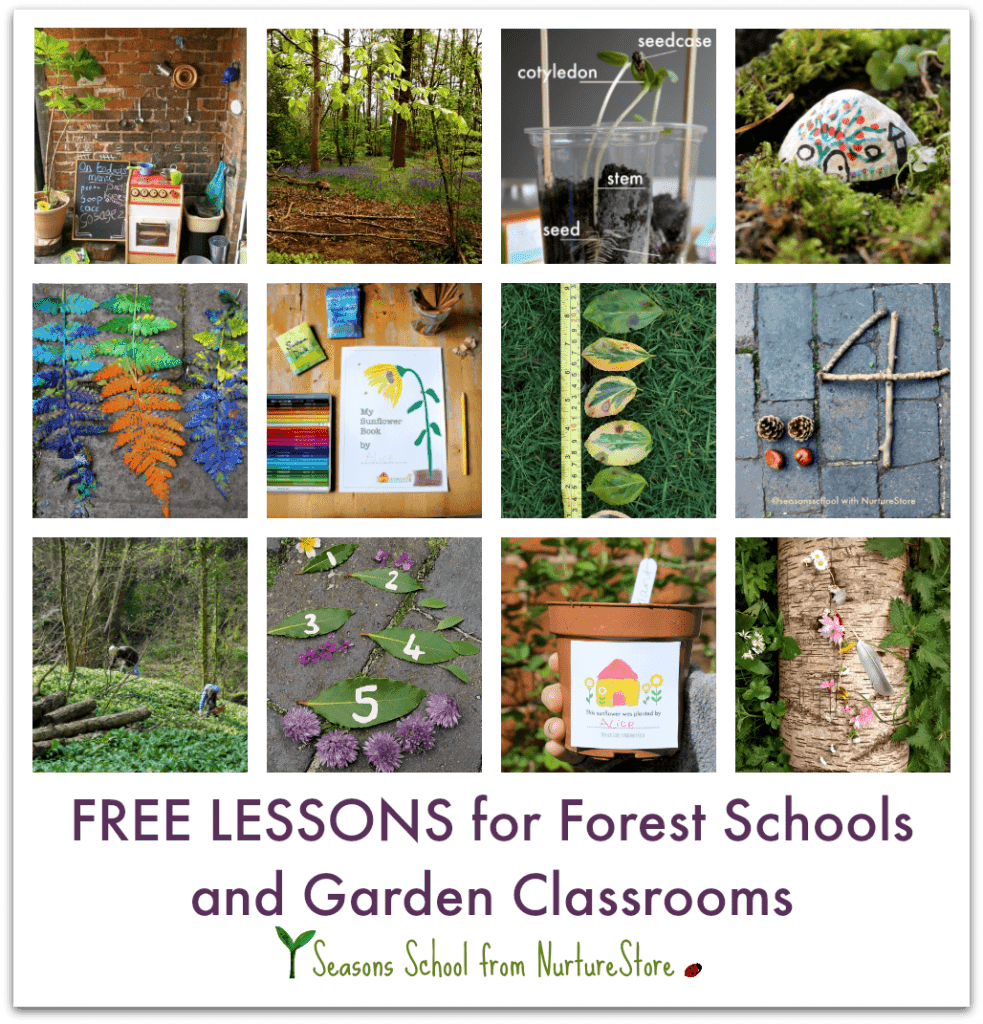 Free Forest School and Garden Classroom resources!
Join my weekly email service and I'll send you FREE printables, lesson plans, and activity ideas that you can use with your children in your forest school and garden classroom.
Seasons School is NurtureStore's year-round program of living and learning with nature. Our activities and resources focus on hands-on, nature-based learning that connects children with the natural environment.
If you're looking for nature study lessons, arts and craft projects, campfire recipes, foraging ideas, outdoor math and literacy activities, outdoor games, and ways to explore forests, gardens, and outdoor spaces - think of NurtureStore as your forest fairy godmother!
Whether you're in a forest school or outdoor classroom, running a school gardening club, bringing nature lessons into your class, home educating with nature, or wanting to connect with the great outdoors at the weekend, you will love the Seasons School ideas.
Pop your email address into the box below and I'll send you your free resources.
---
By subscribing, you consent to our use of your personal data as per our Privacy Policy, which includes agreeing to receiving interest-based email from us.
---