Use this gold coin math printable for hands-on math games for St.Patrick's Day, or for a pirate play-theme!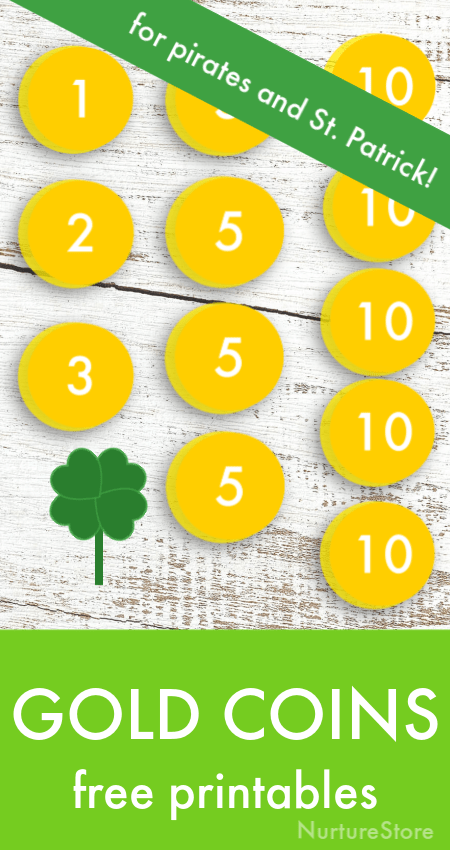 Gold coin math printable
It's St. Patrick's Day on March 17th.
St. Patrick is the patron saint of Ireland, which is also home to leprechauns: Irish fairies who are said to store their gold in a pot at the end of the rainbow.
These printable gold coins bring a fun hands-on element to math play whether you're celebrating St.Patrick's Day – or hosting a pirate party!
How to use this printable
Print the gold coin sheets (see below) and cut out the coins.
You might like to laminate the sheets for extra durability.
There are three sheets in the set:
:: numbers 1 to 10
:: a sheet of '5' coins for five times table skip counting
:: a sheet of '10' coins for ten times table skip counting

How to play with the gold coins
:: Hide the coins in a rainbow sensory tub or pirate treasure chest and hunt them all out.
:: Hide the coins around the room and see if your children can find them all. Can they line them up in number order, from biggest to smallest, and from smallest to biggest?
:: Peg up the coins to make a number line.
:: Use the coins alongside a sensory writing tray and practice writing the digits.
:: Set them out alongside loose parts and invite your children to match the correct number of buttons, pom poms or balls of play dough to match the number on each coin.
:: Use the coins to practice skip counting. Set out the set of '5's and / or the '10's and use them to practice your five and ten times table. You might like to tape these coins along a wall or on the floor so your children can touch them or hop on them every time they pass by, for regular, fun math drills.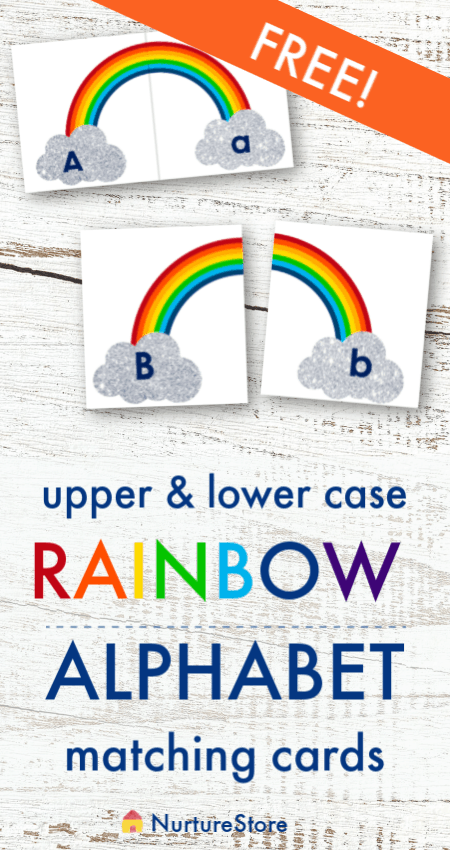 More activities for St. Patrick's Day
Planning St. Patrick's Day activities for your children? Try these great ideas:
Rainbow alphabet printable upper and lower case matching game
Printable rainbow writing sheets
How to download this printable
Get access to ALL my free printables by subscribing to my email list.
To download my free printables, you'll need to visit the NurtureStore Printables Library, which is available to all subscribers to my email list, and of course to Play Academy members.
Pop your email address in the form below and you'll get access to all my free printables, lesson plans, activity ideas, weekly newsletter, and a whole lot more!
After subscribing, be sure to check for the confirmation email. After you confirm your email subscription, we'll send you a welcome email which includes instructions for downloading our free printables.
If you're already subscribed to our email newsletter: check your email for the latest edition of the newsletter where you'll find a link to access our free printables library - the link is usually at the bottom of the email.
For help accessing our printables, click here.
---
* By subscribing, you consent to our use of your personal data as per our Privacy Policy, which includes agreeing to receiving interest-based email from us.
---