This rainbow art handprint wreath is a fun hands-on craft, and and don't miss our complete resource of rainbow themed activities – see below.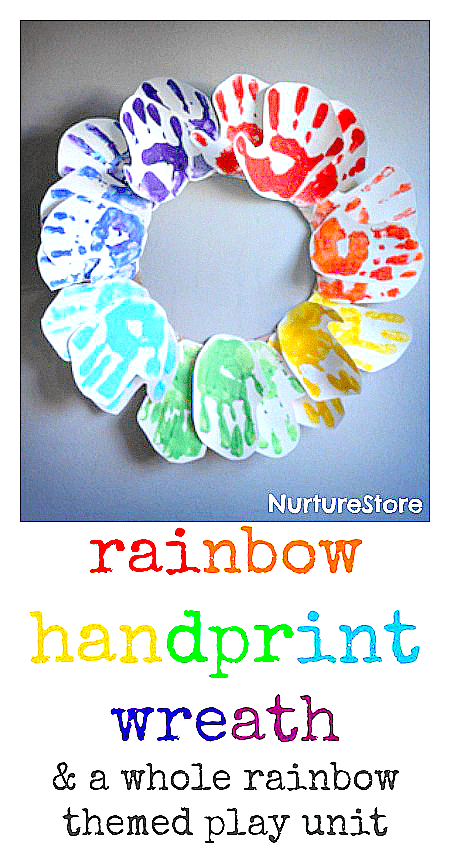 Rainbow handprint wreath  craft
We loved our Christmas handprint wreath so much, we decided to up date it for spring and make a rainbow version.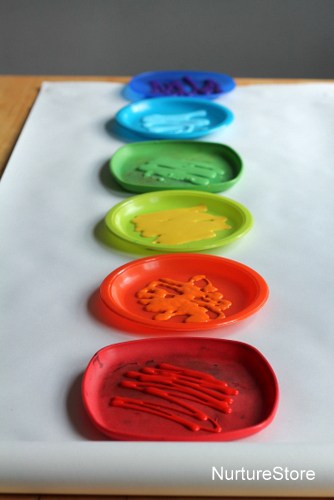 The wreath is easy to make. Start off by laying out a long roll of paper. I often use rolls of wallpaper lining paper, which you can find in a pound store. Also set out some paint – rainbow colours of course. Putting each colour on an individual, shallow dish makes it easy for the children to cover their hands in paint.

Process and product
Then it's time for printing.  It is really important to give children the opportunity to try out and enjoy the process of making art – having a go with different materials and techniques, with no over-controlling of how the end product looks. And I think there is also a place for crafts where we do have a finished product in mind – which gives us the opportunity to work as a team, listen to instructions and follow a recipe of steps.
So, today we did both. We made a sheet of handprints specifically for our wreath, making sure we got all the colours, and enough clear handprints to cut out to cover the wreath. And we did some extra sheets where we enjoyed the process of putting our hands in the paint, trying out the printing, and making whatever shapes, patterns and designs each child liked.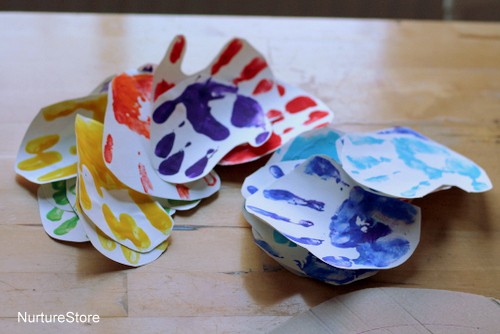 The free-style printing, especially on a large scale such as on our rolls of paper, makes great wall hangings, and you can use it for colourful wrapping paper too.
For our rainbow wreath, we cut out three handprints of each colour, and stuck them onto a ring of cardboard. Keep going around the ring until you have a complete circle of rainbow handprints.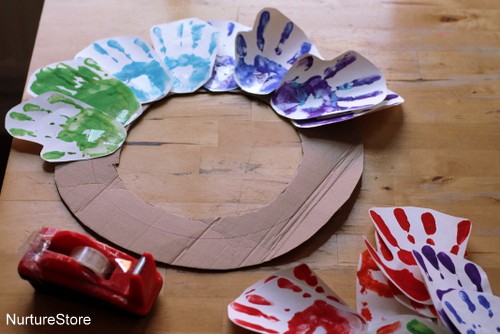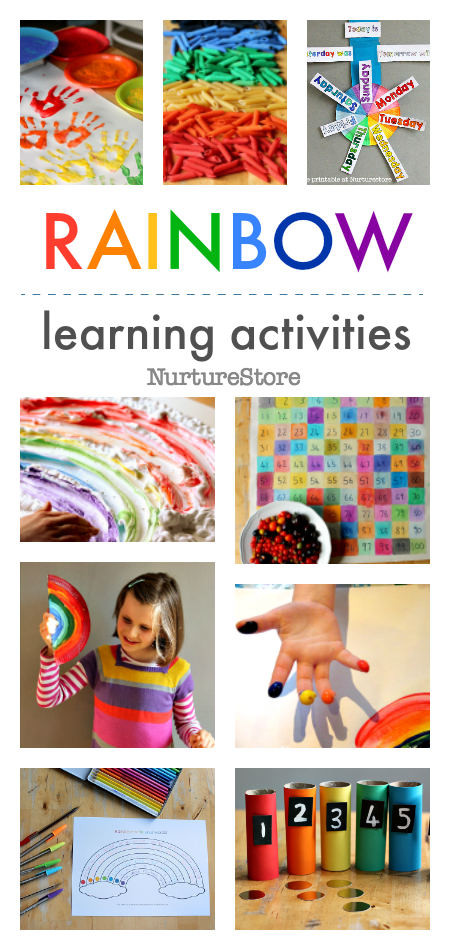 More lovely rainbow activities for your children!
Add colour and fun to your learning with all these extra ideas for rainbow activities. Ideas include maths, literacy, art, craft, and sensory play, plus many more free printables.
Get these free resources so your teaching organised for you, and so easy to set up – and your children get to delight in engaging, multi-sensory, fun learning. See all the rainbow activities here.