Welcome to our bees and sunflowers unit lesson plan. Over five days we'll use this nature theme to explore science, art, craft, literacy, poetry, math and fine motor skills.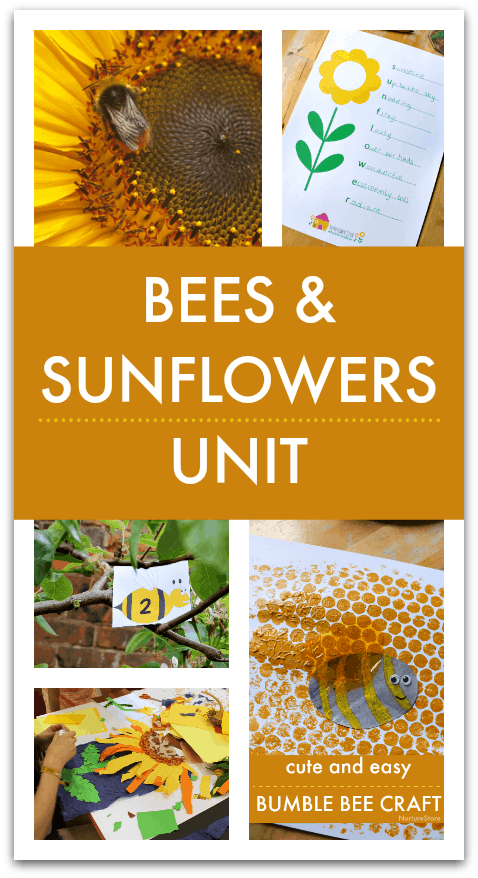 Five days of learning about bees and sunflowers unit
NurtureStore hosts regular themed weeks of creative learning activities, giving you ideas, lesson plans, and printables all year round.
This week our focus is on bees and sunflowers. We'll be using a selection of lessons taken from my Sunflower School Unit. The complete Sunflower School curriculum gives you six whole units of learning that you can use through spring, summer, and autumn to cover a programme of learning including math, literacy, science, nature, arts and crafts, sustainability, and recipes. You can download the complete Sunflower School curriculum here.
To give you a taster of what's included in the Sunflower School programme, let's try some of the projects this week. You might like to pick just one of these ideas to enjoy or offer all five over the course of your week.
It's such an advantage to give children time to work on a theme.
A themed-week lets children make connections between one idea and another, one material and another, one experience and another.
With a range of linked activities, children are able to compare and contrast, see how things are the same and what's different – young scientists and creatives in the making.
Coming back to a theme over consecutive days gives time and space for ideas to brew, and the repetition helps children find depth and meaning.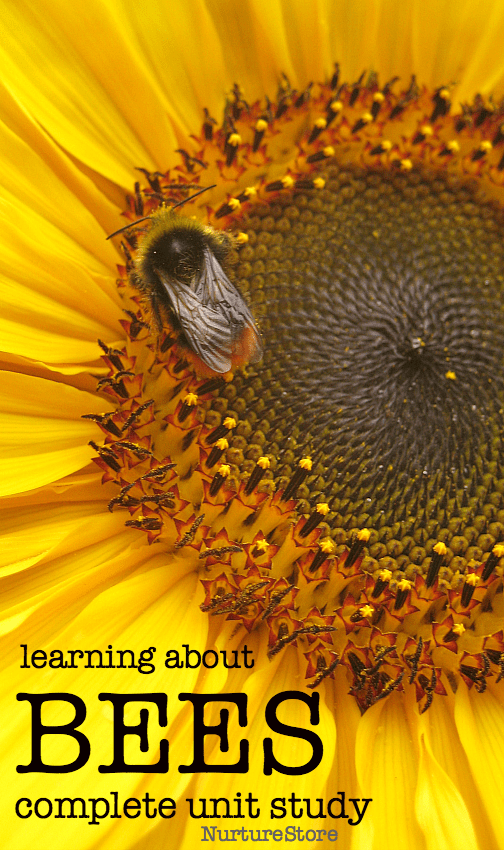 Day One :: what are bees?
On Day One of our Bees and Sunflowers Unit, let's learn about bees. Use this lesson to learn about pollination, honey and the waggle dance!
In the complete Sunflower School Unit you can also learn about bees' role in pollination, the other mini beasts in your garden, and print nature journal pages to record what you've learned.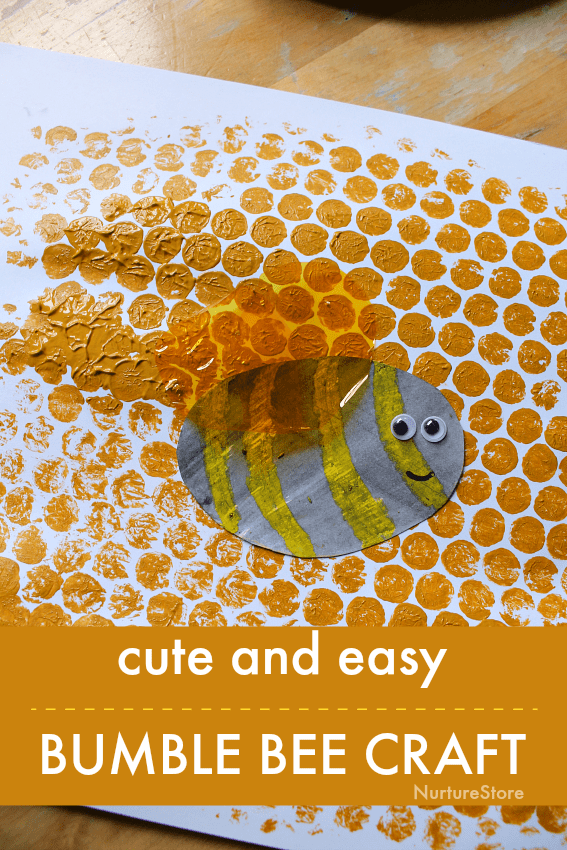 Day Two :: bee craft
On Day Two, let's make cute bees! Use this bee craft lesson to explore an oil and water resist painting technique, printing, and collage.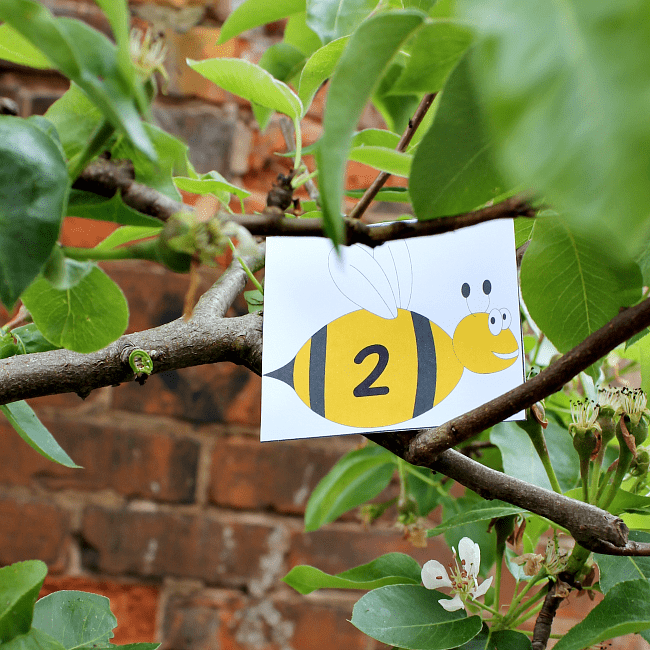 Day Three :: bee math and literacy games
Let's include a range of math and literacy activities, all themed around bees:
:: use bees for spelling practice
:: play with honeycomb letters
:: build handwriting and scissor skills with bees
Day Four :: sunflower art with Van Gogh and O'Keeffe
Let's develop our week to include sunflowers on Day Four. Use this sunflower art project inspired by Van Gogh and O'Keeffe and create your own sunflower collages.
The complete Sunflower School curriculum also includes sunflower art projects that explore scratch art, printing, and sand art. You can download your copy of the full Sunflower School curriculum here.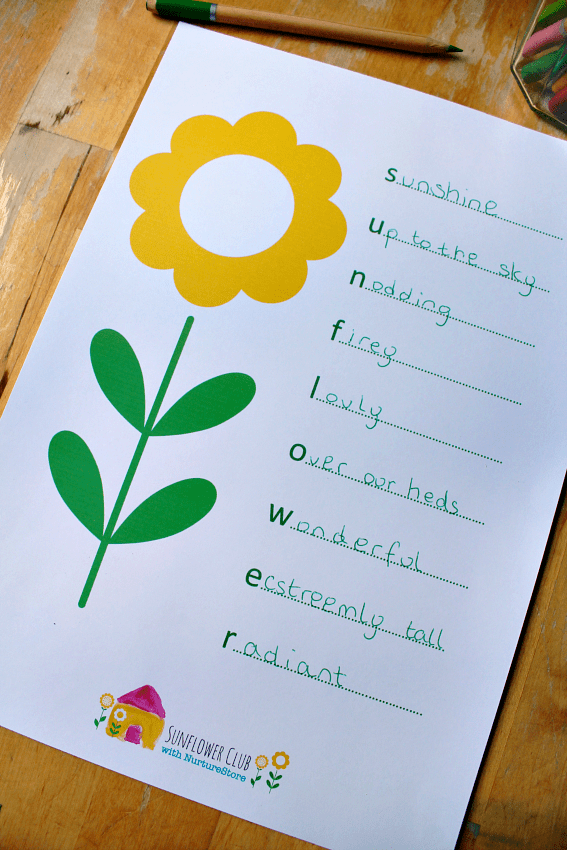 Day Five :: Sunflower poems
After capturing the beauty of sunflowers through visual arts yesterday, let's wrap up our week by exploring the beauty of these flowers through poetry.
Use these ideas to write acrostic and sentence starter poems.
And if you'd like the poetry printables you can download them with the complete Sunflwoer School curriculum here.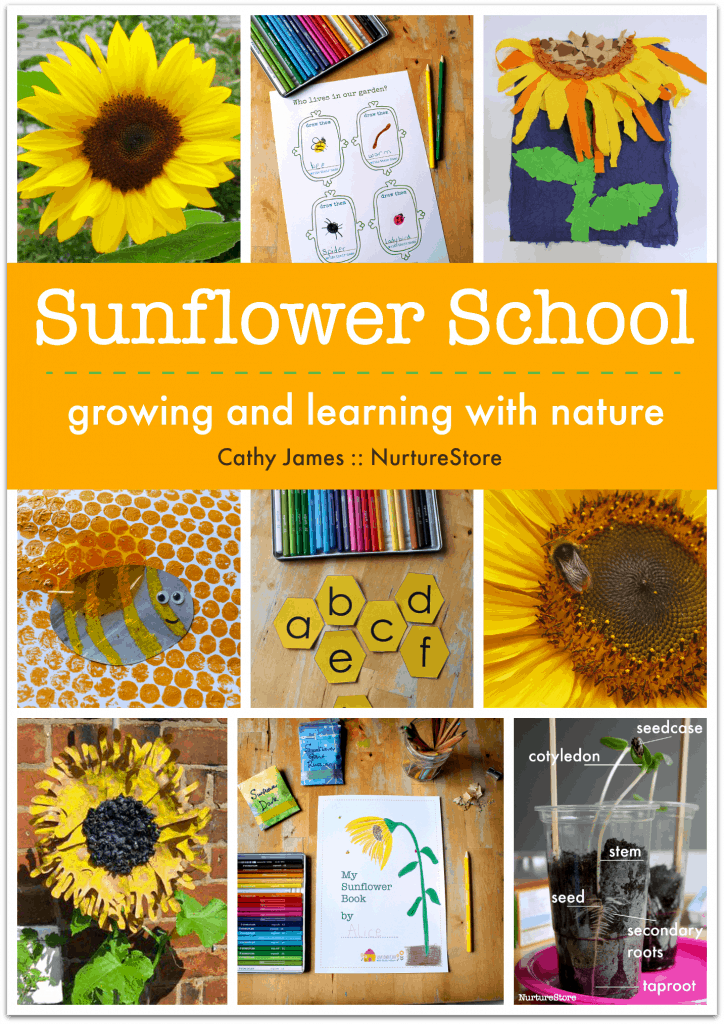 Sunflower School
The complete Sunflower School curriculum gives you six units of learning that you can use through the spring, summer, and autumn.
Everything is planned and prepped for you and gives you all the lesson plans and printables you need to teach about:
:: planting and measuring
:: bees and pollination
:: words, poems and books
:: sunflower art
:: shape and symmetry
:: seeds and sustainability
Sunflower School is a wonderful nature-based curriculum to enjoy with your children, in partnership with the seasons. Get your copy here.