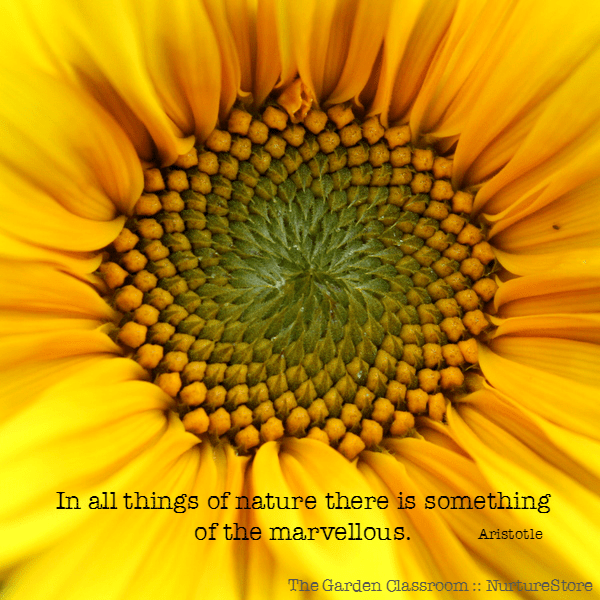 Welcome to Sunflower School!
I'll give you everything you need to teach SIX units all based on sunflowers – all planned and prepped for you, plus you get bonus printables!
Science, math, literacy, nature study, art, recipes, and play…. there's so much to learn about sunflowers!

A complete programme of learning, in partnership with the seasons
I've designed the lessons to match the natural growing cycle of our sunflowers.
:: In the spring we'll focus on planting and watching our plants grow.
:: In the summer we'll learn about bees and pollination, and celebrate the gorgeous blooms through art.
:: In the late summer and early autumn we'll turn our attention to harvesting, sustainability, and closing of the growing year.
There is so much to learn from sunflowers!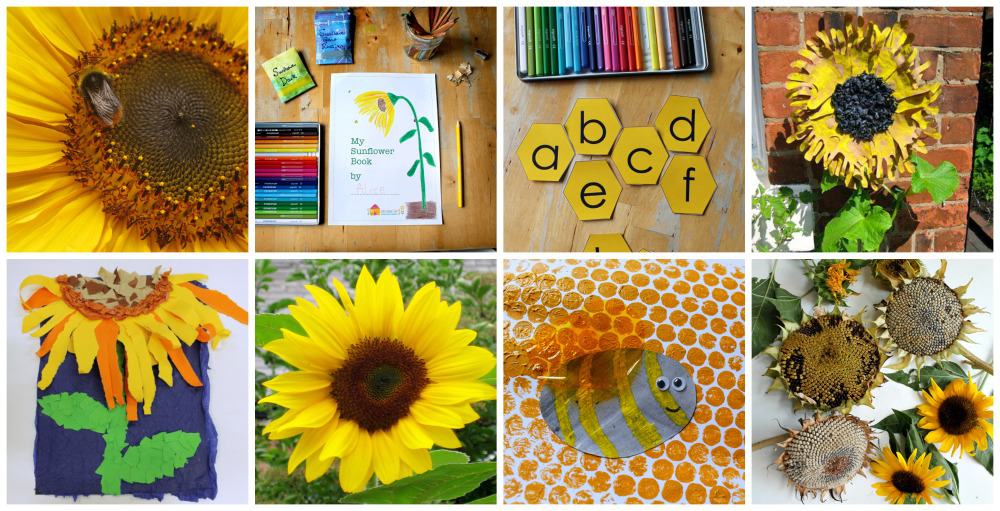 Everything you need to learn about sunflowers, all in one place
For the BEST VALUE, you can get this unit as part of our Seasons School Year Complete Program. Save over $90 and get our Spring, Summer, Autumn, and Winter Units all for better than half price. Click here for more details.
:: six complete units of lessons and printables running from spring through to early autumn
:: 28 engaging activities and lesson plans that your children will love
:: 30 pages of printables that make teaching so easy
:: a balanced programme of math, science, literacy, arts and crafts, nature study, recipes and play
:: a practical resource that you can start using today, in class, at home, and in the garden
:: weeks worth of learning all planned for you, to take you through the full cycle of the growing year
:: created with children aged 4 to 8 in mind
This is a super resource for families, schools, and gardening clubs!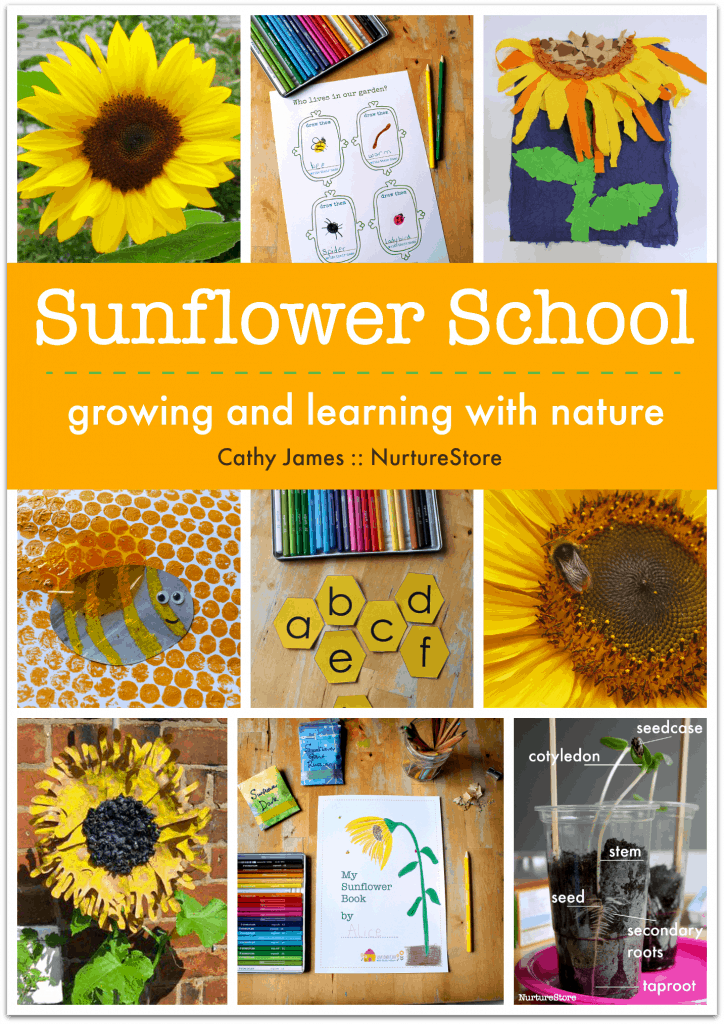 Here's exactly what you'll get in your Sunflower School resources
April :: Planting and measuring
How to grow sunflowers with children
Sunflower seed growing lesson
Key vocabulary
Charting your seeds' progress
Graphing your results
The parts of a sunflower plant
How to make a sunflower height chart
My Sunflower Journal
Sunflower number mats
Seed labels and sunflower stickers
May Part One :: Bees and Pollination
Learning about bees lesson
What kinds of bees are there?
What do bees look like?
Do bees sting?
The waggle dance!
How do bees make honey?
What is pollination?
How can we help bees?
Bumble bee craft
Visual thinking strategies lesson
Who lives in our garden? investigation
Bee alphabet activities
Bee number activities
Bee handwriting and scissor-skills
May Part Two :: Words, Books, and Poems
Sunflower poems
Sunflower books
Sunflower word mats
June :: Sunflower Art
Handprint sunflower craft
Watercolour sunflowers
Scratch art sunflowers
Sand sunflowers
Sunflower art inspired by Van Gogh and O'Keeffe
July :: Shape and Symmetry
Shapes and symmetry in nature
What shape is a sunflower?
How big is a sunflower?
Sunflower circles: diameter and circumference
Measuring with standard and non-standard units
Exploring symmetry in plants
Lateral symmetry
Radial symmetry
August :: Seeds and Sustainability
Harvesting sunflower seeds
Seed envelopes
School fundraising
Sunflower seed investigation and sensory play
How to make a mason bee house
Sunflower seed oatmeal cookies
Sunflower seed crackers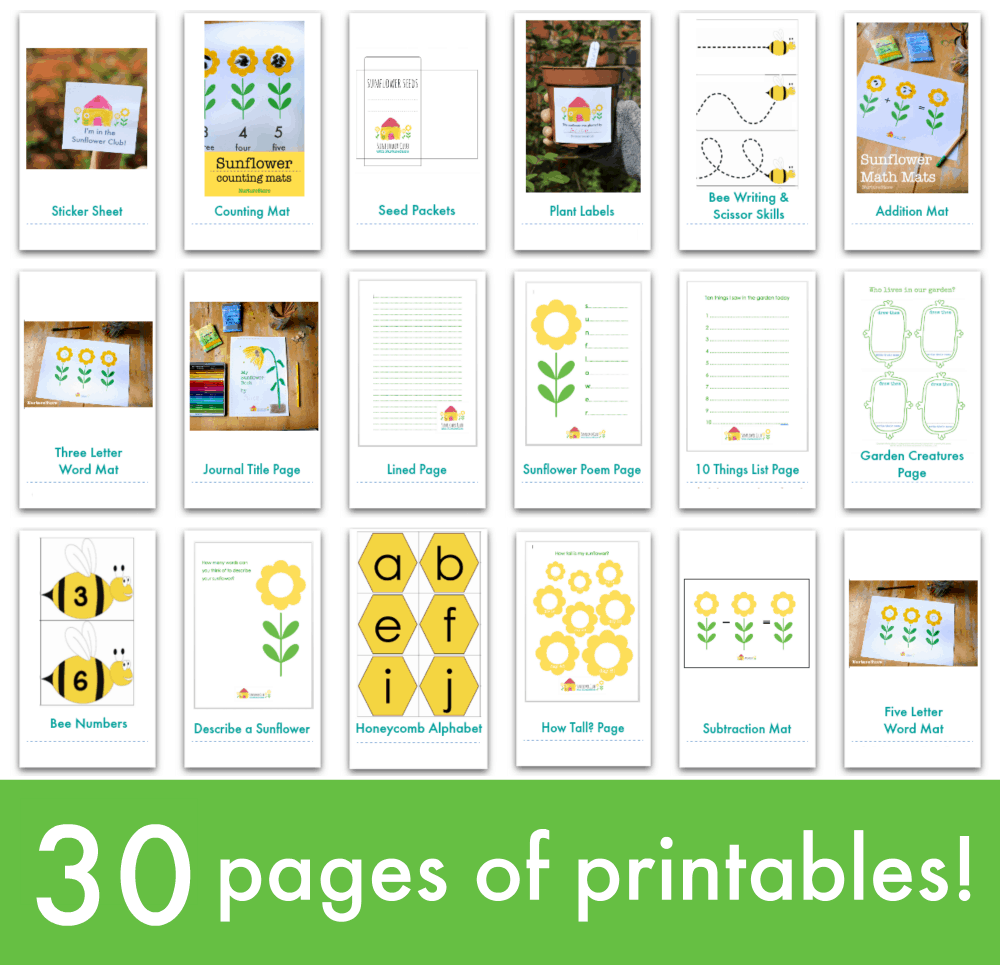 PLUS 30 PAGES OF BONUS PRINTABLES!
My Sunflower Journal printable
Lined, plain, and half-and-half journal pages
Sunflower poems printable
Sunflower sticker sheet
Printable plant labels
Sunflower counting mat
Sunflower addition mat
Sunflower subtraction mat
Sunflower word mats
Bee number cards
Bee writing and scissor skills pages
Garden Creatures page
Honeycomb alphabet
Printable seed packets

About Cathy James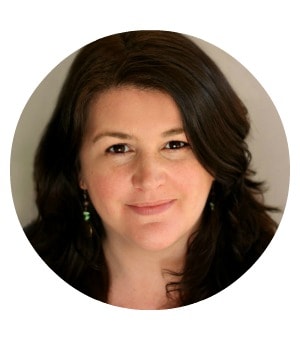 I'm passionate about keeping children connected to nature and a creative childhood of hands-on learning. My own children have grown up in the garden, at the beach, and in the forest. We use nature as a vital part of our home education curriculum and it makes our learning joyful and deeply connected to the rhythmic cycle of the year.
I'm the author The Garden Classroom (published by Roost Books) and used to work in school running the Year Four Gardening Club. I've also worked in preschool, high school, and as a childminder, where my provision was rated as 'outstanding' by OFSTED.
With over twenty years experience in education I want to share what I've learned with you, so you can feel inspired, confident, and supported to give your children the best start in life. Let's work together to deliver lessons that are engaging, impactful, and fun!

The Sunflower School resources are available now for only $19.99
Includes all six units PLUS bonus printables pack.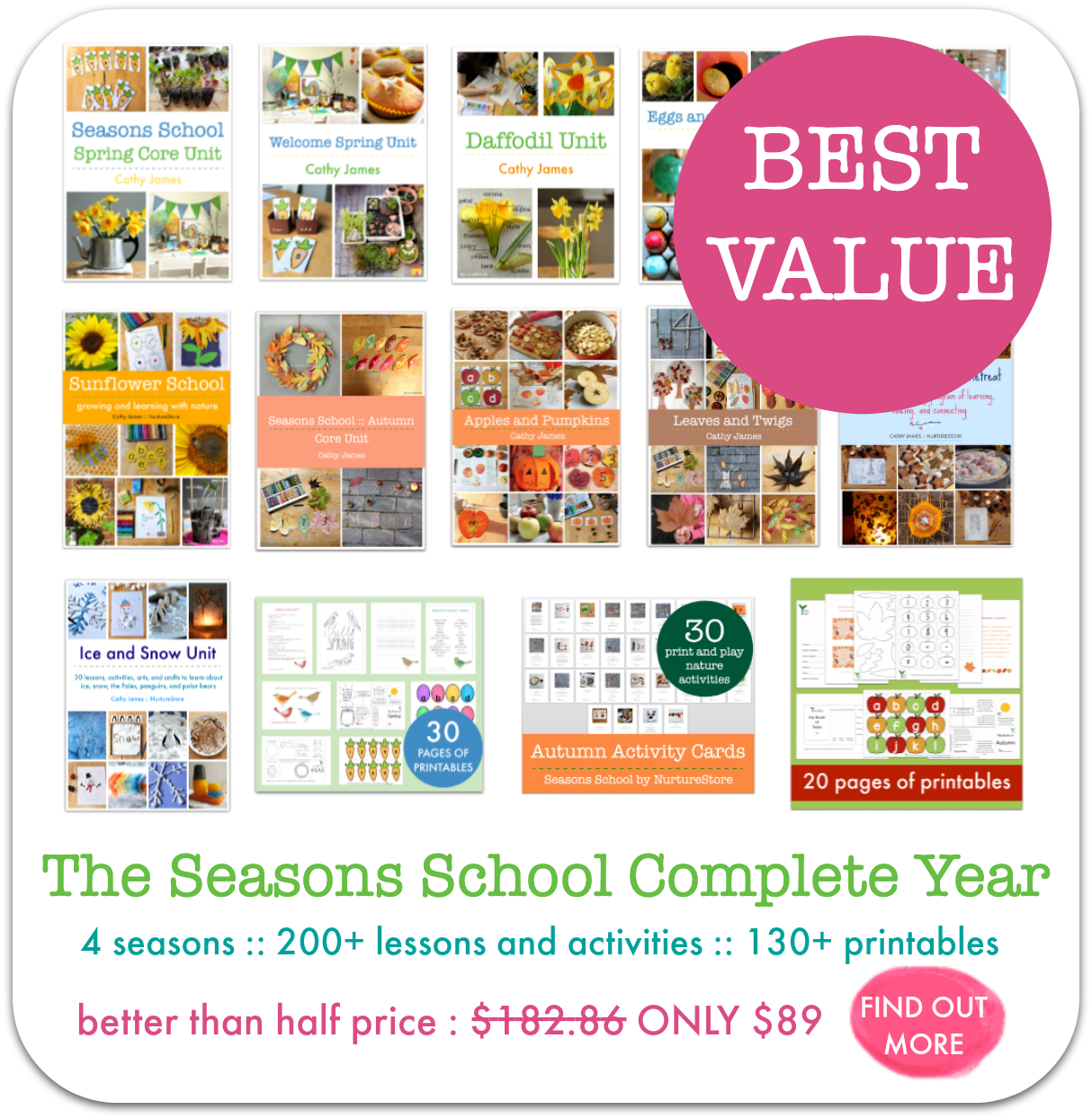 For the best value, you can get this unit as part of our Seasons School Year Complete Program.
Save over $90 and get our Spring, Summer, Autumn, and Winter Units all for better than half price.
You'll save so much time, with everything planned and prepped for you, and your children will delight in this engaging and education nature-based year-round curriculum.
All four seasons, 16 complete units, and over 130 printables to make your lessons so each to teach.
Save time - stop all that planning and prep - enjoy the sunshine instead!
---
Available for instant download
This product is an ebook (electronic book), which means you will be sent a link by email which allows you to download the ebook and all the resources. You should save it to your computer or iPad and then either read it on screen or print some/all of the pages, as you prefer.
Questions?
If you have any questions, then please refer to our FAQ.
Important Information
By purchasing items from our website you consent to our Privacy Policy.
All ebooks and other digital products listed on this page protected under copyright ©. All rights reserved. They may not be shared or distributed in any way or form.
All products listed on this page are priced in US dollars. If you are outside the USA, the amount appearing on your bank/credit card statement will be in your local currency based on the exchange rate applicable at the time of the payment.