Here's my favourite, easy recipe for pancakes, English style, with lots of ideas for adding math and literacy activities as you cook.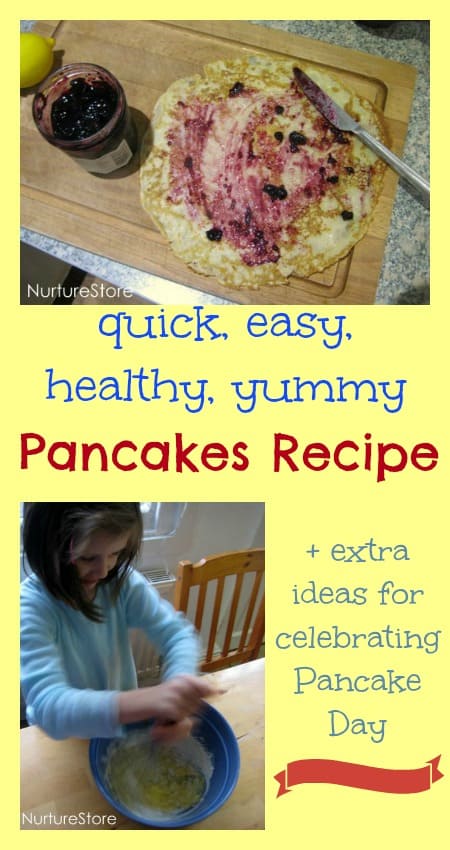 Pancakes recipe
My children love pancakes. We always have then on Pancake Day – more often know world-wide as Shrove Tuesday – and often have them for breakfast too.
They are quick and easy to make. You can even prepare the batter the night before, so you are all ready to go in the morning.
This is a great beginner recipe for children, with just a few ingredients and easy steps.
Click here to print a set of my pancake recipe sequence cards.
And click here to see all my Shrove Tuesday activities for kids.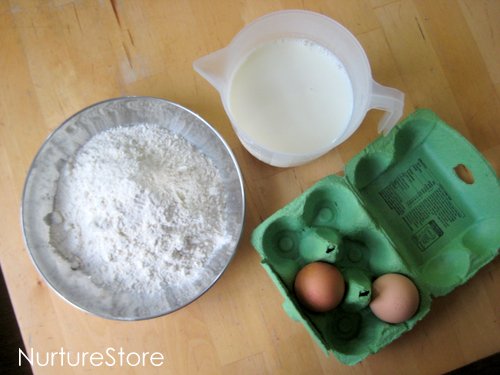 Ingredients needed
This pancake recipe makes six- eight large pancakes.
You will need:
:: 2 large eggs
:: 1 pint of milk
:: 8oz (225g) of plain (all purpose) flour
:: oil or butter for frying
:: your choice of toppings – see below for suggestions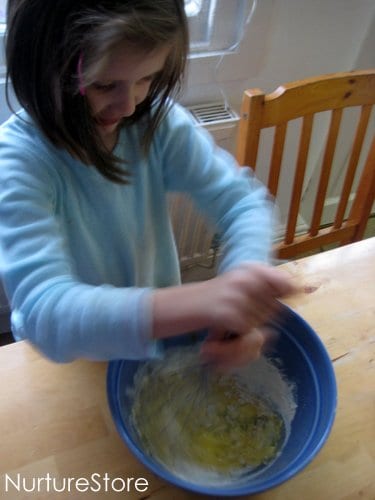 First wash your hands.
Then whisk two eggs together in a large bowl. (Click here to see tips on how to crack an egg.)
Then add your flour and whisk some more.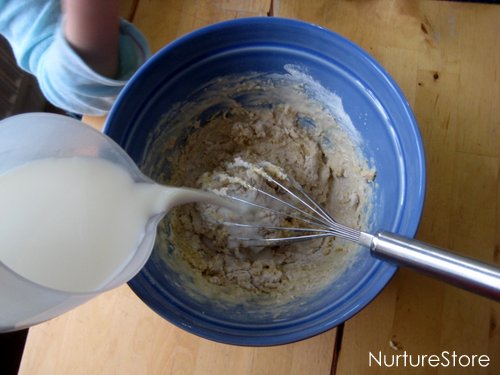 Pour in the milk little by little, whisking as you go.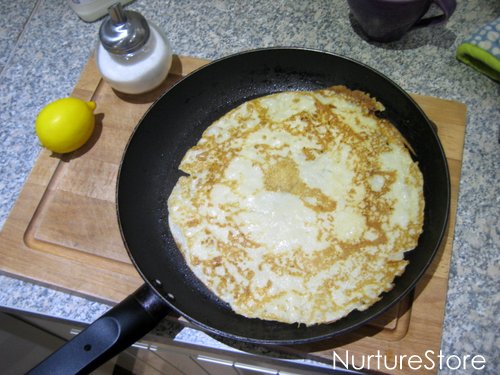 To cook your pancakes, heat a little oil or butter in a frying pan and spoon in a ladle-full of your pancake batter.
Cook the pancake for a couple of minutes, over a gentle heat, then use a spatula to flip it over in the pan to cook the other side.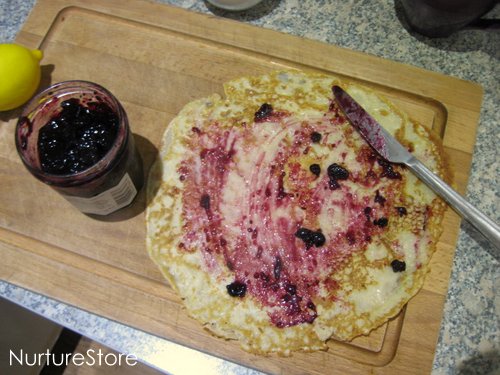 In the UK pancakes are generally super thin, and flavoured with a filling of your choice.
A traditional topping is to squeeze on fresh lemon juice and then sprinkle on sugar.
Other delicious toppings include:
:: jam
:: lemon curd
:: chocolate chips with strawberry and banana
:: grated cheese and chopped, fresh parsley
:: maple syrup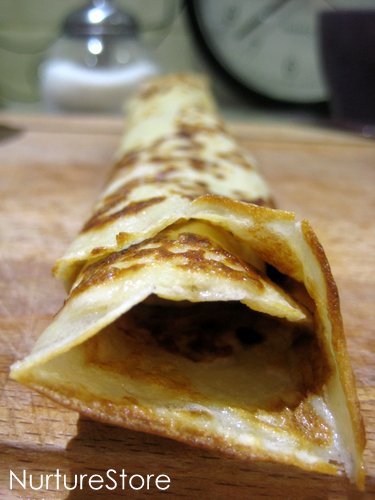 Finally, roll up the pancake so your chosen filling gets all melty and even more delicious.
Eat and enjoy!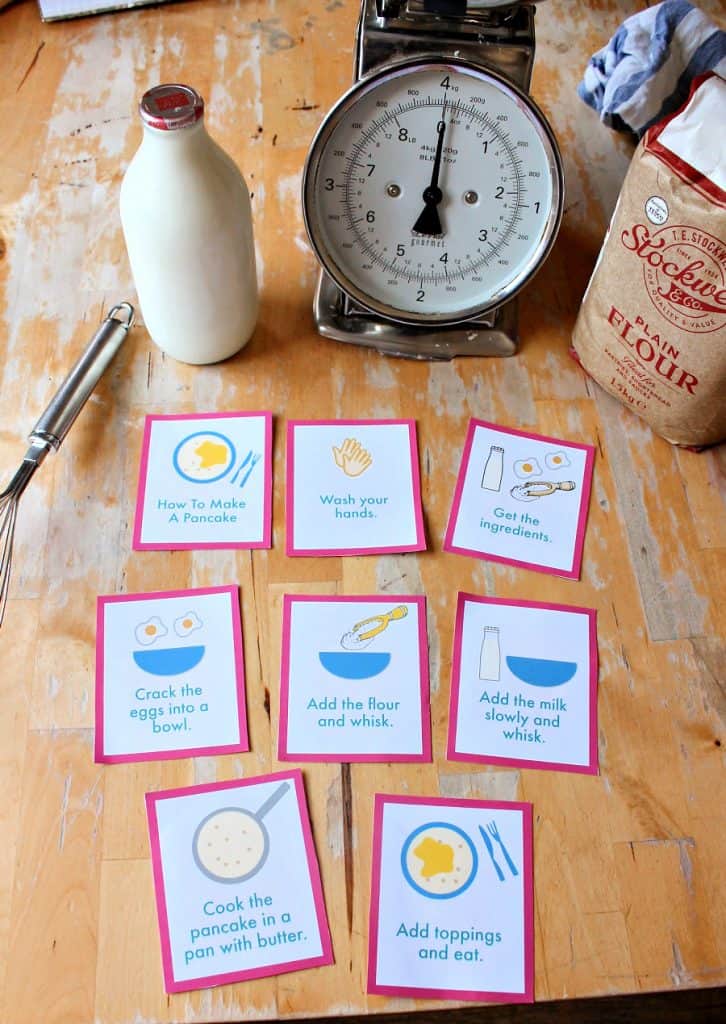 Adding literacy skills
Print the recipe sequence cards and use these ideas for kitchen literacy activities.
Adding math skills
Include math skills as you cook by:
:: measuring your ingredients using both a kitchen scale and a measuring jug. Talk about weight and volume and how we can compare differences in to see what is more and what is less. Talk about how the scales work. Investigate the marks on the scale's dial and on the jug. Introduce the ideas of ounces and grams, pints and millilitres
:: talk about how big a pancake is. How can you compare sizes to work out who has the biggest? You can use a ruler to measure diameter, work out circumference if you wish. Use a ruler and graph paper, or a pair of compasses, to draw a pancake the same size as the one you have eaten. Write a note on your pancake picture to record "My pancake is xx cm in diameter."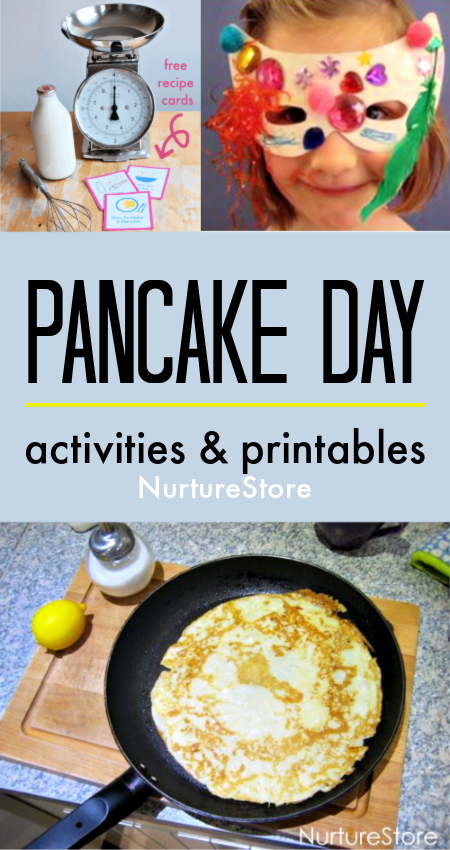 More pancake activities
See our full range of pancake day activities and lessons for Shrove Tuesday here.