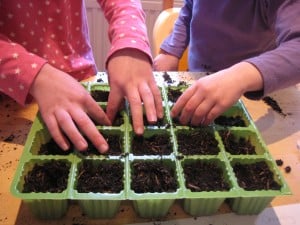 Science doesn't start at high school with Bunsen burners and litmus paper. Babies, toddlers and pre-school are natural scientists, exploring and testing out their world. Creating a play-friendly environment and giving them time to investigate what catches their interest is the first step towards developing enquiring minds. Try these ideas for more child friendly science experiments.
Tip #1 Encourage experiments: ask kids to predict, observe & explore with this guide from ScienceMum
Tip #2 Use baking to test weights, emulsification, heat, liquids…Gingerbread is a good place to start
Tip #3 Try biology with an experiment to see what seeds need to grow
Tip #4 Combine physics and engineering with this pendulum activity from Irresistible Ideas for Play Based Learning
Tip #5 Use simple props like ice cubes and experiment to find out what makes things melt faster
Tip #6 Create some art and explore the properties of sunlight with this idea from Paint Cut Paste
Tip #7 What happens when you combine bicarbonate of soda and vinegar? Jen at TheMadHouse knows!
Tip #8 Bring physics into play with Teacher Tom's Full Body Physics trials
Tip #9 A really easy one to try a home is this sink or float test from No Time For Flash Cards
Tip #10 Mini beast bingo is great for budding entomologists
What science play do your children enjoy?
***These #goplayTwitter Tips are tweeted each Friday at 8.30pm – follow @nurturestore or the #goplay hashtag to share
View the Twitter Tips on playdough, water play,  travelling with kids,   junk modeling , balancing school and play and encouraging reading and writing
happily shared with Top Ten Tuesday and Wearethatfamily