Growing sunflowers with children? Download our free sunflower activities ebook.
Our sunflowers have now moved outside to our little greenhouse to enjoy the Spring sunshine and get them used to being outside. We've been out enjoying the garden too. Little has been especially interested to see creatures out there. She will stop in her tracks and peer at her feet, watching an ant running around. Big is interested to know which animals are goodies (that would include worms and ladybirds) or badies (which definitely includes slugs and snails). So we have decided so survey what animals we have sharing our garden with us by playing… Garden Bingo!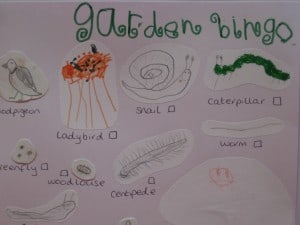 First we talked about what animals we might expect to see. (Sorry Little, but no elephants are likely to be found.) Then we drew pictures of them. Everyone can join in with this, no matter how young or artisically challenged they might be. Little did a great worm, ladybird and spider – with carefully counted legs. Big's cat is very characterful and her butterfly is perfectly symmetrical. I was able to muster some greenfly and wowed everyone with my woodpigeon.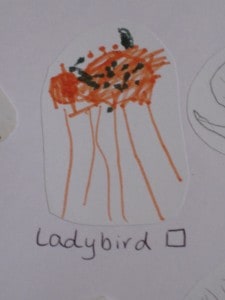 Then we stuck our animal pictures on to our bingo card and wrote their names underneath, along with a tick box for each one. Each time we spot an animal in the garden we're going to tick them off our card. Take time to have a good look at each animal as you see them. Look at their shape, colour and patterns and count their legs (or note their lack off). Talk about their role in the garden ecosystem and decide if they are goodies or badies.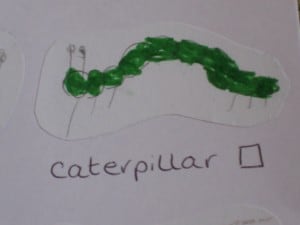 If you like a competition you could make each person a slightly different bingo card to see who can spot all their creatures first to get a 'full house'. We like to promote harmony in our garden so we have one big bingo card to complete all together.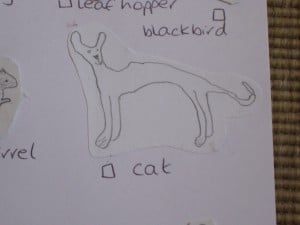 If you're out in the garden and growing things with your children, come and join in with our Sunflower Club to get a Spring and Summer full of activities all linked to growing and gardening.