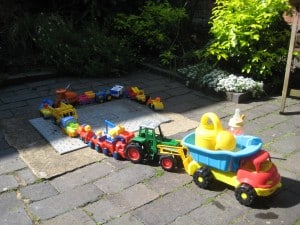 It's summer holiday season when lots of us are travelling with kids so this week's Twitter Tips* are all about keeping children entertained on a car journey.
Twitter Tip #1 The key to traveling happily with kids is a little planning: make a box of goodies for snacks, treats and activities
Twitter Tip #2 Make a bingo game to take along with pictures of roadsigns, vehicles, people and landmarks you can spot along the way
Twitter Tip #3 Play 20 questions. With younger children give clues to about someone in the family, let older ones ask questions
Twitter Tip #4 Stock a busy bag with pens, paper, stickers, doll, magazine, books, sweets, a magnetic scribble pad, magic colour pens
Twitter Tip #5Every 20 mins or so give the kids something new from the busy bag – keeps them busy & helps measure out the journey
Twitter Tip #6 Take along some audio books (borrow some from the library ) -better for carsickness than watching a film on a screen
Twitter Tip #7 Locate the playgrounds along your route. Stop regularly and get out of the car to let the children run around.
Twitter Tip #8 Put together a compilation of the family's favourite music: can't beat a singalong to lift everyone's mood!
Twitter Tip #9 Make story magnets & play with them on a baking sheet -they won't get lost down the car seats
Twitter Tip #10 How about some washable car window crayons to let the kids get creative while they ride?
*These #goplayTwitter Tips are tweeted each Friday at 8.30pm – follow @nurturestore or the #goplay hashtag to share
View the Twitter Tips on playdough, water play and encouraging reading and writing
Happily shared with Top Ten Tuesday and We Are That Family's Works for me Wednesday