Here's a great collection of
forest school
activities for toddlers and preschooler.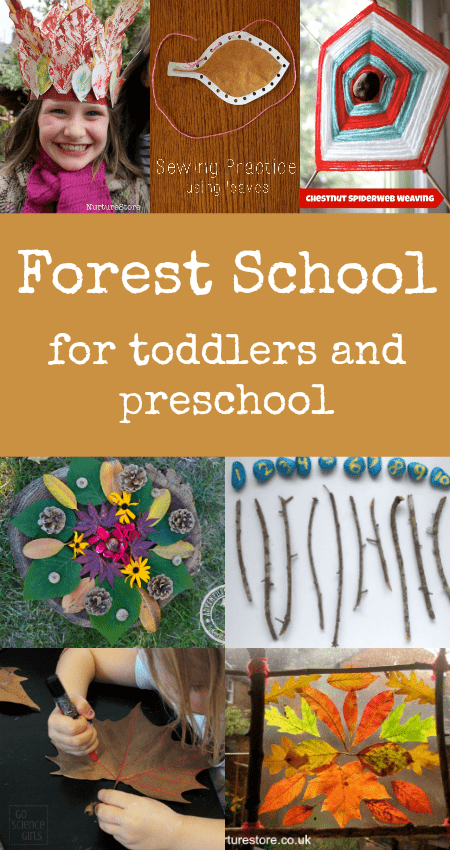 Forest school activities for toddlers and preschool
There's a growing number of schools and play groups which are taking place outdoors in the woods.
At these forest schools children, dressing in warm or waterproof clothing to match the weather, spend most, if not all, of their day outside, playing and learning in nature.
Some nurseries and play groups are designed so all the activities are outside. And more and more traditional child-care settings are creating woodland corners in their grounds, so children can spend part of their day getting the benefits of forest school.
Being outdoors lets children have open access to fresh air and lots of space to run around.
It promotes a connection to nature and a love of the environment.
All the traditional areas that we want our children to start learning about – like language and math skills – are still encouraged and developed, but the children get to use sticks and fir cones and leaves as their materials.
Forest schools ideas for toddlers and preschoolers
If you have a little woodland pixie who loves to play outdoors, here's a wonderful collection of forest school ideas for toddlers are preschool that you can use to take learning into the woods.
Print in play dough with nature finds.
Count with pebbles and sticks.
Go on a leaf hunt – free printable!
Create leaf art in twig frames.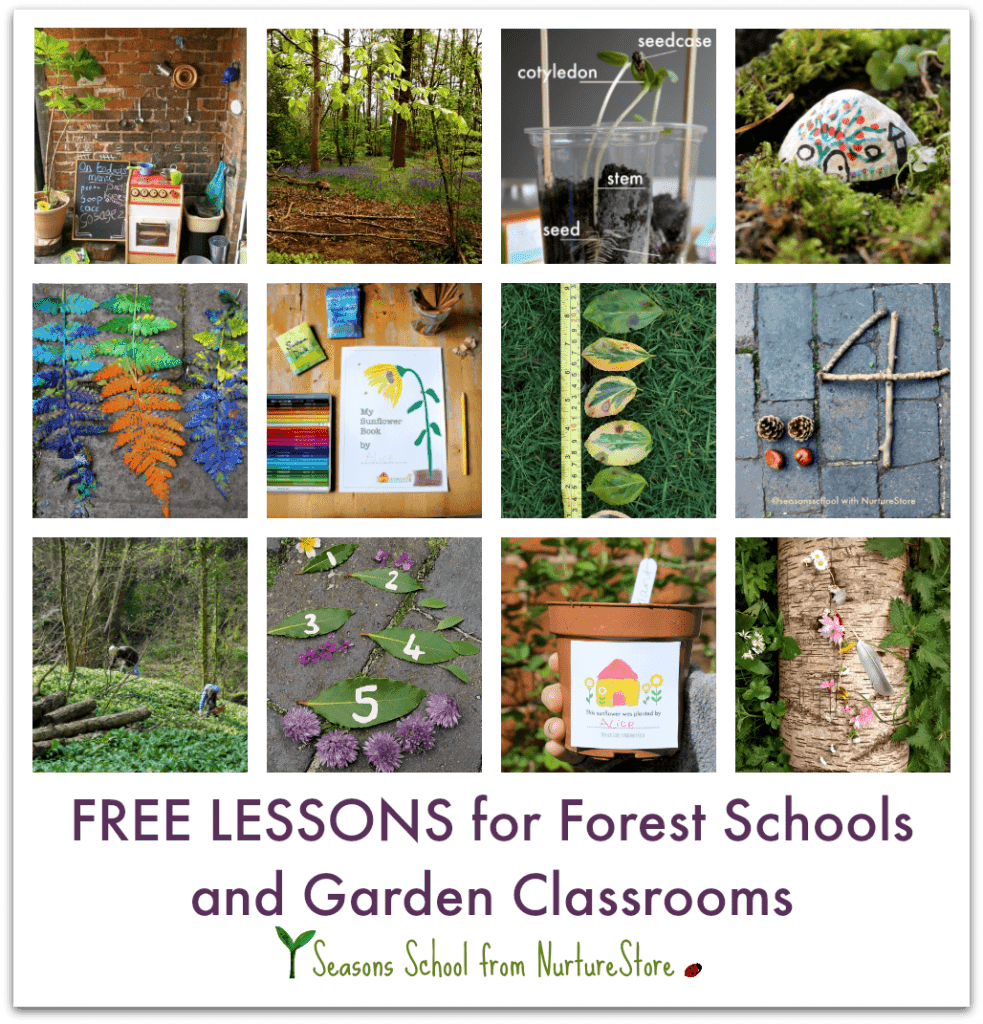 Free Forest School and Garden Classroom resources!
Join my weekly email service and I'll send you FREE printables, lesson plans, and activity ideas that you can use with your children in your forest school and garden classroom.
Seasons School is NurtureStore's year-round program of living and learning with nature. Our activities and resources focus on hands-on, nature-based learning that connects children with the natural environment.
If you're looking for nature study lessons, arts and craft projects, campfire recipes, foraging ideas, outdoor math and literacy activities, outdoor games, and ways to explore forests, gardens, and outdoor spaces - think of NurtureStore as your forest fairy godmother!
Whether you're in a forest school or outdoor classroom, running a school gardening club, bringing nature lessons into your class, home educating with nature, or wanting to connect with the great outdoors at the weekend, you will love the Seasons School ideas.
Pop your email address into the box below and I'll send you your free resources.
---
By subscribing, you consent to our use of your personal data as per our Privacy Policy, which includes agreeing to receiving interest-based email from us.
---