Let's make bath time awesome! Try these fun and easy bath time activities for children.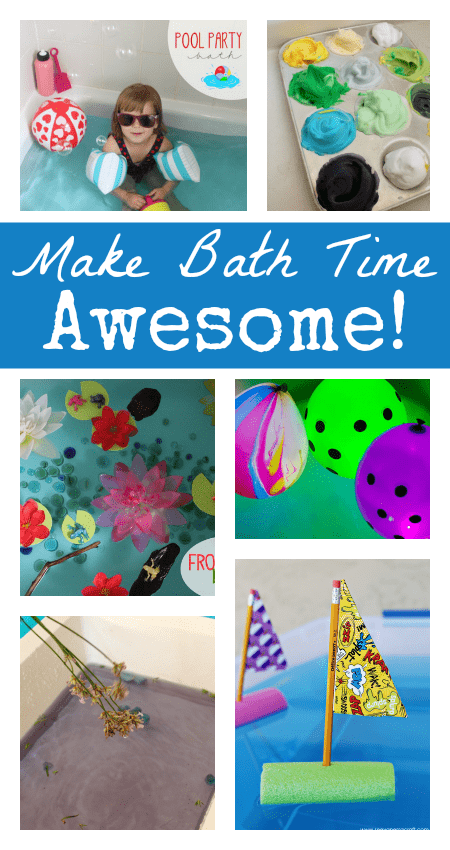 Making bath time awesome
How are bath times in your house? I have mixed feelings about them. Sometimes they can be the loveliest time of day to bond with your children. Especially if you have been apart at work and nursery during the day, the bedtime bath can be such a fun way to connect and spend some time together.
But on other nights, after a full day of action, and maybe a battle through a tea-time witching hour, bath time can feel like a huge final hurdle to get to the end of the day.
So, for either kind of day, here are some ideas that you can use to make bath time awesome.
Some of them of really simple ones that are just enough to lift bath time into amazing time, without too much effort or extra time required. Just the added extra to finish off your day all smiling.
And others are all out, go for it, totally spectacular, bath of the year ideas. Let me know if you try one!
Fun and easy bath time play ideas for children
A drop of colour and a bit of lavender and you've created a chill out bath.
Grab some favourite toys and you've made an ocean bath.
Got glow sticks? Make a glow in the dark bath!
Try this easy bath paint recipe.
Or this simple bath paint recipe that uses shaving foam.
Add some ice cubes for a frozen-themed bath.
You can freeze all sorts of things in ice cubes to add to a bath -like these frozen numbers.
Make a boat to sail in your bath.
Try some scented, glittery bath paints.
Turn your bath into a frog pond.
Host your own pool party.
Build your own water chute.
Try these glowing bath balloons.
Make it musical with these bath time songs.
Make a bath time train set.
Turn your bath into a light box.
Or try these dinosaur bath bombs, with a surprise inside.
Get free resources for your children!
Did you know you can receive free weekly activity ideas, seasonal resources, free printables and extra bonuses from Nurturestore? You'll have creative learning ides for your children all year round!
Sign up in the box below and we'll send you your freebies!
---
* By subscribing, you consent to our use of your personal data as per our Privacy Policy, which includes agreeing to receiving interest-based email from us.
---