Enjoy these lesson plans, art projects and science experiments to teach your children about International Women's Day.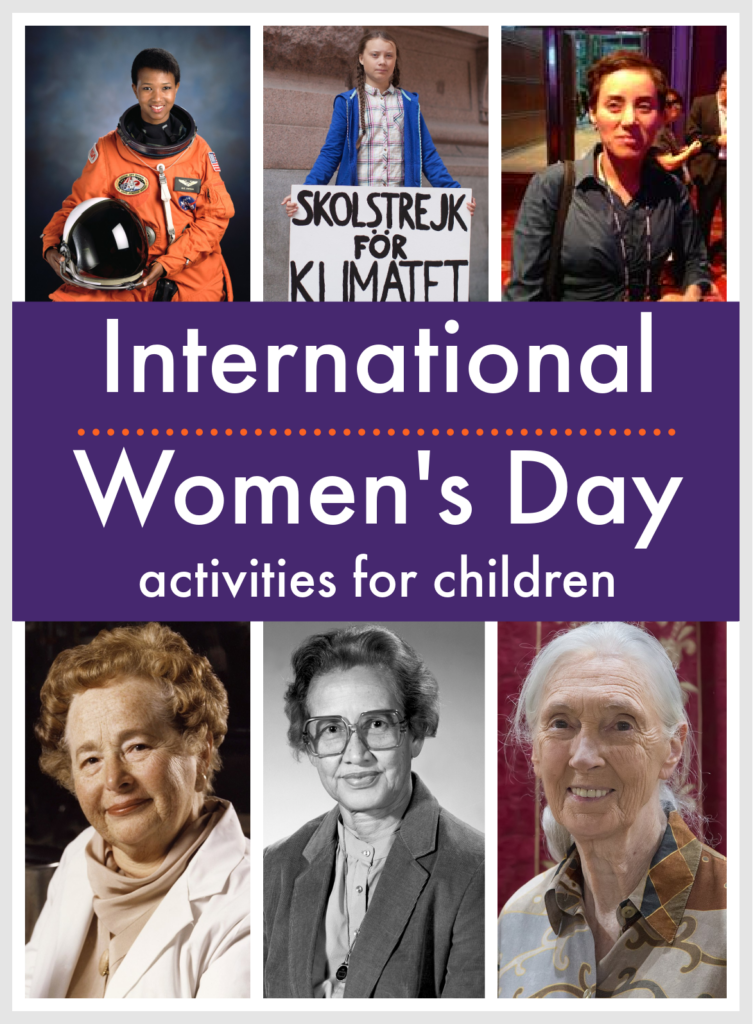 Children's activities for International Women's Day
International Women's Day has taken place for over one hundred years and is observed on 8th March. The day celebrates women's achievements, raises awareness against bias, and takes action for equality.
In our activities for International Women's Day you can talk about girls and boys: the great things about them and the challenges they face. You can learn about famous female scientists, artists and activists, and inspiring women in your own community.
While these activities talk about the main groups of girls and boys, it is important to note that some people – perhaps including your children – aren't girls or boys, and some people are both. Everyone faces gender stereotypes. International Women's Day is an event everyone can participate in.
International Men's Day is observed on 19th November.
Intersex Awareness Day is observed on 26th October.
International Transgender Day of Visibility is observed on 31st March.
This article is part of our world festivals lesson plans.
In this article, you will find:
:: age-appropriate activities all children can join in with to celebrate International Women's Day
:: art history lessons about famous women artists and art projects to try inspired by them
:: information about famous female scientists and fun science projects to try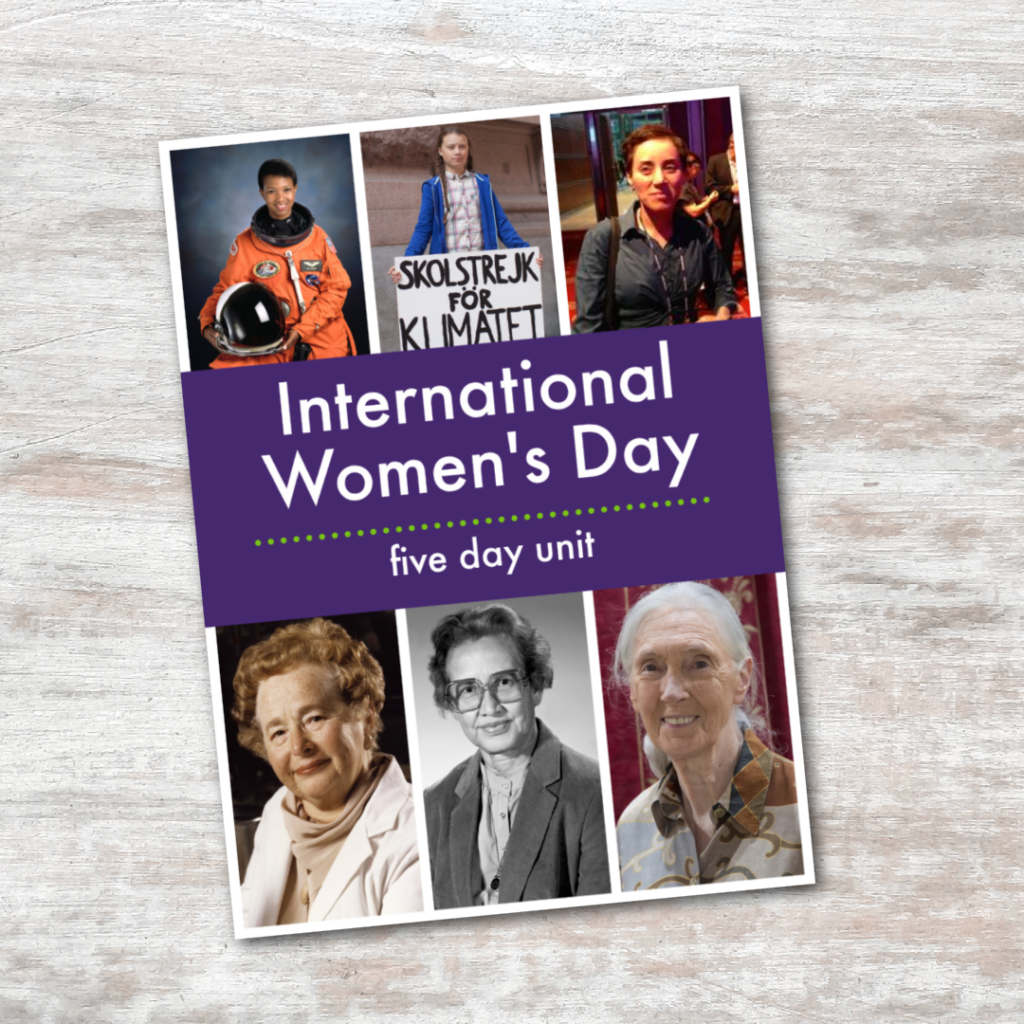 Ready-made International Women's Day Unit
The easiest way to teach is with our ready-made International Women's Day Unit which you can download from our ad-free membership area, the Play Academy. Join us in the Play Academy and you'll have instant access to over 50 ready-made teaching units covering math, science, literacy, nature, arts & crafts, world culture and well-being. See more details and choose your first unit here.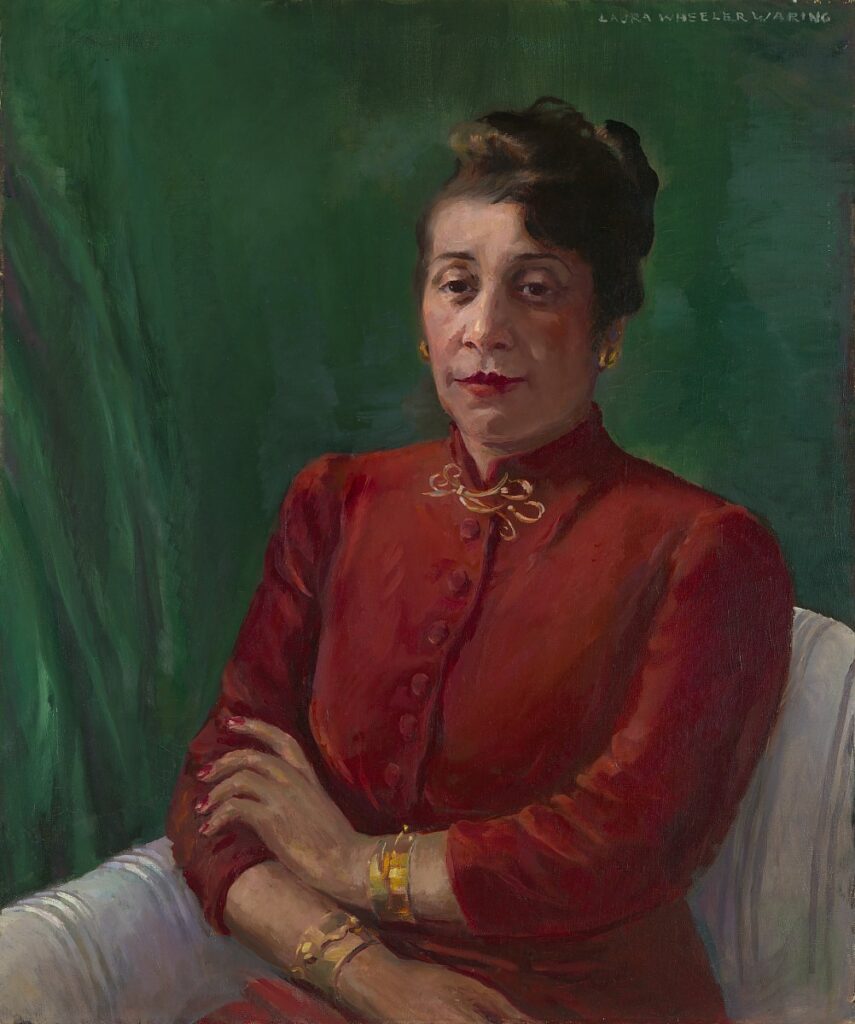 More International Women's Day activities for children
If you would like to DIY your teaching, help yourself to NurtureStore's free resources:
Talking about gender stereotypes with children
Use this lesson to talk about gender stereotypes with your children and get them thinking about bias and fairness.
Female scientists lesson
Introduce your children to famous female scientists and try a simple science experiment.
Greta Thunberg lesson plan for children
Introduce your children to teenage climate activist, Greta Thunberg and invite them to make their own pledge to take action on a matter that they are passionate about.
Interview an inspiring woman you know
In this lesson children can develop their spoken and listening skills by interviewing an inspiring woman they know.
Art history lessons about famous women artists
Celebrate famous women artists with art history lessons and art projects inspired by these artists:
Yayoi Kusama art lesson
Learn about the Japanese artist, Yayoi Kusama, and create art inspired by her famous dots.
Alma Woodsey Thomas art lesson
Learn about the famous African-America artist Alma Woodsey Thomas and create your own art inspired by her colourful circles.
Gee's Bend Quilters art lesson
Learn about the quilters of Gee's Bend, Alabama and try your own simple quilt project.
Clementine Hunter art lesson
Learn about the art of Clementine Hunter and take inspiration from her work to create your own day-in-the-life art project.
Augusta Savage art lesson
Learn about the famous African American artist Augusta Savage and make art inspired by her, working with clay including shaping, construction, mark making and modelling.
Maria Prymachenko art lesson
Learn about Ukrainian folk artist Maria Prymachenko and create your own folk art inspired by her.
Janet Sobel art lesson
Learn about the artist Janet Sobel. We'll look at some of Sobel's famous abstract expressionist paintings and make our own Janet Sobel inspired process art project using pour painting.
Esther Mahlangu art lesson
Learn about Esther Mahlangu and Ndebele culture, and create your own geometric pattern art.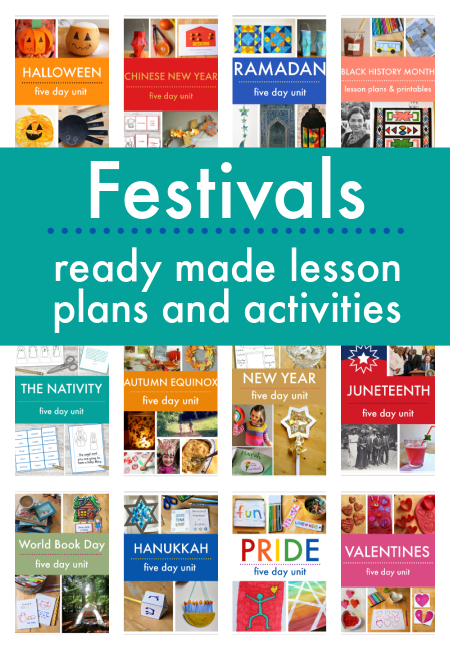 Free festival lesson plans for children
Festivals are fun! They are about celebration and community, and include pretty decorations, delicious food, and fun parties. Taking part in festivals is good for our wellbeing and brings communities together.
Help your children become global citizens – knowledgable and welcoming of other cultures, religions, and countries – and create an inclusive feeling in your community, where all your children know they and everyone else belong and are valued.
Our festival lesson plans include Chinese New Year, Hanukkah, Diwali, Ramadan, Nativity, Winter Solstice, Juneteenth, World Book Day, Halloween and many more. See our festival lesson plans here.