Let's learn about the Japanese artist, Yayoi Kusama, and create art inspired by her famous dots.
Yayoi Kusama art lesson for children
The Japanese artist Yayoi Kusama is famous for her abstract art featuring bright colours and many, many black dots. Let's learn about why she started making these patterns everywhere, see examples of her art, and create dotty pictures inspired by her.
This project is part of our art lessons about famous artists.
In this article you can:
:: learn about the famous artist Yayoi Kusama
:: see examples of her work
:: learn about contrasting colours and repeating patterns
:: explore printing using different sizes of stamps
:: find links to more famous art lessons
Ready-made famous art lessons for children
Use our ready-made art lesson plans to make art with Faith Ringgold, Alma Woodsey Thomas, Yayoi Kusama, Takashi Murakami and many more.
A diverse art curriculum featuring contemporary artists of colour from four continents
Biographical and art history information for every artist
Step-by-step lesson plans for every one of the 25 art projects
Material lists for each project, which use basic art supplies
Full colour photographs throughout, showing process steps and finished projects
See more details and choose your first famous art lesson here.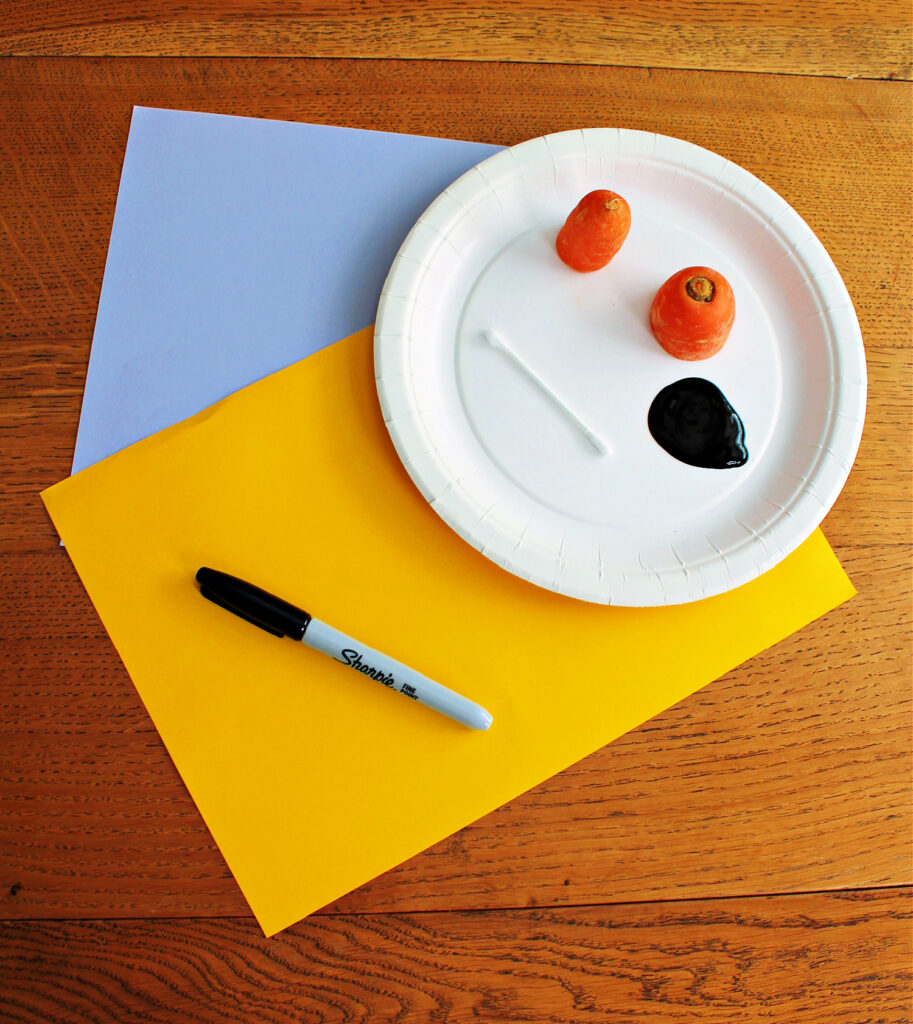 Materials needed
:: brightly coloured card in two contrasting colours
:: black marker pen
:: scissors
:: black paint / stamp pad
:: three stamps in increasing sizes (the eraser end of a pencil, your finger and a wine bottle cork are ideal)
:: glue
:: Christmas Bauble printable, printed on to one of the brightly coloured card sheets, if you are joining this lesson as part of NurtureStore's Ten Days of Christmas Art Baubles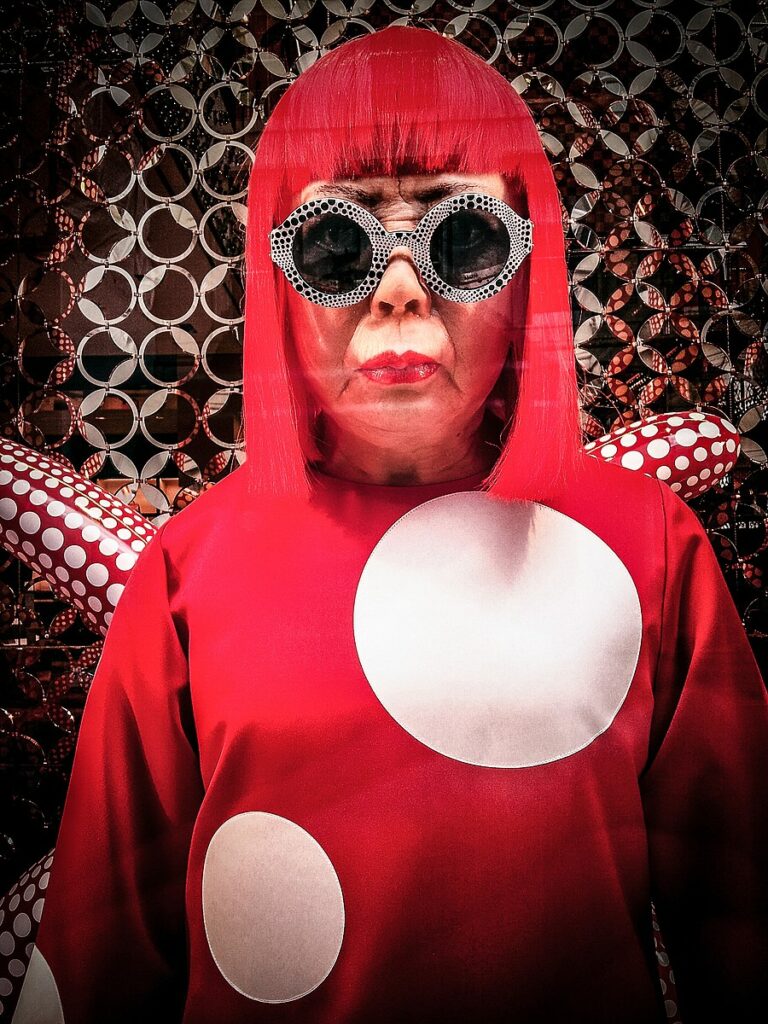 Meet famous artist Yoyoi Kusama
Yayoi Kusama is a Japanese artist. She was born in Matsumoto, Nagano in 1929 but moved to live in the United States of America when she was 27 years old. She is famous for her paintings, sculptures, and installations which all feature lots of dots.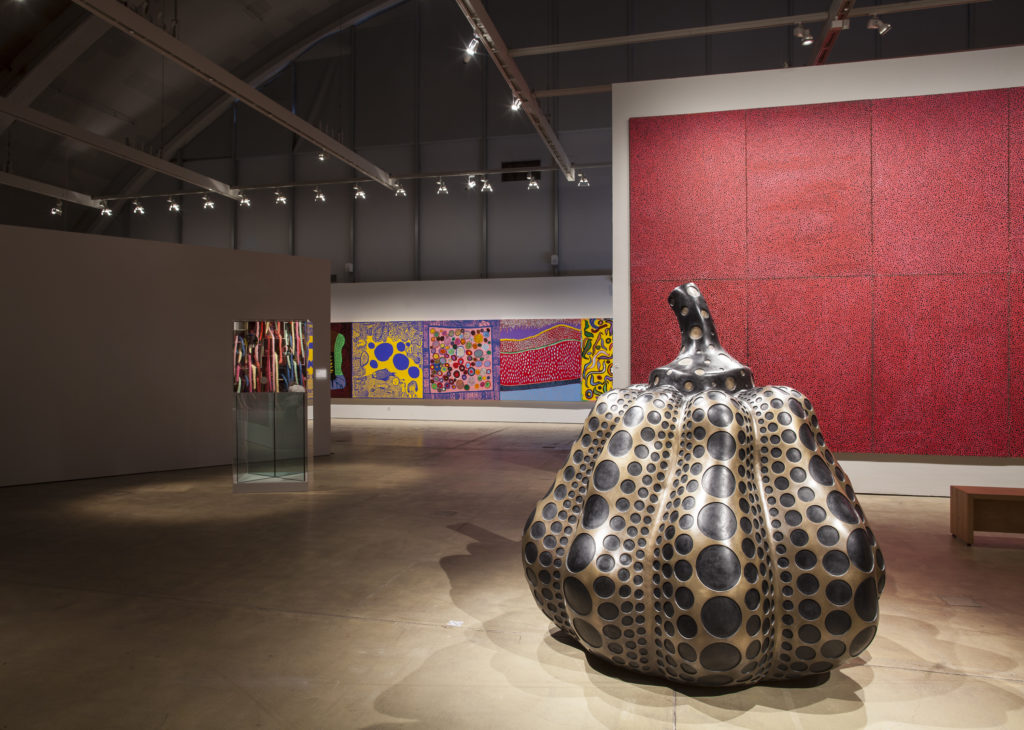 When she was a child she had a hallucination – a sensory experience that seemed real but was created by her mind. She saw a field of flowers where all flower heads turned into dots and started talking to her. She felt she could disappear into the field of flowers, or as she describes it 'self-obliterate', and become part of the bigger universe.
When she feels exhausted or anxious she has said that creating art with repeating patterns of dots helps her feel calmer and connected to everyone else on the planet and in the universe. It gives her a feeling of wellbeing.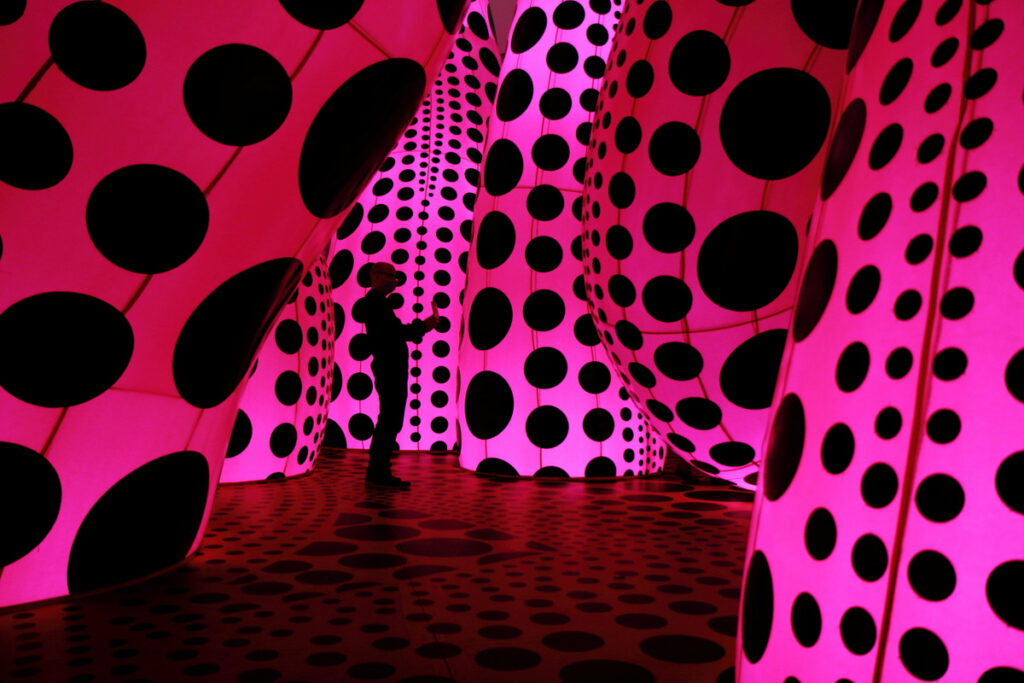 Some of her famous artworks are rooms, filled with bright colours and black dots on every surface, that you can walk through. Can you imagine how you might feel in a space like this?
You can watch the video below made by the Tate Gallery to find out more about how Yayoi Kusama became an artist.
Examples of Yayoi Kusama's art
Take a look at these examples of Yayoi Kusama's art. As you look at them, answer these questions:
:: What can you see?
:: What shapes and patterns can you see?
:: What colours can you see?
:: What does the artwork make you think of?
Orchard Road 3, Singapore Biennale 2006
Pumpkin, exhibition for HAM art company, 2016
The Spirits of the Pumpkins Descended into the Heavens, 2019
Yayoi Kusama Exhibition Israel, 2022
Infinity Mirrored Room—My Heart is Dancing into the Universe, 2023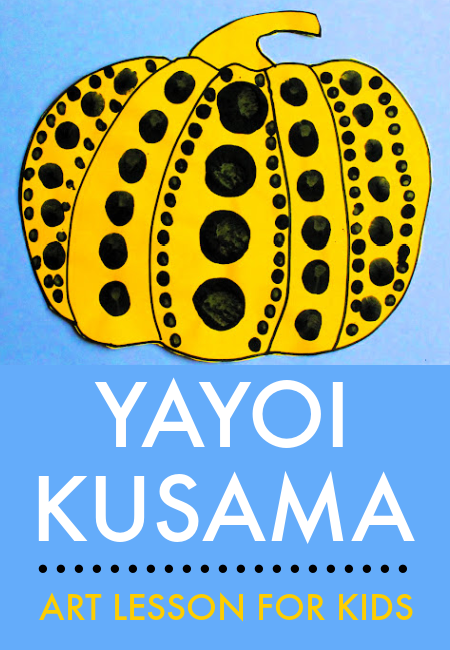 How to make art in Yayoi Kusama style
Our art project inspired by Yayoi Kusama will be using three key elements of her style:
:: repeating patterns of dots
:: dots in three sizes: small, medium and large
:: black dots on a bright background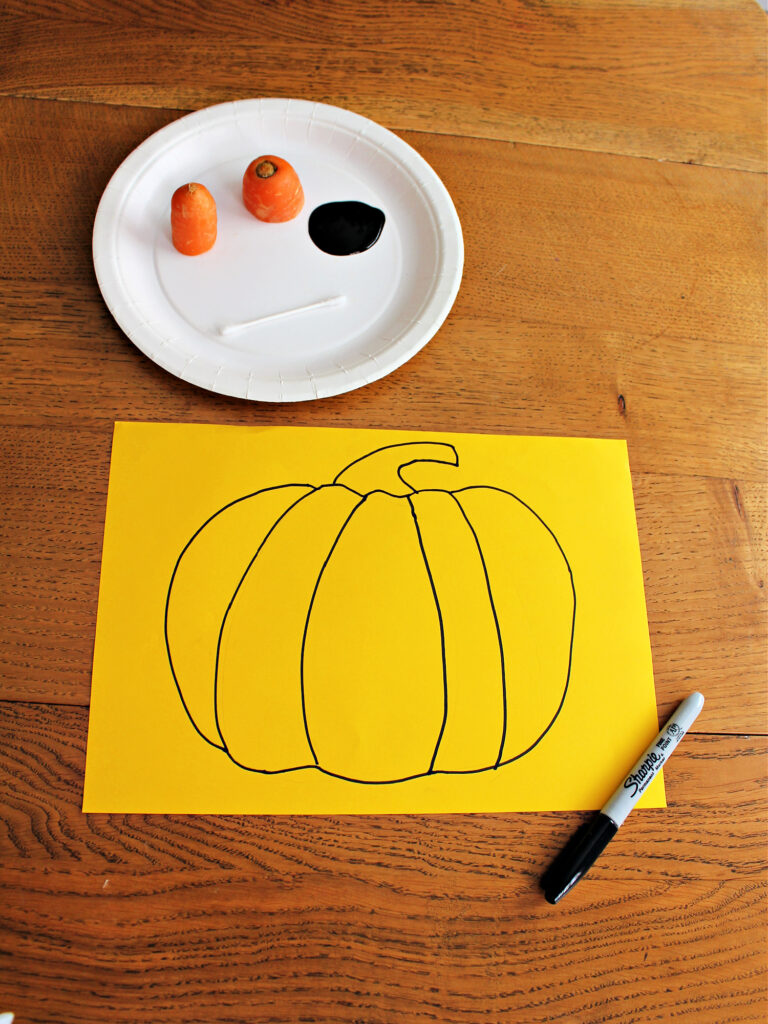 Yayoi Kusama pumpkin art project for children
Choose two pieces of card in contrasting colours. You could choose red and green, blue and orange, or yellow and purple. (See our colour theory lesson for more explanation of contrasting colours).
On one of the pieces of card use a black marker pen to draw the simple outline of a pumpkin, including lines down the pumpkin to show its bumpy shape.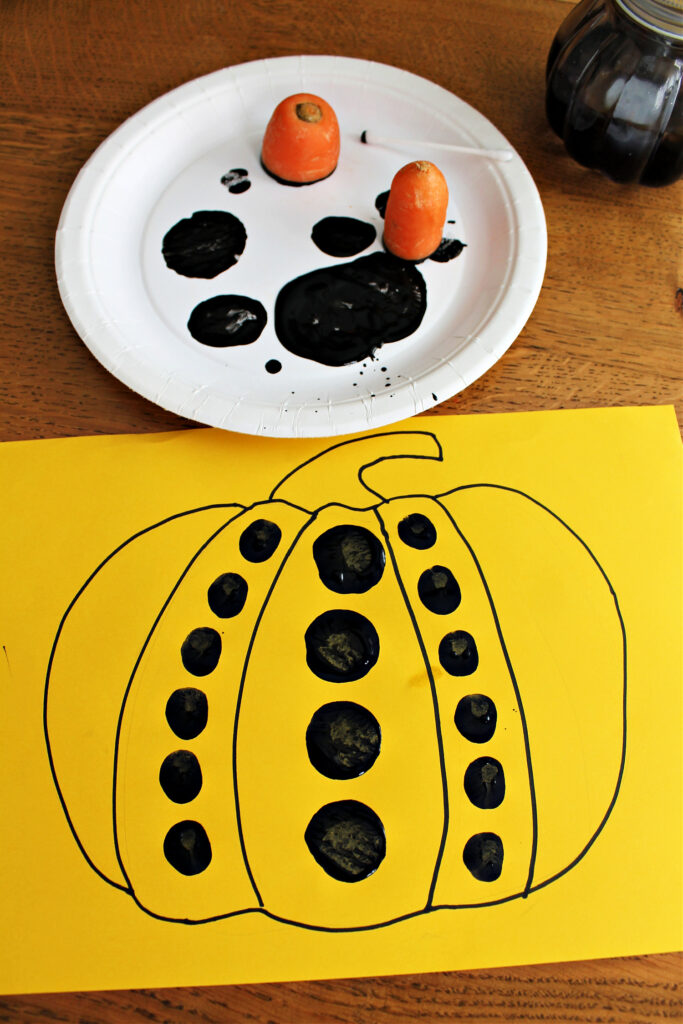 Then use your stamps to print black circles in lines down the pumpkin. Start with the biggest circle stamp (a wine bottle cork for example). Dip it in black paint, or press it on the black ink stamp pad, and then press it onto your pumpkin. Print lots of circles this size in lines down the pumpkin.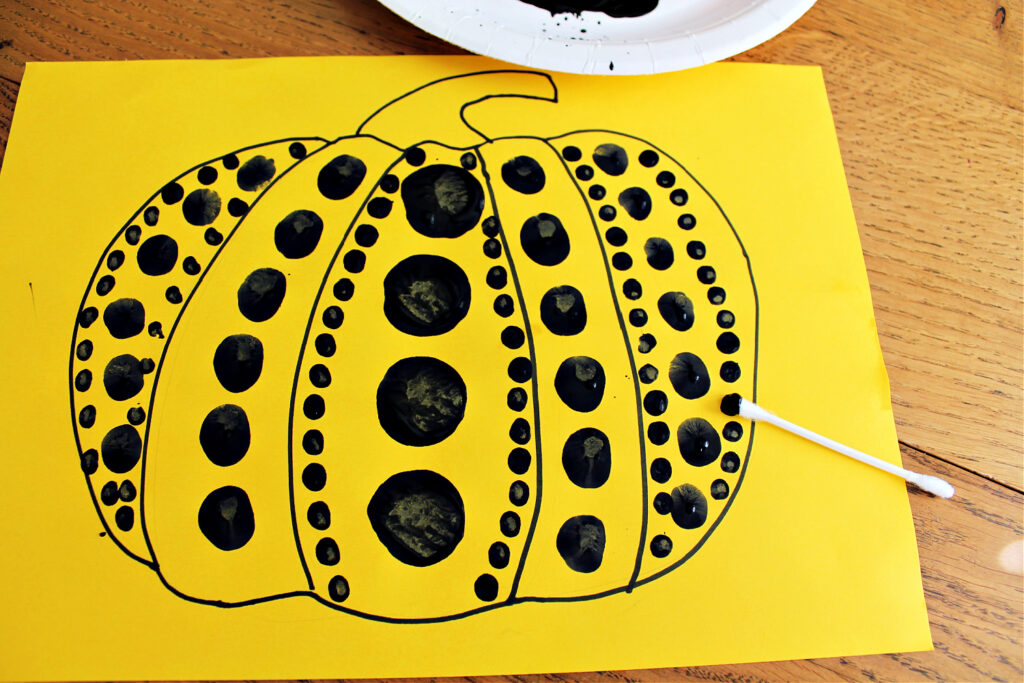 Then use your medium sized stamp (your finger) to print more lines down your pumpkin.
And then use the small sized stamp (the eraser end of a pencil) to make the final lines of dots down your pumpkin.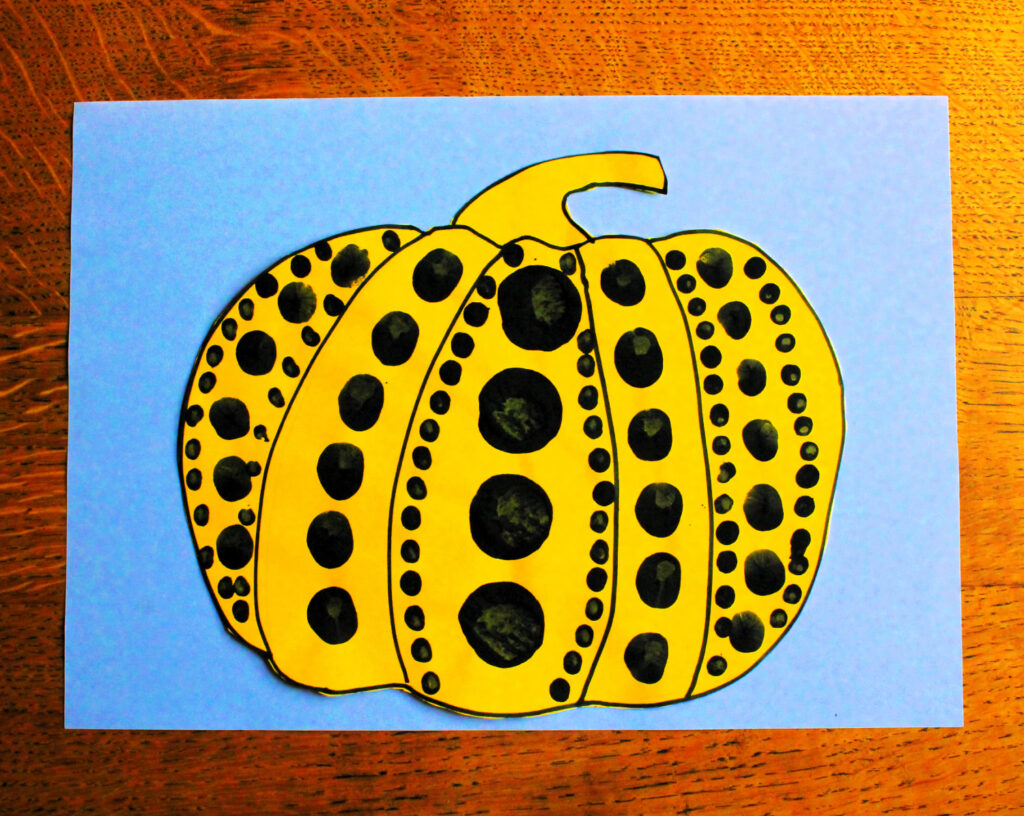 Once the paint is dry, use scissors to cut out your dotty pumpkin.
Place the pumpkin of the second piece of card (in the contrasting colour) and glue it in place.
By using contrasting colours of card, the colours of each looks more intense, and therefore makes your pumpkin 'pop'.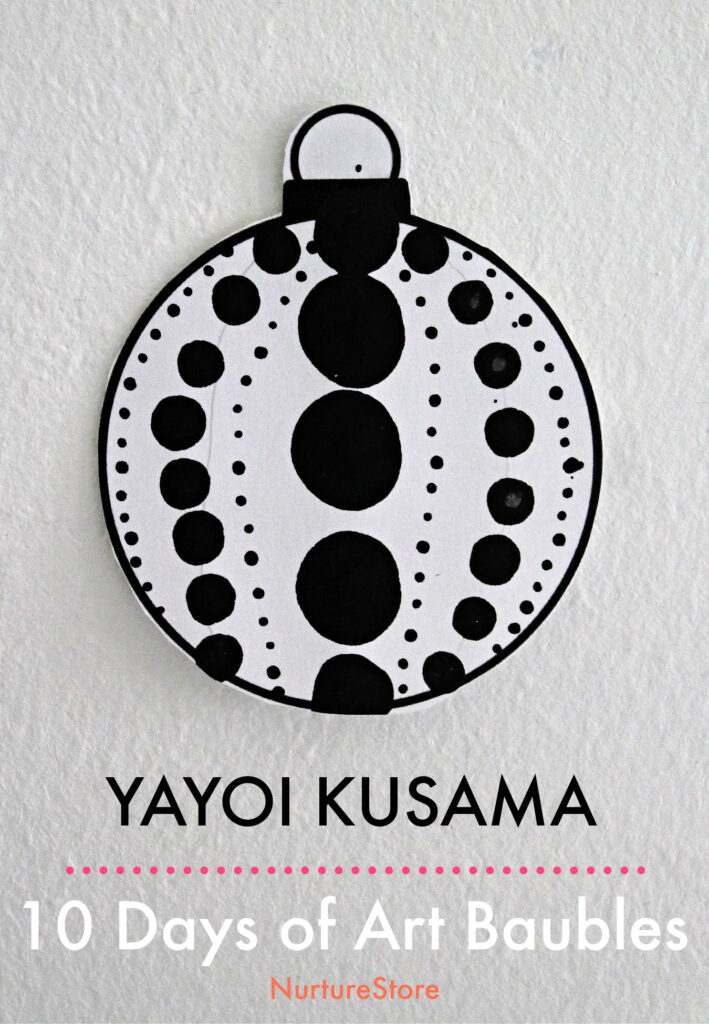 Yayoi Kusama Christmas bauble craft
Join our Ten Days of Christmas Art Baubles and create a Yayoi Kusama bauble!
Use our Christmas bauble printable in place of the pieces of card to create your art. Print it out on your choice of brightly coloured card.
Then use the three sizes of circle stamps, following the method described above, to make lines of dots down your bauble.
Cut out the bauble from the printable and hang it up on the wall or Christmas tree as part of your Christmas art decorations.
>>> NurtureStore is hosting ten days of art lessons making Christmas art baubles, with ten different designs inspired by famous art and interesting process art techniques. We're learning about Piet Mondrian, Wassily Kandinsky, Yayoi Kusama, Georges Seurat, and Alma Woodsey Thomas, plus exploring marbling, wax resist, squeegee art, printing and collage techniques.
See all the Ten Days of Christmas Art Baubles lessons and get your free bauble printables.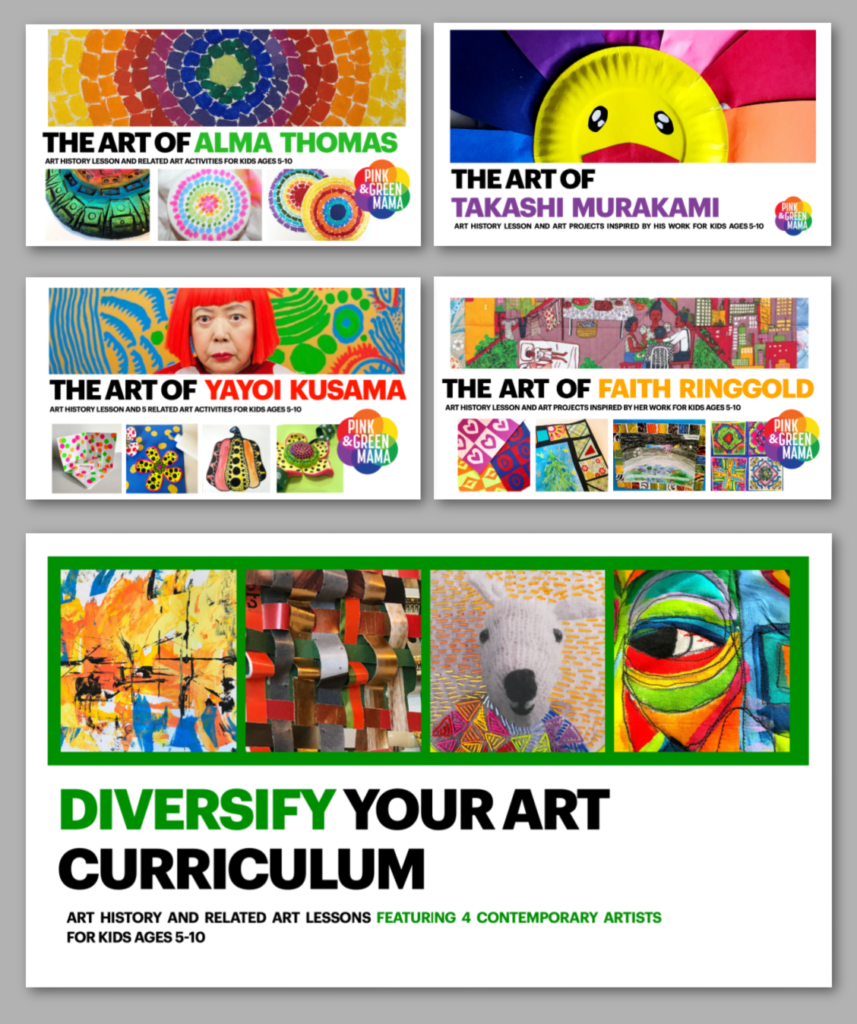 More ready-made art lessons about famous artists
Use our Exploring Great Artists lesson plans to teach a full programme of art lessons based on famous artists. Your children can learn art history while making their own art inspired by the famous artists of the world. All the projects use simple materials, introduce children to interesting art techniques, and can be done in school or at home. See more details and get your copy of Exploring Great Artists here.
Plus, enrich to your art lessons with our Diversify Your Art Curriculum resources, featuring ready-made lessons on contemporary artists of colour from four continents. Great projects your children will love! See more details and get your copy of Diversify Your Art Curriculum here.