Use these free printable color jigsaws to boost language and literacy.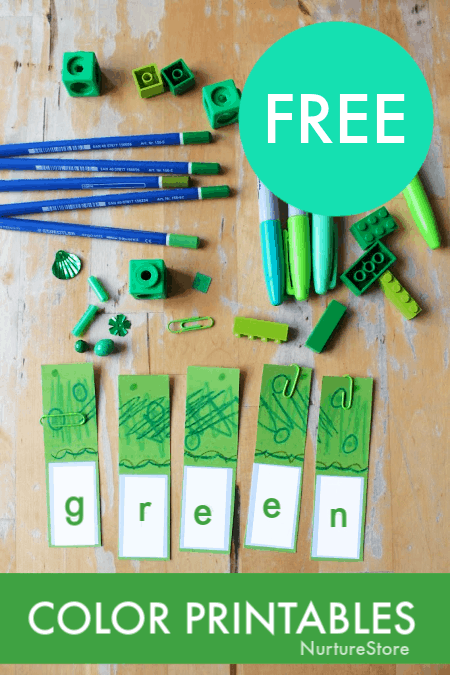 Color activities with printable color jigsaws
You can use these color activities and printables to have fun while you learn about the rainbow.
The color jigsaw printable can be used to support:
:: learning about colors
:: matching and sorting skills
:: spelling and writing skills
:: language and vocabulary development
:: fine motor skills

How to use the color jigsaw printables
Print the color jigsaws (see below) on card, for extra durability without the need to laminate – less plastic!
Cut out the sections for each color.
Included in the kit are jigsaws for the following colors:
:: red
:: orange
:: yellow
:: green
:: blue
:: purple
:: brown
:: black
:: white
:: plus a blank set so your children can make a jigsaw of their own favourite colour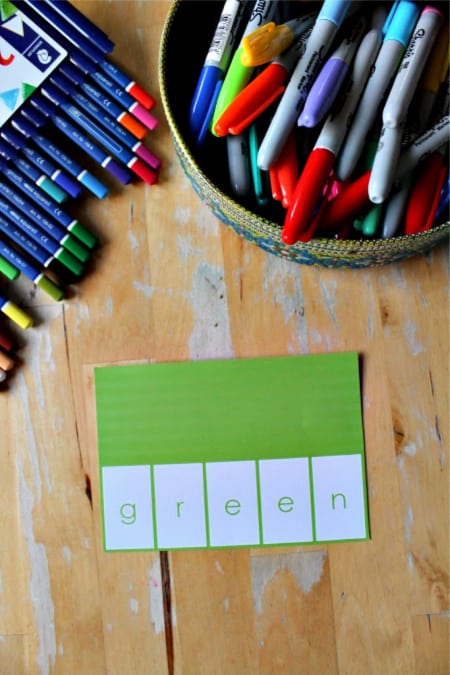 Color activities using the printable jigsaw
There are many ways to use the printable color jigsaws to support language and literacy.
Start by reading the word on one of the jigsaws.
Find pens, pencils, and crayons in the same colour and use them to add patterns to the top part of the jigsaw.
Then cut out the individual letters of your word.
Jumble them up and then see if you can put your color jigsaw back together to correctly spell out the name of your color.
Boosting fine motor skills
You can use this jigsaw as a finger gym to boost fine motor skills.
Using pens and pencils to decorate your jigsaw is a fun way for children to learn to hold writing tools.
You can develop fine motor skills further by offering a pot of multi-coloured paper clips alongside the jigsaw. Can they find paperclips in the same color as their word? And then use their fine motor skills to slide the paper clip on to their jigsaw?
Set out scissors too, so children can start to develop scissors skills as they cut out their own jigsaw. The printable includes only simple, straight line cutting, and doesn't need to be cut out with perfection, making it a great printable for children to use.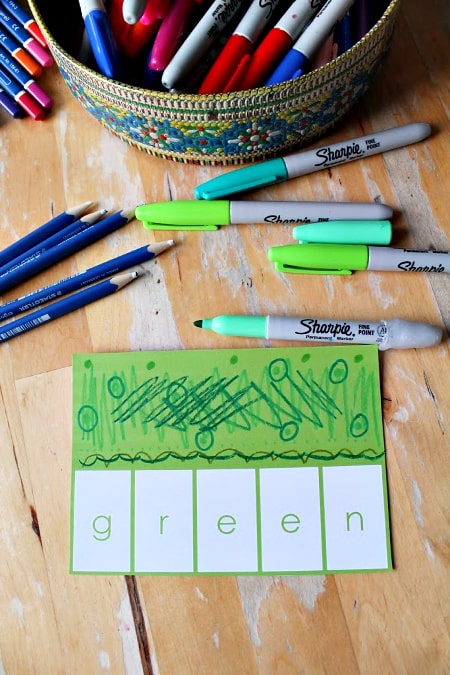 Boosting language skills
Go on a hunt around your room to see what else you can find to match your color word.
Each child could have a different color jigsaw and hunt for things to match their word, or you can run this as a team activity with everyone bringing one thing that matches you color.
Boost language by talking about everything they have found.
:: Who's found the biggest green thing?
:: Who's found the smallest green thing?
:: Who's found something hard?
:: Who's found something soft?
:: Has anyone found something that starts with the letter b?
:: Who can think of an animal that's green?
:: Who can think of a food that's green?
Have the children ask questions as well as answering them.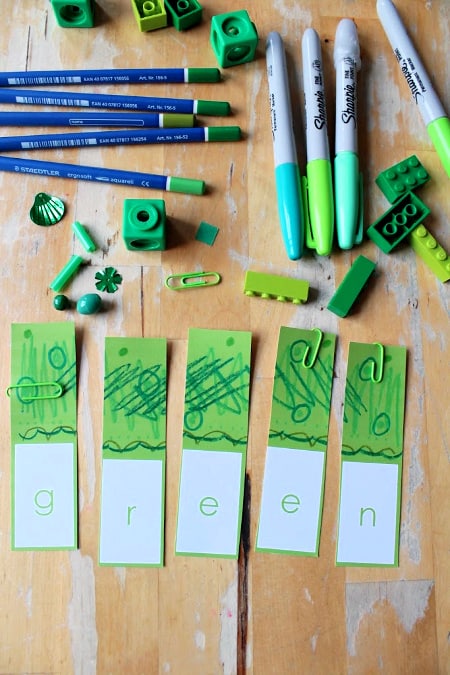 More ways to use the color jigsaw printable
Hide the jigsaw pieces in a sensory tub.
Hide the letters around the room and go on a treasure hunt to find them all.
Set the jigsaw out alongside a sensory writing tray and invite your children to write out their color word.
Host a color day and invite your children to come dressed head to toe in their favourite color. You can add in many more color-themed learning – try the ideas below.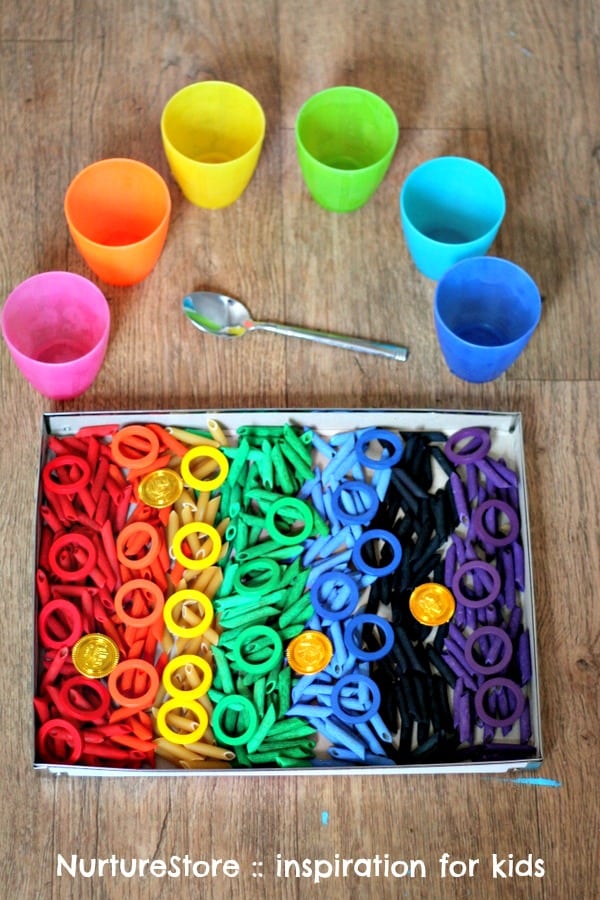 More color activities
Learning about colors? Try these color activities too:
:: fill in the letter spelling printables for colours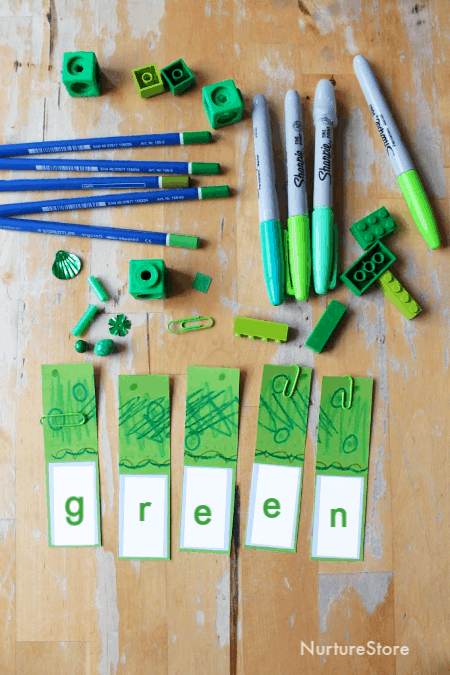 How to get our free printables
To download my free printables, you'll need to visit the NurtureStore Printables Library, which is available to all subscribers to my email list, and of course to Play Academy members.
Pop your email address in the form below and you'll get access to all my free printables, lesson plans, activity ideas, weekly newsletter, and a whole lot more!
After subscribing, be sure to check for the confirmation email. After you confirm your email subscription, we'll send you a welcome email which includes instructions for downloading our free printables.
If you're already subscribed to our email newsletter: check your email for the latest edition of the newsletter where you'll find a link to access our free printables library - the link is usually at the bottom of the email.
For help accessing our printables, click here.
---
By subscribing, you consent to our use of your personal data as per our Privacy Policy, which includes agreeing to receiving interest-based email from us.
---