Practice spelling colours (or colors) with these printable fill-in-the-letter sheets.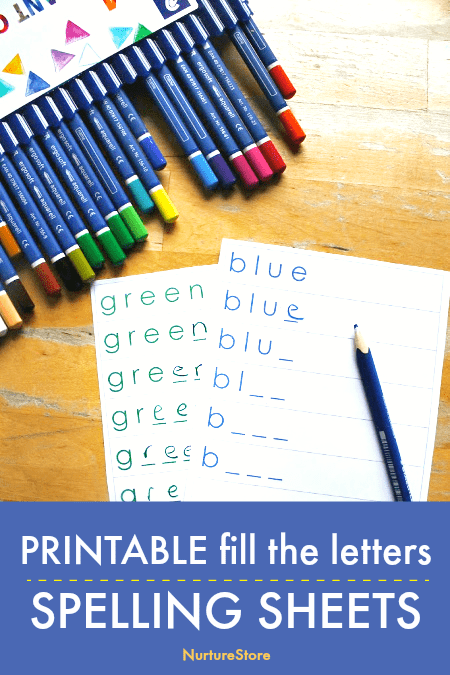 Colours spelling practice printable missing letter sheets
Use these printable fill-in-the-letters spelling lists along with my multi-sensory spelling activities to help your children enjoy learning to spell.

How to use this printable
Print the Missing Letter practice sheets (see below) and cut out the individual colour sections. The colours included are:
You can laminate the sheets if you like and then complete them with wipeable markers. This allows you to use one set time and time again for multiple practices and with many children.
Set the colour spelling sheets out with a set of coloured pens or pencils, and invite your children to fill in the missing letters – using a matching-coloured pen / pencil.
The top line of each sheet shows the correct spelling of each word.
On each subsequent line, more and more of the letters are missing for your children to write in.
The technique allows them to focus on how the word is made up, and to focus on learning an extra letter at a time until they are able to write out the whole word by themselves.
Use these sheets as part of a programme of reading, writing, and saying words, to offer your children a multi-sensory way of learning literacy.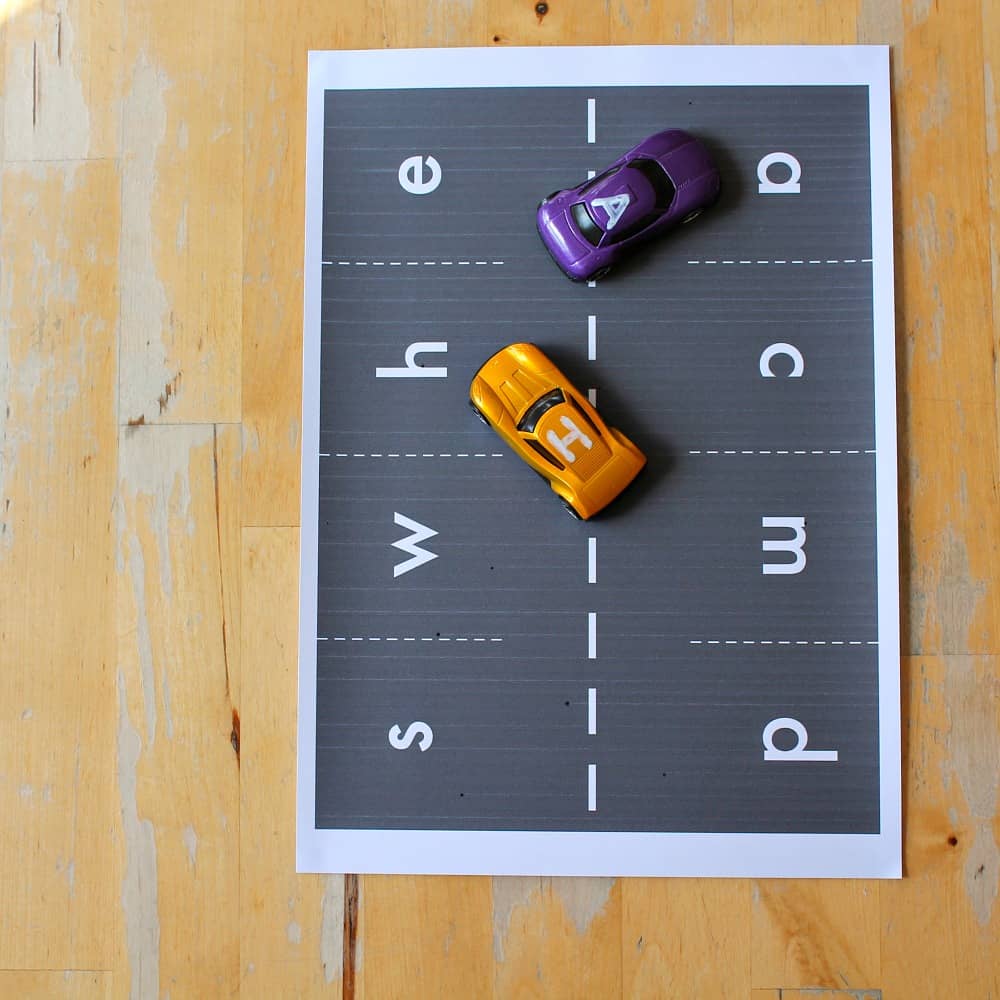 Multi-sensory spelling techniques help children learn
You'll find that different children learn to spell in different ways. By offering a variety of different, multi-sensory ways to see, write, and encounter words we are supporting children to learn:
:: in a playful, relaxed way
:: in a hands-on way to better help the learning stick: what we do, we remember
:: in a range of ways so that we can cater for as many different learning styles as our children have
:: and with lots of fun variety so that they can get the benefit of repetition, without boredom

More hands-on spelling activities
Add these hands-on ways to learn spellings to your rotation too:
How to get our free printables
To download my free printables, you'll need to visit the NurtureStore Printables Library, which is available to all subscribers to my email list, and of course to Play Academy members.
Pop your email address in the form below and you'll get access to all my free printables, lesson plans, activity ideas, weekly newsletter, and a whole lot more!
After subscribing, be sure to check for the confirmation email. After you confirm your email subscription, we'll send you a welcome email which includes instructions for downloading our free printables.
If you're already subscribed to our email newsletter: check your email for the latest edition of the newsletter where you'll find a link to access our free printables library - the link is usually at the bottom of the email.
For help accessing our printables, click here.
---
By subscribing, you consent to our use of your personal data as per our Privacy Policy, which includes agreeing to receiving interest-based email from us.
---