Sensory play is so important for children, as they explore and learn about the world. Use these fun sensory tubs ideas, to make easy sensory play activities for babies, toddlers, and beyond!

What is a sensory tub?
Very simply, a sensory tub is a container of some kind, filled with a variety of materials that encourage children to explore with all their senses. You don't need any special equipment, and because they are so easy to make, you can keep changing the contents to offer your children lots of interesting experiences.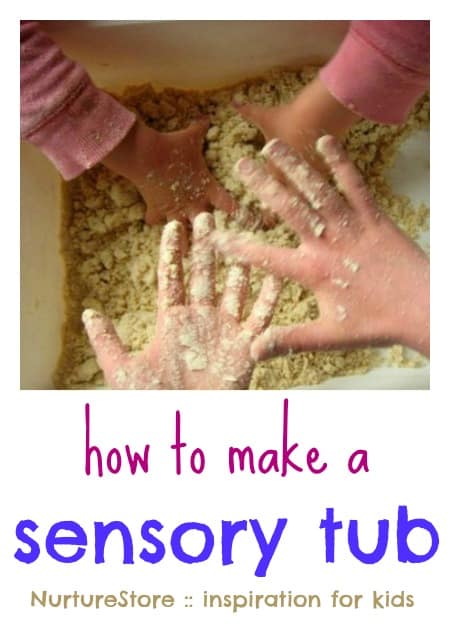 How to make a sensory tub
---
This page contains affiliate links from which we earn commission.
As an Amazon Associate I earn from qualifying purchases.
---
There are three basic components to a sensory tub:
One: a container. You'll need something large enough to hold a variety of items, but shallow enough to allow your child to be able to reach inside and explore. We most often use a plastic under-the-bed storage box, but a cardboard box, washing up bowl, paddling pool, purpose-made sand and water table, or even the bath tub can all be good alternatives. For ideas on container choices, take a look here.
Two: a base material. You can just pop your sensory items in the tub on their own, but using a base material turns the sensory tub into a lucky-dip treasure hunt, where your child can dig down inside and discover hidden goodies. Materials that make good base materials include water, rice, pasta (both dried or cooked), sand, mud, oat flakes, shredded paper, grass clippings, leaves…
Three: added extras! Try to include a rich variety of materials within the tub, so your child can explore using all their senses. You can add things with different textures, smells, shapes, colours and sizes. Anything goes, so long as the items are safe to handle and you know your child will enjoy playing with them. You can print of this poster of 'loose parts' ideas for suggestions, and take a look at tubs featured below for ideas.
Sensory tub ideas
You can use sensory tubs for the pure delight of exploring the senses, as a way to calm or stimulate children, and also for maths, literacy and imaginary play. Here are some suggestions to try.
You might like to give your sensory tub a theme, perhaps including things that are all the same colour, or the same shape.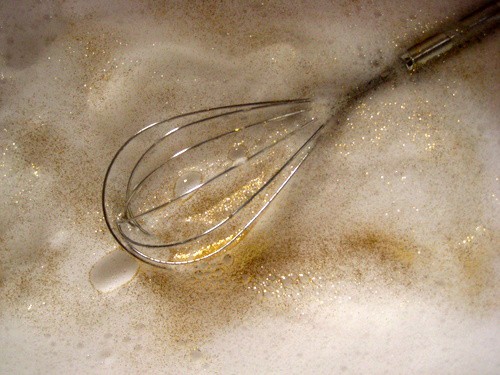 For different textures you could try rose petals, coloured salt, homemade cloud dough, or glittery bubbles.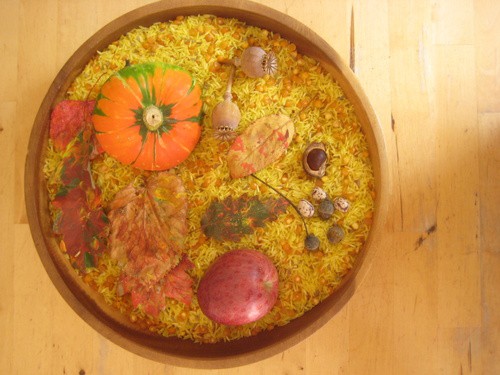 Try seasonal tubs with these ideas for spring, summer, autumn and winter.
You could make a sight word sensory tub with hidden letters inside.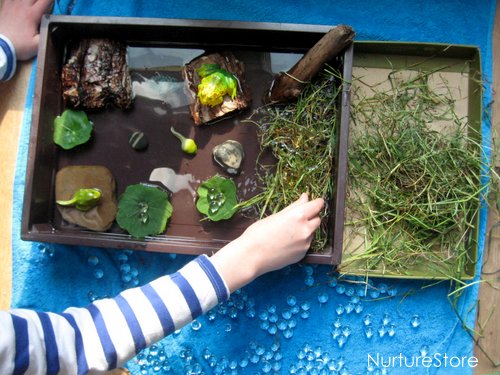 Sensory tubs are great for small world imaginary play: try this sleepy bunnies tub, or this frog pond.
Or try using a sensory tub for storytelling, like this Three Bears tub.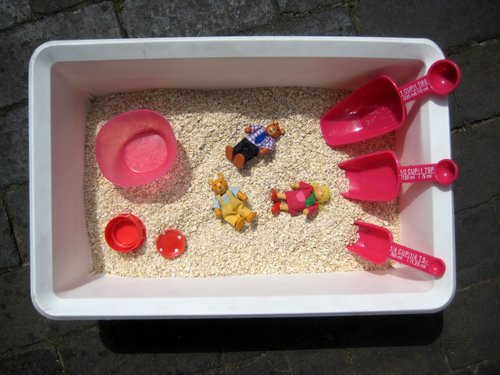 Sensory tubs are still great for older children too. Try learning spelling in a sensory tub full of coloured salt.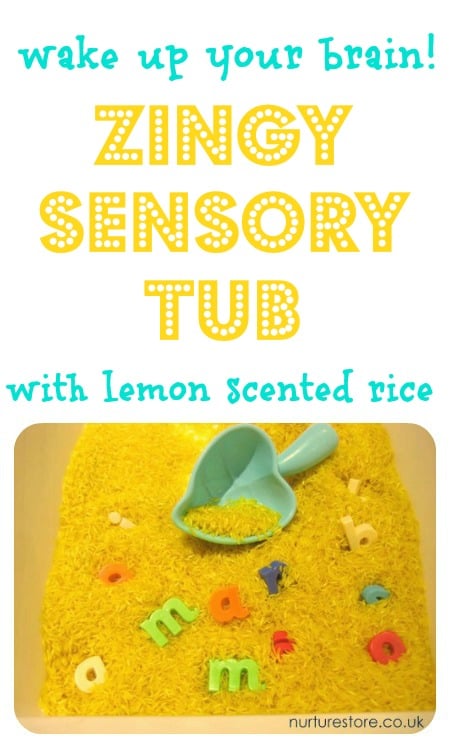 A sensory tub can be a particularly useful activity when you need to transition from one time to another, such as coming home from school or before bed time. Give this zingy lemon sensory tub, or this relaxing bedtime lavender tub a try.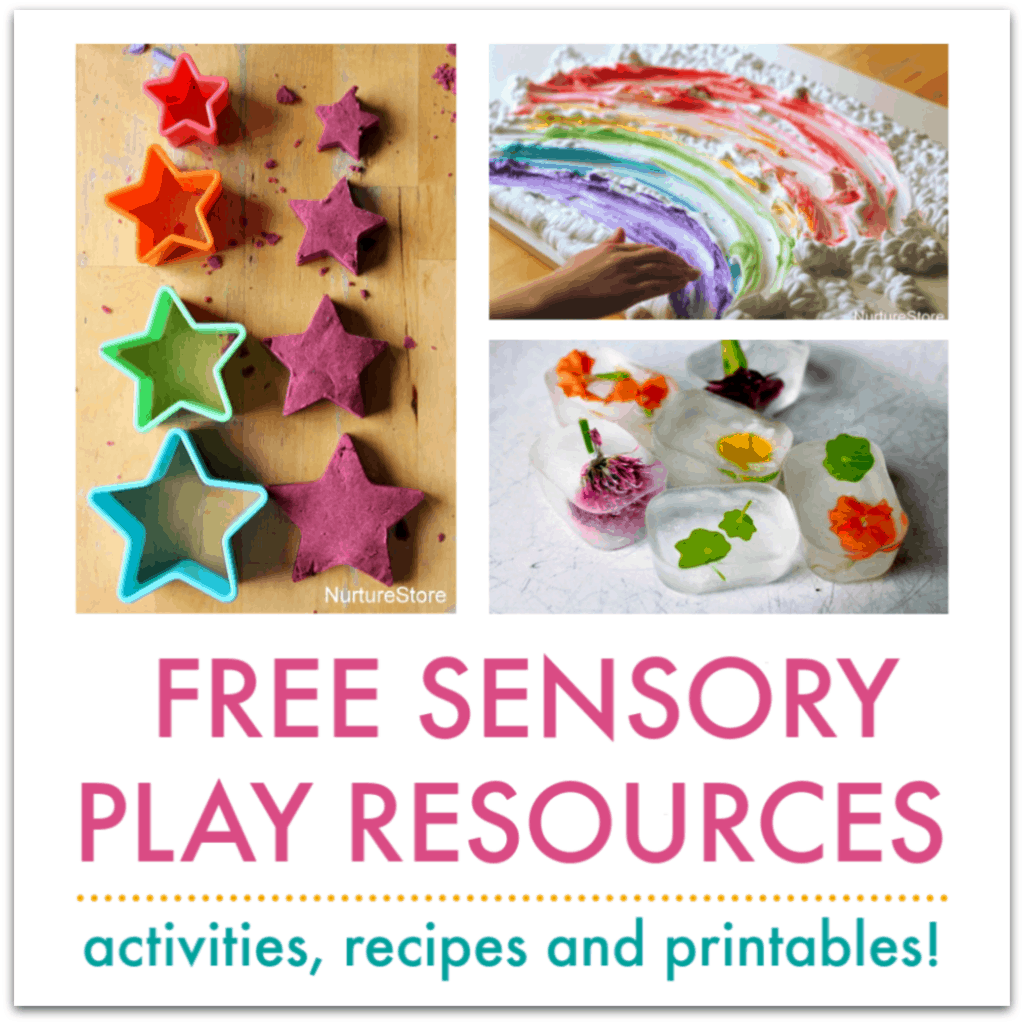 GET FREE SENSORY PLAY RESOURCES
Sign up for my weekly Super Sensory email and your teaching fairy godmother - that's me! - will send you free sensory play activities.
You'll get:
sensory play activity ideas to match all the festivals and themes of the year
fun recipes so you can make your own sensory play materials
free printables to add math, literacy and lots of creativity to your sensory play activities
To get all the free sensory resources, sign up in the box below.
---
* By subscribing, you consent to our use of your personal data as per our Privacy Policy, which includes agreeing to receiving interest-based email from us.
---