Get creative this season with these ten winter art lesson plans for children. Using easy techniques and simple art materials your children can explore the colours, sensations, and science of the season through art.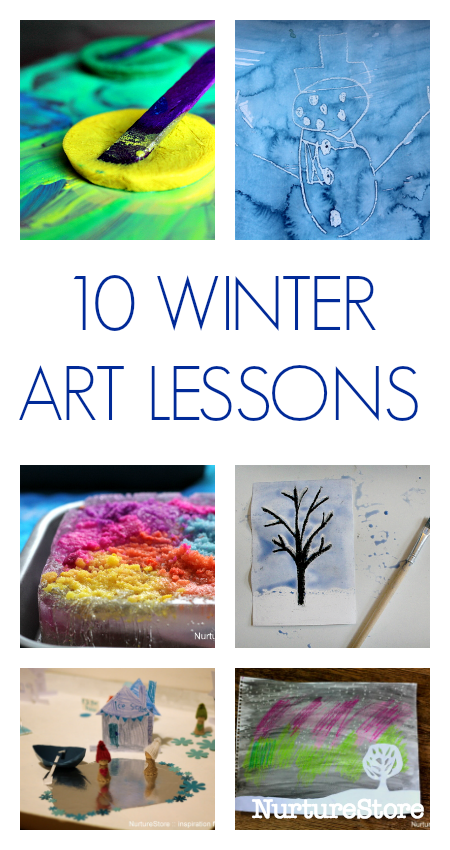 10 winter art lesson plans for children
Use the links below to dive into NurtureStore's archive of
over 100 art projects for children
and try these winter-themed art lessons that focus on nature, science, play, and exploring with your senses.
Ice Sulptures
Freeze coloured water in containers and make yourself set of ice building blocks to build winter sculptures – even better if you can leave them outdoors overnight so nature does the freezing for you!
Winter Paper Lanterns
Explore cool colours, winter skylines, and abstract geometric patterns as your create pretty winter lanterns, or paper house lanterns.

Download your 21 Day Winter Activities Countdown
Click here to get your copy of the Seasons School Winter Retreat 21 day activity program.
It's one part educational curriculum; one part seasonal celebration; one part family memory making.
:: over 70 pages of learning, activities, and printables
:: a complete twenty-one day program of nature, science, literacy, arts and crafts, sensory, and play
:: a planned idea for each day, with plenty of options for flexibility and choice
:: themed around the special words of the season, giving rhythm and ritual
:: follow as a daily countdown, or dip in and out through the winter season
:: material lists and bonus printables make it so easy for you
:: created with children aged 4 to 10 in mind