Join the feast! Here are sixteen delicious forest school recipes that you can cook over a campfire.
Fun forest school recipes for easy camp fire food
A special part of forest school is gathering around the campfire to share community.
Even better is to enjoy a warm drink or a tasty treat together.
Here's a great collection of ideas for campfire food that you can cook with children out in your outdoor classroom.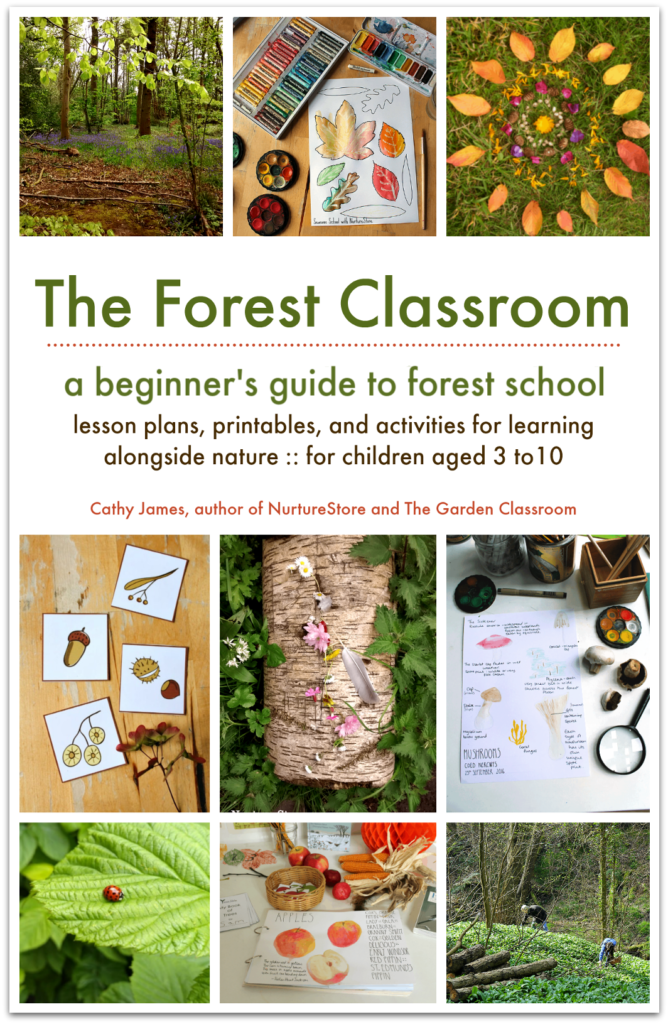 Ready-made forest school lesson plans
Have you got your copy of The Forest Classroom yet? It is the perfect beginner's guide to running a successful forest school. Download your forest school guide here.
A forest classroom is a place of adventure, discovery, and imagination. It can also be a wonderful place to learn about math and science, explore art and crafts, and develop language and social skills.
The Forest Classroom is a practical guide which will show you how to engage your children in fun and educational forest-school activities.
These ready-made forest school lesson plans are suitable for forest school leaders, teachers, childcarers and parents with children aged 4 to 10, to learn in a forest, school nature area, local park or your own backyard.
Get your copy of The Forest Classroom here and you'll be ready to head straight outdoors and enjoy teaching, using our ready-made lesson plans.
---

Forage the forest
---
This page contains affiliate links from which we earn commission.
As an Amazon Associate I earn from qualifying purchases.
---
It's wonderful to be able to eat some of the food that the forest provides. At different times of year, different foods are in season.
Teach your children how to identify what's edible and what's not, and forage responsibly, leaving plenty for the other animals in the forest.
You can make simple, warming teas from nettle, hawthorn, and rosehips. Set up a campfire tripod over your fire to add a campfire kettle to make a brew.
Nettle and wild garlic can both me made into pesto, to go with a pan of pasta that's cooked over the fire.

You might also find blackberries, raspberries and even apples in your outdoor classroom. They can be eaten raw but are also delicious stewed over the fire, maybe with a little cinnamon and nutmeg.
Elderberry syrup is easy to cook up and delicious on pancakes or as a cordial.
Quick Forest School Snacks
Popcorn is always fun to pop over a camp fire. You can buy a popcorn pan designed for a campfire, or make your own container by wiring a couple of metal sieves together.
Use my simple popcorn sugar recipe to add an extra delicious topping.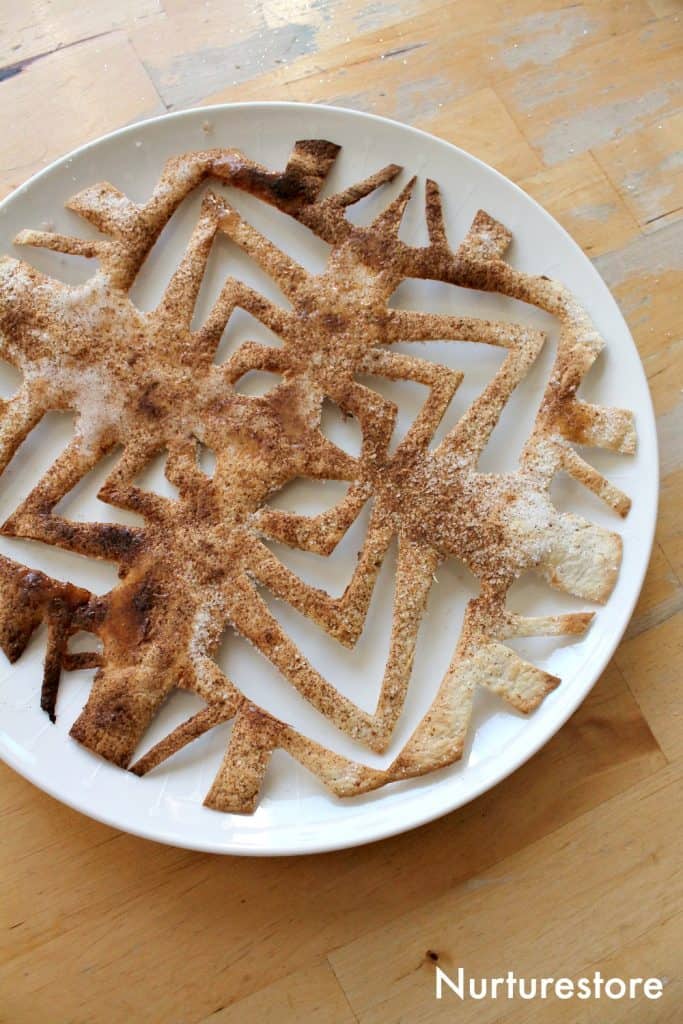 Snowflake tortillas are one of our favourite winter treats. Every child can cut out their own and they take seconds to cook in a dry campfire frying pan over the fire.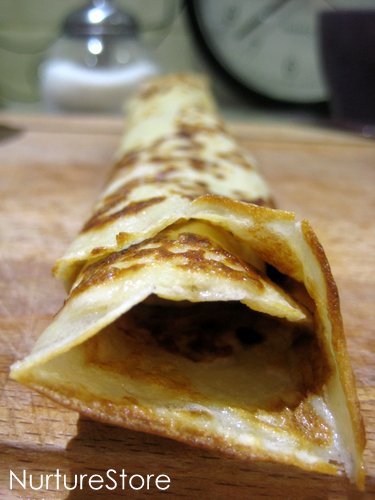 This simple pancake recipe can be cooked over the fire and you can add sugar and a filling of foraged blackberries and raspberries. You can prepare the pancake mix in advance and bring it along to forest school in a bottle.
Or try Mamma's School's campfire cinnamon bread stick recipe.
Savoury campfire recipes
Sausages, bacon, and baked potatoes are very easy savoury choices for around the campfire.
You can also re-heat prepared pans of soup, stew, or chilli. A Dutch oven is a great choice here.
A homemade Community Soup is also a lovely choice. Ask everyone to bring along a vegetable as one of the ingredients for your shared soup. Fry any onion, garlic, leek and celery; peel and chop carrots, parsnip, sweet potato, or swede; sprinkle in rosemary, parsley or thyme. Then add a little water or stock and cook the soup over the fire until all the vegetables are soft.
Another fun idea is to fill a dry frying pan with taco chips, sprinkle on cheese and heat over the fire until the cheese melts and makes yummy nachos.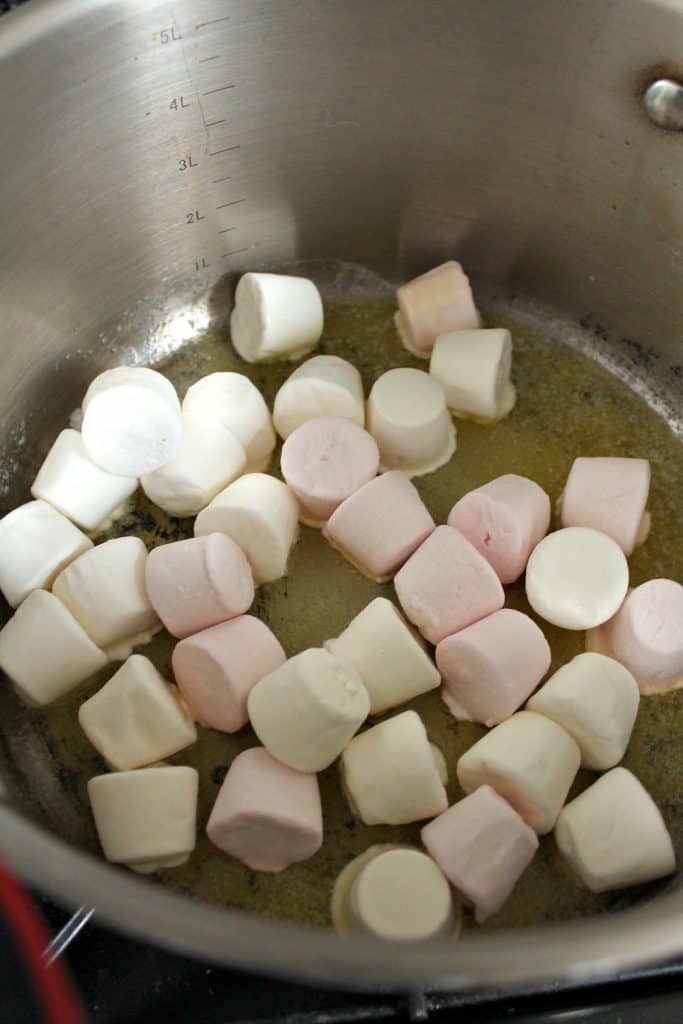 Campire pudding recipes
A super easy option for pudding is to melt marshmallows, adding crackers/digestive biscuits and a little chocolate if you'd like to sandwich then to make s'mores. You can buy long toasting forks to hold the marshmallows.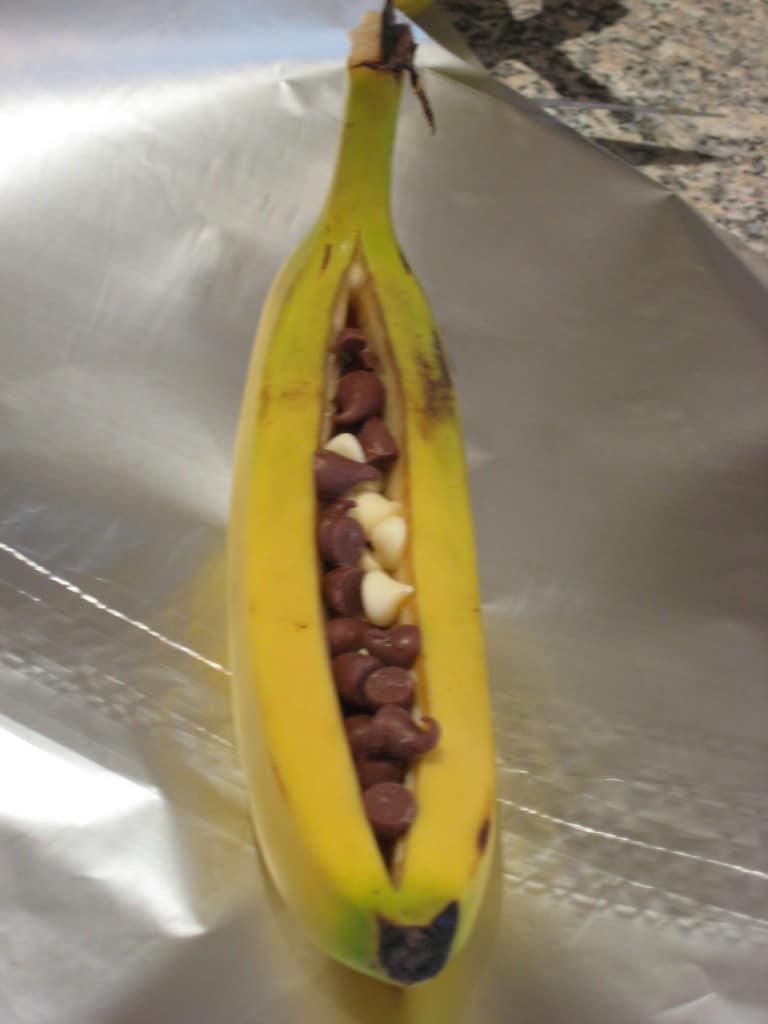 Baked bananas are another great option, especially as everyone can choose their own filling.
And Foodie Quine has a super simple recipe for Chocolate Brownie Oranges that are cooked over a fire bowl.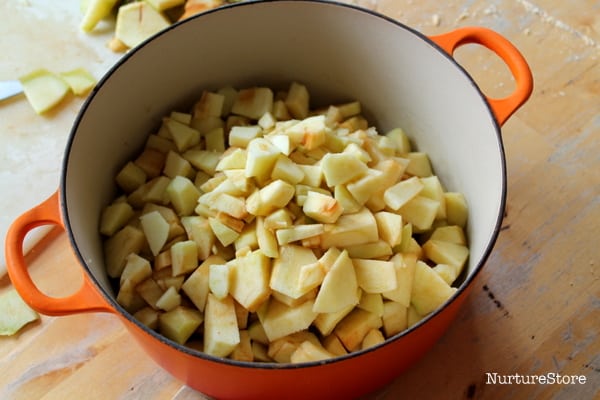 What's your favourite campfire food?
Share your favourite forest school food idea in the comments!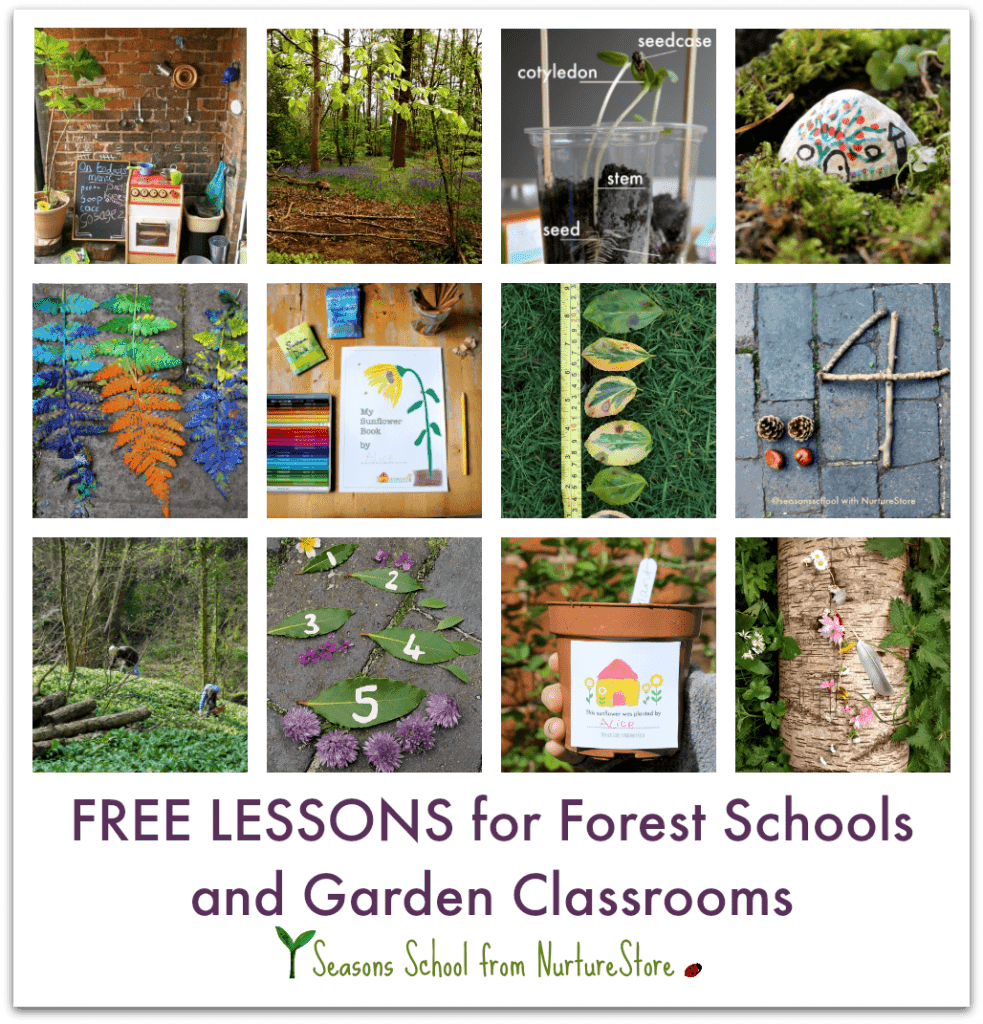 Free Forest School and Garden Classroom resources!
Join my weekly email service and I'll send you FREE printables, lesson plans, and activity ideas that you can use with your children in your forest school and garden classroom.
Seasons School is NurtureStore's year-round program of living and learning with nature. Our activities and resources focus on hands-on, nature-based learning that connects children with the natural environment.
If you're looking for nature study lessons, arts and craft projects, campfire recipes, foraging ideas, outdoor math and literacy activities, outdoor games, and ways to explore forests, gardens, and outdoor spaces - think of NurtureStore as your forest fairy godmother!
Whether you're in a forest school or outdoor classroom, running a school gardening club, bringing nature lessons into your class, home educating with nature, or wanting to connect with the great outdoors at the weekend, you will love the Seasons School ideas.
Pop your email address into the box below and I'll send you your free resources.
---
By subscribing, you consent to our use of your personal data as per our Privacy Policy, which includes agreeing to receiving interest-based email from us.
---