This idea for nature mandalas for kids takes its inspiration from the spring flowers that are opening in our
forest classroom
this month.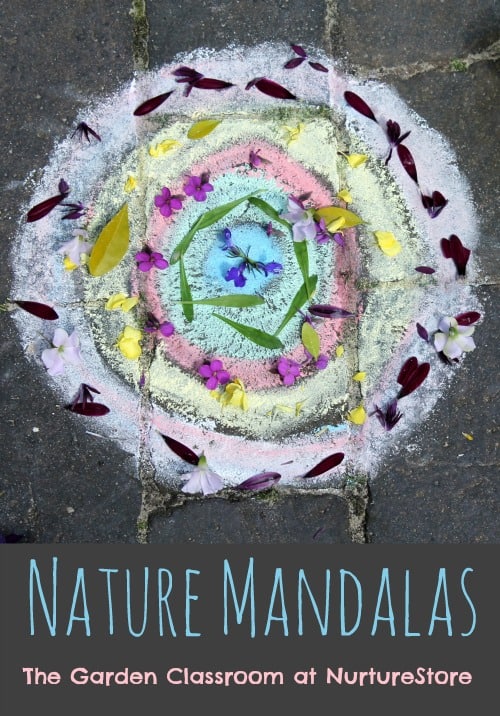 Nature mandalas for kids
We have some beautiful flowers peeping out in our Garden Classroom this spring, and I've been encouraging the children to stop to take a closer look at them when we're playing outdoors.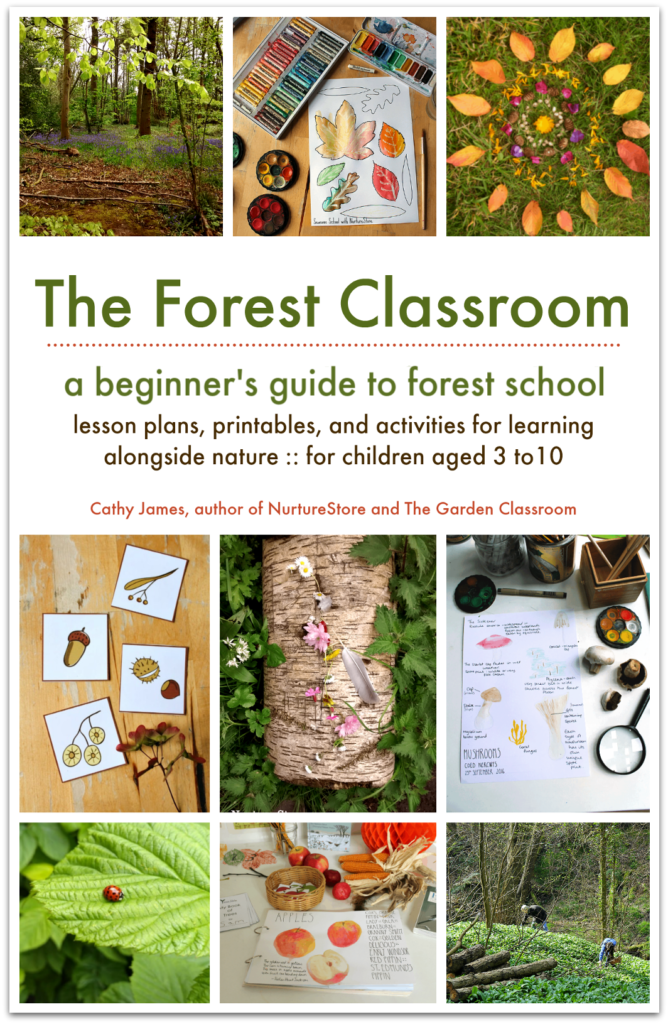 Ready-made forest school lesson plans
Have you got your copy of The Forest Classroom yet? It is the perfect beginner's guide to running a successful forest school. Download your forest school guide here.
A forest classroom is a place of adventure, discovery, and imagination. It can also be a wonderful place to learn about math and science, explore art and crafts, and develop language and social skills.
The Forest Classroom is a practical guide which will show you how to engage your children in fun and educational forest-school activities.
These ready-made forest school lesson plans are suitable for forest school leaders, teachers, childcarers and parents with children aged 4 to 10, to learn in a forest, school nature area, local park or your own backyard.
Get your copy of The Forest Classroom here and you'll be ready to head straight outdoors and enjoy teaching, using our ready-made lesson plans.
---
These osteospermum have such a deep, rich colour, and they're just opening out now to reveal the very dark circles in their centre.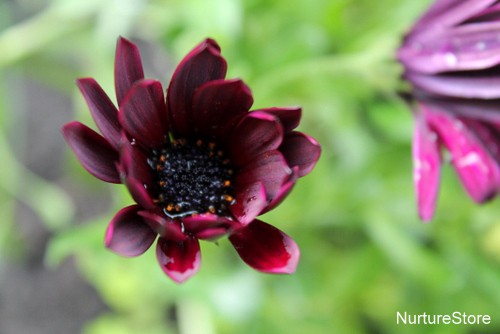 These aquilegia – which you might know as columbines or granny's bonnets – are so pretty too, with delicate, nodding heads. They're very different to the osteospermum, but still have that concentric circular shape, just like a mandala – which is where our outdoor art idea came from.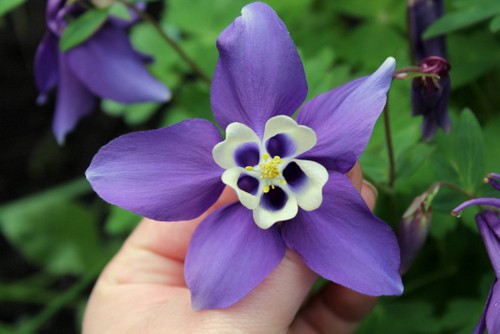 A mandala is a circular symbol, often seen in Hinduism and Buddhism, which represents the universe. It can be used as a focus for meditation, and making one is very calming and centring too.
We already had our chalks out from our colour matching game, so we decided to combine them with some flowers to make a natural mandala.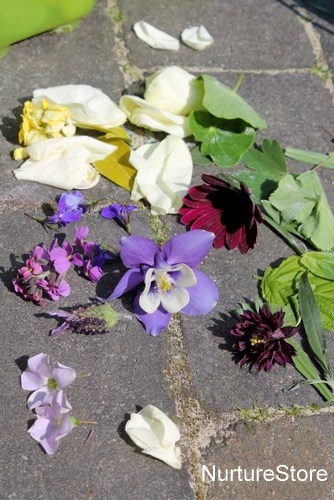 We took a selection of flowers and leaves from the garden, choosing the ones we thought were pretty and which had an interesting mix of petals and leaf shapes. And then we talked about all the different shades we'd found, and looked to see if we had the right chalk colours to match up.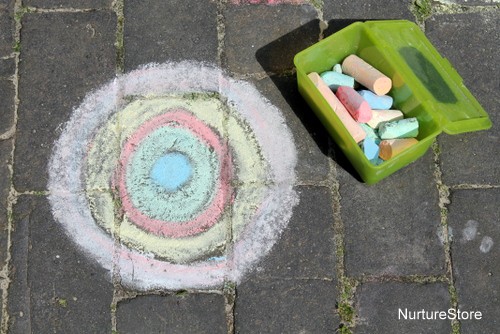 We used our chalks to draw out a simple mandala wheel. We found that we could mix up different shades by using two or three colours of chalk over the top of each other, blending them together using our fingers.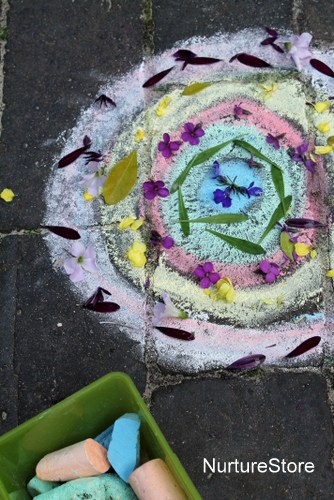 And once we'd made our outline, we began to fill in the mandala with our petals and leaves. Creating the mandala is a lovely peaceful activity. You need to be quite gentle with the petals as you pull them off the flowers, and be mindful to place them carefully on your chalk circles.
It's so uplifting to create art using natural materials, right in the heart of the garden. The sun was shining, the bees were buzzing and it was very relaxing to work together as a small group to create our design.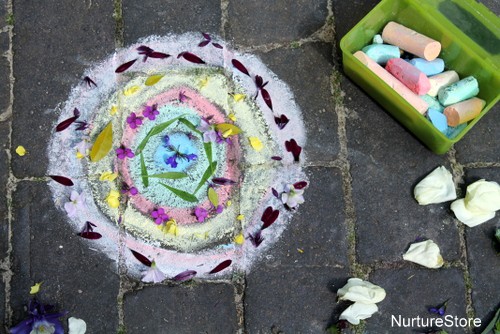 You can make your design as simple or as complex as you like, matching your colours or contrasting them, and making both random and repeating patterns. And once you've made one, you might be inspired to make mandalas using other materials too. You could try painting on tin foil, make a watercolour mandala, or even a playdough mandala.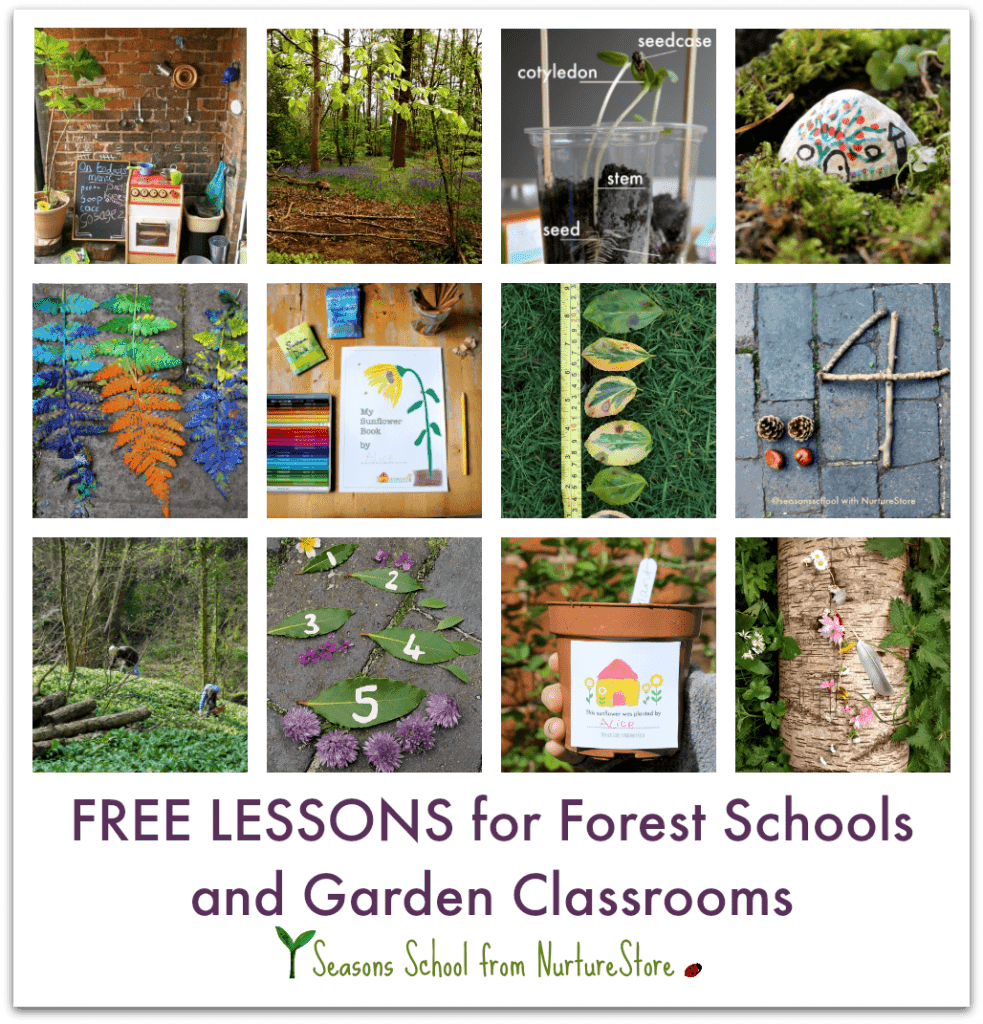 Free Forest School and Garden Classroom resources!
Join my weekly email service and I'll send you FREE printables, lesson plans, and activity ideas that you can use with your children in your forest school and garden classroom.
Seasons School is NurtureStore's year-round program of living and learning with nature. Our activities and resources focus on hands-on, nature-based learning that connects children with the natural environment.
If you're looking for nature study lessons, arts and craft projects, campfire recipes, foraging ideas, outdoor math and literacy activities, outdoor games, and ways to explore forests, gardens, and outdoor spaces - think of NurtureStore as your forest fairy godmother!
Whether you're in a forest school or outdoor classroom, running a school gardening club, bringing nature lessons into your class, home educating with nature, or wanting to connect with the great outdoors at the weekend, you will love the Seasons School ideas.
Pop your email address into the box below and I'll send you your free resources.
---
By subscribing, you consent to our use of your personal data as per our Privacy Policy, which includes agreeing to receiving interest-based email from us.
---