How to make a Christmas sensory writing tray in either a candy cane or gingerbread version. Plus, free printable Christmas bauble sight word cards to match.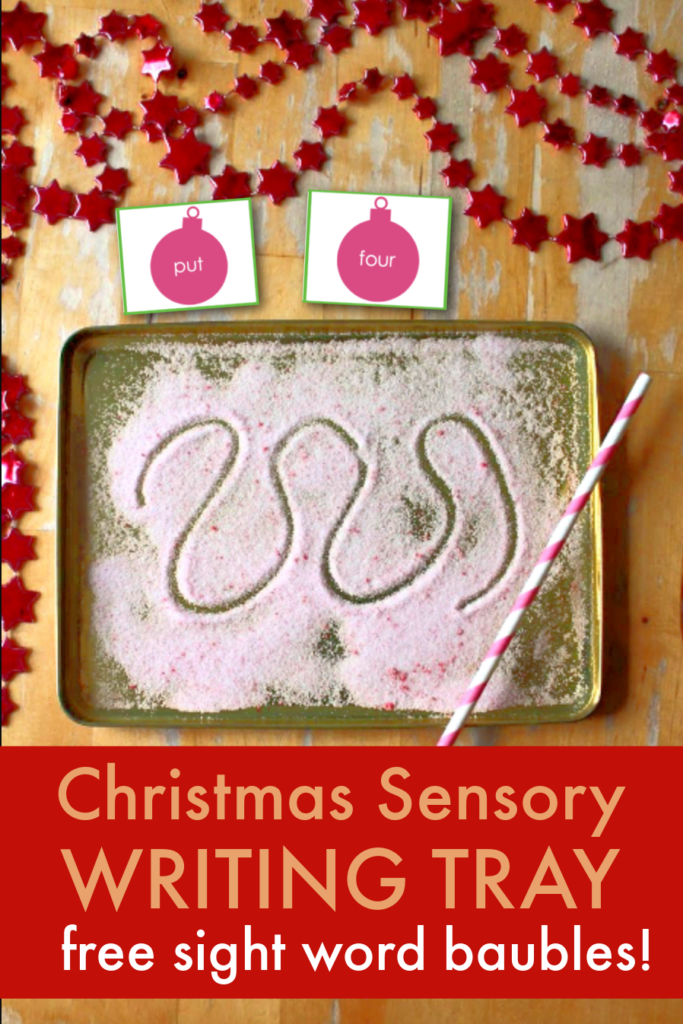 Christmas sensory writing tray with free literacy printables
Sensory writing trays are great bit of kit to add to your classroom. The trays are good for very young children who are just learning about making marks all the way through to older children who are working on spelling.
The great advantage of using a writing tray is that it brings a multi-sensory element to mark-making and spellings.
This project is part of our Christmas literacy activities.
In this article you can:
:: learn how to make a Christmas sensory writing tray
:: learn how to use sensory writing trays to support literacy and math activities
:: download a free set of Christmas bauble sight word cards
:: find more ideas for themed sensory writing trays for all year round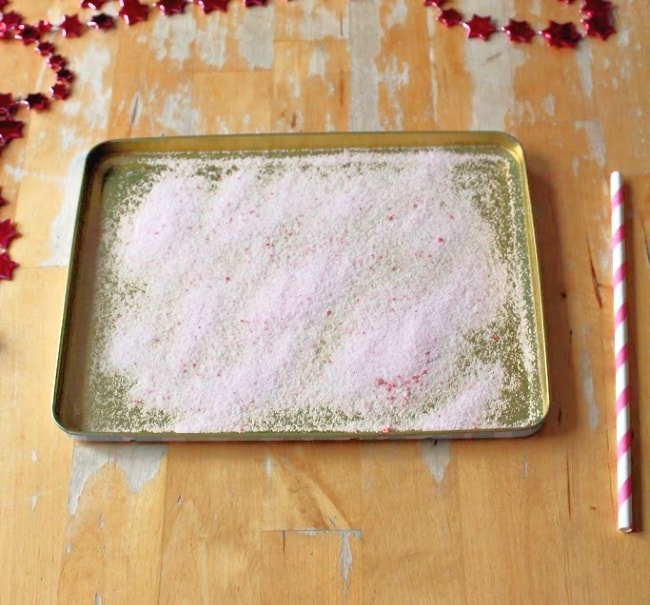 Materials needed
:: tray or shallow box
:: sand, salt or sugar
:: peppermint extract or ground ginger spice
:: red/pink or orange/brown chalk, paint or food colouring (see below for choices)
:: kitchen grater if using chalk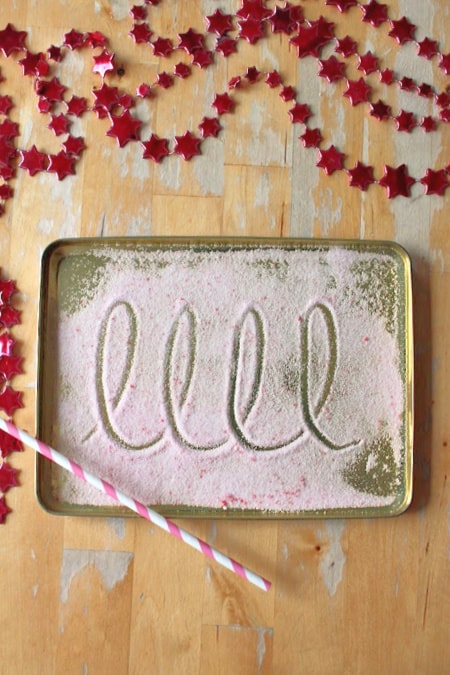 How to make a Christmas sensory writing tray
Set out your tray or box. If using a box, it needs to be shallow enough so your children can easily write in it without having any trouble leaning their hand inside, and big enough to write a word.
Then fill with your choice or salt, sand or sugar. You can add colour to salt and sugar by placing your material in a plastic bag and adding paint or food colouring gel – red/pink for a candy cane version, orange/brown for a gingerbread version. Give it a good shake to mix the colour through the salt/sugar. Spread it out on your tray and leave it to dry over night
To colour sand you can simply grate in some red/pink or orange/brown chalk and mix it in.
Add a drop of peppermint extract to your salt/sand/sugar to make a candy cane version, or a teaspoon of ground ginger spice to make a gingerbread version.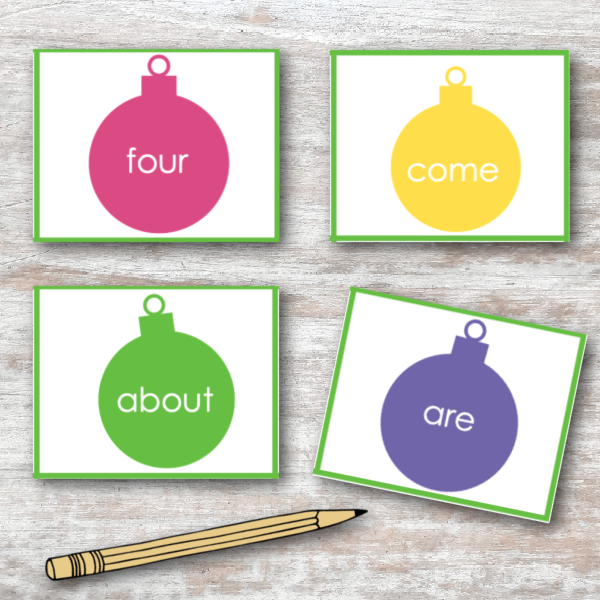 How to use a sensory writing tray
You can have a sensory writing tray available in your classroom all the time as part of your ongoing provision or bring it out as one of your literacy centres.
Set it out with a variety of writing implements, tools, pens, and pencils – like our twig pens.
Younger children can use the tray for mark making and to practice holding a pencil.
Older children can use it to practice writing their name, letters, words and to answer math questions.
Download our free Christmas bauble sight word cards to go with your writing tray.
Use it with number cards and loose parts to make a math station.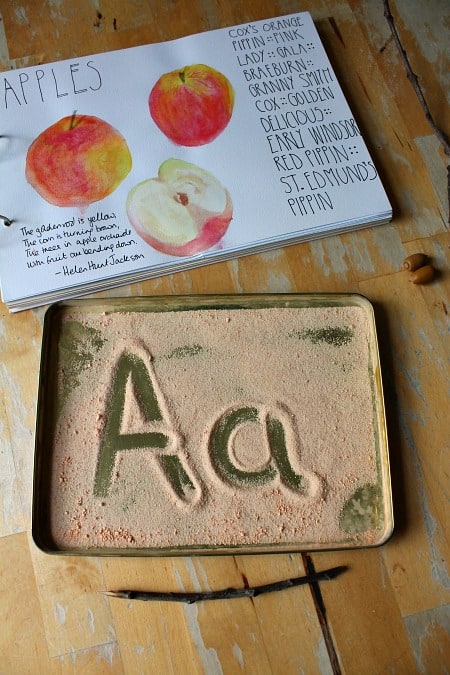 More sensory writing tray ideas
Sensory writing trays are so easy to make and it's great to have different versions all year round. Matching the trays to your teaching themes is fun and adds novelty in your classroom, keeping your children engaged with the learning resources.
Try these sensory writing trays:
A magic rainbow writing tray for spring or Pride.
A spring theme writing tray with printable egg alphabet.
A ginger and cinnamon writing tray, perfect with our leaf words.
A autumn sensory writing tray with homemade twig pens.
A Christmas sensory writing tray that smells like candy canes.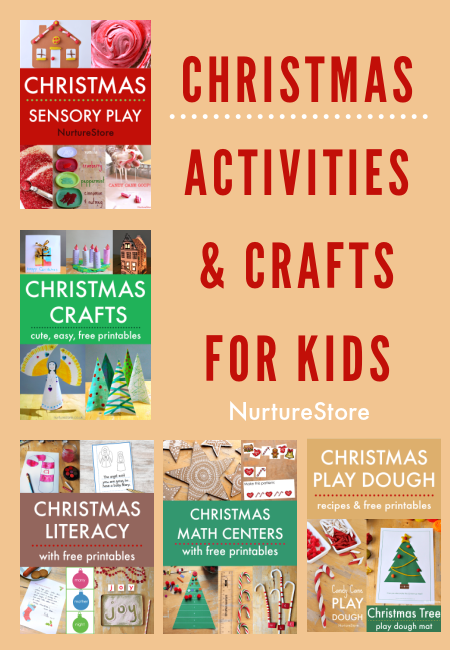 More Christmas activities and crafts
See our full index of Christmas activities and crafts for even more great ideas for your children.