Download this free Christmas Bauble Sight Word Cards printable and get ideas for how to use them for Christmas-themed literacy activities.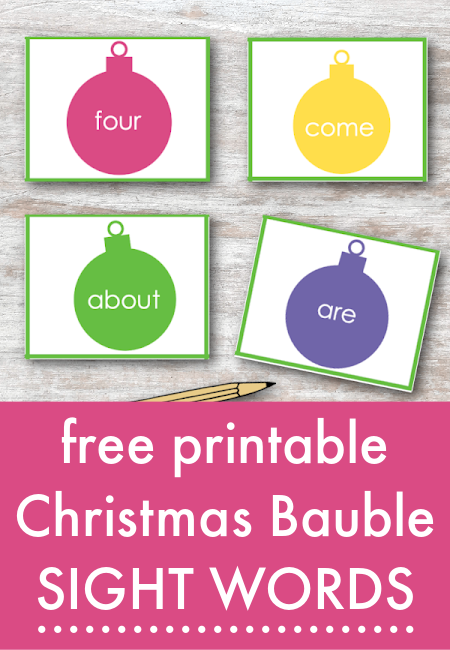 Christmas sight words free printable
The Christmas bauble sight words cards printable is a great addition to your holiday-themed literacy stations.
This project is part of our Christmas literacy activities.
In this article you can:
:: download a free set of Christmas bauble sight word cards
:: learn what sight words and high frequency words are
:: get ideas for how to use the Christmas sight word cards in literacy activities to support reading, writing and spelling skills
:: find links to more free Christmas printables and Christmas literacy activities
What are high frequency / sight words?
Sight words (also called high frequency words or key words) are the core set of words for children to learn that give them a good foundation for reading, writing and spelling.
They appear frequently in our language, and many don't follow general phonics rules, so it's great to be able to see, recognise and know them without needing to try and sound them out or decode them.
Schools and literacy programmes around the world have sets of sight word lists for children in reception, kindergarten, and first grade. They vary slightly from country to country and programme to programme but the basic lists are the same as they're based on the words children will need to use most often in reading and writing, as they build their skills.
Other key words that your child will want to learn can include their own name, the name of the town where they live, and the names of their family and pets. Our Christmas sight words printable includes a few blank baubles so you add in some of these words that will be important to your child.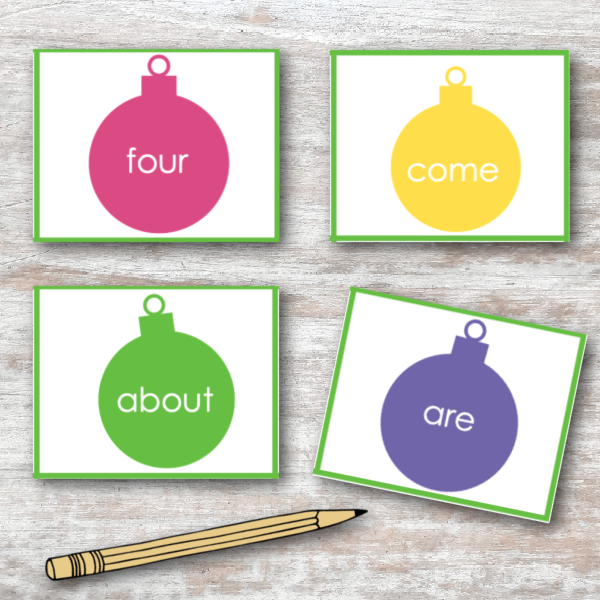 How to use the sight word cards in literacy activites
Print the Christmas sight words printable (see below) and cut out the individual cards. You might like to print them on card or laminate them for extra durability.
Here are some ways you can use them to support reading, writing and spelling:
:: Use the Christmas sight word cards to play matching games. Print two sets and see if you can pair up the baubles with the same words.
:: Place two sets of the Christmas cards face down and use them to play Memory games.
:: Hide the Christmas cards around the house and see if your children can find them all. Can they read the word they've found? Can they put it in a sentence?
:: Use the cards to lay out simple sentences.
:: Hide the Christmas sight word cards in a sensory tub. Adding word cards in with your sensory play makes for a literacy-rich environment which supports children to recognise, be confident with, and read words. You can include them with our candy cane sensory tub.
:: Practice writing the words in a sensory writing tray. Set out your Christmas high frequency word cards with the tray and invite your children to copy out the word.
:: Send a small number of the words home with your children, so they can practice reading and writing the words with their family.
:: Stick them up as a Word Wall display that your children can refer to easily as they write. The baubles look great pegged up on a washing line or stuck to a poster display with a picture of a big Christmas tree.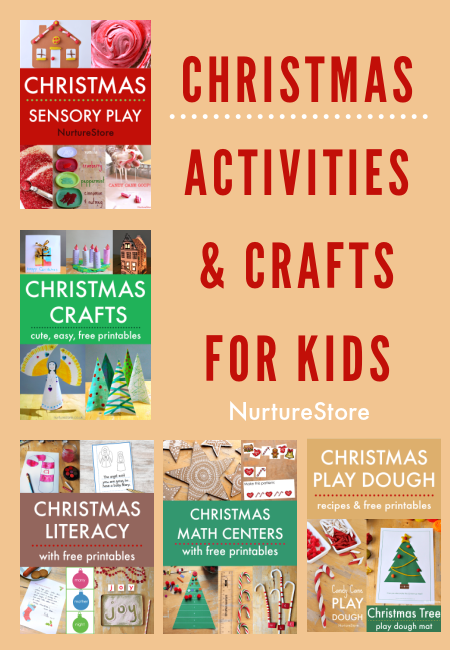 More Christmas activities and crafts
See our full index of Christmas activities and crafts for even more great ideas for your children.