Turn a simple cardboard box into a fabulous Winter Wonderland for lots of creative imaginary play and storytelling.

Winter wonderland imaginary play

Fill your winter with colour!
I'll guide you through four weeks of beautiful and fun art projects that you can enjoy with your children. At home or at school, these process art projects will give you an interesting framework of activities that you can weave into your weeks, so your children are engaged, creating and enjoying themselves all through art. See more details of Art Spark here.
---
Our winter pixies have been made homeless, as their fairy land light table has been transformed into a nativity play scene, so it was time to create a frosty land for them to move into.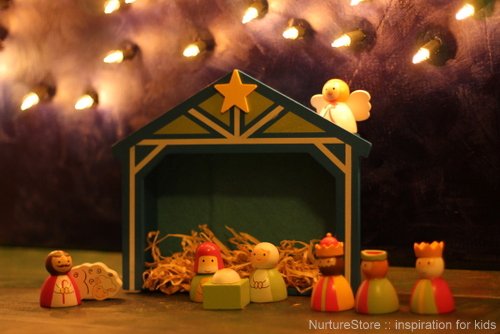 I took a large, shallow cardboard box and painted it white. I prepared this the night before so that in the morning it would be ready and waiting for the children to take over ~ ready for them to transform with their own ideas.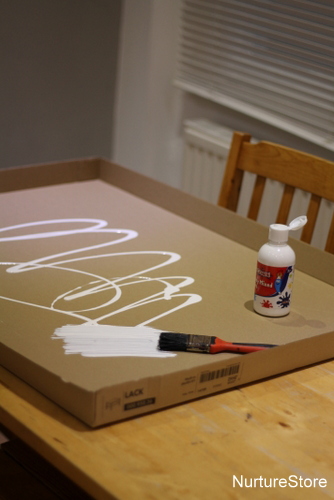 I set out our winter pixies…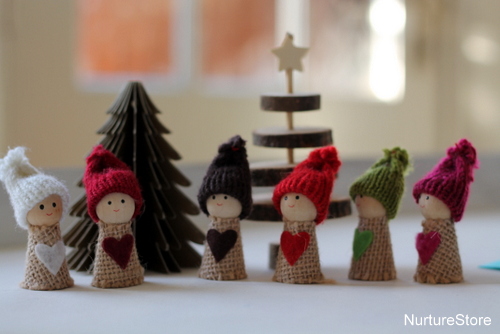 and some materials that I thought might interest the children. These included some blank card templates (last seen when we designed our dream houses), some pieces or card and papers, some shells, wooden tiles and some 'ice gems'.  These serve as an invitation, to get things started, but of course the children can pull in any items from our loose parts and craft shelves, to play with.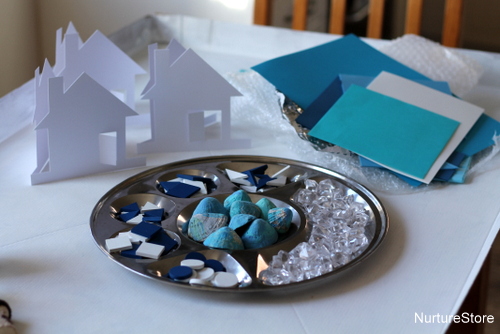 The first thing they decided to make was a frozen pond, made by glueing some tin foil to the box, and surrounding it with a few card flowers.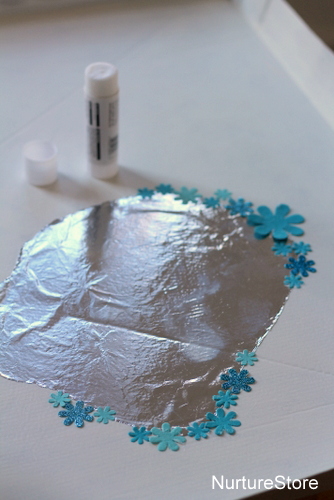 Then they decided that if you had a pond, you'd want to skate on it ~ so they made a skate-hire store.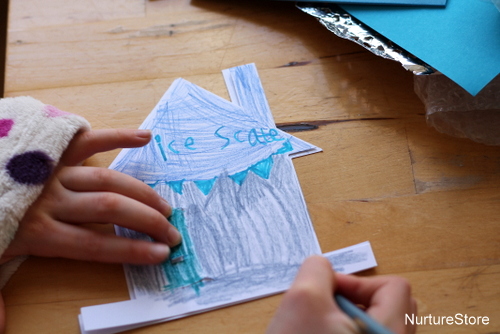 A cafe was added by the pond, so the pixies could warm up with hot chocolate.
And one enterprising pixie set up a Christmas tree shop. (It's such a good idea to always have pencils and paper nearby. I often find the children add in bits of writing to their imaginary play if the materials are easily available. Invented spelling is wonderful to see ~ a real indication that children are thinking about sounds and letters and how they fit together. In this circumstance I never correct the spelling: I try to really encourage the children to have a try and not be put off, thinking there's no point if they can't do it perfectly.)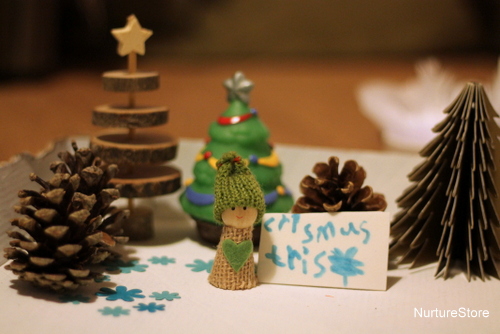 All sorts of clever making started happening: polystyrene pizza bases were turned into sledges…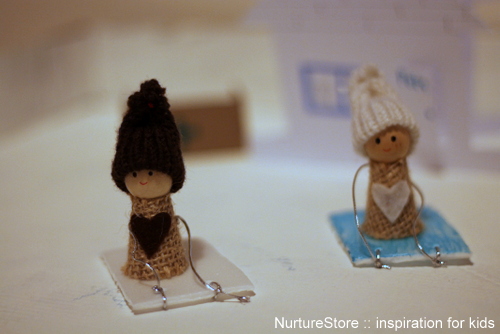 scraps of tissue paper and card became market stalls…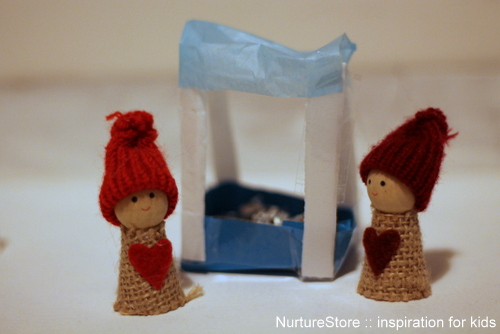 a fishing rod was created and rented out by the hour.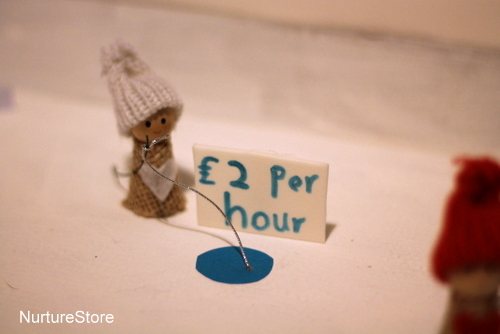 Business was brisk inside the ice skating shop (don't you love those shelves of boots?)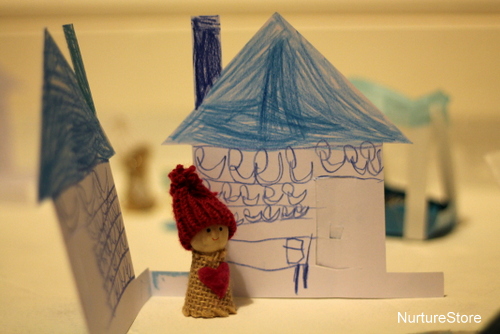 And the pixies had a fine time playing on the frozen pond.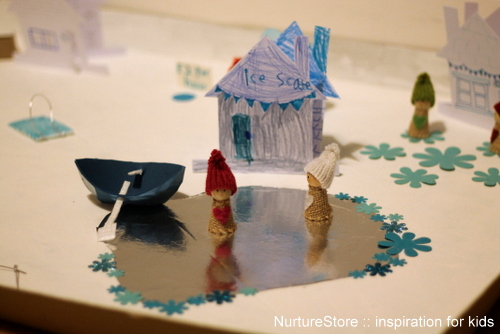 Lots and lots of making, imaginary play, storytelling and language development, all from a cardboard box and a few simple props.
Super Sensory Invitations to Play

Ready for a whole year of exploring through the senses? Super Sensory Invitations to Play is a delightful resource that encourages your children to explore the five senses through the year, using a wide variety of sensory materials. It includes 52 invitations to play, linked to the festivals and seasons of the year, and including water, ice, dough, rice, paints, sand, sensory tubs, and more.
They are easy, simple, and fun ideas that you can use right now to give a multi-sensory boost to your play and learning. It comes with a printable recipe book featuring all our favourite recipes for play. Come and see more here.