Are you spring cleaning and wondering how to organize kids' craft supplies in your home?  Here's how we organise things in the NurtureStore playroom, so we positively encourage creativity but also keep things neat and tidy and know where everything is.
This post is by special request from Becky at Ar-blog, who wanted to know how I organise our supplies (I think hers might me overflowing!) If you have something you'd like to see here on NurtureStore – a question to ask or an idea you're looking for – let me know and I'll see what I can come up with. You can always come and chat over in the NurtureStore Facebook community and send me a message.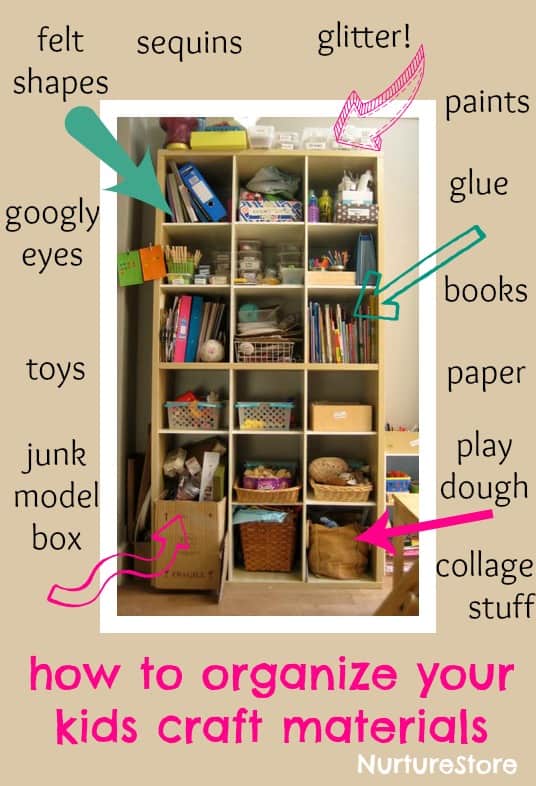 How to organize kids craft supplies :: spring cleaning
Here's the craft-y corner of our play room – still looking a little grey as we patiently wait for spring. The main wishes for this room are:
– to invite lots of creative play, art and making, with lots of basic supplies and new ingredients added throughout the seasons
– to organise our materials so we know where things are and the children can access them by themselves, to add into their play and projects independently, when ideas strike!
– to make tidy-up-times as quick and easy as possible
This is the children's room, so it's not spotlessly tidy but they contribute to the cleaning up, so I'm not going to be too picky.
We like to be eco-friendly and re-purpose as much as we can – both craft materials and storage containers – and we don't mind that it's not all perfectly matchy-matchy. It's nothing fancy – but it works! So, welcome – come and have a look around….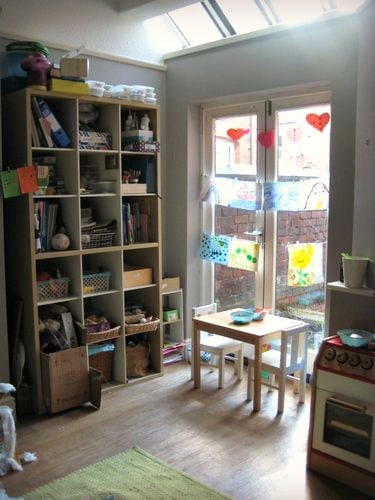 This shelving unit (from Ikea, and of course fastened onto the wall behind) is the hub of our materials and has come with us in three house moves so far. I love it! The cubby holes are great for organising things, so everything has its own home. I used to have photograph labels for each space when I was working as a childminder (home daycare) but now my children know where everything is – which means they daily grab interesting things to add in to their imaginative play.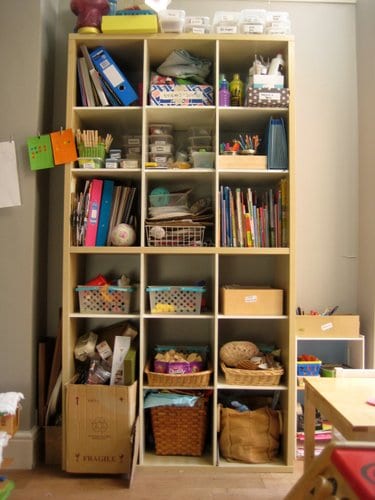 We have a second storage area above our book nook, for rolls of paper and baskets for our trains, cars, farm, doll's house furniture… Having this up on a shelf  keeps our floor area clutter free, so we have lots of clear thinking and playing space, but the baskets are really easy to grab when we want to play.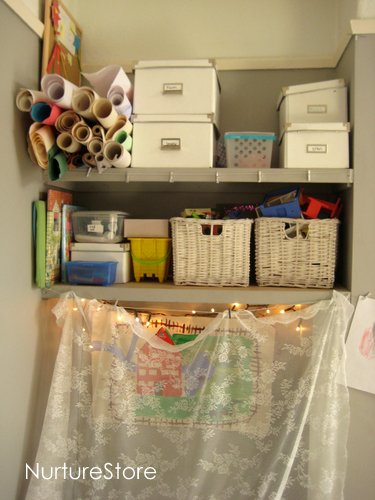 Sitting down to write this, I realised we have a three-tier system for our supplies that works brilliantly to promote creativity but also control a little of the mess and chaos that could be here – which actually would stop a lot of the play and making, as we'd never find what we wanted to use. The system is also great if you have children of different ages playing – and you don't want your toddlers to get their hands on scissors or glitter.
1. Some things are 'hidden' a little, on higher shelves. Paint, glue, glitter, permanent markers…. need a little help to be reached. Which is just long enough to remember to grab an apron, or lay down a mat before we start to use them.
Junk model materials, collage papers and fabric, play dough and open-ended 'loose parts' area lower down.
But…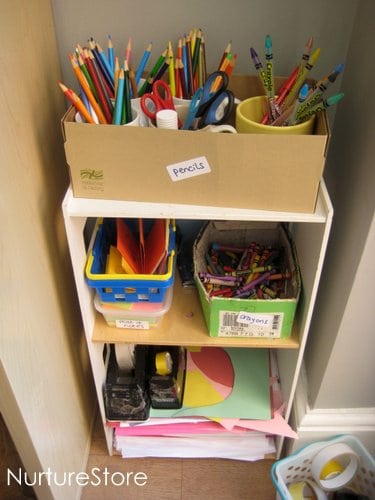 2. The children also have their own Creation Station , right by their table and chairs, filled with basic supplies. We have:
white and coloured paper and card :: glue sticks :: sticky tape :: pens :: pencils :: wax crayons :: sticky notes :: little books, ready for illustrations and story telling….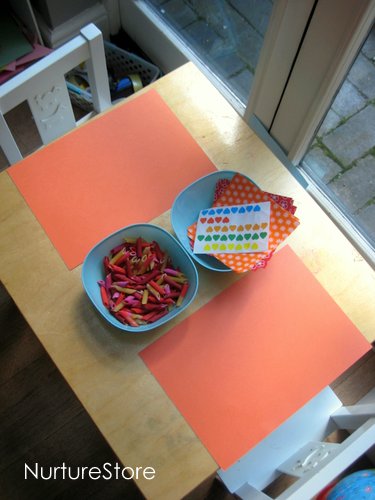 3. And thirdly we always have some 'invitations' out – different materials each time, to spark the children's interest and encourage them to try out new things. I regularly change the materials here, to reflect the seasons and just to mix things up a little.
Some materials we might have on offer include:
drinking straws :: stickers :: stamps :: origami paper :: old wrapping paper :: pompoms :: sequins :: google eyes :: tin foil :: parchment paper :: tracing paper :: painted pasta :: seeds and lentils :: leaves :: twigs :: oil pastels :: water paints :: glitter :: foam sheets :: felt shapes :: lids :: anything goes!
A mix-and-match selection of three or four of these is guaranteed to spark some kind of art or play!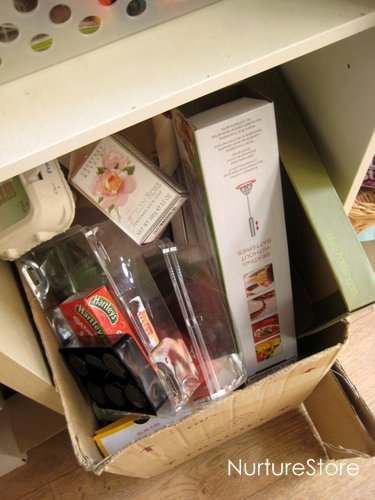 We don't buy a huge amount of supplies or craft sets, prefering to re-purpose or use natural materials if we can. Here's our beloved junk model box, often topped up with donations from grandma's house!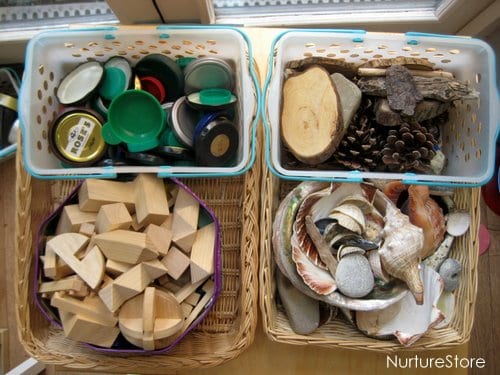 And most of the 'toys' in the playroom – apart from little people and animal characters and our doll's house, farm and city sets – are open-ended loose parts, things that don't have a set way to be played with, but which are open to any child's idea of how to use them. So, we have things like wooden blocks, shells, lids, fir cones, tree slices, twigs, fabric …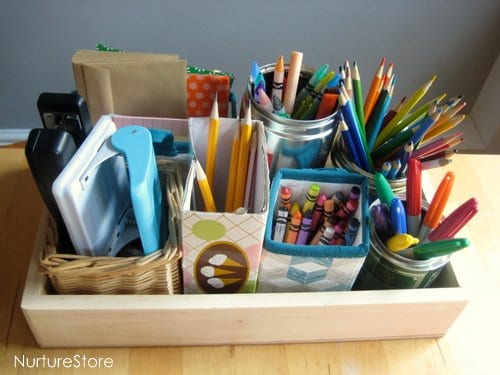 This is my kit – a grab-and-go tray of essentials that give us everything we need to get started on a project or a piece of work. Everyone gets frustrated if we have some fabulous idea but can't find the hole punch/scissors/ ruler/ pencil sharpener, so I keep this kit stocked and on a higher shelf and off-limits unless we're in 'project mode'. Of course the kids have all of these items in their own creation station but if they can't find theirs they're not allowed to raid this set, but instead have to pause what they're doing and go look for their own! (Which generally means find it under the sofa.)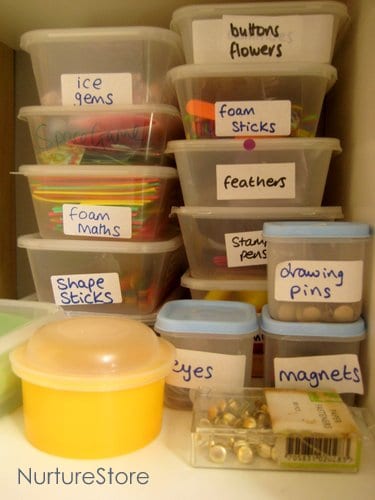 For organising craft materials on the shelves I love re-purposed food tubs. Glass jars are prettier, but plastic makes me feel more relaxed about the children accessing them by themselves. They're see-through and labelled so things are quick and easy to find – plus I like any opportunity to add written words to the children's environment. (I love that we have a box labelled 'eyes'!)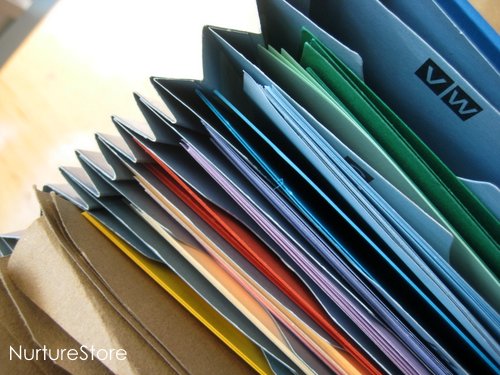 I also keep a concertina folder for paper and card. The children have a selection from here in their creation station but I've found that if I put all the supplies there we quickly end up with all our paper on the floor and looking rather disheveled, so this little measure of rationing strikes a good balance between having great things available but not being wasted.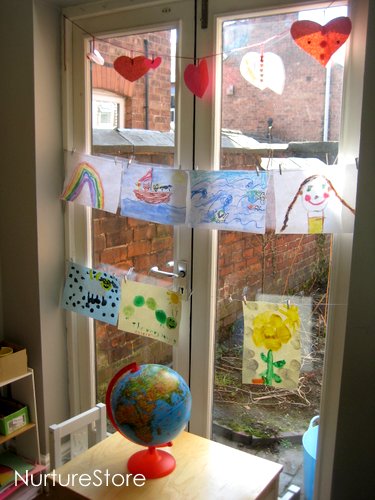 We have 'washing lines', with mini pegs, up across the window and around the walls, so the children can showcase their glorious creations and be in charge of deciding what goes on display. It also gives us a good place to hang paintings to dry.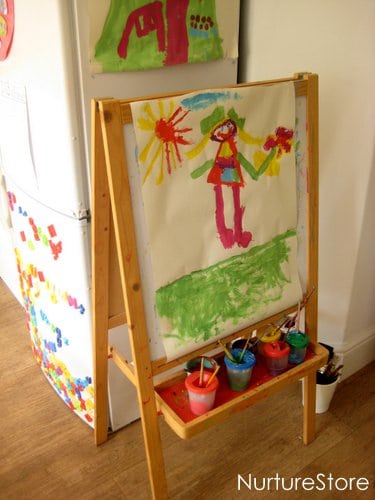 And finally, our easel is out permanently in our kitchen, which gives us a nice place to paint or draw while I'm cooking. I change things here from time to time, perhaps using tin foil or bubble wrap instead of paper, swapping round to the other side to use the chalkboard, or replacing the paints with crayons or pens.
More spring cleaning ideas
What to know how to keep a bedroom tidy? Click through for a peep upstairs!
If you're thinking about spring cleaning or looking for more ways to organize your kids craft supplies Tsh at Simple Mom is running a Project Simplify starting next week. And Arlee over at Small Potatoes has a fantastic tour of her home daycare which is packed full of ideas for organising kids materials in a playful home.

Love happy handmade crafts?
Our Happy Handmade resource is bursting with colourful and imaginative crafts and DIY toys that are designed to add even more colour and creativity to your home. With easy-to-follow tutorials and free patterns and printables, you can read, make, and start playing today! See more of Happy Handmade here.