This hands-on pine cone math station is a great investigation table that invites children to explore estimating, counting, size comparison, measuring weight and length, and recording data in a table – all while having fun.

Pine cone math station
We turned a bowl of pine cones, gathered on our walk in the woods, into a hands-on math station. Depending on your children, you can set this up as a work alone, work in a team, or work with you activity. The pine cones are a lovely, sensory, seasonal material to use and provide a great springboard into all sorts of math work.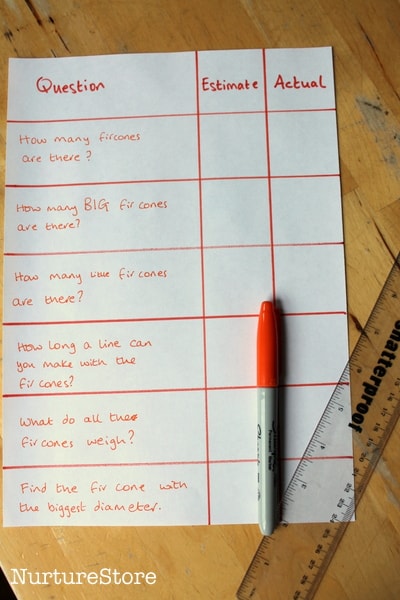 I drew up an investigation sheet to get my daughter started but you could also chat with your children to generate a set of questions together. Setting this out in a table gives children a chance to read the questions for themselves, and practise recording their answers in the table format: when you're talking about the activity you can refer to the rows and columns.
I included a column for estimates as well as to record the actual amounts. Estimating is an important math skill in its own right – very useful for quick calculations and being able to check that any answer you come up with is not wildly off the mark. I also like to use it to encourage my daughter to have a go. I want her to feel comfortable and confident making a guess at the answer, not held back from trying for fear of having to get exactly the right answer and of making a mistake. Mistakes are good – they help our brain grow.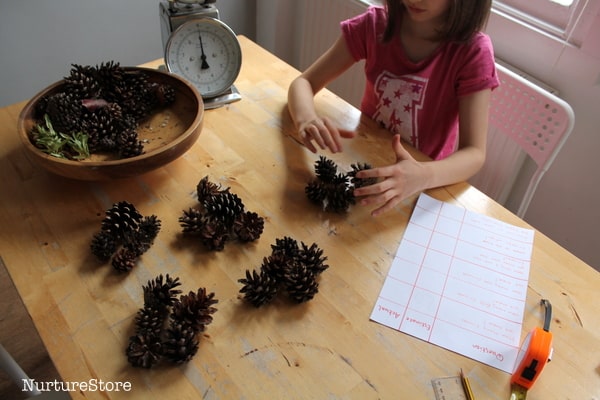 Our first question was to see how many pine cones there were in our bowl. A child's estimate may be quite wide of the actual answer, and this exercise helps them to visualise an amount and become familiar with values. You can talk about strategies to count a large number more easily. Here we made piles of five pine cones so we could quickly 5-10-15-20… our way up to the answer.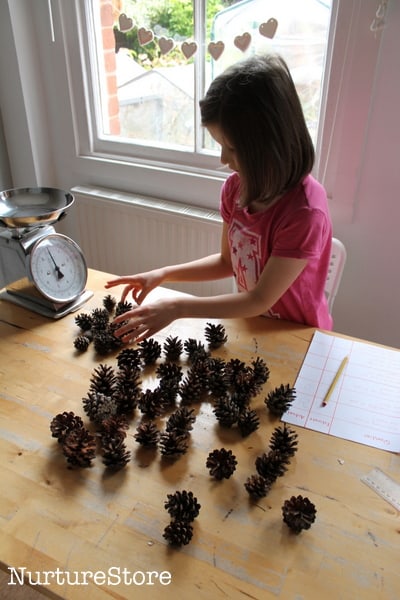 Then we looked at size comparison, counting how many pine cones were big, and small.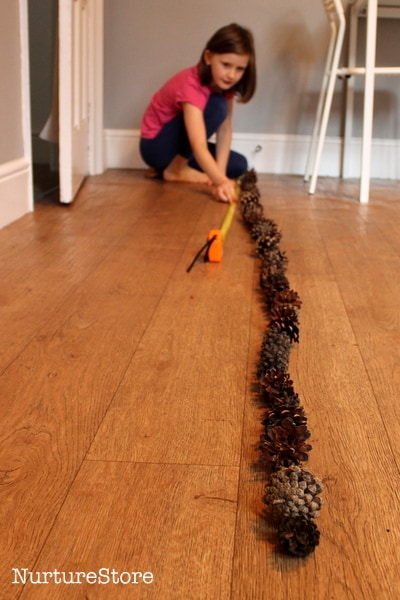 Then we made the pine cones into a long line and measured them. My daughter loved this bit. As well as starting to estimate numbers, this gives an introduction to estimating length.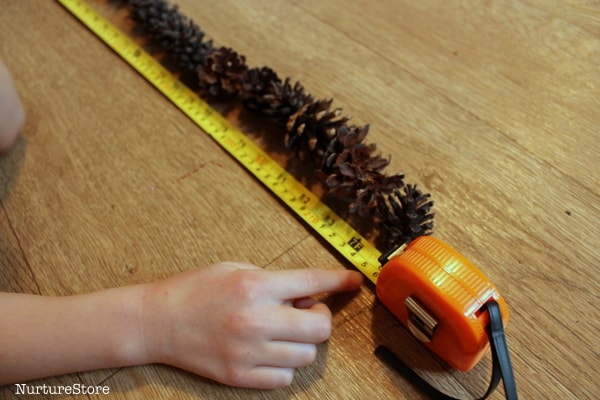 And we measured with a tape measure, and talked about why we had both inches and centimetres on the scale.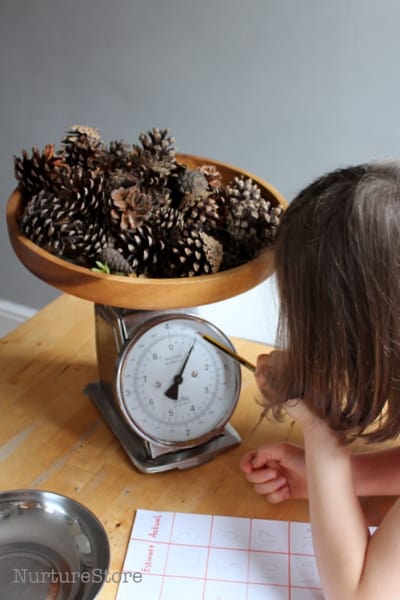 We included kitchen scales, so we could weigh the pine cones. We practised reading this scale, and talked about ounces and grams.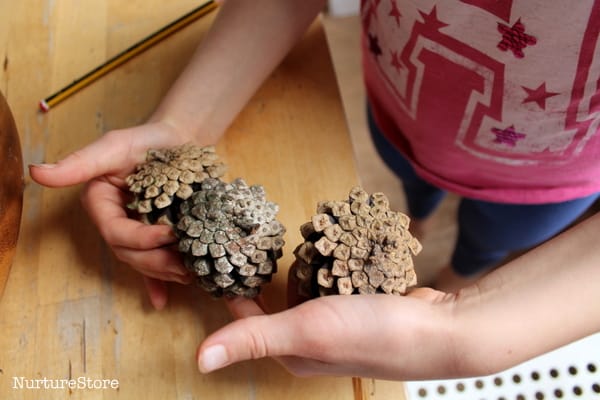 We also hunted out the pine cone with the biggest diameter. My daughter made her estimate using sight firstly – a good exercise is visual measuring, especially of a slightly irregular shape.
And then she checked her findings using a ruler.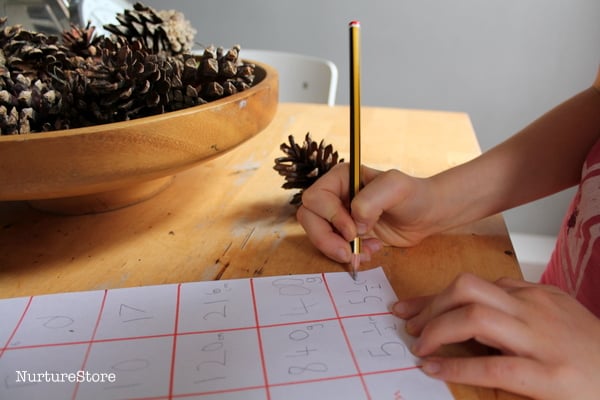 All the while she recorded her estimates and findings on her table. This let us talk about how we use cm and g to indicate different measures, and how we write fractions.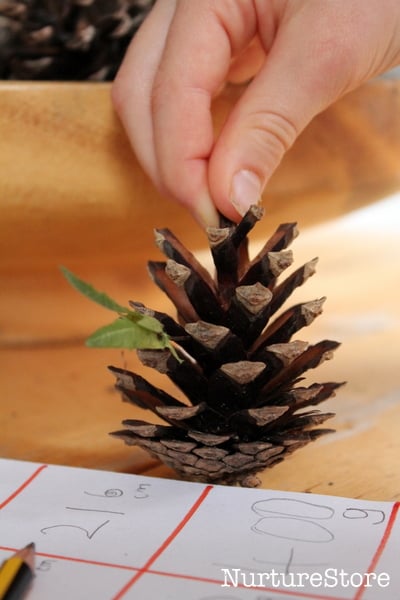 And here's the prize-winning pine cone – the one with the biggest diameter – with its winner's bouquet.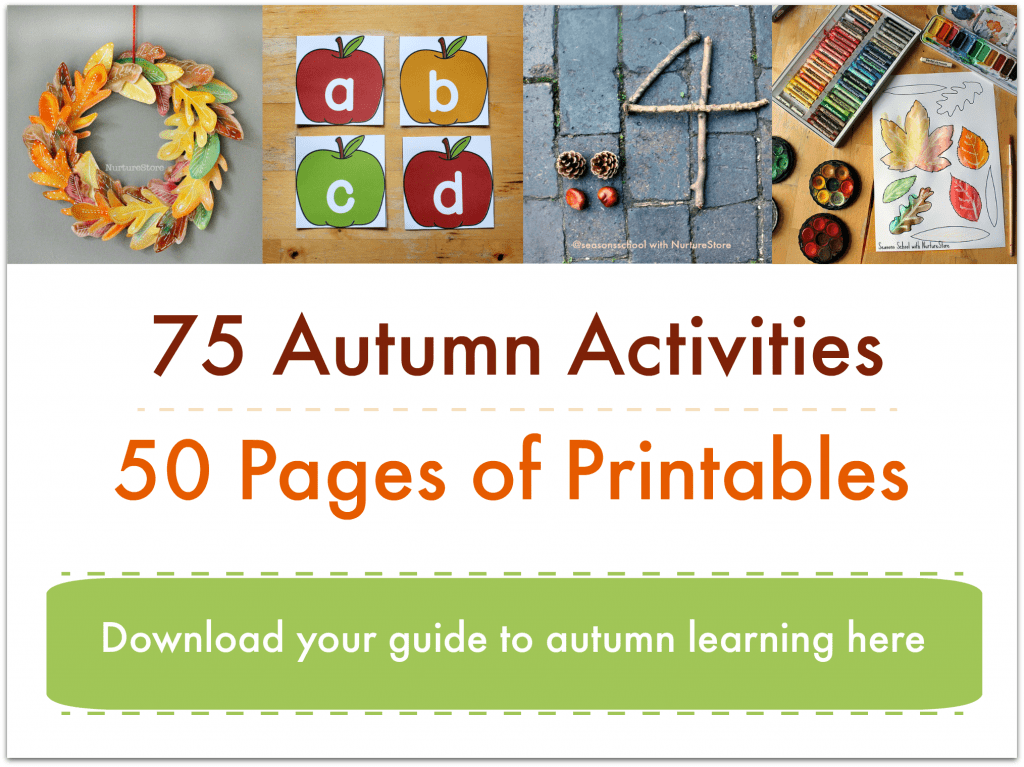 Everything you need for autumn learning, all in one place 
:: over 75 engaging activities and lesson plans that your children will love
:: 50 pages of printables that make teaching so easy
:: weeks worth of learning all planned for you, to take you right through the season
CLICK HERE TO DOWNLOAD YOUR AUTUMN PRINTABLES NOW!