Use these printable number dots cards as part of your loose parts math activities. They're perfect for math finger gyms and math discovery stations.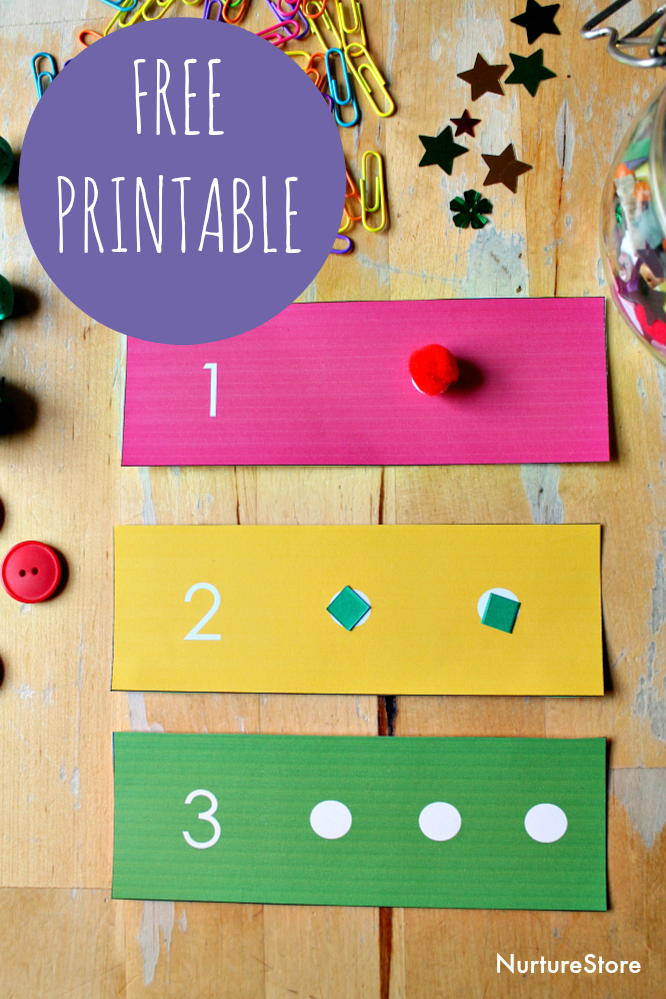 Printable number dots cards for loose parts math activities
---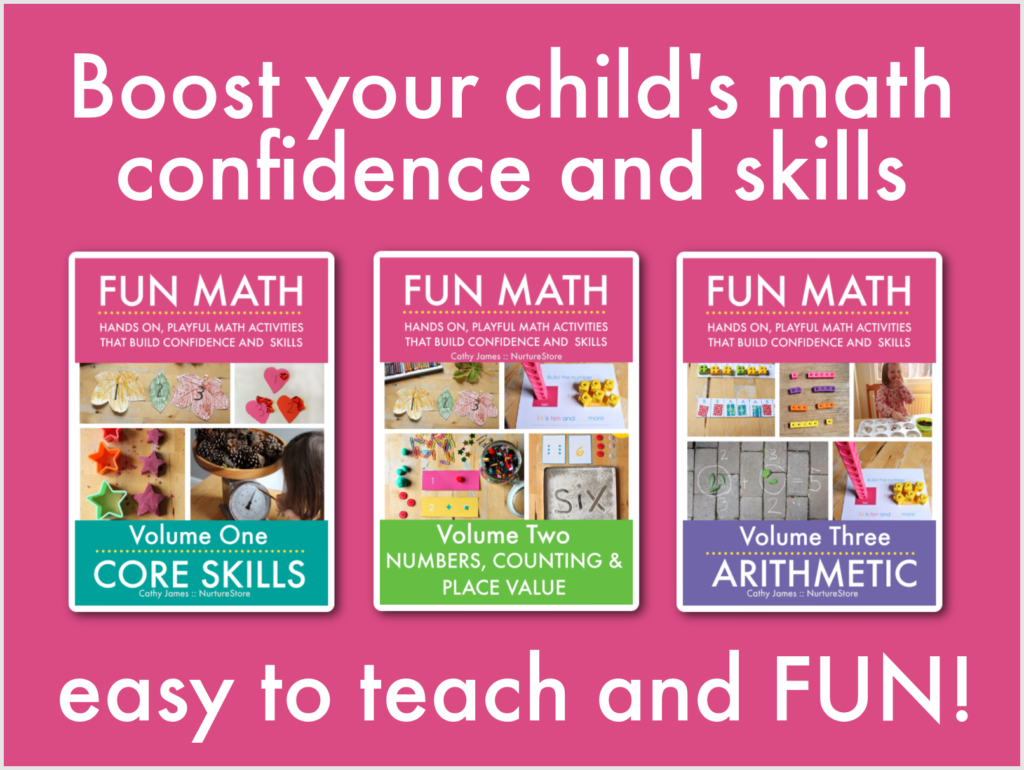 Magic Fun Math lessons!
Fun Math is an easy to teach, highly effective math curriculum based on play and hands-on learning.
All the lessons are designed to be fun and memorable, so children enjoy their lessons and feel confident.
The lessons are easy for teachers and parents to use, in class or at home.
These are the magic lessons where children really see, understand, and can apply math concepts. They are especially suited to children who don't like math, lack confidence, don't understand math the way they are currently being taught, or just want to play.
SEE MORE AND TRANSFORM YOUR MATH TEACHING HERE.
---
Using playful math printables that promote hands-on learning gives children the double benefit of developing their math skills and their fine motor skills.
Use these printable number dots cards with loose parts to help boost your children's skills in a playful way.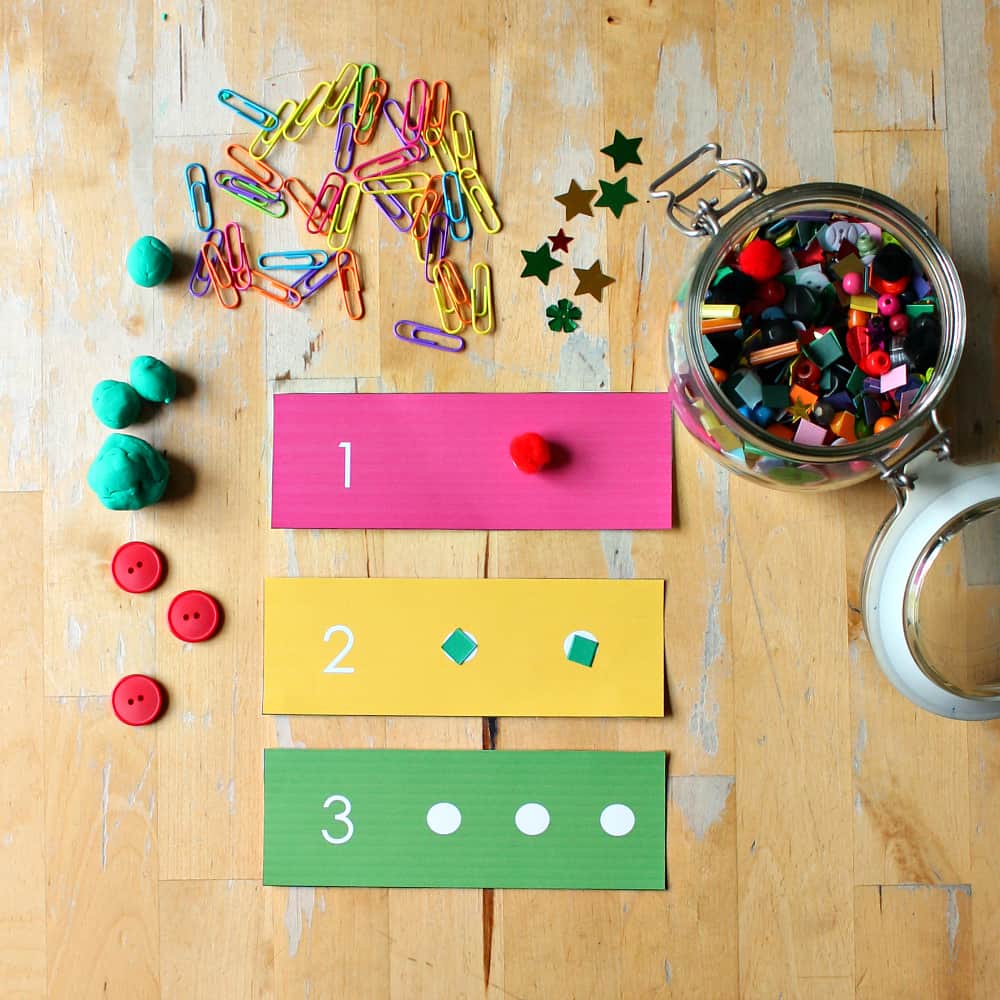 What are loose parts?
Loose parts simply means moveable materials that children can use in their play.
They might be bought materials, upcycled from the recycling bin or found natural objects.
There's a printable list of loose parts ideas here, but really anything goes: boxes, feathers, marbles, wrapping paper, fir cones, water, sand, twigs, hats, drinking straws…..
By offering a regular selection of loose parts we can give our children daily inspiration, endless possibilities, a chance to think, and encouragement to be creative.
Read more about loose parts here, including four ways you can promote their use in your classroom/ playroom.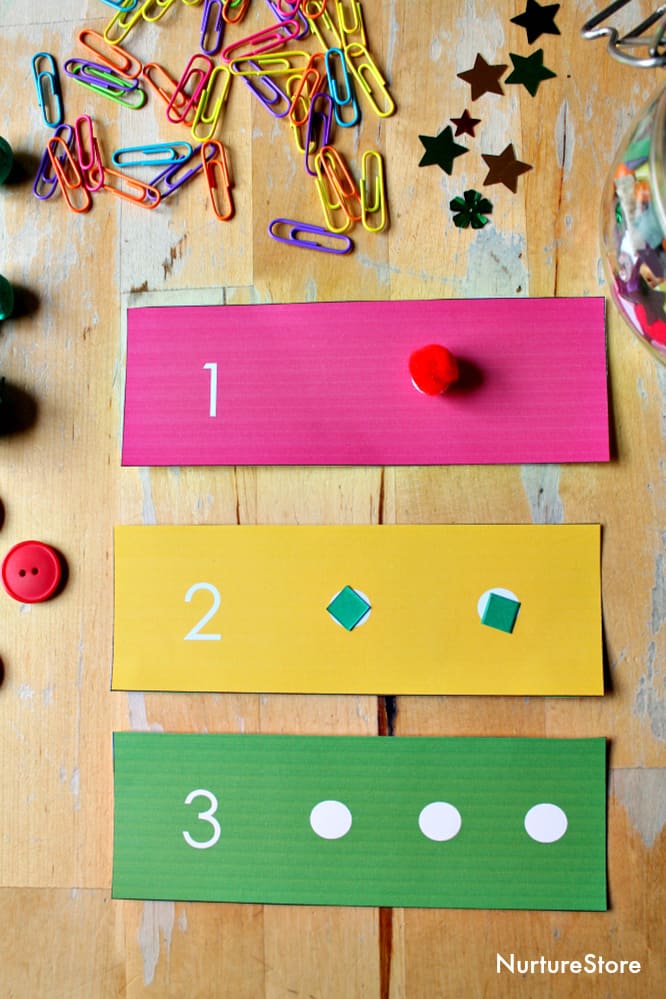 How to use these number dots cards
Print the number dots sheets (see below) and cut out the individual cards.
You might like to laminate the cards for extra durability.
Set out the cards with some loose parts that can used as counters. You might use buttons, small Lego pieces, shells or play dough that your children can roll up into balls and squish onto the cards. Paperclips are great too.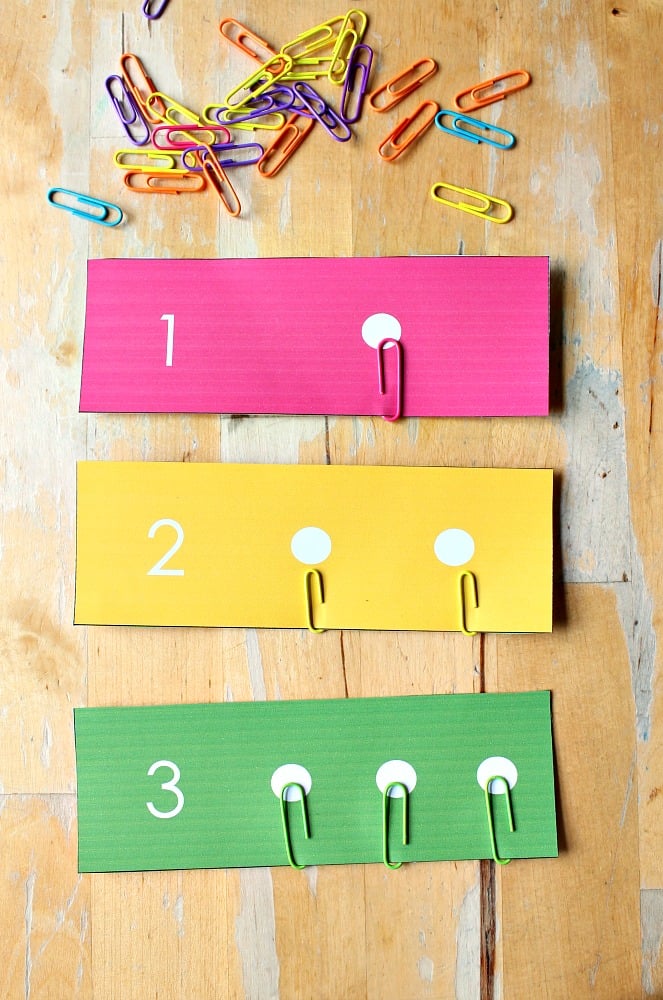 Finger gyms and math discovery stations
I like to use the number dot cards in two places:
:: in a finger gym. A finger gym is an activity centre where children are invited to play with materials with the specific aim of developing their fine motor skills. The activities can incorporate play, literacy, science, arts and crafts, and, as with these number dot cards, maths.
Using small loose parts with these number dot cards has the double benefit of helping children develop their maths skills of counting and number recognition and their fine motor skills, as they pick up and manipulate small loose parts.
You can see my other finger gym ideas here.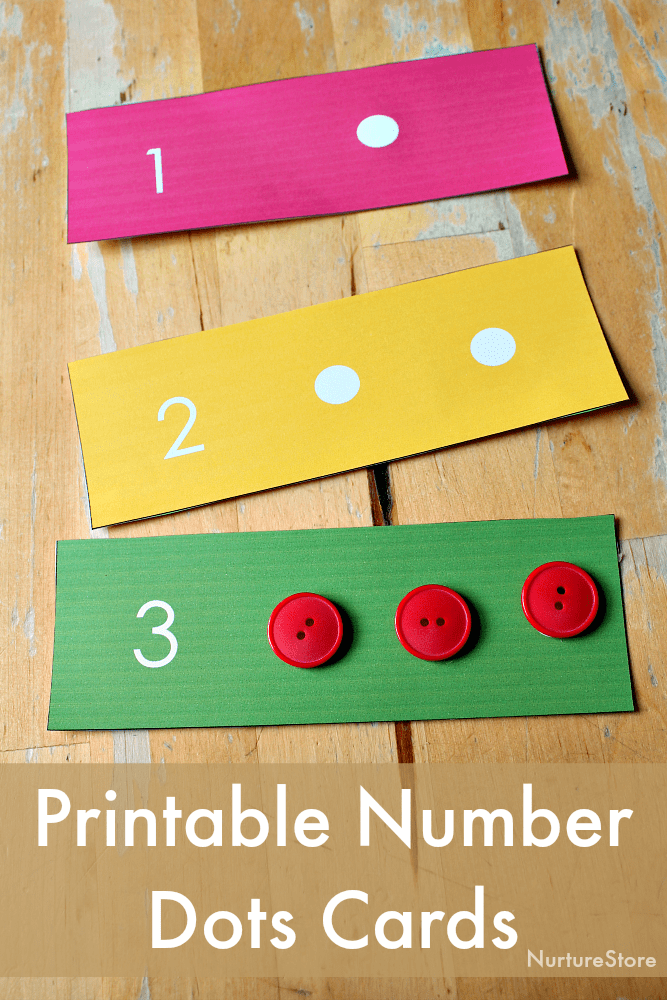 :: in a math discovery station. These number dots cards make a great addition to a math discovery centre.
A math discover station is an invitation to play with math equipment and concepts in an open-ended way. A station can include number lines, scales, counting cards, loose parts, Venn diagram prompts, greater than/less than prompts, rulers, calculators, pens and pencils – all with the aim of sparking mathematical curiosity, exploration, and thinking.
You can see my pine cone math station and my valentine math station for more details.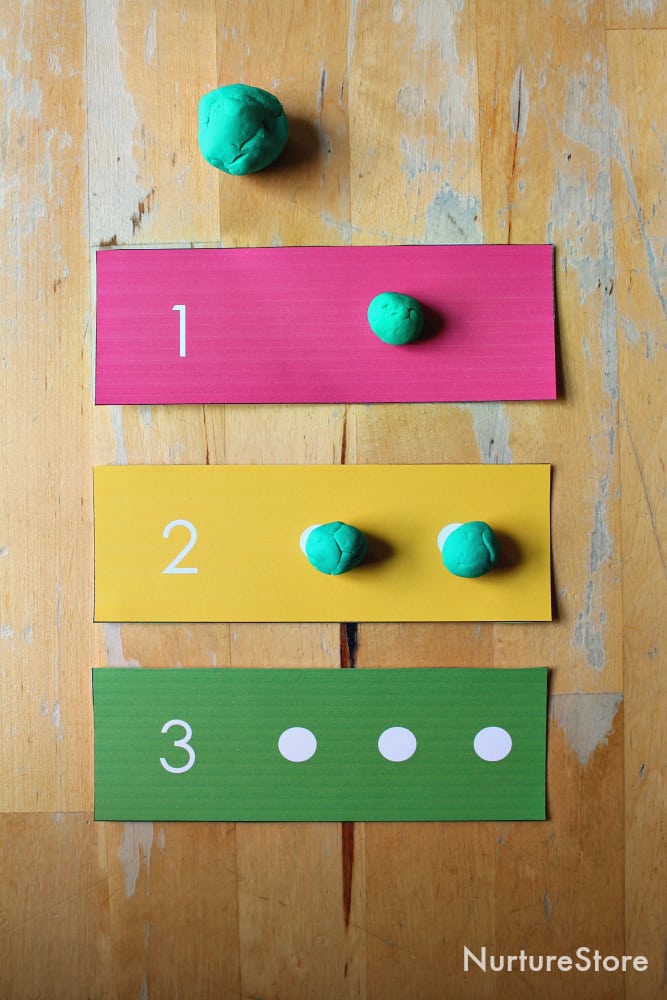 More loose parts math printables
Love math printables that encourage hands-on learning? Try these:
:: printable number wheel cards
:: printable number fish cards
:: shape tracing and drawing sheets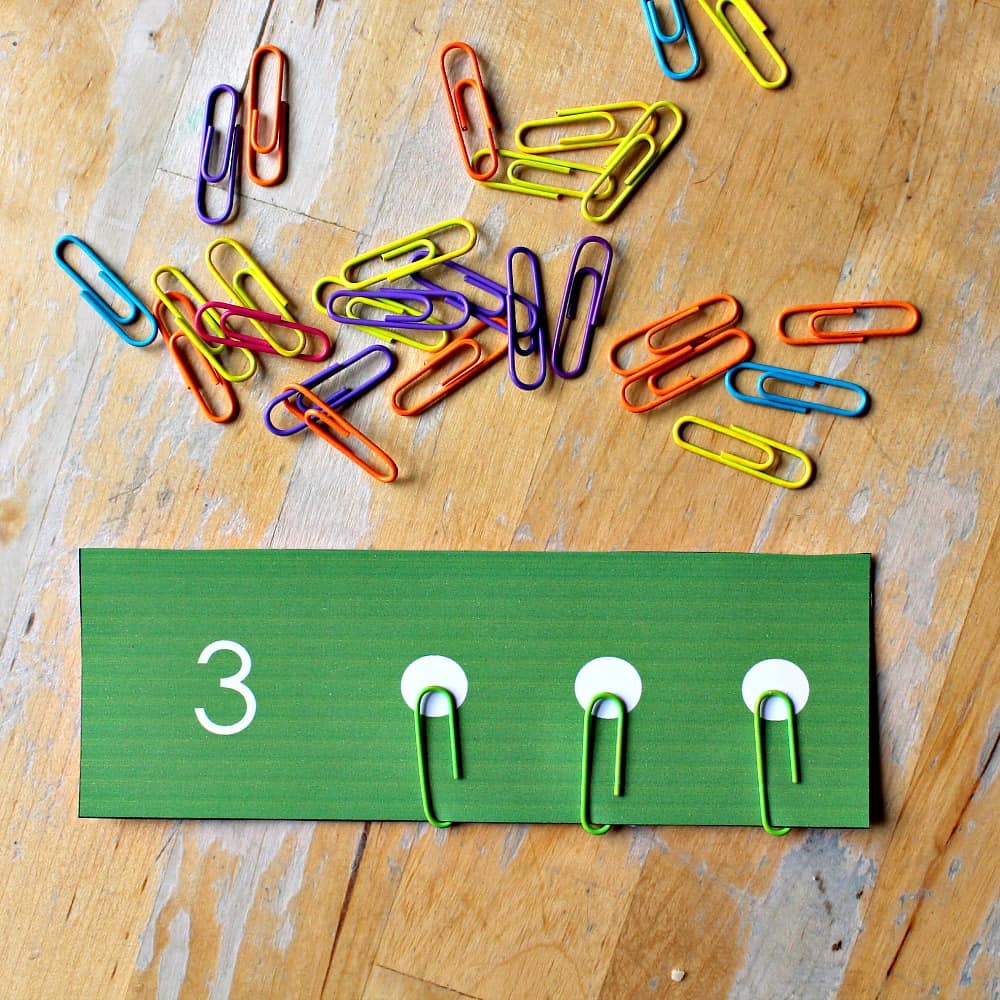 How to get our free printables
To download my free printables, you'll need to visit the NurtureStore Printables Library, which is available to all subscribers to my email list, and of course to Play Academy members.
Pop your email address in the form below and you'll get access to all my free printables, lesson plans, activity ideas, weekly newsletter, and a whole lot more!
After subscribing, be sure to check for the confirmation email. After you confirm your email subscription, we'll send you a welcome email which includes instructions for downloading our free printables.
If you're already subscribed to our email newsletter: check your email for the latest edition of the newsletter where you'll find a link to access our free printables library - the link is usually at the bottom of the email.
For help accessing our printables, click here.
---
By subscribing, you consent to our use of your personal data as per our Privacy Policy, which includes agreeing to receiving interest-based email from us.
---
---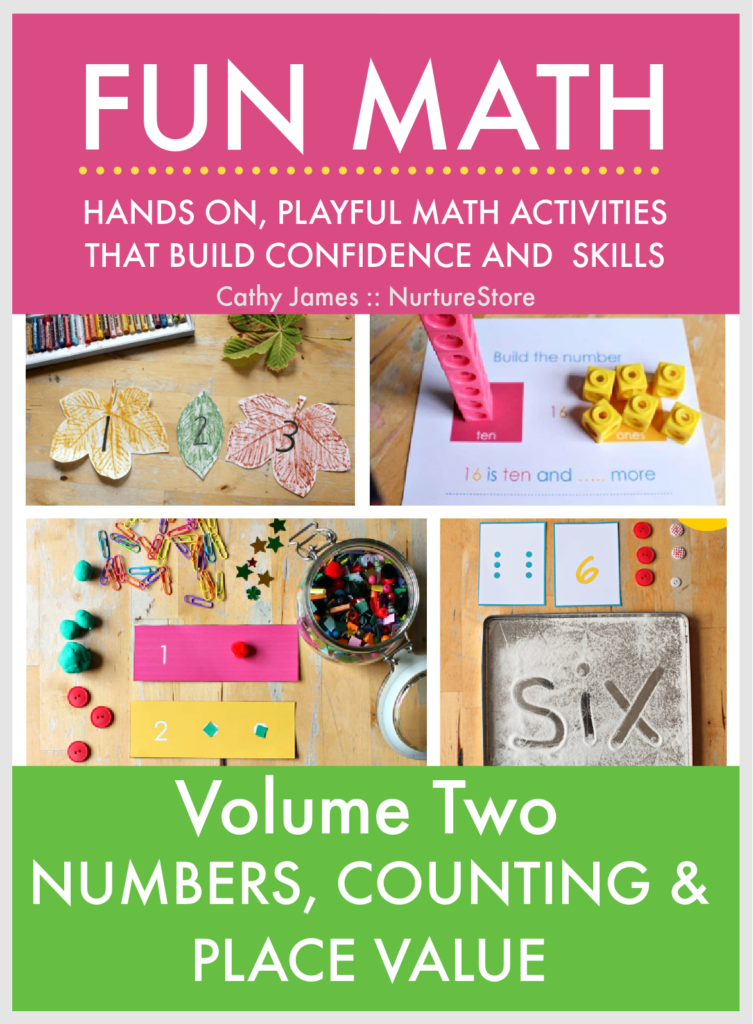 Transform your teaching with Fun Math
The Fun Math series gives you a math curriculum that is easy to teach and highly effective.
Children love these lessons because they are engaging and fun.
You'll have a clear set of ready-made math lessons and activities that are simple to lead using our step-by-step lesson guides, and which children really understand.
Be the best math teacher and boost your children's confidence and skills with Fun Math.
See more and transform your teaching here.
---