In this fun, hands-on math activity children are invited to explore shapes, rotation, symmetry, size, orientation, colour, characterisation, abstract and representational art – all while having fun creating a super cute pooch!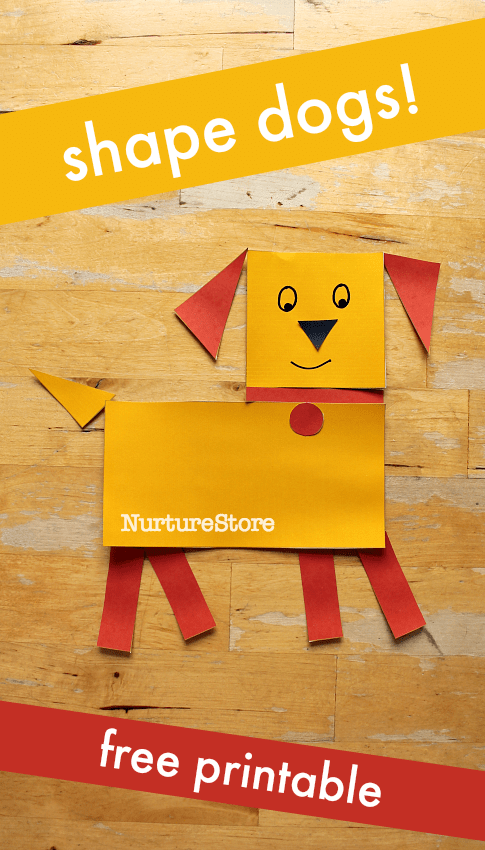 Shape animals: free printable dog craft shape activity
This shape activity pairs well with lessons about the Chinese New Year, but of course you can use it at any time, to explore shapes and as part of an animal topic.
This activity combines maths and art. When we work across the curriculum in this way it allows us to go broader and deeper with our learning. We get to make connections. Our understanding is more relevant and our learning is longer-lasting. An art-meets-math combination invites all children to join in, whether they consider themselves artists or love numbers.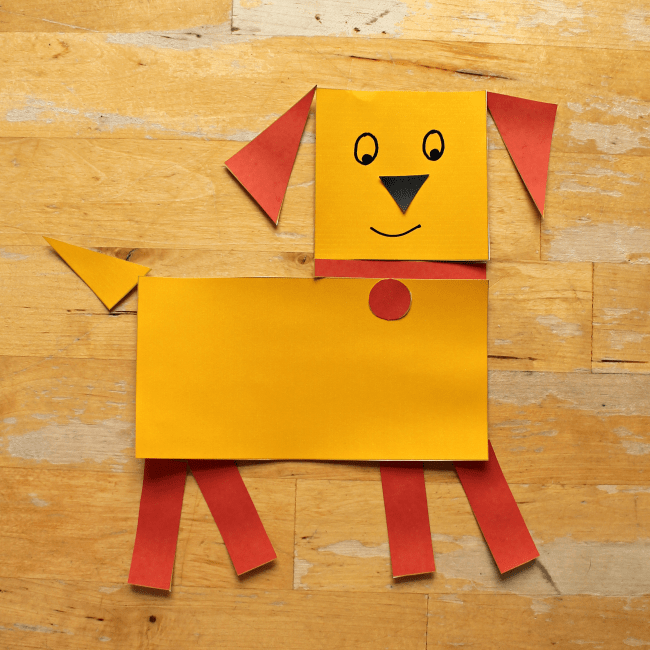 The Chinese New Year, which is also known as the lunar new year or spring festival, will take place on February 16th in 2018.
Each year of the lunar years cycle is paired with one of twelve zodiac animals: either Rat, Ox, Tiger, Rabbit, Dragon, Snake, Horse, Goat, Monkey, Rooster, Dog or Pig. In 2018 we will see the start of a Year of the Dog, represented by the Chinese symbol 戌.
People born in a dog year are thought to have a personality similar to a dog: friendly, kind, loyal, honest, straightforward, and smart. Were you born in a year of the dog?
You can find out here
.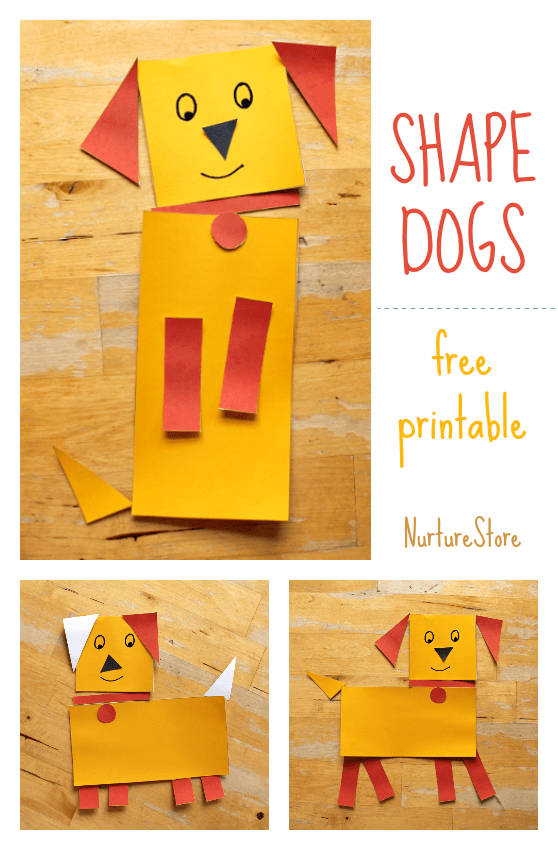 How to use this shape activity printable
:: print the shape sets onto card. We're using the traditional colours of Chinese New Year with a red set and a gold set, and there is also a black and white outline set so if you want to you can colour them (or print on coloured card) to make any kind of dog you like
:: cut out the shapes and set them out with the invitation 'Can you make a dog?'
:: talk about what the children know about dogs. What do dogs look like? What breeds of dog do they know? What words would they use to describe a dog?
:: if you are learning about the lunar new year you can talk about the Chinese zodiac animals and how the new year that begins in February 2018 will be the year of the dog
:: have a look at the shapes you have. What are they all called? How are the similar and different to one another? Which ones could you put together to create a dog?
:: play around with the shapes and create some dogs. There's no one 'right' way to make one
:: have spare card and scissors available so your children can cut out extra shapes to include in their design
:: offer pens and pencils so you can draw on eyes and a mouth too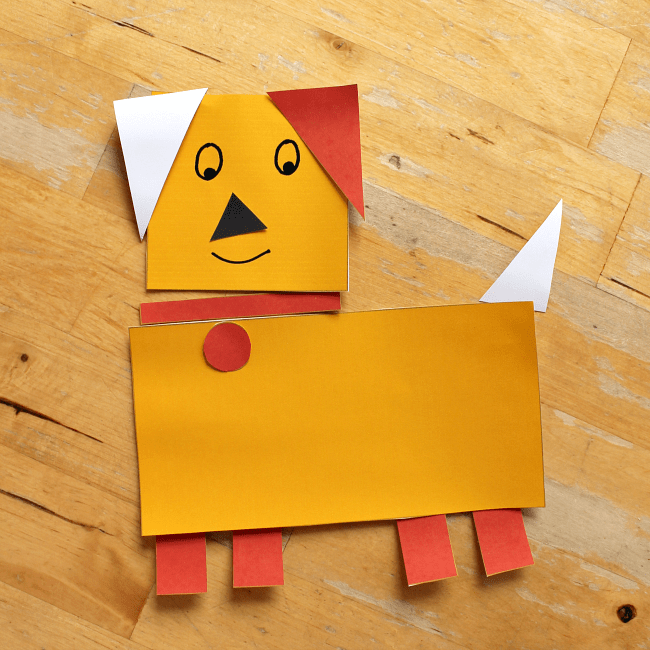 How to extend this activity
Have a look at my other Chinese New Year activities and try some of them with your children.
Try another art and math combination with my Art of Circles resources.
Investigate more dogs: go for a walk and see which dogs you can spot in your neighbourhood; borrow a dog and take one for a walk; research different breeds in a reference book; draw a realistic sketch of a dog to contrast with your abstract shape version.
Try creating other animals from your shapes cards – what could you make?
How to download the shape dog printables
Get access to ALL my free printables by subscribing to my email list.
To download my free printables, you'll need to visit the NurtureStore Printables Library, which is available to all subscribers to my email list, and of course to Play Academy members.
Pop your email address in the form below and you'll get access to all my free printables, lesson plans, activity ideas, weekly newsletter, and a whole lot more!
After subscribing, be sure to check for the confirmation email. After you confirm your email subscription, we'll send you a welcome email which includes instructions for downloading our free printables.
If you're already subscribed to our email newsletter: check your email for the latest edition of the newsletter where you'll find a link to access our free printables library - the link is usually at the bottom of the email.
For help accessing our printables, click here.
---
By subscribing, you consent to our use of your personal data as per our Privacy Policy, which includes agreeing to receiving interest-based email from us.
---