Learn about the parts of a tree with this free printable and tree lesson ideas – a great forest school lesson for any time of year.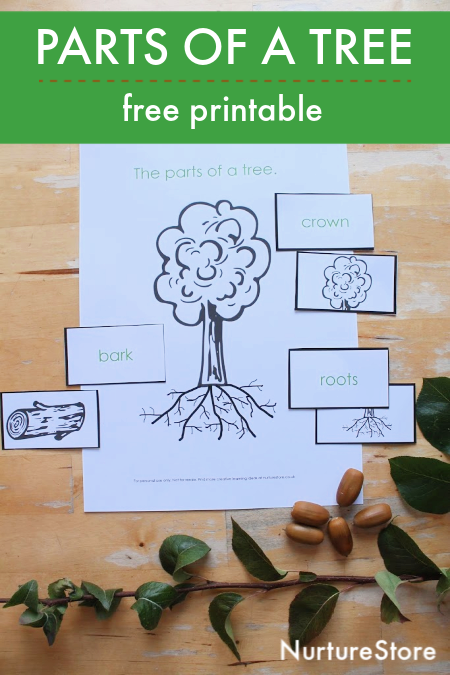 Parts of a tree lesson with printable
This parts of a tree lesson is a great addition to your Seasons School or forest school curriculum. In this tree activity children can learn:
:: forest vocabulary
:: to identify the key parts of a tree
:: how the different parts of a tree work together in a complex system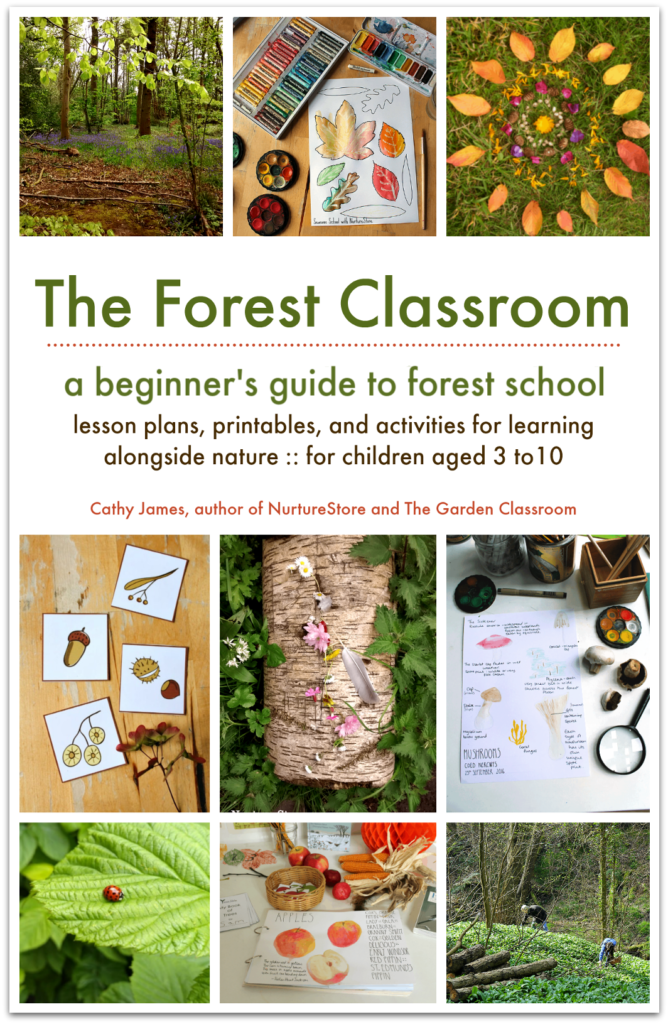 Ready-made forest school lesson plans
Have you got your copy of The Forest Classroom yet? It is the perfect beginner's guide to running a successful forest school. Download your forest school guide here.
A forest classroom is a place of adventure, discovery, and imagination. It can also be a wonderful place to learn about math and science, explore art and crafts, and develop language and social skills.
The Forest Classroom is a practical guide which will show you how to engage your children in fun and educational forest-school activities.
These ready-made forest school lesson plans are suitable for forest school leaders, teachers, childcarers and parents with children aged 4 to 10, to learn in a forest, school nature area, local park or your own backyard.
Get your copy of The Forest Classroom here and you'll be ready to head straight outdoors and enjoy teaching, using our ready-made lesson plans.
---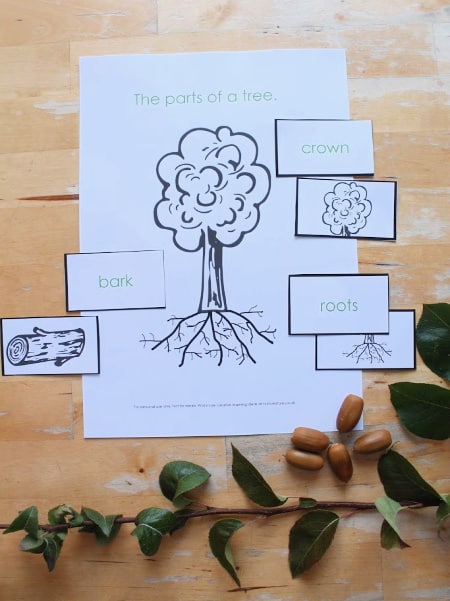 How to use this parts of a tree printable
Print the Parts of a Tree printable (see below for details). Cut out the individual picture and word cards.
Print on card for extra durability without needing to laminate them – less plastic!
The printable includes two sections:
:: a full page tree picture
:: two pages of word and picture cards including tree, leaf, trunk, branch, seed, roots, bark, twig and crown.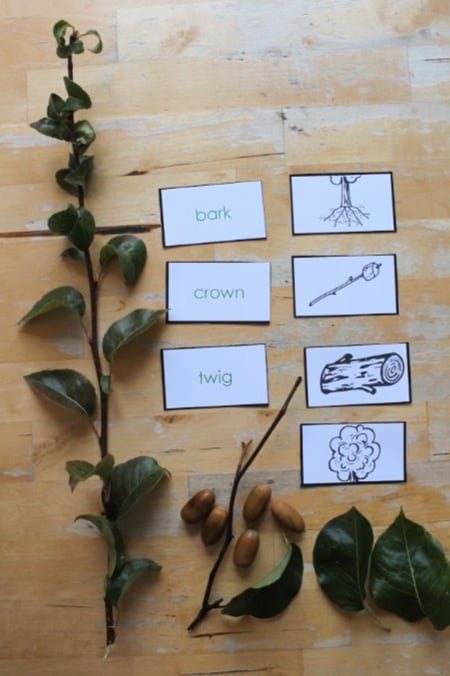 Learning about the parts of a tree
By using these printables with your children they can learn about the key parts of the tree. They will become familiar with the vocabulary and begin to understand what each part of the tree does. They'll start to see how all parts of a tree work together to make the amazing system of these most important plants.
Here's how you can introduce each part of the tree to your children.
Trees are a very important part of our world. They provide homes and food for animals, including humans. Trees breathe in carbon oxide and breathe out oxygen helping to keep our air and ecosystem clean and healthy.
There are two main kinds of trees: deciduous and evergreen. You can read more about these two types of trees here.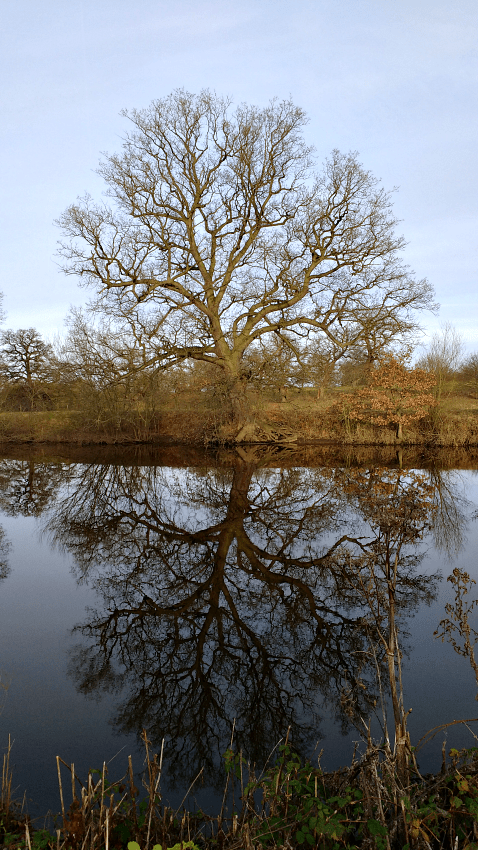 The crown of the tree is the part at the top, where the leaves and branches are. The crown can be one of many different shapes and sizes. It gives shade to the tree's roots and collects energy from the sun through a process called photosynthesis.
Within the crown of the trees there are leaves. The leaves make food for the tree. They are green because they contain chlorophyll. Chlorophyll can collect energy from sunlight, combine it with carbon dioxide from the air and water from the soil, and turn them into sugar to feed the tree and oxygen for us to breathe. Trees are so clever!
The trunk of the tree gives it its height and support. Inside the trunk there is a system which moves water and nutrients up from the soil, and moves sugar energy from the leaves to the rest of the tree.
The outer layer of the tree trunk and branches is called the bark. The bark protects the tree, a bit like our fingernails.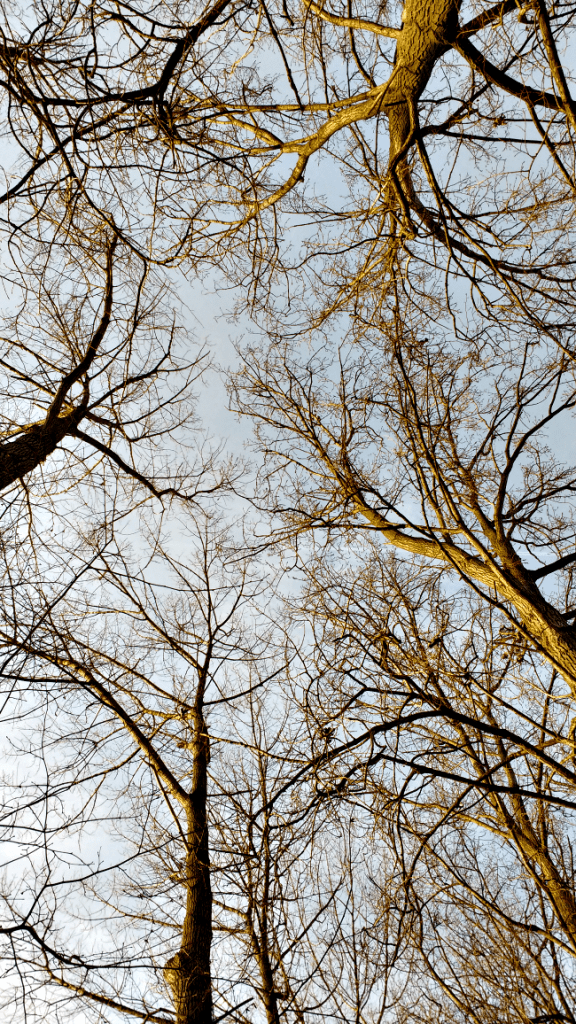 The branches of the tree give the tree a frame to grow its leaves across. They also help to transport water, nutrients, and food.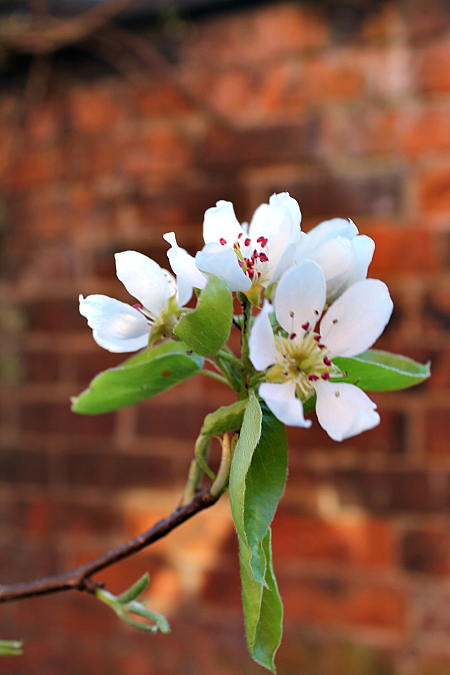 From these branches, smaller sections of the tree are grown, called twigs. The twigs are where the leaves, flowers, and seeds grow.
The tree produces seeds which, given the right conditions of soil, light, water, and nutrients can grow into new trees. The seeds of different trees can look very different, with different sizes, shapes, and colours. Acorns, hazelnuts, pinecones, sycamore wings, and horse chestnuts (buckeyes) are all seeds. You can learn more about tree seeds here.
Below ground the tree has a big set of roots. The roots are usually as wide as the crown of the tree. The roots help to support the tree, so it doesn't fall over. They also absorb water and nutrients from the soil to feed the tree.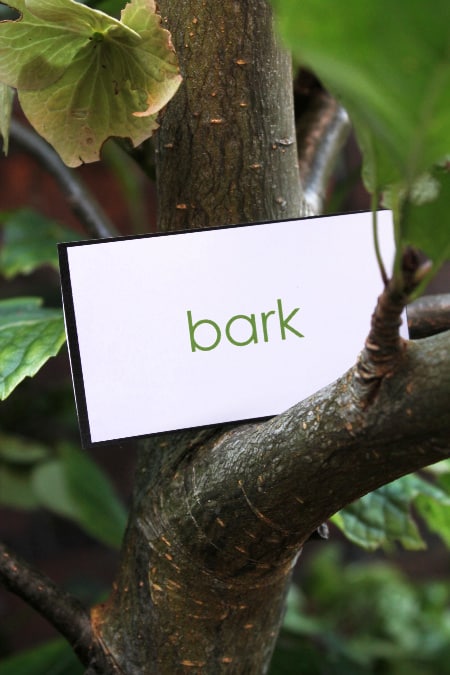 Tree ID activities
Try these tree ID activities to help your children learn all the parts of a tree:
:: read though the descriptions above as you look around your forest school, and see if your children can all point to each part of a tree as you talk about it
:: gather bark, branches, seeds, twigs, leaves and a piece of tree trunk. Lay them out and see if your children can find the matching picture and word card for each item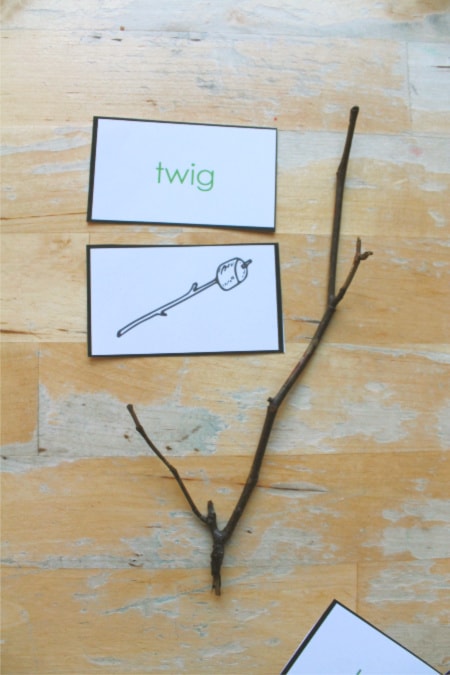 :: use the word and/or picture cards as a drawing prompt. Can your children draw a tree and label the right sections to match each word/picture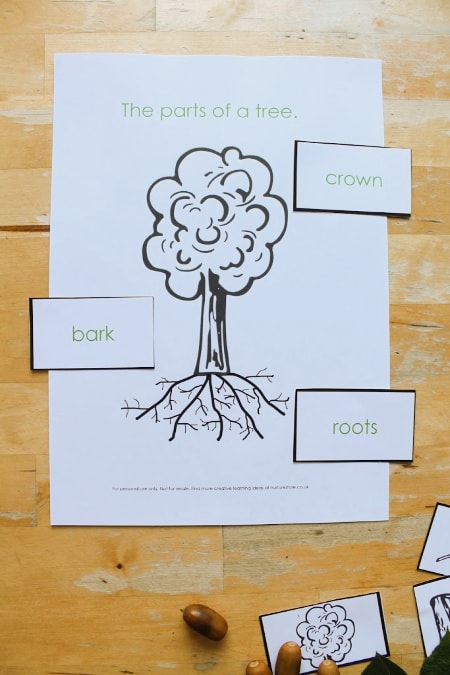 :: play a version of 'who am I?' but with the parts of the tree. Have one person pick a part of the tree and then invite everyone else to ask questions to work out which part they are. The person picked can only answer yes or no. For example, you might ask:
'Are you at the top of the tree?'
'Are you underground?'
'Can you make food?'
'Are you green?' and so on, until you have worked out which part of the tree the person is.
:: play a version of Jeopardy. For example, say "The part of the tree that makes food" to get the answer "What is a leaf?"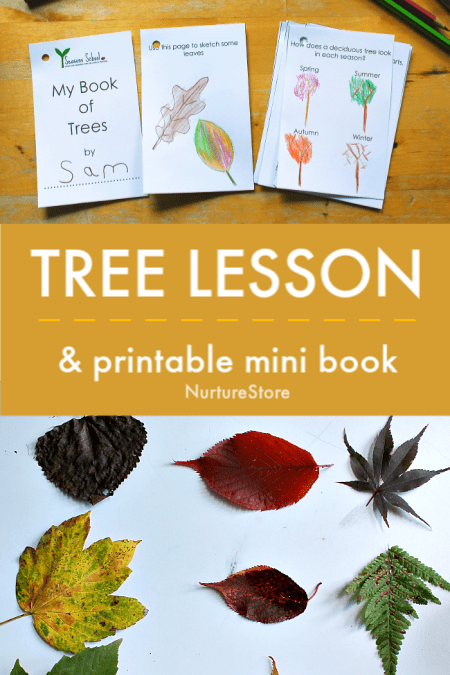 More tree activities
If you are learning about trees, try these tree activities too:
:: learn about different types of trees
:: learn about leaves and seeds
:: try this winter trees art lesson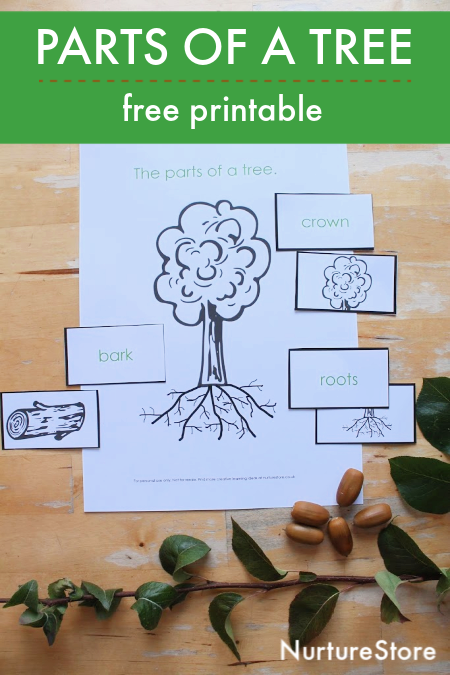 How to get our free printables
To download my free printables, you'll need to visit the NurtureStore Printables Library, which is available to all subscribers to my email list, and of course to Play Academy members.
Pop your email address in the form below and you'll get access to all my free printables, lesson plans, activity ideas, weekly newsletter, and a whole lot more!
After subscribing, be sure to check for the confirmation email. After you confirm your email subscription, we'll send you a welcome email which includes instructions for downloading our free printables.
If you're already subscribed to our email newsletter: check your email for the latest edition of the newsletter where you'll find a link to access our free printables library - the link is usually at the bottom of the email.
For help accessing our printables, click here.
---
By subscribing, you consent to our use of your personal data as per our Privacy Policy, which includes agreeing to receiving interest-based email from us.
---