The falling autumn leaves provide a wonderful sensory material for children to explore. You can't beat jumping through a pile of dry leaves! You can also gather some leaves and use them to make collage trees, giving young children a fun opportunity to work with sticky tape and glue.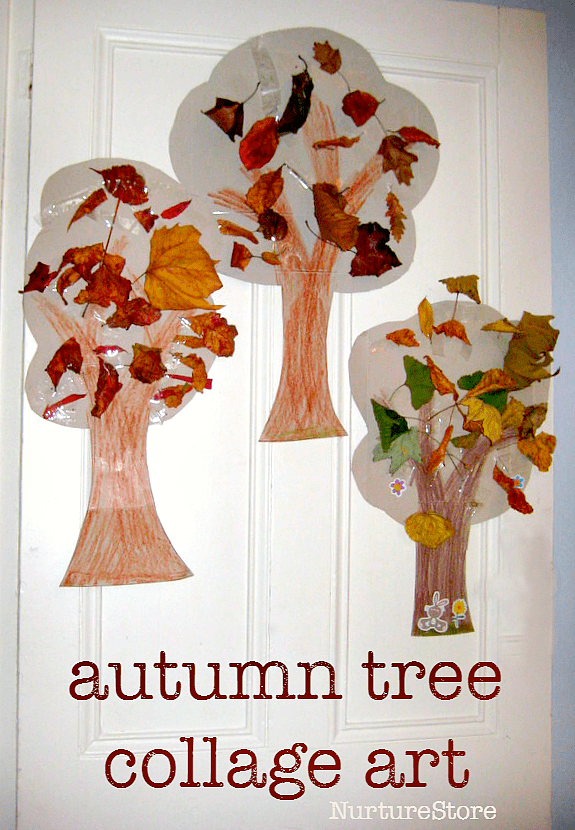 To make autumn tree collages
You will need:
leaves, and twigs, acorns, pine cones 
large sheet of card
pencil
glue or sticky tape
First, enjoy a walk outside to collect a variety of leaves. Take time to notice the different shapes, colours, and textures. You can use lots of interesting language to describe your leaves. How do they look? feel? smell? sound?
Do the children know the names of the trees each leaf is from?
Which leaf is the biggest? Can they find one smaller than their hand? Bigger than their foot?
Notice to the shapes of the trees the leaves have fallen from, and talk about the trunk, branches and twigs. Think about how tall and wide they are. You can incorporate a lot of mathematical language and comparisons here.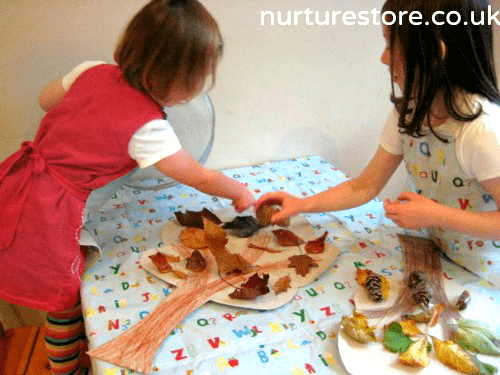 The collage art form is very interesting for young children to explore because it encourages them to notice and compare colours, textures and shape. This simple craft also gives them the opportunity to work with sticky tape and / or glue – which every child I know loves to play around with!
To begin, draw out a simple tree outline, using a pencil on a sheet of card, and then cut it out. If possible, support your child to draw and cut out their own tree.
Then it's time to add your leaves, twigs and seeds onto your tree. You can use sticky tape or glue, as you prefer. A weighted tape dispenser is so useful here, as children can use both hands to pull the tape and not have to worry about also using scissors.
In nature, a tree usually has leaves of one narrow colour group (just red leaves, or all shades of yellow, for example) so you could get the children to sort the big pile of leaves into colour groups first – a good 'classification' exercise which encourages them to practise their grouping skills.
Or you could let them go for it and use whichever colours appeal to them.
The finished trees make a wonderful backdrop to an 'Autumn' wall display. You could use them with your nature table, or as a scene for imaginary play.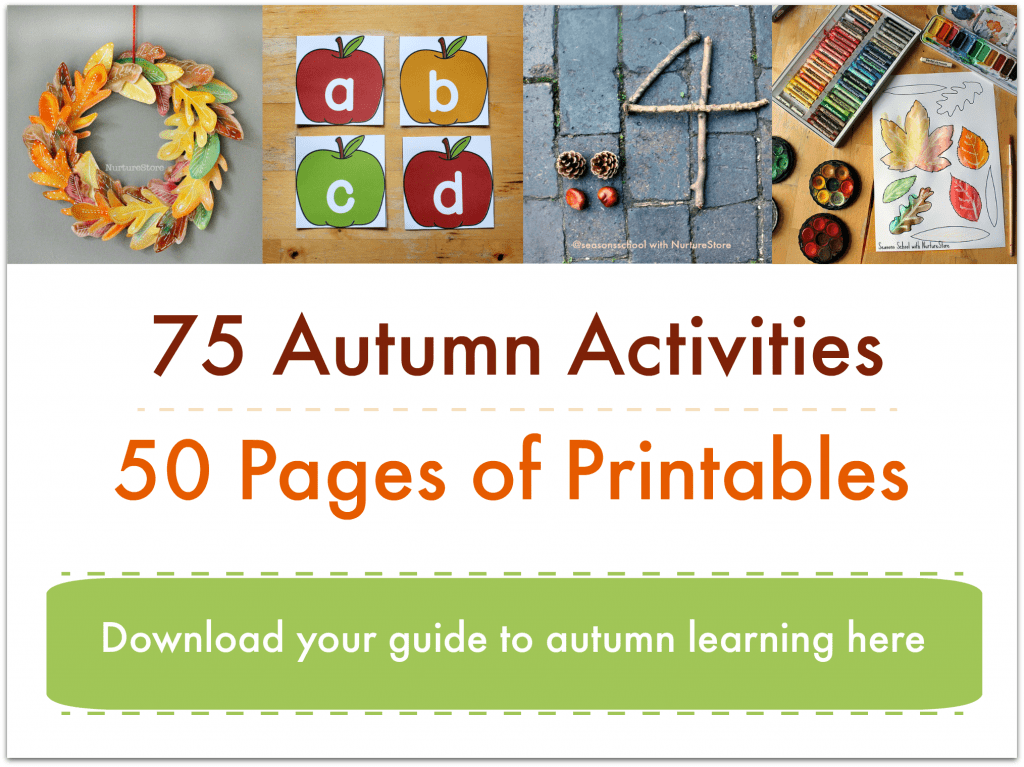 Everything you need for autumn learning, all in one place 
:: over 75 engaging activities and lesson plans that your children will love
:: 50 pages of printables that make teaching so easy
:: weeks worth of learning all planned for you, to take you right through the season
CLICK HERE TO DOWNLOAD YOUR AUTUMN PRINTABLES NOW!