A favourite spot in our garden classroom, this fairy garden design is great for promoting magical imaginary play, and a delight for the senses.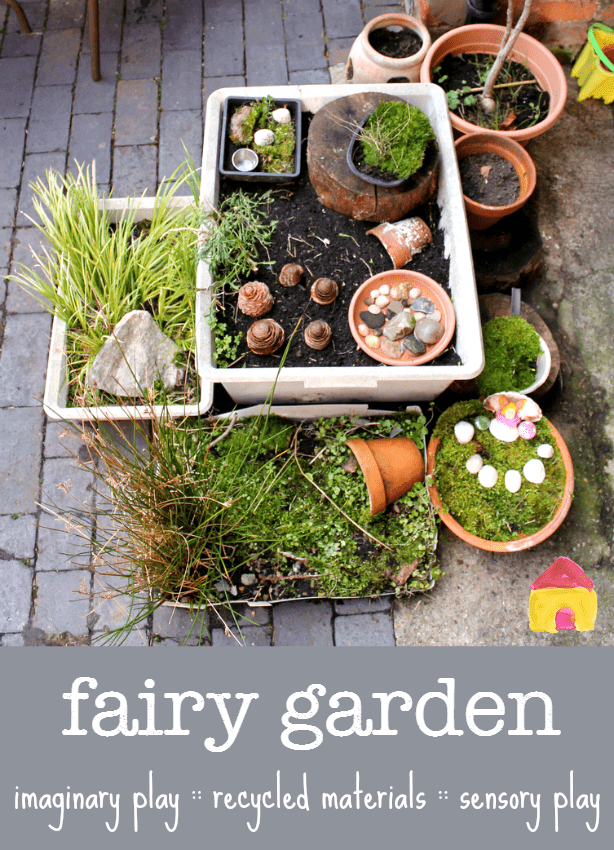 How to make a fairy garden for magical imaginary play
We've had this imaginary play section in our garden classroom in one form or another for about five years. We started with one tub as a dinosaur land, and we've added new sections as the children have grown older and their interests have changed.
Want to come and have a little tour, and I'll tell you the special aspects of it that we love and that are the best for promoting play?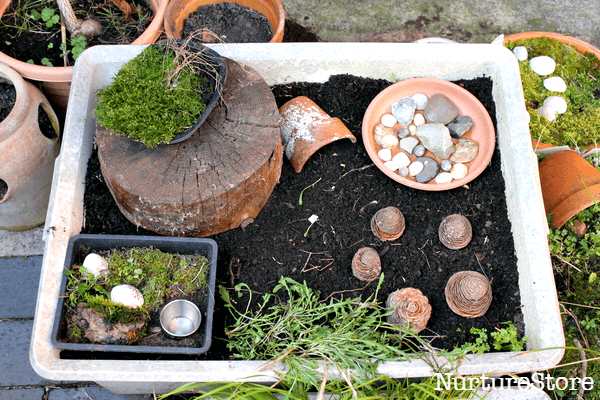 You can see from the photos that the area is made up of several different tubs, all fitting together to make the imaginary land. This has happened partly by chance, as the children bring in new ideas and materials. My daughter made one of the gardens at an event she went to, and the saucepan full of moss happened naturally after it was left out over the winter! The others are plastic under-the-bed storage boxes (with drainage holes stamped in) and plant pots.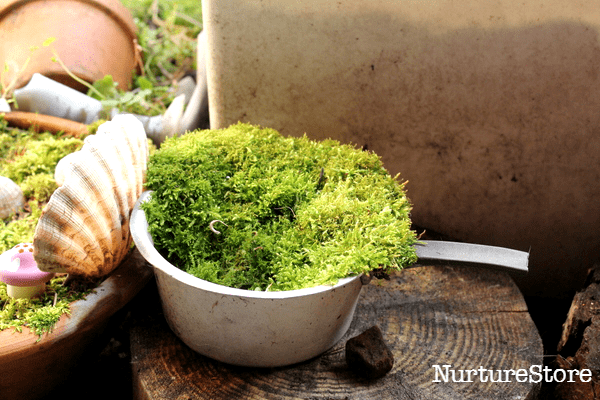 The higgledy-piggledy nature of the garden is wonderful. It makes it so interesting, with lots of secret nooks and crannies. It also gives a group of children space to all have their own zone when they're playing. And it means areas can be revamped and replaced over time to suit how everyone wants to play, or what is growing well or needing fixing.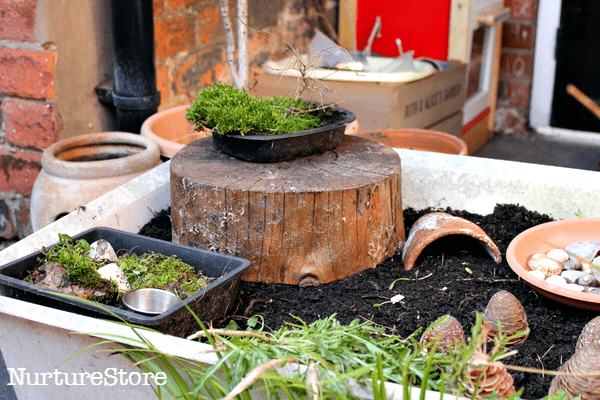 The fairy garden is accessible from all sides, so we can have several children playing at once. Most of the tubs are filled with compost, so we can include lots of real plants in the garden, making it rich sensory space and letting the children get right in with the natural world as they play.
Some items you might consider for your own fairy garden might be:plant pots for houses :: tree stumps :: moss :: shells :: fir cones :: plant saucers or little pots for pools :: pebbles :: pieces of bark :: gems and jewels :: little fairy dolls or other characters :: pieces of slate :: grasses :: herbs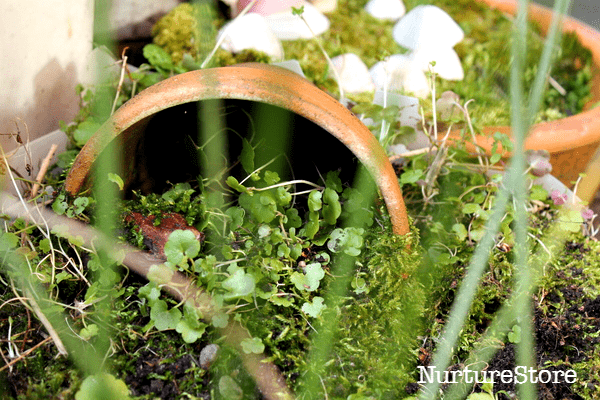 We've included as many different materials as we have been able to collect. The total cost of making our fairy garden is zero – everything has been borrowed in from other parts of the garden, collected on nature walks, or recycled from the kitchen or playroom.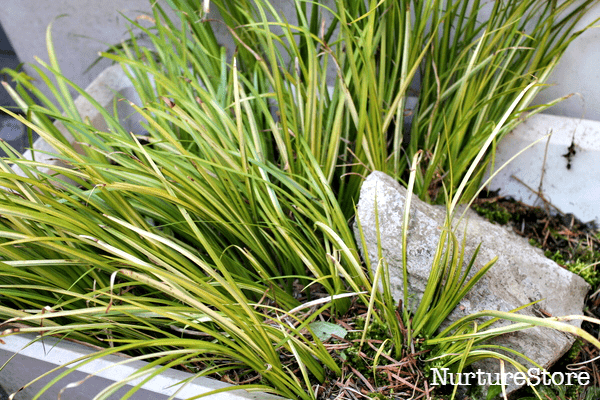 We have a mix of territories making up our fairy kingdom. They're all different sizes and at different heights, which I think makes the space more interesting and prompts more play and storytelling.
Above is the original dinosaur world, with grasses and a big rock.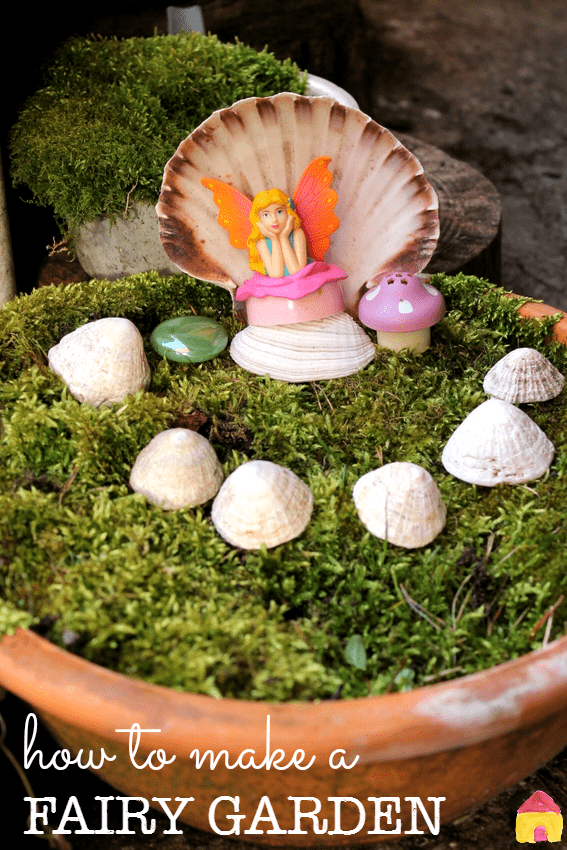 We have a fairy queen on a shell throne, with a ring of shell seats for her fairy council. (if you like fairies too, you might like our
indoor fairy land,
fairy wands
and
paper fairy houses
.)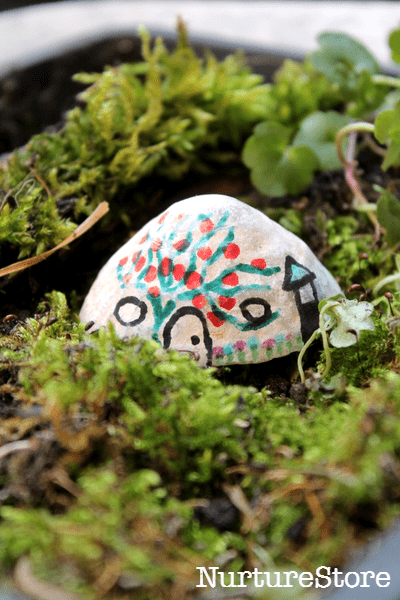 There's a little village of shell houses (
see how to make them here
)…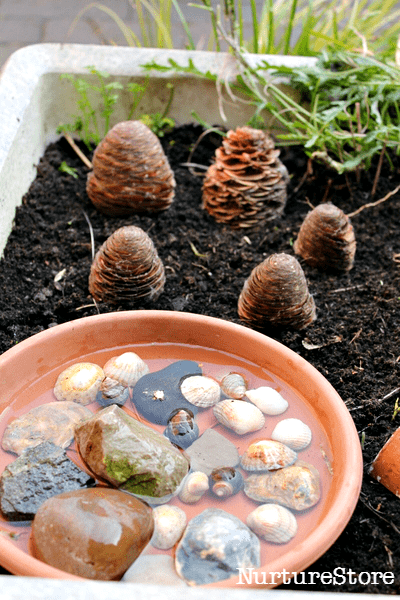 fir cone standing stones for special ceremonies, and a shallow pool of water filled with pebbles and shells.

Do you have a fairy garden in your outdoor play space? How did you make yours?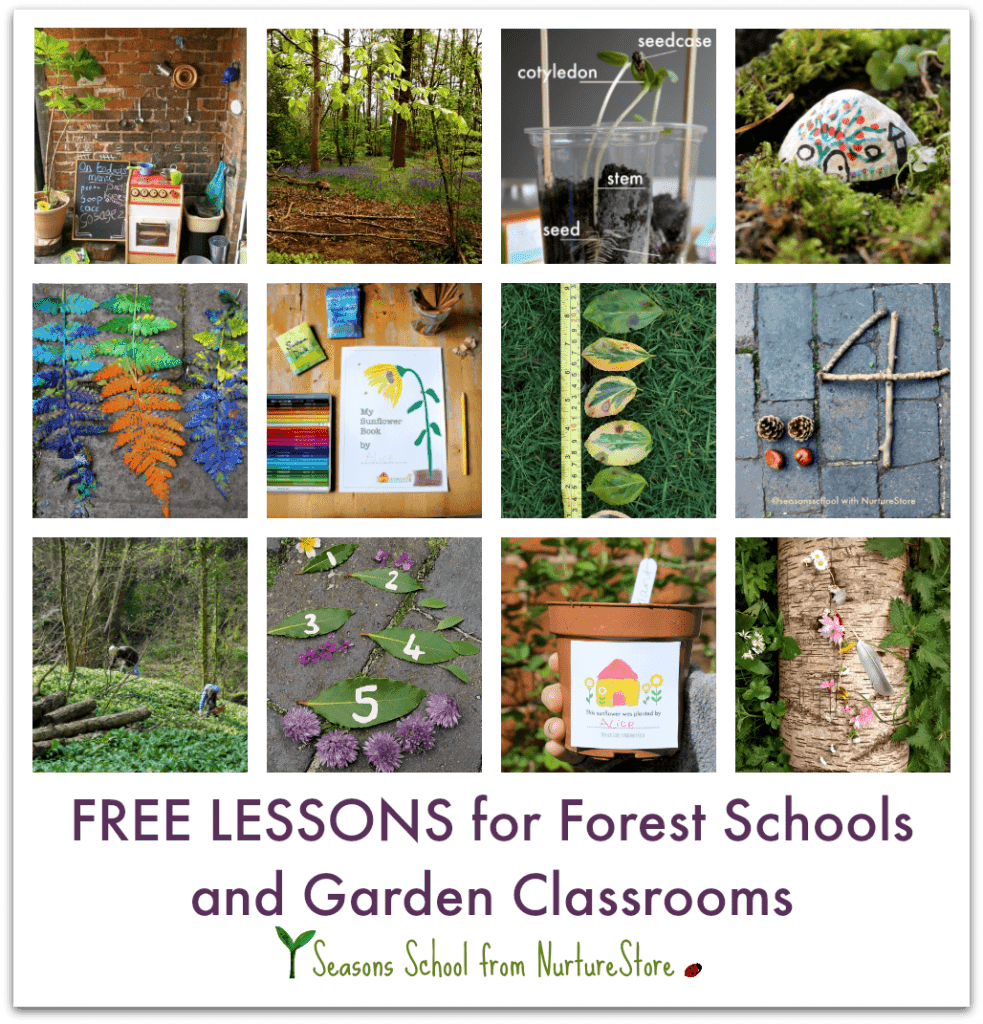 Free Forest School and Garden Classroom resources!
Join my weekly email service and I'll send you FREE printables, lesson plans, and activity ideas that you can use with your children in your forest school and garden classroom.
Seasons School is NurtureStore's year-round program of living and learning with nature. Our activities and resources focus on hands-on, nature-based learning that connects children with the natural environment.
If you're looking for nature study lessons, arts and craft projects, campfire recipes, foraging ideas, outdoor math and literacy activities, outdoor games, and ways to explore forests, gardens, and outdoor spaces - think of NurtureStore as your forest fairy godmother!
Whether you're in a forest school or outdoor classroom, running a school gardening club, bringing nature lessons into your class, home educating with nature, or wanting to connect with the great outdoors at the weekend, you will love the Seasons School ideas.
Pop your email address into the box below and I'll send you your free resources.
---
By subscribing, you consent to our use of your personal data as per our Privacy Policy, which includes agreeing to receiving interest-based email from us.
---