Rebecca from CraftCreateCalm joins us today with a printable shell counting game.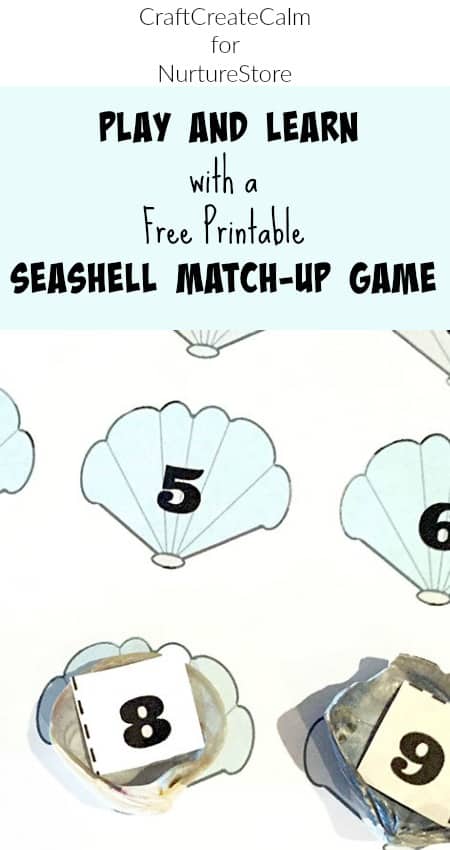 How to Teach Numbers and Counting with Shells
---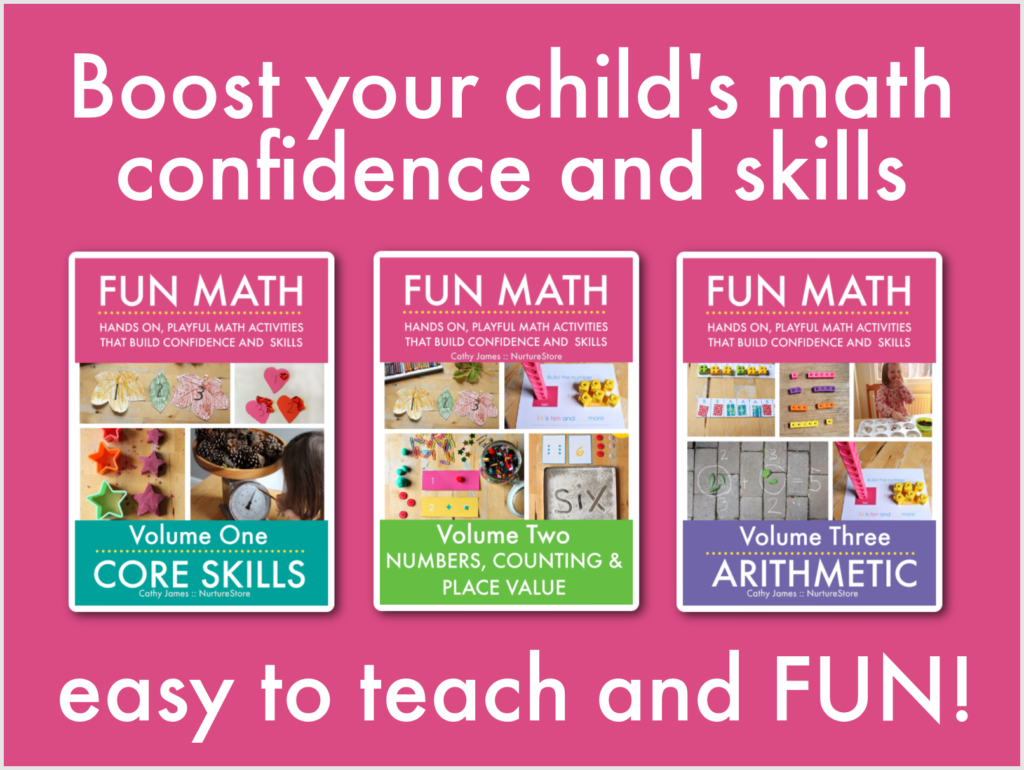 Magic Fun Math lessons!
Fun Math is an easy to teach, highly effective math curriculum based on play and hands-on learning.
All the lessons are designed to be fun and memorable, so children enjoy their lessons and feel confident.
The lessons are easy for teachers and parents to use, in class or at home.
These are the magic lessons where children really see, understand, and can apply math concepts. They are especially suited to children who don't like math, lack confidence, don't understand math the way they are currently being taught, or just want to play.
SEE MORE AND TRANSFORM YOUR MATH TEACHING HERE.
---
Warm days always make us want to go to the beach, and even though my two preschoolers already have a bucket of pretty rocks and shells, they can't help but add to their collection every time we make the trip.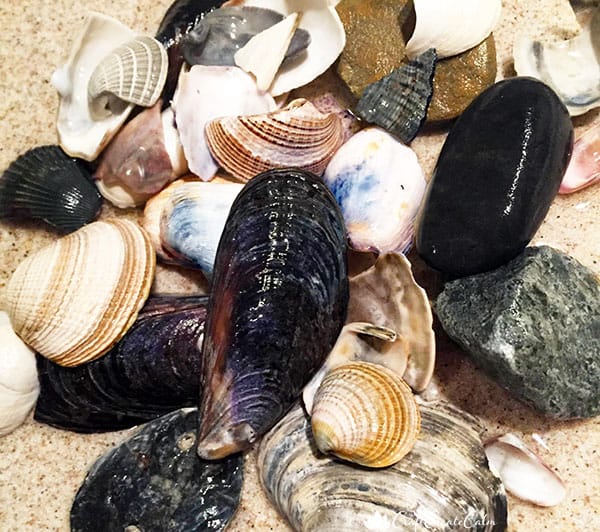 I use shells for art projects and learning activities throughout the year. My tweens and preschoolers had a great time last summer making bright framed shell wall art, and we've given the grandparents a home-made stepping stone for their rose garden.
Today I'm sharing one of our favorites games made of shells! Shell Number Match-Up is a printable game mat you can use to teach your kids ages 2-6 number recognition, counting, number order memory, and even early math skills!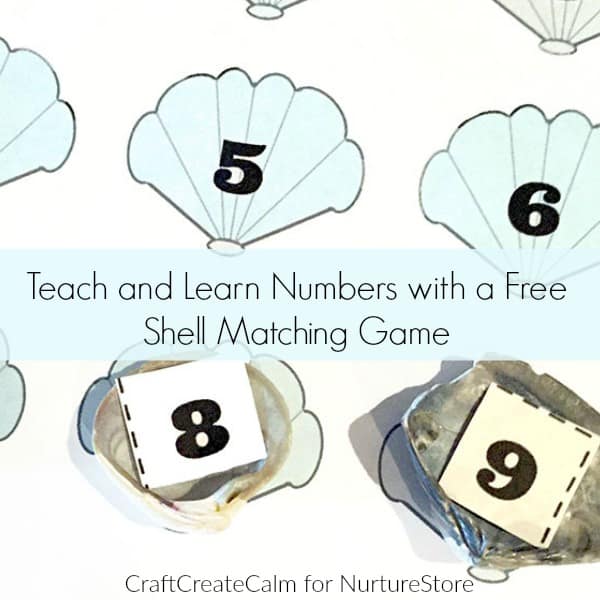 What you'll need for shell number match-up
Setting up to play shell number match-up
Fill a bowl or sink half way with water and add a few drops of dish soap.
Kids can wash the sand off of the shells in the soapy water.
Rinse and dry the shells.
Have your child (or your can do this step if those little hands aren't quite ready for cutting with scissors) cut along the lines of the number sheet to separate each number.
Glue one number to the inside of each shell. You may need to trim the paper around the numbers for smaller shells. Let dry.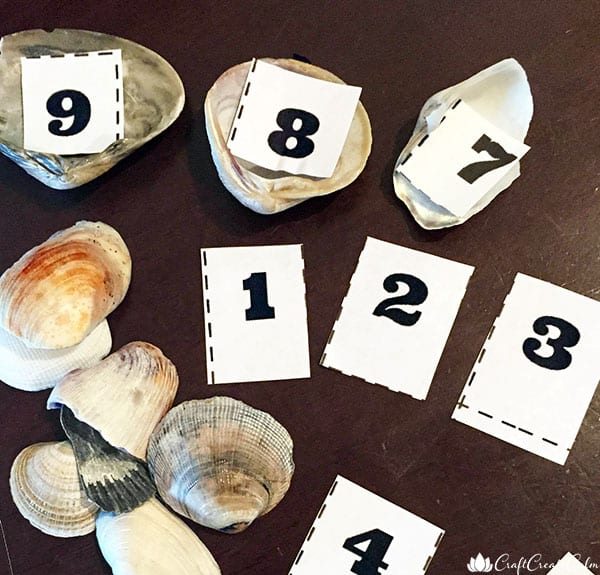 Playing shell number match-up
Now we're ready for the fun part of this activity; playing the game! There are three ways to play Shell Number Match-up.
1. Number Recognition
Set the shells out number side up next to the seashell printable game mat. Ask your child to match each real seashell with the same number on the game mat. Mix the numbers up and take turns to make it a two person game!
2. Number Order and Memory
Set the shells number side down on their corresponding shell number on the game mat. Call out numbers 0-9 and see if your child can remember where they are on the mat. Leave found number shells facing up to show number order as the game progresses.
3. Add it Up Match-Up
Older preschool to kindergarten-aged children may be ready for basic math skills. Set out two numbered shells such as 1 and 2. Ask your child to find the sum on the shell game mat.
We have so much fun playing Shell Number Match-up together, I hope you do too!
Rebecca is a mom of four, homeschooler, coffee lover and SAHM turned WAHM. She shares learning activites for ages preschool to tween, household management tips and crafts/diy at CraftCreateCalm.
Find more great learning activities for kids by following CraftCreateCalm on Pinterest! 

---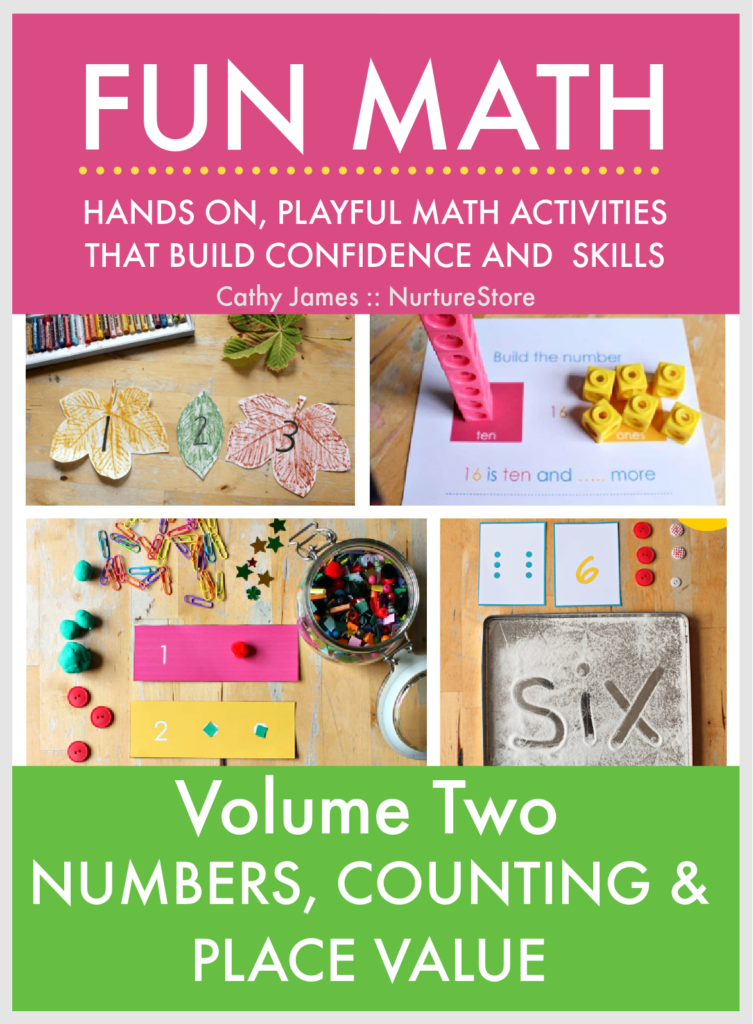 Transform your teaching with Fun Math
The Fun Math series gives you a math curriculum that is easy to teach and highly effective.
Children love these lessons because they are engaging and fun.
You'll have a clear set of ready-made math lessons and activities that are simple to lead using our step-by-step lesson guides, and which children really understand.
Be the best math teacher and boost your children's confidence and skills with Fun Math.
See more and transform your teaching here.
---