Can you feel the murmur of spring in the air? It's nearly here! Here are seven important garden activities for March that you can use with your children to get your garden classroom off to a great start this year.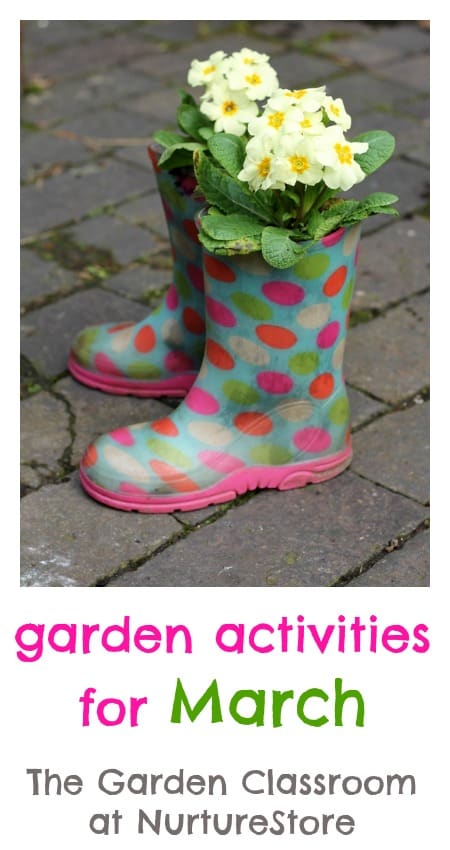 Garden activities for March
#1 :: make a garden plan
Now is the time to finalise your plans for what you want to grow in your garden classroom this year. Yes, of course you can change your mind and add things later in the seasons, but having a basic plan at this stage will save you time, money and energy. Take a look at these ideas to help you plan your garden, and keep your plan safe inside this free Garden Journal, so you can refer back to it all year round.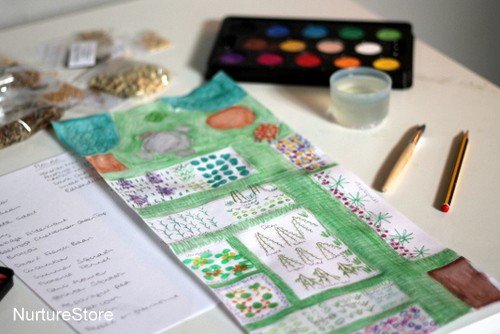 #2 :: order your seeds
If you haven't already, it's time to get your seeds ready for this year's growing.  Write your wish list of everything you'd like to grow this year, using the garden plan you've made as your guide. Dig out any seeds you harvested from your garden last year and see what you have. Ask friends, neighbours or parents at your school if they would like to do a seed swap: everyone can order  a few packets, which often have many more seeds in them than you'll need for a single garden, and you can share them out. See if your local allotment association or gardening club places bulk orders that you can join in with. And support local, organic and independent suppliers – I've just had super, great value, deliveries from Seed Parade and Sarah Raven.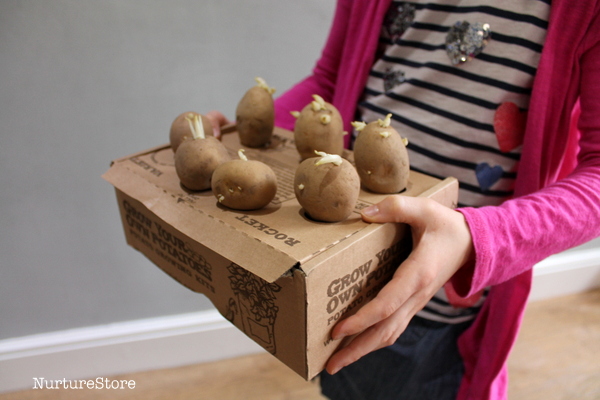 #3 :: chit your potatoes
If you're planning on growing potatoes this year, you'll need to start them chitting. Follow the growing guide over at Grow Your Own Potatoes, and register for their free potato growing kit.
#4 :: feed your soil
Give your soil a boost now with an application of feed, fertilizer or compost. As you dig over the soil and plant in it, you'll help work this extra nutritious material into the ground, which will give your plants a boost when they start to grow.
#5 :: spring clean
A fun job for kids is to spring clean all the plant pots and seed trays, ready for planting. Set up a big bucket of water and let them give everything a good wash. This helps to remove any pests and diseases that may be hanging around from last year, so this year's seedlings get off to a healthy start.
#6 :: start germinating
Seeds that can be planted in March include peas, sweet peas, sunflowers, spring onions, beetroot and salad. Check out this comprehensive planting guide for a full list of what you can plant in March. Growing things from seed is such a valuable activity to do with children, as they get to see the full cycle of a plant from germination through to harvest.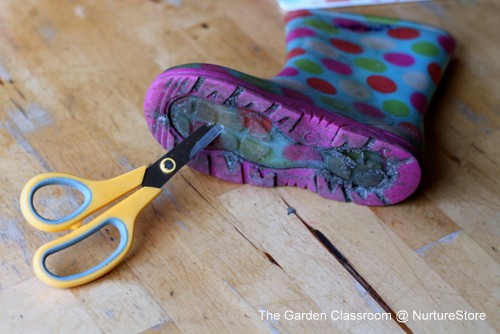 #7 :: add some zing!
After months of cold, grey skies it's time to add some zing! These Wellington boot planters are so fun and really easy to make. Take an old pairs of boots, make a few drainage holes in the bottom and fill with compost. Then add some pretty flowers. Winter panies or primroses are great to plant in March. Pop the blooming Wellingtons on your doorstep and give all your visitors a smile! I love these planters because they really announce the fact that my garden is a garden classroom where children are at work.

More creative ways to use nature to inspire learning
Fill your year with hands-on, creative learning inspired by nature. Click through to see our Garden Classroom resource and get your free Garden Journal.