One of our favourite summer treats is homemade ice cream cornettos. Great fun to make and ever so yummy.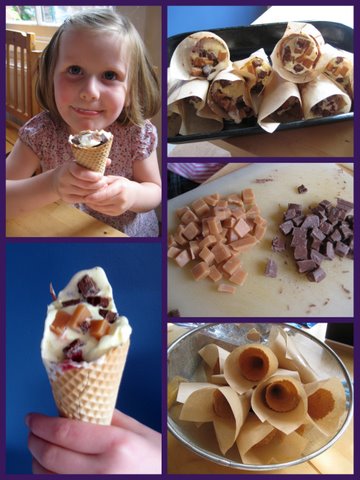 To make some you will need: wafer ice cream cones, soft scoop vanilla ice cream, raspberries, icing sugar, chocolate, fudge
Keep the ice cream in the freezer until you need to use it – you don't want to melt it and re-freeze it.
(The quantities given below made 10 small cones, with some tasting and nibbling as we went along)
Chop up 100g chocolate and 100g fudge into small chunks.
Melt 200g  chocolate in a bowl over a pan of boiling water.
Whizz 100g of raspberries and a dessert spoon of icing sugar to make a raspberry sauce.
Wrap each cornet in a strip of greaseproof paper, held in place with sticky tape.
Paint the inside of each cornet with melted chocolate using a pastry brush. Make sure you get a nice pool of chocolate in the bottom  so you get a chocolatey treat at the end of your cornet.
Wait until the the chocolate has set  inside the cornet (about 5-10 mins)
Fill with layers of ice cream, raspberry sauce, fudge and chocolate. Work quickly so the ice cream doesn't melt. Fill over the rim of the cornet, inside the greaseproof paper for that authentic cornetto style.
Pop back in the freezer for a little while so the sauce can set, then remove the greaseproof paper and…
Enjoy!
You can't beat home made cornettos for a great summer treat.