The girls and I were invited to join Wild Rumpus for a trip to The Spellbound Forest at the weekend. Created by the team behind the Just So Festival, The Spellbound Forest weaved it's magic through Delamere Forest in Cheshire, bringing to life four English fairy tales  with a mixture of story telling, theatre, music, dance, woodland crafts and toy making. The event was like a forest school on a grand scale, full of inspiration and ideas to bring back and adapt to keep the outdoor story telling alive at home.
Forest school ideas from The Spellbound Forest


Go outdoors!
So your outdoor setting might not be quite as magnificent as a huge forest, but there mere fact that the children are stepping outside brings new elements to their play and learning: fresh air, closeness to nature and the excitement of being some where different.


Bring the inside outdoors
Whatever play stations you create inside can work outside too, perhaps with a little adaptation. The Spellbound Forest had a dressmakers, a dressing up ball and a feast outdoors, full of interesting props for the children to explore. The kids were excited to find unexpected and quirky objects ready for them to play with. What elements of your indoor role play could you transfer outdoors?


Imagine
What aspects from your favourite stories could you recreate outdoors so the children can become the characters from the tales themselves and let their imaginations soar? Give them pebbles and breadcrumbs to be Hansel and Gretel. A red cloak and a basket of provisions to be Red Riding Hood. Build a boat from crates or even a washing basket for The Owl and the Pussycat.


Add surprises
What could you include in your garden or playground or woodland area to give the children a surprise? An unexpected spectacle to get them wondering and talking? Even a tiny outdoor space can be made magical with a few added touches to re-invent the outdoor space each week. For children a little reluctant to venture outdoors it gives them a incentive to head out and explore, to find this week's hidden treasures.


Use what you have
The Spellbound Forest team are masters at using the natural spaces and props the woodland provides. Just the right clearing next to a path was transformed into a dining room, and the overhanging trunk of a tree became a horse. Audit your outdoor space, look at your garden with fresh eyes and see what your setting offers. And if you can't see the possibilities – ask the children.


Play with scale
Create a breathtaking spectacle in your forest school area by making the most of the physical space. Play with size and create surprises. In a tiny space one huge prop can make a big impression, or go to the other end of the scale an create a tiny fairy garden.


Add words
Make your forest school area a print rich environment. Include quotes and snippets from the stories you are reading. Take literacy outdoors and provide blackboards, chalks, clipboards and pencils so the children can make their mark too.


Involve the children
The Spellbound Forest gave the children so many hands on opportunities to join in the story telling – helping to make Tattercoat's ball gown, using willow and twig wands to cut through overgrown paths, making hobby horses from sticks from the forest floor so they could ride off to the Grand Ball. It's good to listen to stories but even better to be part of the tale itself.


Consider the possibilities
What could you do in your outdoor space to fire the children's imaginations? What quirky touches could you add? Borrow some inspiration from The Spellbound Forest and bring forest school elements to your setting.
More ideas from the Just So Festival:
:: exciting outdoor play spaces
The Just So Festival 2016 will run from 19 – 21 August 2016. Tickets are on sale now with Early Bird prices of £110 per adult and £45 per child for weekend tickets. (They'll be £125 per adult and £50 per child after early birds have sold out). Day Tickets are also available, and under 3s are free.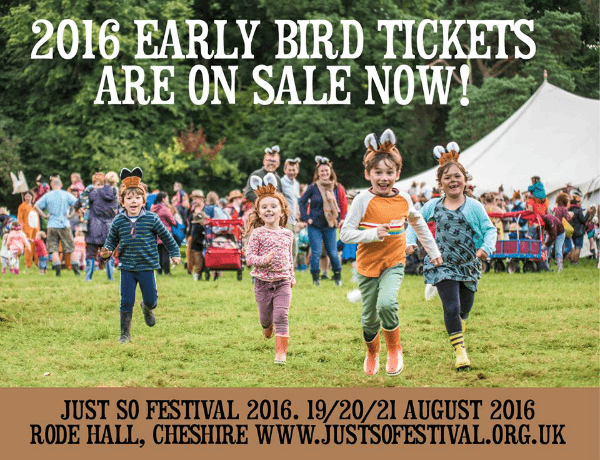 Disclosure: We received free press tickets to attend the Just So Festival.