After our garden audit we're gearing up to make more use of our outdoor space now the summer is on the way. Here are five quick and easy ideas we're using to take our literacy outside.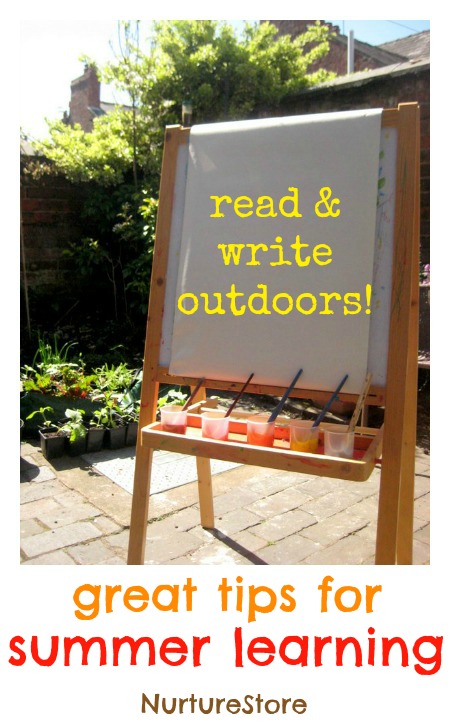 Promoting literacy outside
---
This page contains affiliate links from which we earn commission.
As an Amazon Associate I earn from qualifying purchases.
---
1. Go inside out:
I bet you have plenty of writing materials in your inside playspace but how easy is it for the children to get their hands on things to make their mark when they're outside?
Where could you set up a writing station in the garden? A tub of you pencils on a picnic table. An easel in the shade of a tree. A roll of paper fastened against a wall. Pretty much any way you promote writing inside works out of doors too.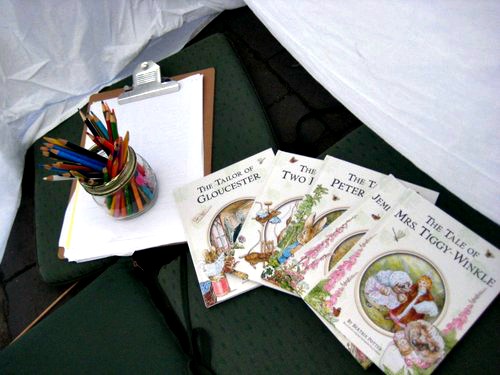 2. Paint a blackboard: A pot of blackboard paint is a worthwhile investment and can transform a plain old garden gate or shed door into a place children can make their mark.
You could start them off by drawing a tree trunk or some flower stems and seeing what pictures they add. Or make it an observation station and ask the kids to draw some of the bugs and butterflies they spot around the garden.
Chalk works just as well on walls or the floor of course, and is easily washed away with rain or watering cans, leaving a fresh canvas for the next day's drawings.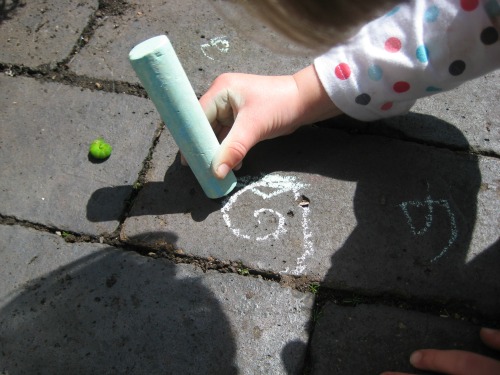 3. Plain old water: One activity I remember from my own childhood, and which my kids love too, is painting with a bucket of water and a paintbrush on the patio floor.
Using paint pots with lids helps to avoid spills and providing paint brushes in an assortment of sizes, including big decorators paint brushes, invites different styles of drawing and writing.
4. Clipboards: A practical way to promote literacy outside is to have a stash of clipboards and pencils piled up near the door, ready for action. The boards provide a sturdy base for writing and so are easily taken out and about in the garden, to the beach, the woods or wherever you're playing outside. No Time for Flashcards has a great DIY travel clipboard you could make.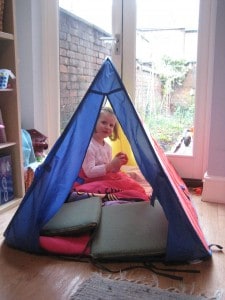 5. Story tents: As you'll be thinking of providing somewhere shady for the children to keep cool, why not transform your shelter into a story tent?
Add some big cushions for lounging on and a pile of books. Choose some great outdoor themed stories and also information books on plants and animals, so the young scientists can read up on the nature they observe outside.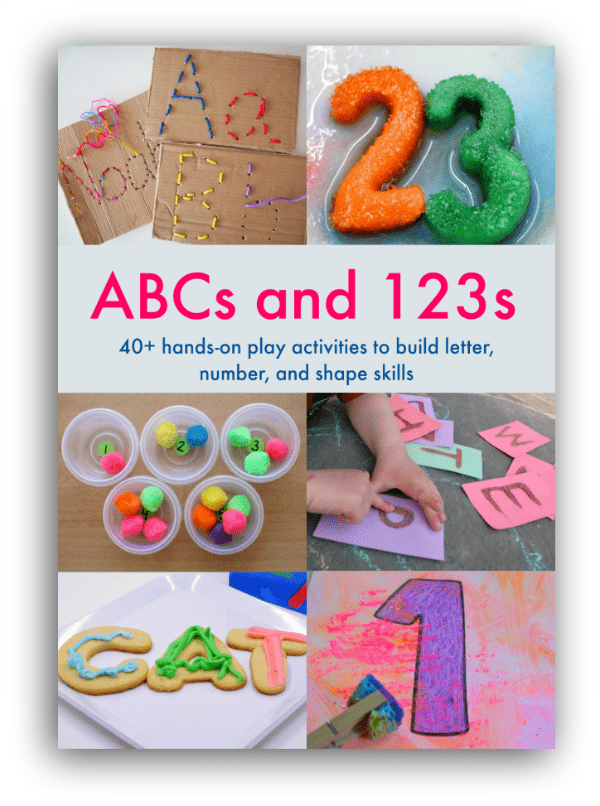 My guide to ABCs and 123s
Do you have a young child who is learning their ABCs and 123s, and do you want to make their learning fun? Our ABCs and 123s resource of mulitsensory, play-based letter and math activities is just what you need!