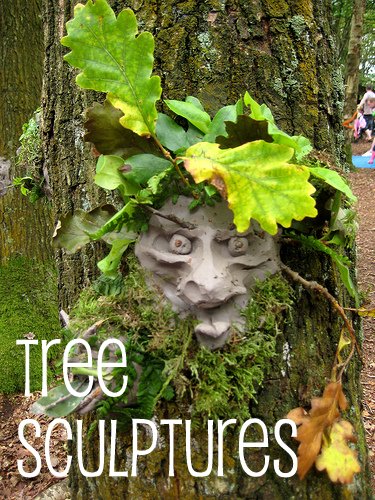 An exciting thing about the Just So Festival was there was always something fabulous waiting around the next turn of the forest path. There were lots of large scale events such as a beach and a Mad Hatter's tea party, but if you kept your eyes peeled there were lots of little secrets to discover too.
These Green Man faces were spotted by L on the trunks of some oak trees. Wouldn't it be wonderful to try some with your children? These were made with clay but a thick mud might work too. With autumn on the way, think of the beautiful coloured leaves you could use.
You could make them in the garden or play ground, or take the children on a field trip to the forest or park and create some installation art for others to discover long after you had gone back home.
Have you ever made natural sculptures with your kids?
Read our other Just So Festival posts:
:: exciting outdoor play spaces
And if you like the sound of the festival you can book tickets for the 2012 Just So festival.
Disclosure:our tickets were free but all opinions are our own 

happily shared with made by little hands and craft schooling sunday