Summer is on the way! It might not exactly feel like it but before we know it the warmer weather will be here and the children will be spending more and more time playing outside. Is your garden ready for them? Maybe it's time for an Outside Play Space Audit?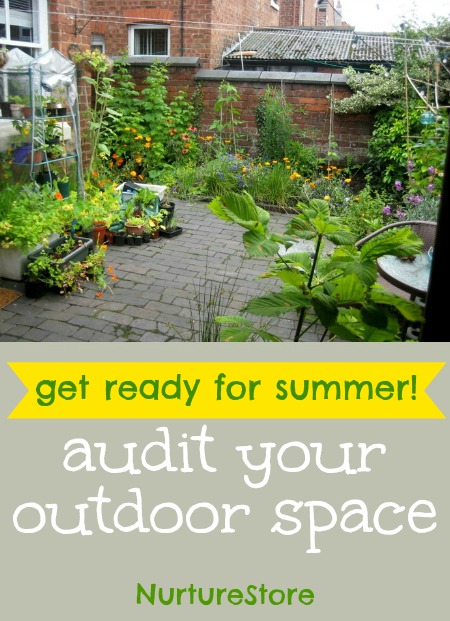 How to audit your outdoor play space
Dream big
What would be on your wish list for your outside play space? Think about the activities you enjoyed last year and other outside spaces you've visited, where the children have had a wonderful play time. What ideas can you borrow from your neighbours, the parks, the beach, the forest? Ask your children to imagine the best garden ever and perhaps draw some ideas for you.
Back to reality
Of course, you have to work with what you've got, and space and budget are huge factors in what you can achieve, so evaluate your dreams based on what's practical. You might be surprised on how much you can include though if you plan thoughtfully. We have a tiny garden but have spaces for messy play, ride-ons, dens, sitting and eating out, growing our own fruit and vegetables, writing and counting, and construction play.
All areas covered?
Try and add in some new play opportunities to your outside space this year. Think about the whole range of play that takes place inside your home and see if you can make them available outside too. Our dinosaur world and fairy garden give us some small world play. Planting seeds and growing vegetables takes science outside. Setting up a Creation Station lets you do arts and crafts outside, such as big scale messy play. And a set of story stones helps you include language and story telling play.
A riot for the senses
Think about the garden from a sensory perspective and see if any aspect is missing at the moment. Do you have beautiful flowers and art, nice smelling herbs, wind chimes or a musical sound wall, lots of natural textures to feel?
Take action
Once you have your plan you can start to make changes over the next couple of months to put them into action. Starting seeds off now, rather than buying fully grown plants later in the year, can work out much cheaper and it's a great learning opportunity for the children. You can start to gather any new materials you want to include and put the word out with friends and neighbours to source any equipment you'd like.  Just think how glad we'll be, come the long summer holiday, to have a wonderful play space right outside our backdoor.
More creative ways to use nature to inspire learning
Fill your year with hands-on, creative learning inspired by nature. Click through to see our Garden Classroom resource and get your free Garden Journal.