This easy kids fort for the backyard is a super space for kids to play in. It's really easy and inexpensive to make, and is such a fun base for playing, relaxing and reading. Here's how to make it, along with some extra ideas to fill it full of play and learning.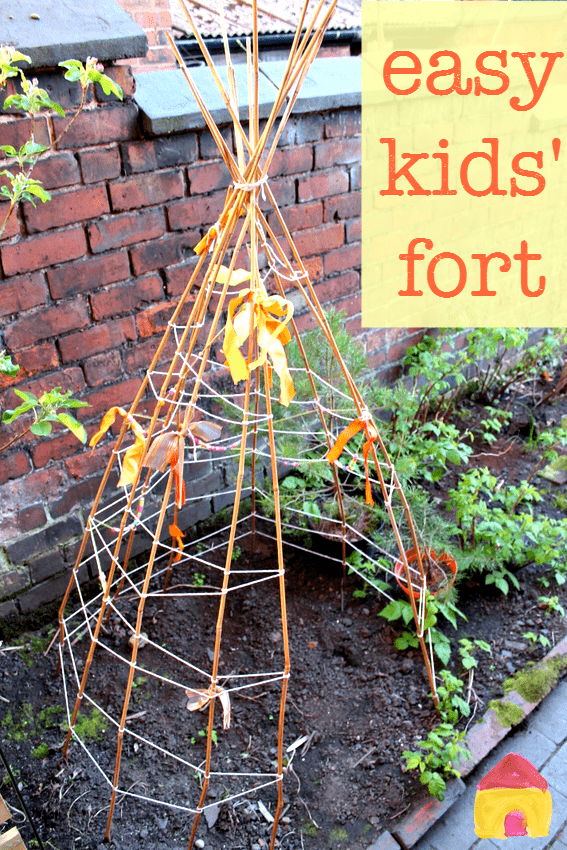 Easy kids fort for the backyard
Do your children like to make a fort? My girls love to make dens, inside and out. They really enjoy the construction of them, and also having their own little space, with no grown up allowed! This garden teepee is really easy to put together, so your children can help build, or do it all themselves, and you can easily move it around your garden classroom to new locations if you want.

---
This page contains affiliate links from which we earn commission.
As an Amazon Associate I earn from qualifying purchases.
---
The fort is made from bamboo canes. These are available from garden centres and online – you can get them from
Amazon.com
 and
Amazon.co.uk
. Ours were home grown in my parents' garden. You can get the canes in different lengths, but somewhere around 5-6 feet is about right. We used 11 canes to make our teepee, but you can vary the height and width of your fort to suit the number of children who will be playing in yours.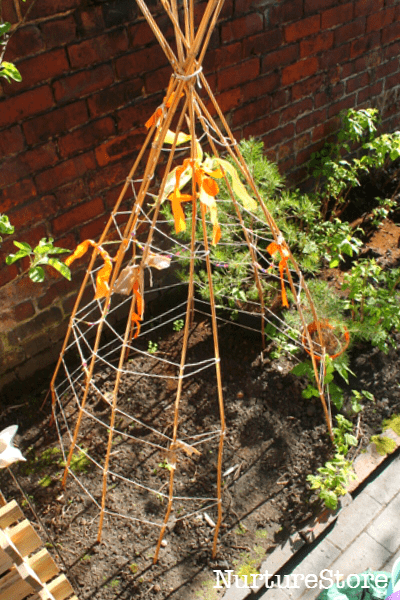 All you need to do is space out your bamboo canes in a basic circle shape, fairly evenly spaced, with a 'door' left at the front. Push the canes down into the ground to anchor the fort. You can build on soil, grass or sand, so you can locate your teepee in a spot that suits your play space.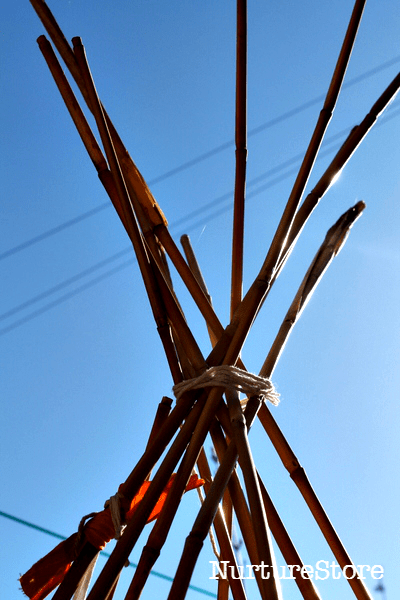 Tie the tops of the canes together with garden twine or thick string to create the classic teepee shape.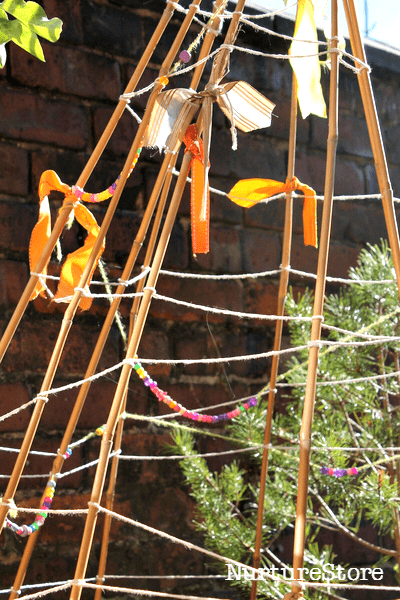 Then use garden twine to create a wall surrounding your den. Knot the string to one for the canes, and then weave it in and out, around the teepee, remembering to leave a space for your door. Once your wall is complete, knot the other end of the string to a cane so it doesn't all unravel.

Adding the finishing touches
This bamboo teepee is a great way to add some height and structure to your garden, even before the other plants have begun growing.
You can thread on colourful beads and tie on ribbons to make your den look amazing.
You can also grow plants up your teepee; having the fort double up as support for climbing plants, and a fantastic, hidden place to play. Plant a pea or bean seedling at the foot of each cane and let them scramble up the walls of your fort. You can even sit inside and pick you own snacks! Nasturtium and sweetpeas are also great choices to cover your fort frame.
Including added extras
You can boost the play factor of the den by:
:: adding a little carpet and cushions to lounge on
:: including pots and pans and sticks for a pretend campfire
:: providing pen, pencils and our free Garden Journal, for outdoor doodles, sketches and storywriting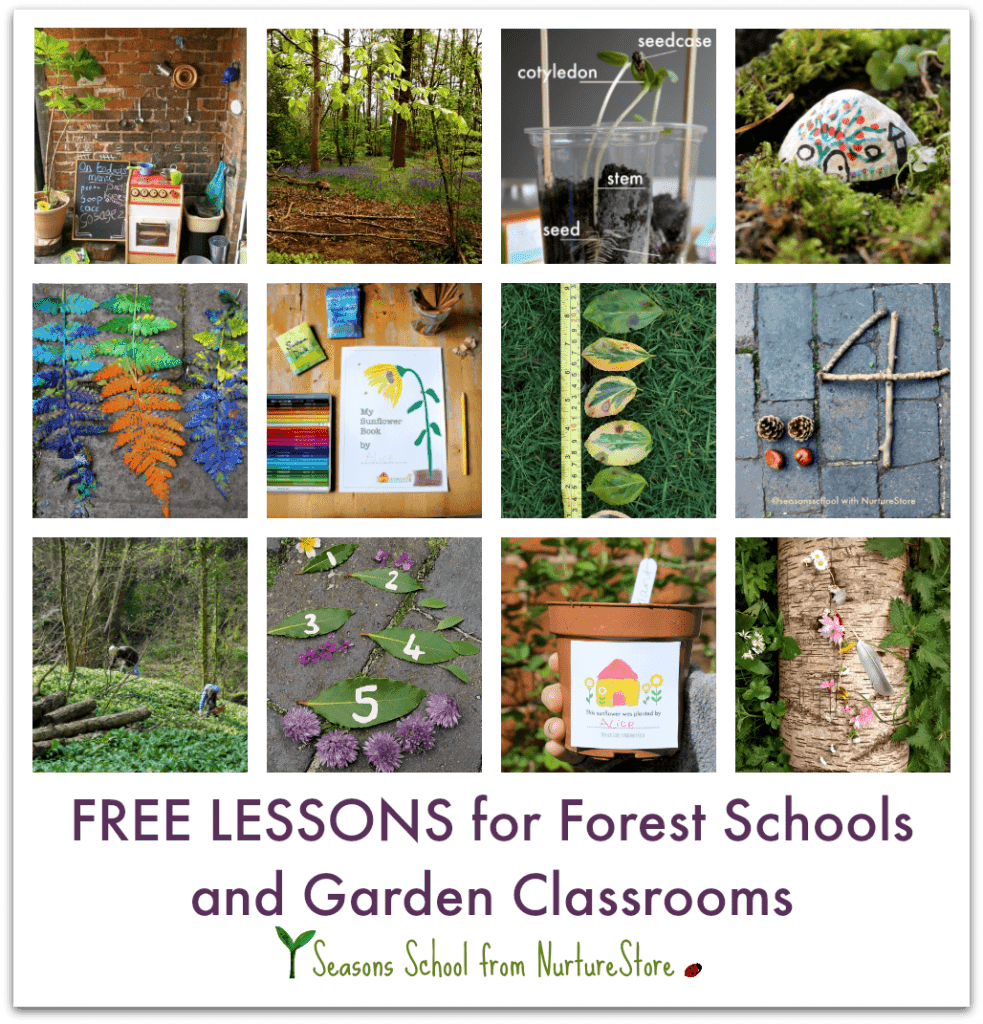 Free Forest School and Garden Classroom resources!
Join my weekly email service and I'll send you FREE printables, lesson plans, and activity ideas that you can use with your children in your forest school and garden classroom.
Seasons School is NurtureStore's year-round program of living and learning with nature. Our activities and resources focus on hands-on, nature-based learning that connects children with the natural environment.
If you're looking for nature study lessons, arts and craft projects, campfire recipes, foraging ideas, outdoor math and literacy activities, outdoor games, and ways to explore forests, gardens, and outdoor spaces - think of NurtureStore as your forest fairy godmother!
Whether you're in a forest school or outdoor classroom, running a school gardening club, bringing nature lessons into your class, home educating with nature, or wanting to connect with the great outdoors at the weekend, you will love the Seasons School ideas.
Pop your email address into the box below and I'll send you your free resources.
---
By subscribing, you consent to our use of your personal data as per our Privacy Policy, which includes agreeing to receiving interest-based email from us.
---