Bring on the sunshine with these summer sensory play ideas for children.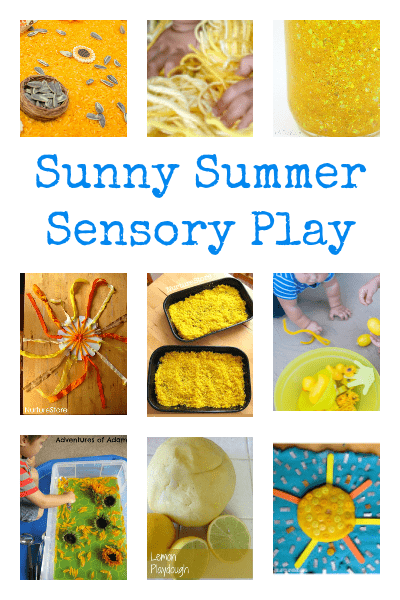 18 sunny summer sensory play ideas
It feels like summer is already here in our part of the country this week. Blue skies and sunshine have been putting us all in a good mood.
Whenever a new season rolls around I like to switch around the books, art materials and play materials we have on offer, to match the time of year.
I think it's really important for children to have a connection with nature and to follow the cyclical rhythm of the year. And I also know that refreshing what we have available can spark new ideas, boost creativity, and generally get children excited to explore and learn.
So, to herald the coming summer months, here's a super, shiny new collection of ideas that celebrate all things sunny and sensory. You'll find summer sensory play ideas that are great for babies, toddler and beyond so everyone can join in and start exploring.
Summer sensory play ideas for children
:: Homemade sunshine play dough
:: Homemade citrus-scented lemon play dough
:: Yellow paintings with homemade lemondrop paint
:: Lemon-scented summer sensory rice
Get free resources for your children!
Did you know you can receive free weekly activity ideas, seasonal resources, free printables and extra bonuses from Nurturestore? You'll have creative learning ides for your children all year round!
Sign up in the box below and we'll send you your freebies!
---
* By subscribing, you consent to our use of your personal data as per our Privacy Policy, which includes agreeing to receiving interest-based email from us.
---