Here's a brilliant collection of easy to make busy bag ideas for babies, toddlers, and preschool age children.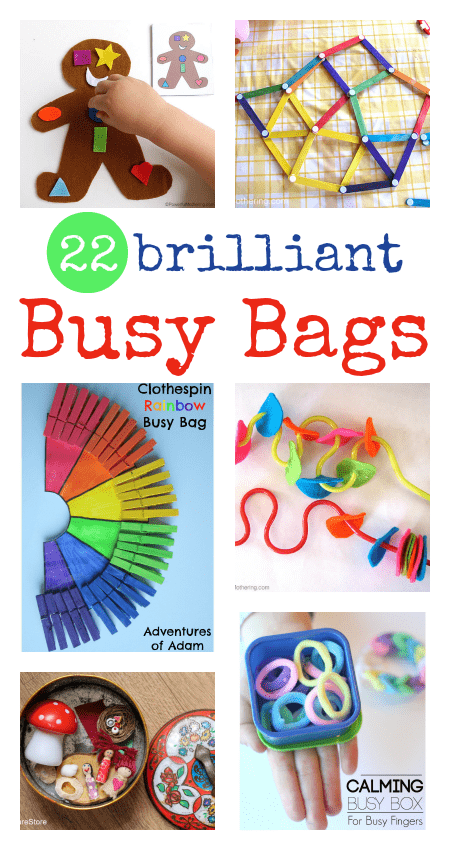 22 brilliant busy bags for babies, toddlers and preschool
Have you heard about busy bags? They're a brilliant idea that you can use when you need a quick and easy play activity.
The basic idea is to:
take a bag or other container
fill it with some interesting materials for your child to explore: things that are safe for them to play with, interesting, inexpensive, educational
keep your busy bag handy for whenever you need a play idea in a hurry
If you put together a few of them, you'll have a library of busy bags on hand for when you have a play emergency.
So, when you need to make dinner, or keep a toddler busy while you change the baby's nappy, or when you're on a car journey, or it's been raining all. day. long. you can pull out one of your busy bags and you have an instant activity.
You can use busy bags for all sorts of fun play, for working on important milestones such as developing fine motor skills, and to start to learn about numbers and letters in fun ways.
Easy to make busy bag ideas
:: Make a shape gingerbread man busy bag
:: Fine motor skills straws busy bag
:: Calming busy bag for busy fingers
:: Clothes peg letter match busy bag
:: Make a rainbow busy bag
:: Colour match clothes pins busy bag
:: DIY car track busy bag
:: Pompom fine motor skills busy bag
:: Craft stick construction busy bag
:: Travel engineering busy bag
:: What's in the Story Tin? busy bag
Get free resources for your children!
Did you know you can receive free weekly activity ideas, seasonal resources, free printables and extra bonuses from Nurturestore? You'll have creative learning ides for your children all year round!
Sign up in the box below and we'll send you your freebies!
---
* By subscribing, you consent to our use of your personal data as per our Privacy Policy, which includes agreeing to receiving interest-based email from us.
---