This handprint sunflower craft is easy and so fun to make, and looks glorious!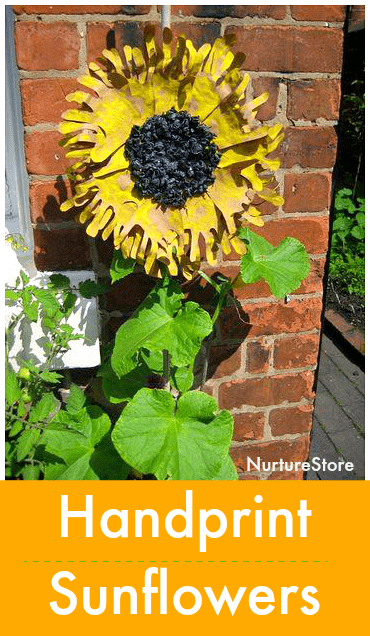 Easy handprint sunflower craft
Click here to download your copy of the Sunflower School curriculum and printables.
I do love handprint crafts, and this one is glorious. These handprint sunflowers look great as an individual piece of art – imagine a whole wall filled with them! – and they are also the perfect thing to place at the top of your sunflower height chart.
For this project you will need:
large sheet of paper
yellow paint
paper plate
extra paper plates or shallow dish
scissors
stapler
black or brown tissue paper
glue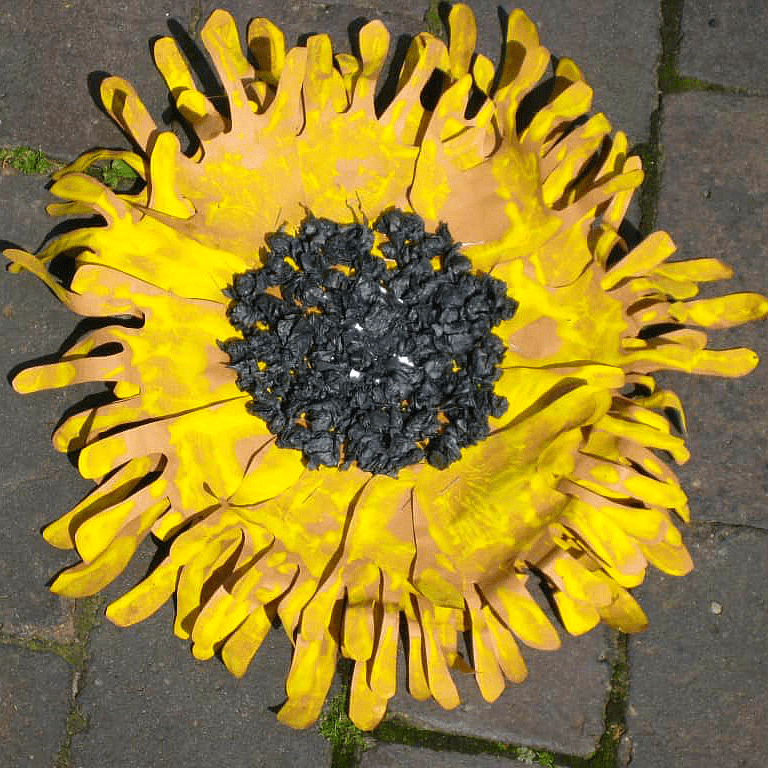 How to make a handprint sunflower
Set out a large piece of paper with a plate/dish of yellow paint.
Make lots of handprints.
Once the handprints are dry, cut them out with scissors.
Glue or staple the cut-out handprints around the outer edge of a paper plate, over lapping them to create the petals of your sunflower.
Scrunch up small pieces of black or brown tissue paper and glue them into the centre of your paper plate to be the sunflower seeds.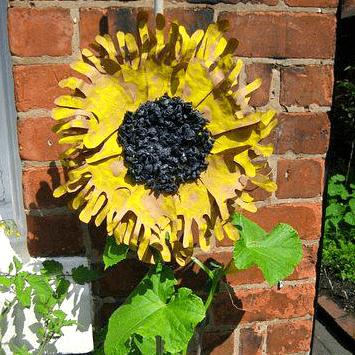 A family or class can collaborate to create a sunflower with handprints from the whole group. Alternatively everyone can make their own sunflower and you can create a garden of them.
You can make a stalk from a garden cane, or from card, and fix your sunflower on top.
The handprint sunflower is also the perfect topper for our sunflower height chart project.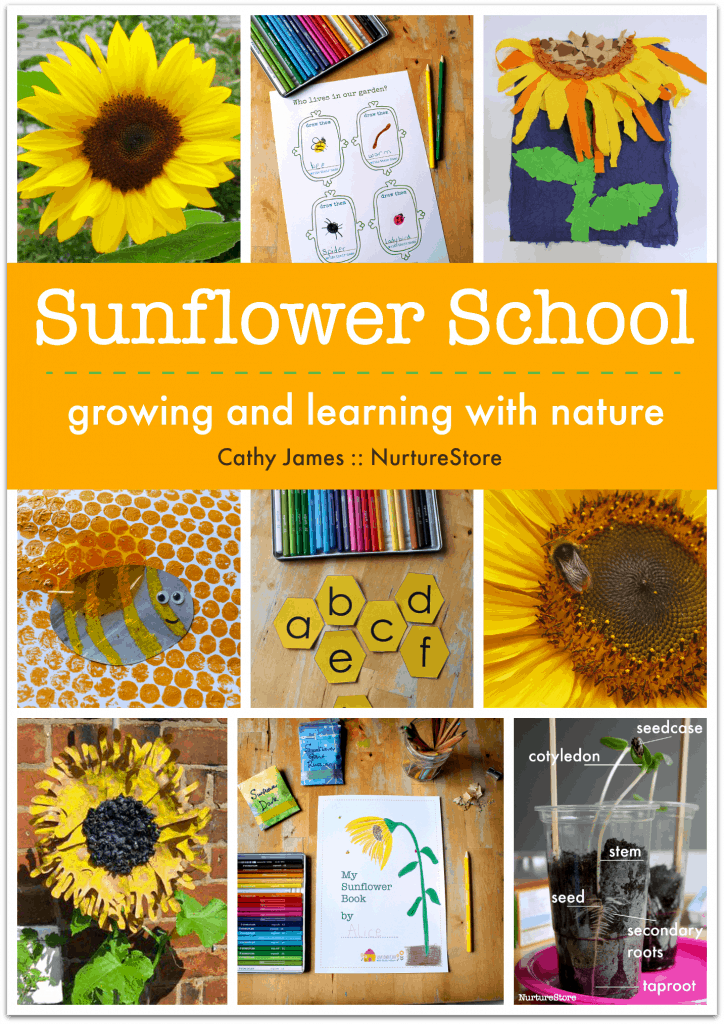 Sunflower School curriculum and printables
Click here to download your copy of the Sunflower School curriculum.
The Sunflower School curriculum matches a full programme of learning to the natural growing cycle of sunflowers.
It gives you six units of learning:
:: In the spring we'll focus on planting and watching our plants grow.
:: In the summer we'll learn about bees and pollination, and celebrate the gorgeous blooms through art.
:: In the late summer and early autumn we'll turn our attention to harvesting, sustainability, and closing of the growing year.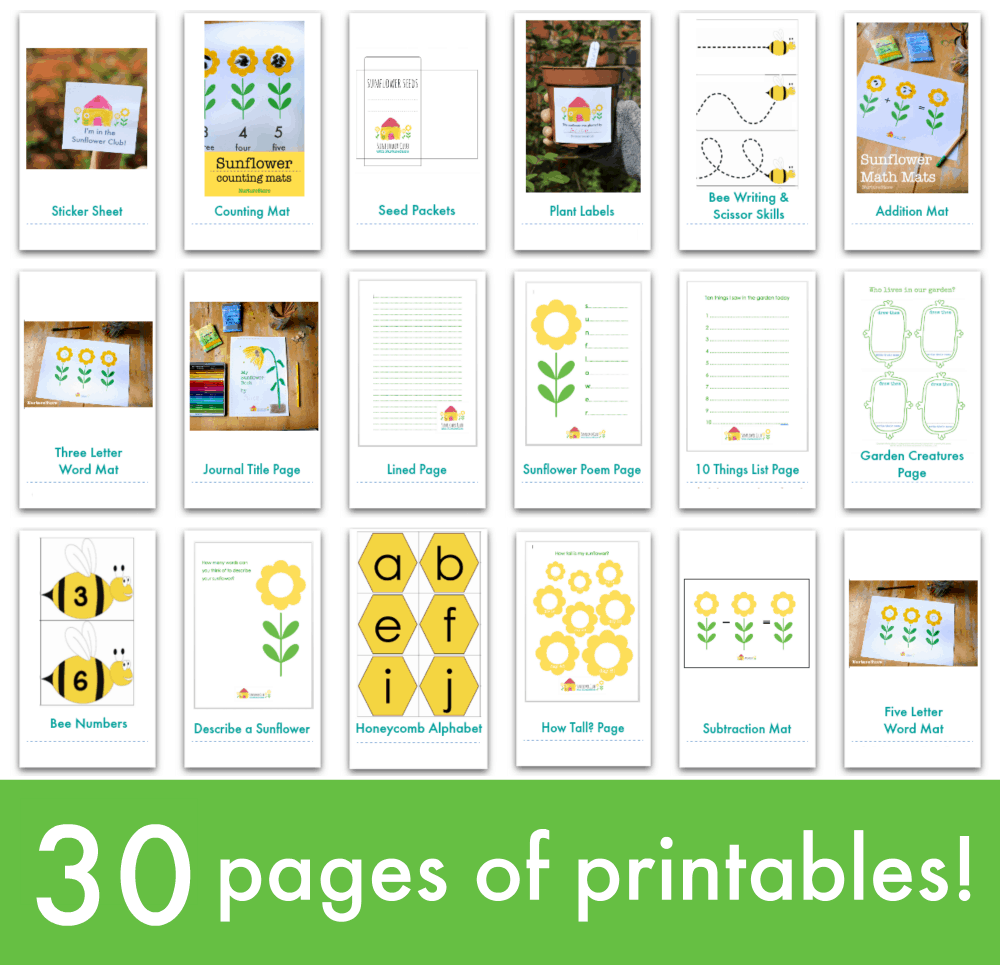 Bonus sunflower printables
Our Sunflower School curriculum comes with 30 pages of bonus printables that you can use with your children to enrich their learning, including:
My Sunflower Journal printable
Lined, plain, and half-and-half journal pages
Sunflower poems printable
Sunflower sticker sheet
Printable plant labels
Sunflower counting mat
Sunflower addition mat
Sunflower subtraction mat
Sunflower word mats
Bee number cards
Bee writing and scissor skills pages
Garden Creatures page
Honeycomb alphabet
Printable seed packets
Click here to download the complete set of Sunflower School resources.