Growing sunflowers with children? Download our free sunflower activities ebook.
Regular readers will know we've been running a Sunflower Club over the last few months, with families around the world joining us growing sunflowers and having fun with lots of linked activities. I thought you might like to see how our own sunflowers are getting on.
Here's one we grew: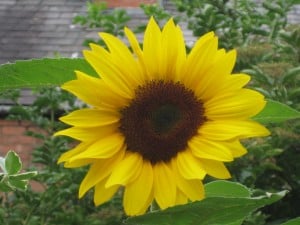 And here's one we made:
Now, I hear some of you have sunflowers that are, shall we say, a little vertically challenged? Fear not – with this handprint sunflower you can make it just as tall as you like!
Here's how: have fun making lots of handprints, cut them out and then staple them around a paper plate. Scrunch up some black tissue paper (which is fantastic exercise for fine motor skills!) and glue into the centre.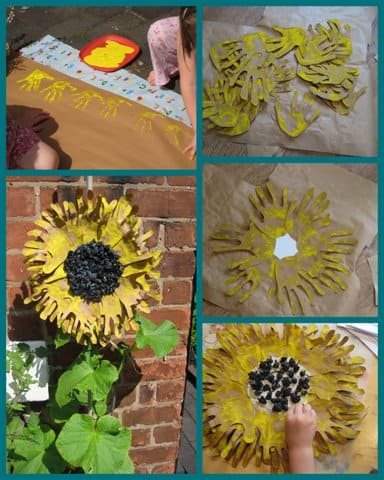 We have one more Sunflower Club activity for you, coming up in the next week or so. Then, on Wednesday 25th August 2010 we would love to have a Sunflower Link-up Party. I'll be revealing just how tall our sunflowers have grown (keeping our fingers crossed!) and my girls would *love* to see what sunflower activities you've been up to.
So mark Wednesday 25th August in your diaries and please come over to link up your posts and photos to the Sunflower Party.