Soothe your child with one of these sensory play activities using lavender.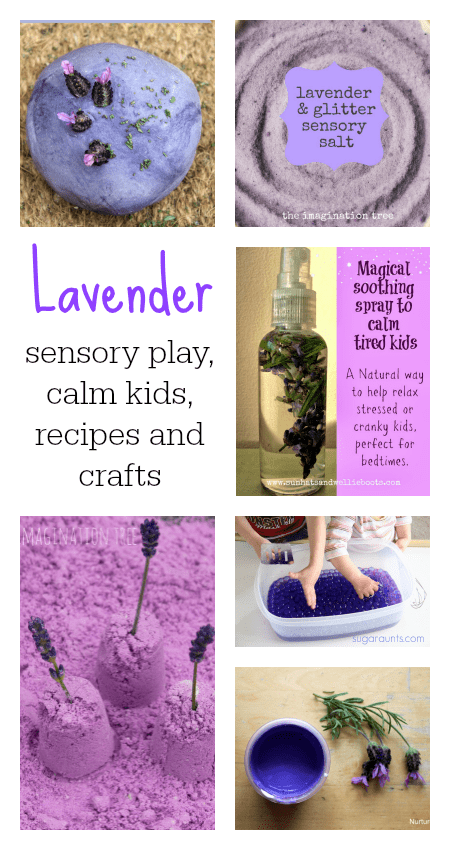 Soothing ideas for lavender sensory play, crafts and recipes
Lavender has been used for hundreds of years as a calming and soothing scent. It's often associated with relaxation, and can be great to use with children before bedtime, or if they're feeling a bit cranky.
Lavender is just coming into season now, so you if you have some in your garden you can harvest some fresh flowers, or you can use a drop of two of lavender essential oil.
Try some with these ideas for sensory play, crafts and recipes, and ideas for baby massage and soothing children at bedtime for a good night's sleep.
Lavender themed activities for children
:: It's easy to dye rice for a lavender sensory tub.
:: You could make a soothing lavender water play tub.
:: Make homemade lavender play dough.
:: Try lavender scented cloud dough.
:: Play with lavender and glitter sensory salt.
:: Make a lavender water bead tub.
:: Try these summer scented paint recipes.
:: Make a lavender fairy wand for some imaginary play.
:: Make a scented nature hanging.
:: My daughter loves to mix up petal perfume.
:: Try a classic, old-fashioned craft and make a lavender wand.
:: Sew lavender-filled hearts.
:: If your child likes baking, try lavender madeleines.
:: or this lavender cookie recipe.
:: For a moment or two of calm you could try lavender tea.
:: Relax cranky kids with a soothing lavender spray.
:: This homemade bath soak can be used by children with sensitive skins.
:: Make your own lavender lotion.
:: or try these lavender bars for baby massage.
Get free resources for your children!
Did you know you can receive free weekly activity ideas, seasonal resources, free printables and extra bonuses from Nurturestore? You'll have creative learning ides for your children all year round!
Sign up in the box below and we'll send you your freebies!
---
* By subscribing, you consent to our use of your personal data as per our Privacy Policy, which includes agreeing to receiving interest-based email from us.
---