Does you baby enjoy tummy time? While we always put our babies to sleep by lying them on their backs, giving them the opportunity for some daily tummy time play is important for their development. Here are some ideas you could use to make tummy time happy.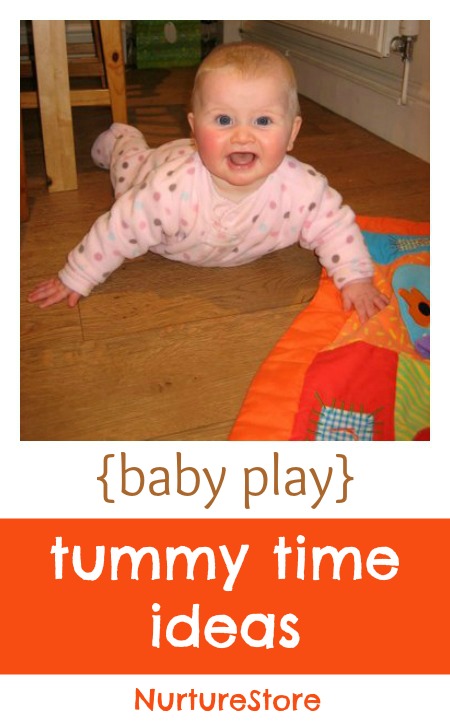 Tummy time ideas
Why is tummy time important?
Giving babies time lying on their tummies encourages them to develop their physical skills. They get to practise raising their heads against the force of gravity, building the strength in their neck muscles. It also encourages them to take some weight on their arms, getting them ready for the day when they'll be crawling. You'll notice too that when babies are placed on their tummies they often kick out with their arms and legs much more than when they're being held or sitting in a chair, so this tummy time helps to build their gross motor skills too.
How to make tummy time fun.
Little and often: a few minutes of tummy time, several times a day, is a great start – helping your baby get used to the different position and giving them the chance to practise new physical skills without tiring them out.
Lead by example: Lie on the floor with them so you are face to face, and have some fun together. Make funny faces, sing songs and chat. Older brothers and sisters can be fantastic companions at tummy time to keep your baby entertained.
Added attractions: Babies just love to look at faces, so why not try some tummy time in front of a mirror? It's also the perfect time to introduce stories by placing board books on the floor in front of your baby and chatting about the story and turning the pages for them – or use some baby art to have a look at. You can add in some favourite toys too, placing them just out of your babies reach at first, to give them the chance to stretch out and grab them. Try a personalised peek-a-boo jigsaw or a treasure basket that's just right for babies.
Does your baby enjoy tummy time? How do you make it play time?

More baby play ideas
Zero to Two: The Book of Play is full of fun activities for babies and toddlers. Download you copy here!