Suja from Blog Me Mom  joins us today with a lovely small world play idea: she's taking us to Africa on safari!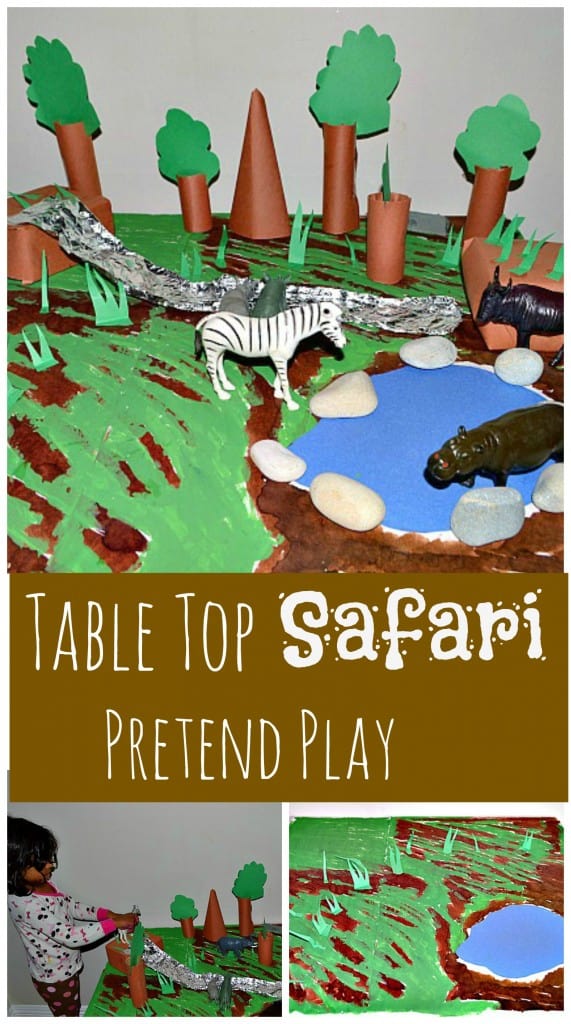 Small world play :: African safari
I'm really excited to be posting on NutureStore today. Cathy's website is one of the first few I started reading, following and recommending! I still have her wonderful stable craft in my to-do list. Just like her girls, mine are big fans of wildlife based small world play as well. We have enjoyed many small world play ranging from a bunny world, a dinosaur world to pond life sensory play. Today I'm sharing a simple table top wildlife scene I created for my preschooler.
Things we used
Paper Rolls
Brown Construction Paper
Foil
Small boxes
Butcher Paper
Green and brown paint
 How to make a small world safari
I took a large sheet of regular white paper, approximately the size of our activity table and created a play mat of sorts. Nothing too complicated! I painted a simple terrain with brown and green paint.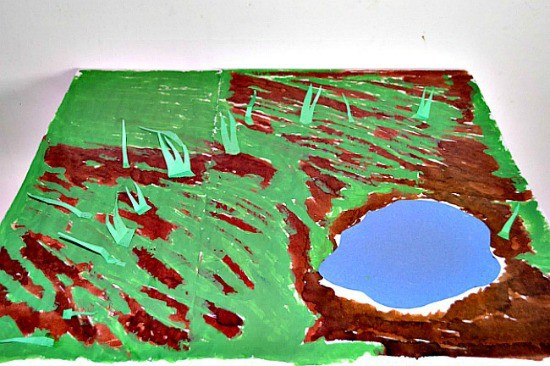 I added a small watering hole cut out from blue construction paper.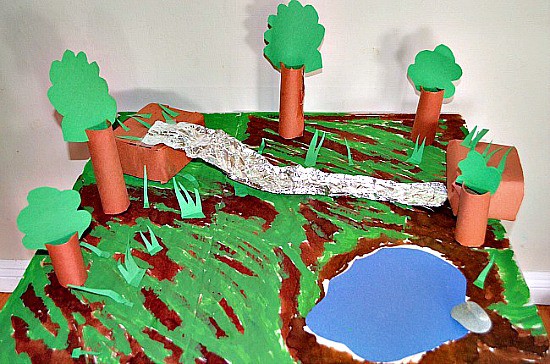 Another tiny detail – flowing river made from aluminum foil housed on small food boxes. We need them for the great "Wildebeest migration." Not a lot of trees in the real savannah but we went ahead and added them anyway. The trees are paper rolls with glued on brown construction paper and green paper for the leaves. I also added a few rocks around the water hole to add interest and texture.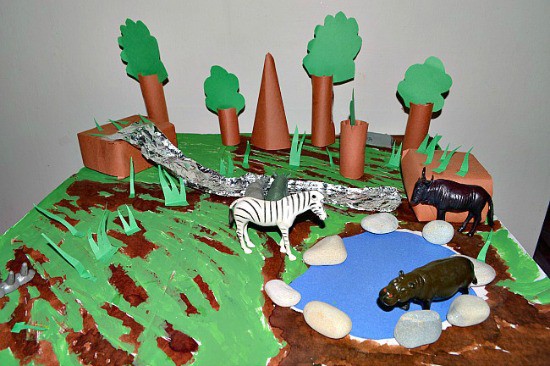 What I really like about this activity besides the simplicity is that it is a mess-free small world play [not that I mind the mess]. But there are times when the kids want to create and play with their small worlds with a fun backdrop but I can't get to them quickly. This permanent table top wild life set up has been a perfect answer. Until their interests wears off the props are right there in front of them. They can create stories, play games or enjoy making up newer arrangements.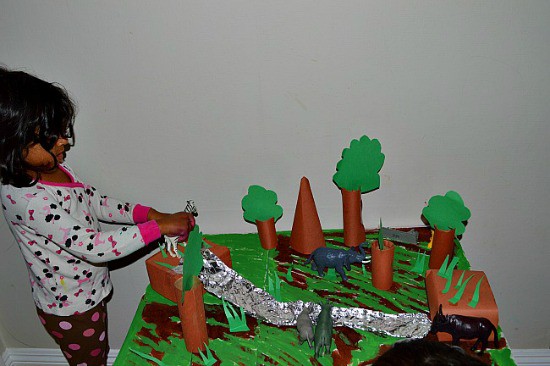 Suja is a mother of a toddler and a preschooler who enjoys spending more time with the kids and less time in the kitchen! She is passionate about nurturing her children's creativity and imagination through hands on activities and by being a present parent. Her blog Blog Me Mom which she authors along with her best friend is full of art ideas, easy crafts, sensory play ideas and play based learning activities. Stop by! You can also find her pinning away on

Pinterest

, chatting away on

Facebook

, circling around on

Google Plus

and occasionally tweeting on

Twitter

.