Zero to Two: the book of play is packed full of fun activities for babies and toddlers, and you can download your copy today.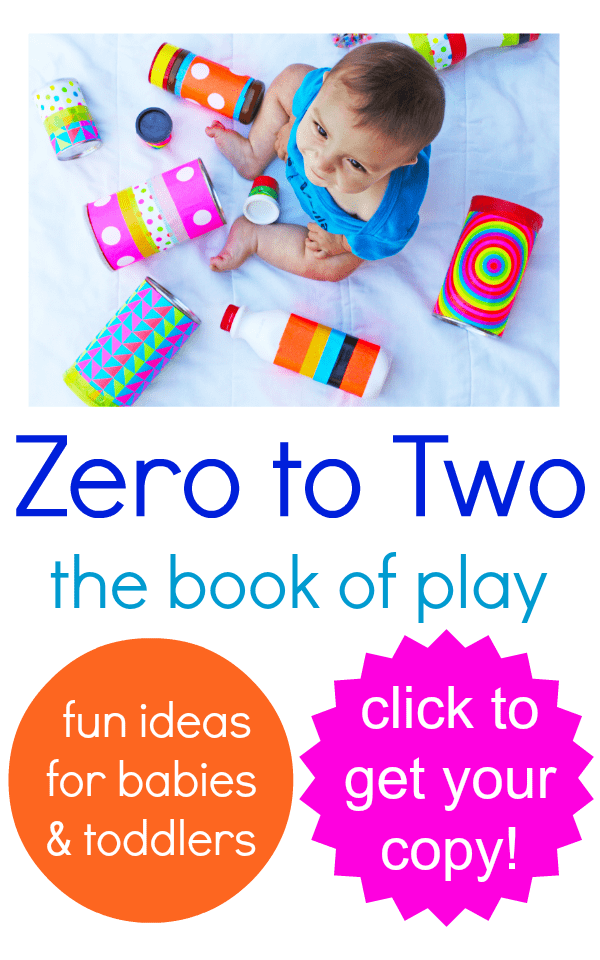 Zero to Two: the book of play
Zero to Two is an e-book that brings you a wonderful, playful collection of ideas for the very littlest of learners.
It's a super resource of play-based learning, featuring ideas from 25 of my favourite kids' writers.
It's a go-to book for baby and toddler fun. It has lots of classics, new ideas with a little twist, sensory play, imaginary play, ideas to explore art, colours, faces, shapes and more.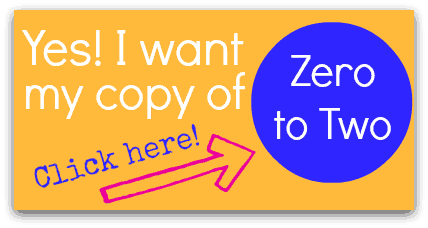 Added extras with your book
There are 25 different activity areas covered in the book, but we've also included a hand-picked collection of links to over 50 more ideas, so it's a really useful resource for you. On top of that, we've also included a couple of freebie printables: a lovely set of puppets for play and singing, and some fun printable stroller cards.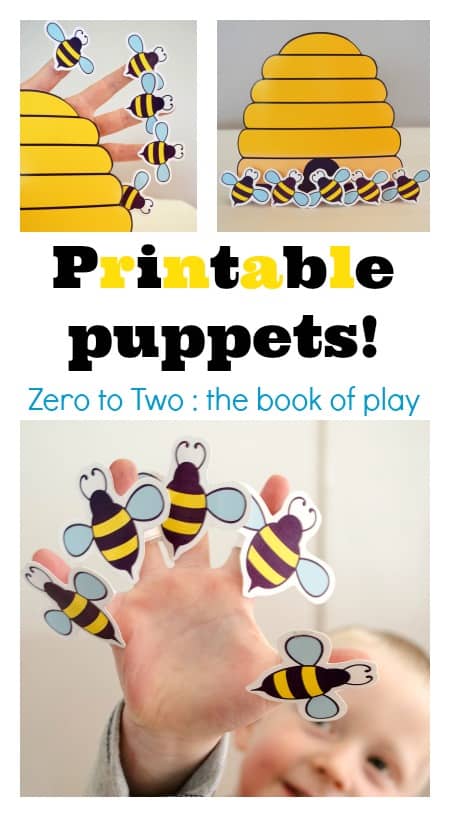 Here's a peek inside to a flavour of what you will find in the book.
Available for instant download!
We're all really excited to share this resource with you: it's an e-book, available as an instant download. It's just $8.99. Or, you can save money by buying this book as part of our premium bundle: see below for details.
So whether you're expecting, a new parent or you work with babies and toddlers, this book is for you! Click to download your copy here.
A few notes about downloading
Zero to Two: the book of play is an e-book, which means it is a digital book, delivered to you as a PDF. You do not need a Kindle to be able to read it.
You can buy it now, on any device, and then download it when you are ready. Depending on the apps you have installed and your operating system you might be able to go ahead and download the book on your mobile device, but if you have any doubts or problems, I recommend you use a computer to download the book and then share it to your mobile devices. Apple iPad/iPhone/iPod Touch users: please read the download instructions that come with the e-book download link.
You can read the book on screen or print it off. You can print the whole book, or choose one activity at a time.
Ready to give your babies and toddlers some super fun play? Click to get your copy!
Special offer: upgrade to our premium bundle and save 20%
Save money by getting our premium bundle.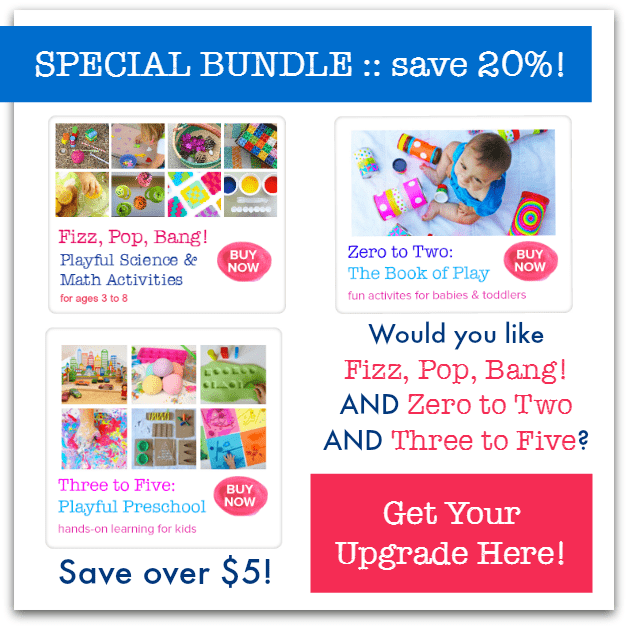 We have put three of our most popular ebooks together in one premium bundle, giving you a wonderful collection of resources at a reduced price.
Lots of our readers want to buy more than one of our ebooks, so we've created this package to make it easy for you to add them all to your cart with just one click, and so we can offer you a discount.
Click here to get Fizz, Pop, Bang: Playful Science and Math Activities AND Three to Five: Playful Preschool AND Zero to Two: The Book of Play for just $22.
That saves you over 20% and gives you more than a $5 discount. Click here to get your premium bundle.
The ebooks retail individually for $9.99, $8.99 and $8.99. This offer gives you a bundle worth $27.97 for just $22.
FAQs
If you have any questions, then please refer to our FAQ.
Important Information
By purchasing items from our website you consent to our Privacy Policy.
With the exception of the United Kingdom, this product is not available for purchase as a stand alone product in the EU.
All ebooks and other digital products are subject to copyright and may not be shared or distributed in any way or form.