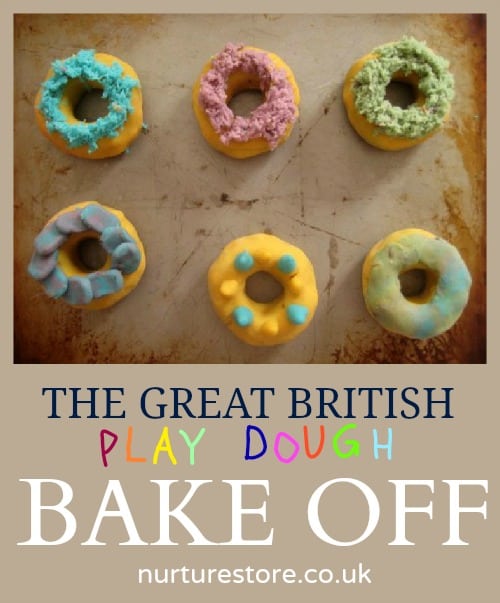 So, who else is addicted to The Great British Bake Off? It was my own little me-time programme – which I'd sit down and watch, with a slice of cake to accompany me – after all the children had gone to bed. But last week, B couldn't sleep and came downstairs and found me watching GBBO. Within minutes she was hooked too, and made me promise not to watch another episode without her but instead save my viewing to watch on iplayer so she could join in too.
And then she got the idea that she could play Bake Off. But rather than using flour, sugar and yeast, wouldn't it be just as much fun to use the other thing she's truly passionate about….play dough! And The Great British Play Dough Bake Off was born.
Join the Great British Play Dough Bake Off
Got kids, got play dough, got imagination? Join us in a Play Dough Bake Off!
Here are the rules:
1. You don't need to be British, in Britain or even to have seen the programme. (But it's good, so you might want to check it out.)
2. You do need play dough and children. Any other added extras such as cake cases, glitter and sequins are optional but probably a good idea if you'd like to be a Star Baker. The children can be your own or borrowed (please ask permission.)
3. You need to 'bake' something with your play dough and post a photo on Nurturestore's facebook page, so we can ooh and ahh at your wonderful creation. We want to see a good bake. No soggy bottoms. Make sure the flavours work together. Sweet or savoury, bread, cakes, pies, tarts or macarons (play dough macarons would be soooo pretty!) Anything goes! I'm thinking play dough tarte tatin. Or play dough pretzels.  Help your children gather some ingredients and see what they come up with.
4. There are no prizes, but plenty of fun to be had! Just to be clear: this Play Dough Bake Off is not part of the actual Great British Bake Off programme. Mel and Sue will not be visiting your kitchen and Mary and Paul will not actually be judging any of your entries. (But you could maybe tweet them a picture) This is just for fun! Play dough is an extraordinarily wonderful material for children to use – sensory, tactile, creative and full of possibilities. So join in and give it a go!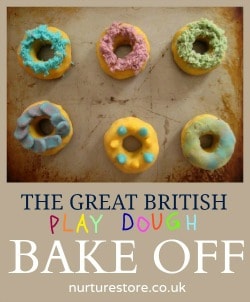 If you're a blogger and are inspired to post about your Bake Off entry you are welcome to add this badge and if you'd like to link through to this post, that would be marvellous. Let's see how many Star Bakers we can get to join in!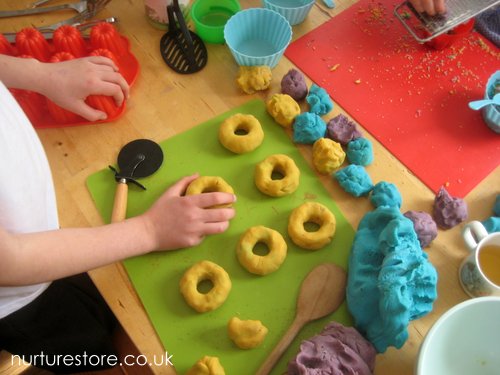 Inspiration for the Great British Play Dough Bake Off
If you've never made home made play dough before, now's the time to try. Think of it as the Technical Challenge. Here's my play dough master class, which has a step-by-step guide with an easy play dough recipe.
Paul Hollywood likes great flavour combinations so how about apple pie play dough, ginger bread play dough, lemon poppy seed (artisan!) play dough. Check out my A-Z of play dough flavours for a whole load of play dough recipes you could try.
Your bake off could be sweet – like this chocolate cake play dough – or savoury – like this pizza play dough. What will be your signature bake?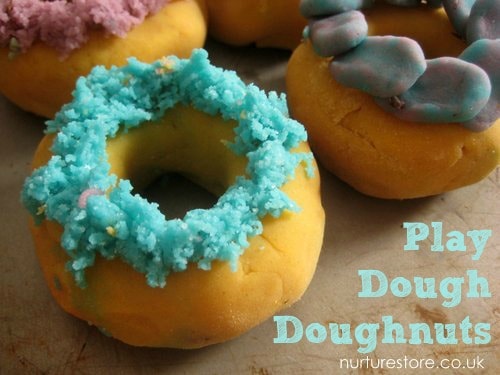 Show us your signature bake
Share a photo of your signature bake on Nurturestore's Facebook page. And follow my Play Dough Pinterest board for more fun ideas.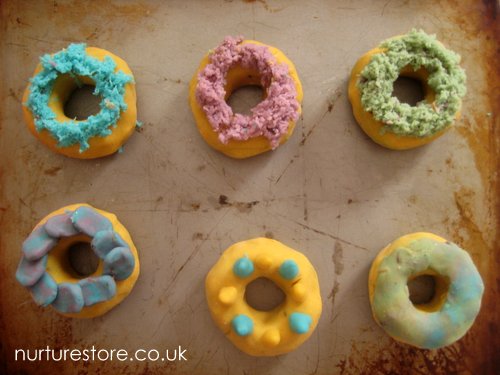 On your marks, get set…bake!
Super Sensory Invitations to Play

Ready for a whole year of exploring through the senses? Super Sensory Invitations to Play is a delightful resource that encourages your children to explore the five senses through the year, using a wide variety of sensory materials. It includes 52 invitations to play, linked to the festivals and seasons of the year, and including water, ice, dough, rice, paints, sand, sensory tubs, and more.
They are easy, simple, and fun ideas that you can use right now to give a multi-sensory boost to your play and learning. It comes with a printable recipe book featuring all our favourite recipes for play. Come and see more here.