Welcome to NurtureStore's index of Thanksgiving activities for children, part of our World Festivals Lesson Plans and Activities. Here you will find ready-made Thanksgiving lesson plans, Thanksgiving crafts and art lessons, and free Thanksgiving printables.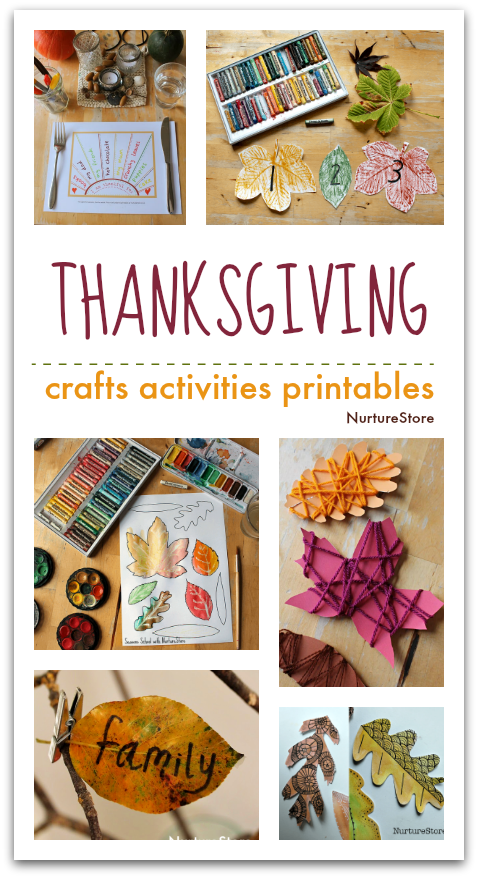 Thanksgiving activities and advent crafts for children
You can use the links below to see all NurtureStore's Thanksgiving activities and crafts. They include gratitude activities for children, printable Thanksgiving coloring pages and place mats, leaf-themed arts and crafts, and a native American art lesson.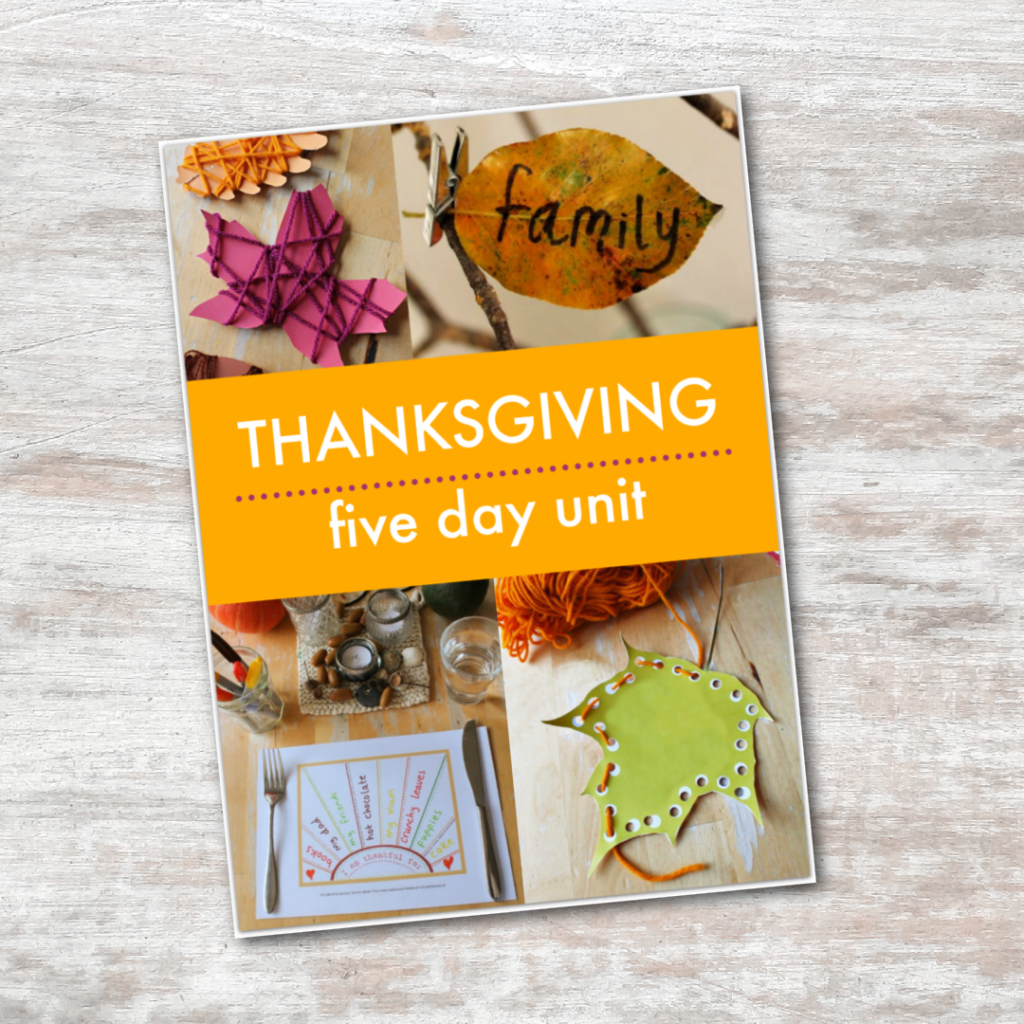 If you're a member of our Play Academy you can download a ready-made five day Thanksgiving Unit and you'll be ready to lead a week of fun and educational Thanksgiving activities with your children.
This Unit is part of our Festivals specialist curriculum pathway, and is a part of a set of ready-made units you can use to teach your children about the festivals of the world all through the year. Based on the teaching philosophy of hands-on learning, the Play Academy festivals curriculum is engaging, effective and loved by children.
See more details of this Thanksgiving Unit, and all the other specialist curriculum pathways and ready-made units you can choose from, in the Play Academy here.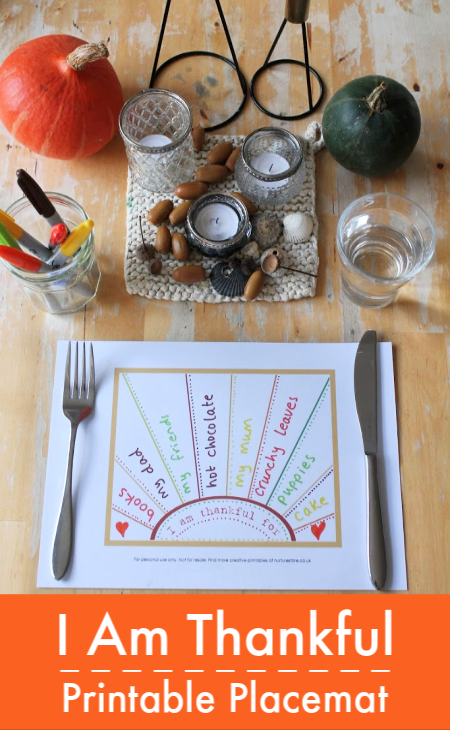 More Thanksgiving activities and crafts
Thanksgiving is a festival celebrated in the United States of America on the fourth Thursday in November, and in Canada on the first Monday on October.
It is a celebration of the harvest and a time to give thanks for your blessings. Leaves, apples and pumpkins are symbols of the festival and it is usually celebrated with a family dinner of roast meat followed by fruit pies.
Thanksgiving in North America has been associated with the colonisation of the native people of the continent by incomers from Europe. Many people today are seeking to realign Thanksgiving to a celebration of gratitude and harvest, including acknowledgement and respect of native people and their history and culture. You will find a Native American art lesson included in these resources which you might like to include in your Thanksgiving activities.
Printable Thanksgiving placemat and gratitude journal page
Give thanks and decorate your table with this printable Thanksgiving placemat. It also makes a great gratitude journal page to count your blessings at any time of year.
Thanksgiving coloring pages printable
You can use the printable as a coloring page, a place mat on your dining table, as a discussion topic, or as part of a lesson.
How to preserve leaves in wax and make a simple gratitude tree craft
Follow this easy guide on how to preserve leaves in wax and use them to make a beautiful gratitude tree.
Gratitude prayer flags
Here's a Thanksgiving craft for kids that's fun to make, looks beautiful and sends out positive wishes to the world: Thanksgiving prayer flags.
Native American art lesson about petroglyphs
Learn about the Native American art practice of drawing and carving petroglyphs and try your own design.
Fall leaf art lesson using easy marbling technique
In this beautiful fall leaf art lesson we're using an easy marbling technique to create unique autumn-coloured prints.
Printable leaf colouring sheet
Use this free printable leaf colouring page as an easy Thanksgiving art project to explore pens, paints, pastels and pattens.
Yarn-wrapped leaf craft with printable leaf template
This yarn-wrapped leaf craft is a pretty thanksgiving decoration and a great fine motor skill activity for fall. Use the printable leaf template and get wrapping!
Free printable leaf lacing cards for fall fine motor skills
Here's a pretty set of autumn leaf lacing cards that you can print and use to help your children develop their fine motor skills.
Leaf crown
Celebrate the season in style with this easy autumn craft from forest school – make a leaf crown!
Autumn leaf bookmarks
These autumn leaf bookmarks invite children to explore the shape and colour of autumn leaves, working with watercolour and adding patterns with white and black pen. They make a lovely little homemade Thanksgiving gift too.
Leaf number line activities
Make a beautiful leaf number line and use it with these ideas for leaf-themed math activities.
Colour-by-numbers leaf arithmetic sheets printables
Here's a fun, leaf-themed math practice printable that you can customise to suit all your children, to help them develop their arithmetic skills.