NurtureStore is 1 year old today!
365 days since our very first post we've shared 226 ideas and had 1231 comments. We've been kittens, grown sunflowers, made peg dolls and sung you songs. The most enjoyable part of NurtureStore for me is being part of the play community, sharing ideas with you all and getting lots of inspiration from you. I love the Play Academy we host each Friday as I get to see what you have all been up to during the week and I love hearing from you when you leave a comment here or on our Facebook page.
******************Prize Giveaway******************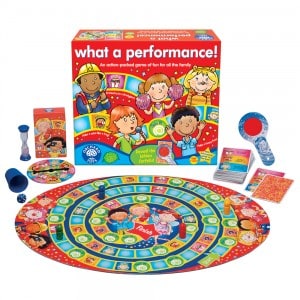 To celebrate our birthday, Orchard Toys sent us a lovely present: a What a Performance! game. It's a really fun game and has had us pretending to be frogs, pulling funny faces and squawking like a parrot. B loves the magic spy glass which you have to use to reveal the hidden forfeits and A likes to be officially in charge of the spinner. Like all Orchard Toys there is a good educational element to the game too as it includes counting, language, creativity and turn taking practise. It's a great family game and perfect for enjoying together with your kids.
And to share the birthday cheer Orchard Toys are giving away a copy of the game to one of you too.
To enter the competition (UK only):
Pop over to the Orchard Toys website to find the answer to the prize question and leave a comment on this blog post with your answer.
Prize question: When was Orchard Toys founded?
You have until next Thursday 14th October 2010 to enter and a winner will be picked at random from the comments on this post.
Thank you for being part of NurtureStore and helping us have a great first year. Cathy x
Here are the rules:
1. The giveaway is open to readers in the UK only. Each person is allowed one entry.
2. To enter you need to leave a comment on this post telling me when Orchard Toys was founded. Make sure you leave your correct e-mail address when you comment.
3. The competition is open until Thursday 14th October 2010 at midnight (GMT).
4. One winner will be chosen by random.org
5. The winner will be announced on Friday 15th October 2010. Once they have sent their address I'll pass their details to Orchard Toys who will send the game out to them.